Have only one day in San Diego? Make the most of your trip with this itinerary, which combines outdoor fun with educational entertainment. This one day in San Diego itinerary helps you maximize both your time and your savings. This one day itinerary includes:
GoCar Tour
USS Midway Museum
PETCO Park Tour
San Diego Harbor Tour or Whale Watching Cruise
Spending more time in San Diego? Then take a peek at one of our sample 2 day or popular 3 San Diego day itineraries.
Save on Attraction Admission
Visit these top attractions and save up to 55% off vs. paying at the gate with a Go San Diego® Card. Remember, this one day itinerary is just one of many ways to experience San Diego. Depending upon which attractions you choose to visit, you could change the amount you save! The Go San Diego® Card gives you the flexibility to create your own itinerary, so you can choose from dozens of top attractions and create a vacation tailored to your interests.
Stop #1 - GoCar Tour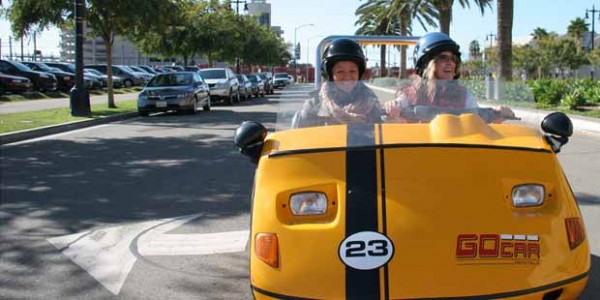 This fun attraction is a unique experience for everyone. GoCar San Diego is a GPS-guided car tour that narrates your route as you go along, regaling you with stories and insider information about each of the landmarks and points of interest that you pass along the way. It's one of the best ways to get a feel for San Diego as a whole and provides more information about the city than you'll find in common guidebooks. Plus, it's a lot of fun to drive and is a must-do attraction for first-time visitors to San Diego. Your tour will last 30 minutes, which gives you plenty of time to explore and enjoy yourself without getting information overload. Keep in mind that this attraction is for adults only. Children (5-12) may ride with an adult driver (21+) for an additional fee. Getting In: San Diego GoCar Tours are included on the Go San Diego Card.
Stop #2 - USS Midway Museum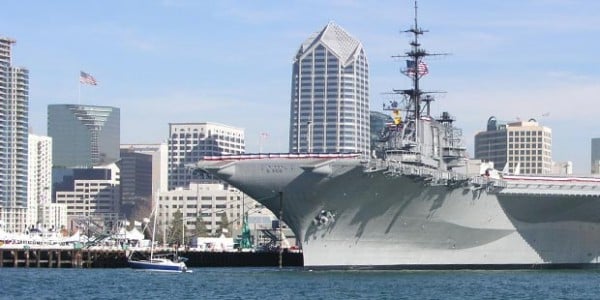 One of the most important naval vessels in World War II, the USS Midway has been converted into one of San Diego's most popular museums. It's a must-visit for first-time visitors to the city, and anyone traveling with kids or military buffs. It's a moving tribute to all of those who lost their lives in various significant battles (including the Battle of Midway from which the ship takes its name), plus an informative, behind-the-scenes look at what life was like for sailors on an aircraft carrier. You'll get to tour the ship and scope out a host of aircraft: you can even climb into a couple and pose for a souvenir photo! For an additional fee, you can also choose to go in the flight simulator rides. Insider tip: The USS Midway Museum's flight deck features one of the best views of downtown San Diego, so be sure you bring your camera! We recommend reserving between 2-3 hours for this attraction. Getting In: USS Midway Museum tickets are included on the Go San Diego Card.
Stop #3 - San Diego Harbor Tour OR Whale Watch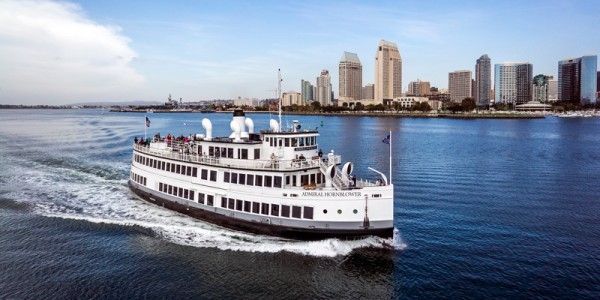 After lunch, hop aboard a San Diego Harbor Tour by Hornblower Cruises. This cruise is both relaxing and informative - knowledgeable tour guides will provide narration along the way and background information as you head out to the open waters. Your tour will cover either the North Bay's impressive naval vessels or the South Bay's Coronado Bay Bridge and USS Midway Aircraft Carrier. Featured sights along the North Bay include the Maritime Museum, Shelter Island, the Point Loma Lighthouse, and the Cabrillo National Monument. On the other hand, the South Bay tour showcases Seaport Village, Hotel del Coronado and Coronado Island, and more. If you are visiting between December and April, you could opt to enjoy a Whale Watching Cruise instead. Although you're primarily looking for the impressive grey whales that migrate through the Pacific, you'll also see other creatures along the way like sea lions, dolphins, and seals. The Harbor Tours will last about 1 hour. The whale watch cruise will last approximately 3.5 hours. You will want to take the 1 pm tour if you're following this itinerary. Keep in mind that this cruise is only available late December through April to ensure you'll catch the whales as they migrate. Getting In: San Diego Harbor Tours by Hornblower Cruises are included on the Go San Diego Card.
Stop #4 - PETCO Park Tour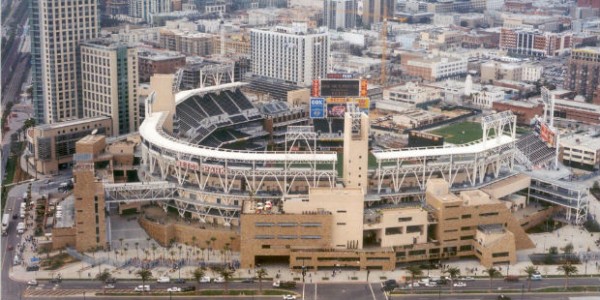 Finally, head over to PETCO Park to explore one of Major League Baseball's newest and most interesting stadiums. Home to the San Diego Padres, PETCO Park provides both great cultural significance on the Southern California sports scene and a really fantastic view of the water. Your tour will take you to various locations that regular game attendees rarely get the chance to see, like the pressbox, the Padres dugout, and the premium lounge and private luxury suite. It's a must-see attraction for sports lovers. Your tour will last approximately 80 minutes. Getting In: PETCO Park Tour tickets are included on the Go San Diego Card.
Let's Recap
Visit each of these included attractions with the 1-Day Go San Diego® Card and save on combined admission costs. Make the most of your one day in San Diego with this itinerary!