What's the difference between the San Diego Zoo vs SeaWorld?
Though both are animal-centric theme parks, the two attractions offer two completely different experiences. We reviewed the major differences between the San Diego Zoo and SeaWorld San Diego and broke them down into various categories to help you compare the difference and choose which park (if not both) you want to add to your San Diego sightseeing itinerary.
Admission
San Diego Zoo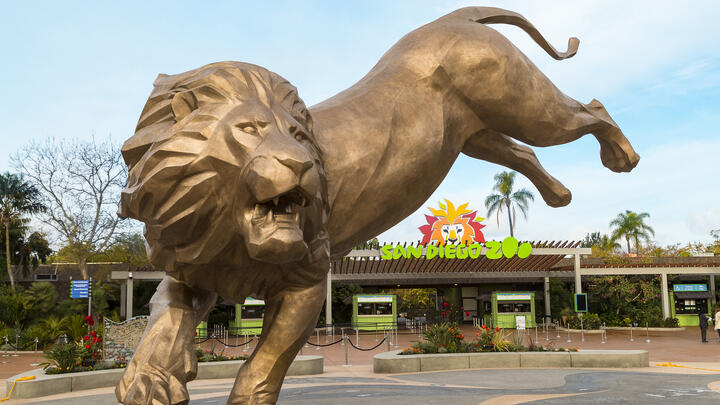 One ride on the Guided Bus Tour
Unlimited use of the Kangaroo Express Bus
One ride on the Skyfari Aerial Tram
Scheduled Zookeeper talks throughout the day
General admission exhibits and shows
Free parking
SeaWorld San Diego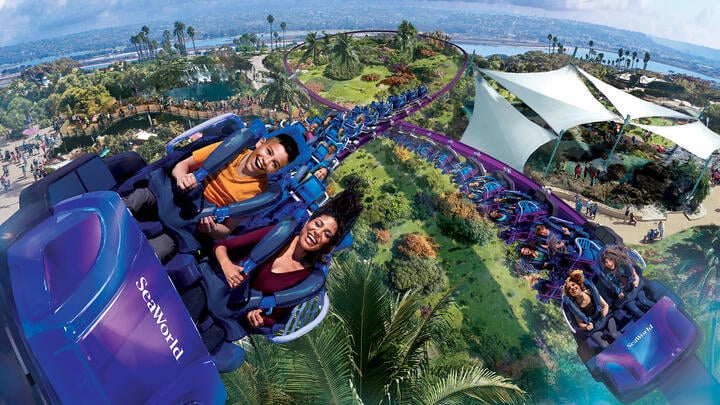 General admission to exhibits and shows
Unlimited access to all thrill rides
One ride on the Bayside Skyride
Please note: parking is not included with SeaWorld admission and starts at $25 per car for general parking. Preferred parking spots will cost you $30 – $35.
Location
Both attractions are located close to downtown San Diego and are easy to get to via public transportation.
San Diego Zoo
Located right in popular Balboa Park, near lots of other Balboa Park attractions, the San Diego Zoo is very centrally located and close to Downtown San Diego. The zoo is easy to get to by car (free parking!), bike, walking, and public transportation.
SeaWorld San Diego
Located just north of Downtown San Diego in Mission Bay, SeaWorld San Diego is on a peninsula-like piece of land in the bay. SeaWorld is easy to get to by car and public transportation, but not immediately close to other attractions.
Animals, Exhibits & Things to Do
In summary, the San Diego Zoo has a greater quantity and variety of animals from different types of habitats from all over the world while SeaWorld's animal exhibits are exclusively focused on ocean life and marine animals from various parts of the world.
SeaWorld's thrill rides and animal shows are the biggest focus at the park while San Diego Zoo features animal exhibits and presentations with a large focus on education about various animal species. Visitors can easily spend a full day at each park.
San Diego Zoo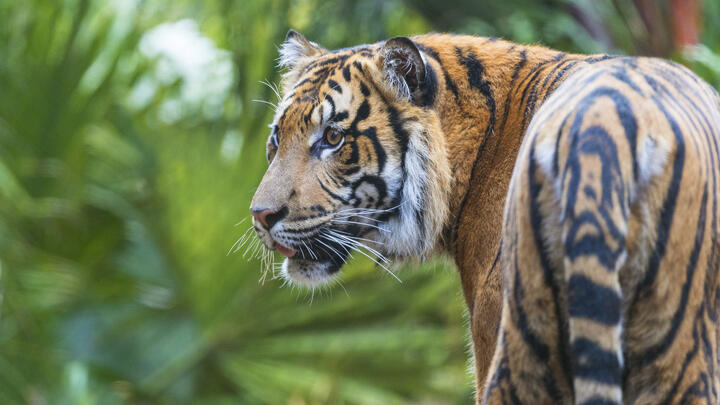 You can find animals from all over the globe, including polar bears, gorillas, penguins, elephants, grizzly bears, birds, and more.
Animals can be viewed in enclosures that mimic their natural habitats and provide great viewing opportunities for visitors.
Exhibits & things to do:

Guided Bus Tour: double-decker bus tour of the entire zoo with a guide that points out interesting features of the zoo and any activity you can see as you pass the exhibits
Animal Shows/Keeper Talks: check the daily schedule to plan your day around which animal shows and demonstrations you want to go to.
Northern Frontier & Polar Bear Plunge: the exciting polar bear exhibit where visitors can get a unique underwater view of bears playing in the water and see other animals from the North, including white foxes, caribou, maned wolves, and more.
Elephant Odyssey: this exhibit focuses on lots of California-native animals, from prehistoric times to the present day, including large birds, cheetahs, lions, and meerkats. 
Lost Forest: this lively exhibit features animals that call the forest their home, including tigers, hippos, monkeys and gorillas. You can find the Scripps Aviary and Owens aviary in this section of the zoo, as well.
Urban Jungle: home to giraffes, kangaroos, koalas, flamingos, rhinos, and more.
Discovery Outpost: an exhibit geared towards the younger crowd, kids can climb and play in the playground, touch animals in the petting zoo, and get up close to reptiles, insects, birds, and more.
Skyfari® Aerial Tram: this elevated cable car ride soars over the park providing visitors an aerial view of the zoo and surrounding Balboa Park.
SeaWorld San Diego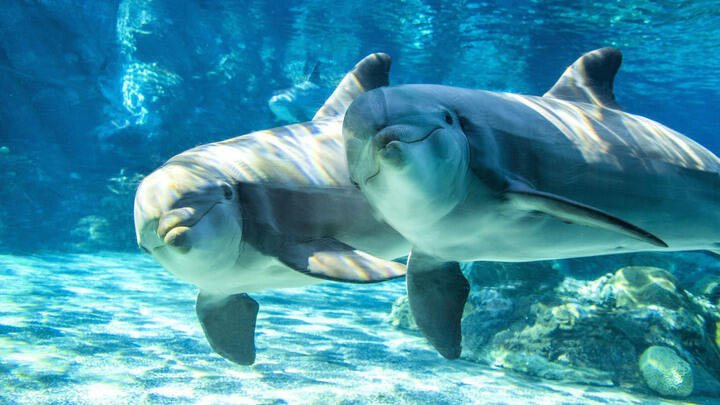 You can find animals native to ocean environments, including octopi, sharks, penguins, tropical fish, and more
Exhibits & things to do:

Rides:

Low thrill level:

Abby's Sea Star Spin - classic spinning ride that lets you control your spinning speed
Aqua Scout - a kid-friendly flying ride
Bayside Skyride - an elevated cable ride that takes you above the park for aerial views of the park and Mission Bay
Elmo's Flying Fish - an up-and-down flying fish ride
Octarock - a family-friendly swinging ride
Oscar's Rockin' Eel - a side-to-side ride of adventure
Sea Dragon Drop - an outward-facing elevator-style drop ride geared towards kids
Submarine Quest - an underwater voyage/submarine mission
Tentacle Twirl - a classic spinning swing ride
There are countless rides and roller coasters at SeaWorld to suit everyone. There's a good mix of lower thrill rides such as Aqua Scout, Octarock, Sea Dragon Drop and Tentacle Twirl, all the way up to high thrill rides such as the Emperor and Electric Eel rollercoasters.

Medium thrill level:

Riptide Rescue - a spinning ride with a few unexpected twists
Shipwreck Rapids - a classic lazy river ride with whitewater rapids and waterfalls
Wild Arctic - a flight simulator multi-media experience that navigates through the treacherous Wild Arctic

High thrill level:

Journey to Atlantis - inspired by the legend of Atlantis, this ride plummets to great depths and makes a splash
Manta - this multi-media launch coaster whips visitors around at high speeds
Tidal Twister. You will accelerate at 30mph as you twist and turn around the figure-8 track.

Animal shows:

Sea Lions Live: see what resident sea lions, Clyde and Seamore, are up to with their latest TV and music spoofs.
Dolphin Days: dolphins and pilot whales show off their athleticism in this trainer and animal show
Pets Rule! a heartwarming show featuring pets rescued by animal trainers
Sea Rescue: an award-winning show that tells stories of marine animal rescue, rehabilitation, and release to the wild by the SeaWorld Rescue Team.

Special events:

SeaWorld has special events taking place all summer, such as Sesame Street Party Parade every weekend until September 1, and Electric Ocean, taking place on select dates until September 2.
Tips for Visiting SeaWorld and the San Diego Zoo:
San Diego Zoo Tips:
If you use a pass by Go City® to visit the zoo you can skip the ticket booth and go straight to the turnstiles for park entry. Your admission will include unlimited use of the Guided Bus Tour, Kangaroo Express Bus, Skyfari aerial tram, and all regularly scheduled shows and keeper talks.
Wear comfortable shoes and dress for the weather. You'll be doing a lot of walking around 100 acres of hilly terrain.
Use the hop-on hop-off Kangaroo Bus to get around to the bus routes' 4 stops throughout the park. Buses run on 15-minute intervals.
Pack a lunch or snacks if you want to avoid paying for food in the zoo.
Bring a water bottle to fill up at water fountains or purchase a souvenir fountain drink cup for discounted refills throughout the day.
Plan to spend almost a full day at the park and go as early as you can--the animals tend to be the most active in the morning.
SeaWorld San Diego Tips:
Check the daily schedule when you arrive and plan your day in the park around any shows or presentations you may want to see.
Pack a waterproof camera or cell phone or use waterproof cases to protect them from getting wet on rides.
Prepare to get soaked - whether you're on a water ride or sitting in the Splash Zone at one of the animal shows, it's hard to avoid getting wet at SeaWorld. Wear quick-dry or water-resistant clothing or pack a change of clothes.
Arrive to show theaters and auditoriums with plenty of time before the shows, there's often pre-show entertainment that comes into play during the 'real' show later with information or inside jokes you might otherwise not pick up.
Stay the whole day; the park offers a whole new experience at night with shows and entertainment.
In Summary:
The San Diego Zoo and SeaWorld San Diego are both must-see San Diego attractions, but both offer different experiences.
San Diego Zoo: larger variety and quantity of animals, comprehensive guided tour bus and aerial tram ride included, historic park, botanical garden, more centrally located, free parking. The San Diego Zoo has animals from all over the world in exhibits that mimic their natural habitats and features animal presentations and keeper talks throughout the day. If you choose to visit the zoo, check out our guide to San Diego Zoo.
SeaWorld San Diego: narrower focus on marine life and animals from the ocean and SeaWorld admission includes access to all thrill rides (from kid-friendly to adrenaline-seeking) included. SeaWorld features animal shows and presentations throughout the day, aquarium-like exhibits, including the underwater glass shark tunnel, and lots of rides like roller coasters and splash rides. If you choose to visit SeaWorld, check out our guide to SeaWorld San Diego.
Save on Admission & Visit Both with a pass by Go City®
Forget San Diego Zoo vs SeaWorld – visit both parks and many other popular San Diego attractions for one low price with a San Diego All-Inclusive Pass. You'll make great savings on combined admission to your choice of attractions, including the San Diego Zoo, San Diego Zoo Safari Park, LEGOLAND® California, SeaWorld San Diego, USS Midway Museum, theme parks, harbor cruises, bike rentals, tours, and more.