North Park's eclectic mix of art galleries, microbreweries, boutique shops and 1920s Craftsman houses prompted Forbes to include the area in its list of America's best hipster neighborhoods in 2012, calling it 'culturally diverse' and praising the North Park Observatory and Ray Street Arts District as twin 'bastions of creativity'. There's certainly plenty to do here in this compact urban neighborhood that hugs the northeast corner of sprawling Balboa Park, from brewery bar crawls to street art tours. Here, then, are our pick of the best things to do in North Park San Diego.
Beer, Glorious Beer!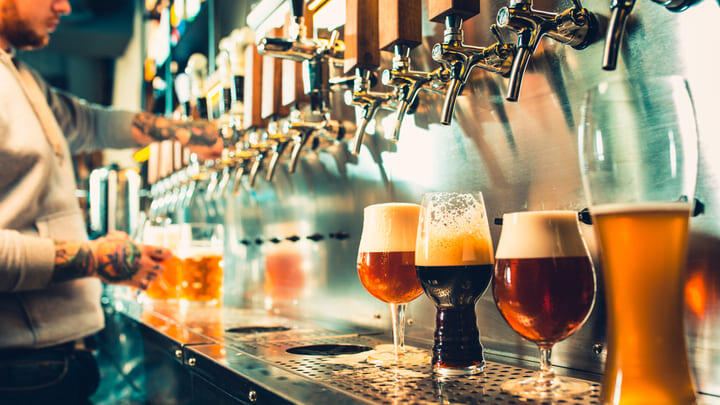 North Park is a beer drinkers' dream-come-true, with around a dozen local craft breweries clustered within easy stumbling distance of each other, mostly in and around the main drag of 30th Avenue. Sample a hoppy West Coast IPA here and you'll soon understand why San Diego is considered the craft beer capital of the USA. The Belching Beaver Brewery's North Park tasting room is easily identified by the huge painted logo on the side of the building featuring – yup, you guessed it – a great big belching beaver. Don't miss the Greetings from San Diego mural right next door, an absolute must for your Instagram feed.
Modern Times' nearby tasting room is known as – wait for it – 'the North Park Flavordome'. And, with a bold claim like that, it would be remiss not to take up the challenge. Grab a table beneath the forest of inverted lampshades inside and browse a menu of over 20 brews that includes the hazy Technomancer and rich Black House coffee stout. Can't decide what to order? Flights of four different beers of your choice are also available for the terminally indecisive. 
Then there's the Fall Brewing Company with their slightly creepy Humpty Dumpty mascot that gets dressed up for special occasions like Thanksgiving and Halloween, and the sociable North Park Beer Company where weekend brunches are almost – almost – as legendary as the beers. Still thirsty? The North Park Festival of Beers rolls into town every spring, bringing street food, live music, party vibes and an ocean of beer to the streets of San Diego. Tickets include unlimited tastings.
Cider, Cocktails and Art
But North Park isn't just about the beer. No! Those who like their drinks a little more… appley should make a beeline for Bivouac Ciderworks, where flights of three glasses let you sample dry, sweet and flavored brews. Meanwhile over at Polite Provisions, smartly dressed bartenders mix lively cocktails for adventurous hipsters. Try the Zombie if you dare: this rum-and-absinthe concoction packs such a dizzying punch that customers are limited to just two per visit.
For visions of swirling colors and forms that are not absinthe-induced, mosey on down to Ray Street. Here in the hub of the North Park arts scene, you'll find a plethora of shops and galleries displaying works by local and international artists. There's plenty more to see for free on a wander through the nearby streets, with what might just be the highest concentration of great street art anywhere in San Diego. Look out for colorful works by local favorites Madsteez and Kreashun, as well as a samurai cat and skateboarding donut. Fans of American rock royalty should head north to Adams Avenue to check out artist Travis Crosby's wall-sized tributes to Prince and Jimi Hendrix.
Formerly a 1920s cinema, University Avenue's North Park Observatory was restored to its former glory and has played host to a veritable who's who of indie legends since reopening as a 21st-century music venue. The roll call of past performers reads like a hipster's dream festival line-up and includes St. Vincent, Dinosaur Jr., Death Cab for Cutie, Mogwai, Cat Power and James Blake, to name just a few. 
Out and About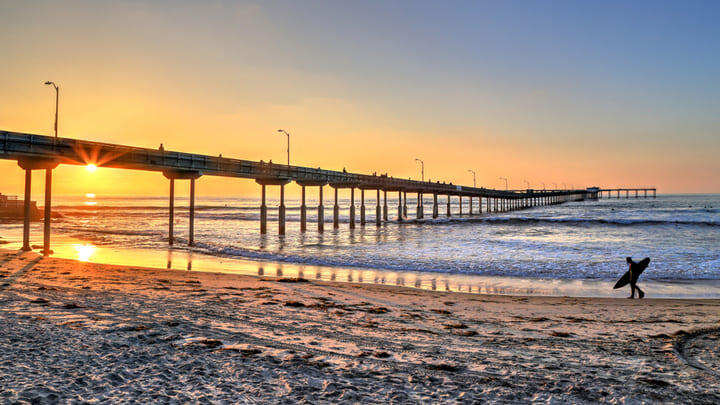 Thanks to its unique topography, you're never far from a canyon in San Diego, and North Park is no exception. Making the boundary between the North and South Park districts, Switzer Canyon is a green oasis of lush vegetation that's home to rabbits, coyotes and other cute critters. There's a short walking trail that's worth a wander before heading into the vast expanse of Balboa Park, where an absolute embarrassment of riches awaits the intrepid explorer.
Inside you'll find some of the best museums and galleries on the West Coast, from the stunning collection of 19th and 20th-century American and European art at the San Diego Museum of Art to prehistoric monsters at the Natural History Museum. This is also the place to come face to face with all manner of weird and wonderful creatures at the San Diego Zoo and to chill out and find your inner zen among the cherry blossoms, bonsai trees and koi ponds in the Japanese Friendship Garden.
North Park is also well-positioned for trips to downtown San Diego and the historic Gaslamp Quarter, as well as easy day trips to Pacific Beach, Ocean Beach and even Coronado and La Jolla, both of which are within a 20-25-minute drive. The route to La Jolla is particularly scenic and the rewards when you hit the bluffs are quite something. All swaying palms, golden sands, sweeping pacific views and harbor seals basking in the sun, it's SoCal beach life in microcosm, and well worth a few hours of your time. 
Save on things to do in North Park San Diego
Save on admission to San Diego attractions with Go City. Check out @GoCity on Instagram and Facebook for the latest top tips and attraction info.