Anyone putting together a list of things to do in San Diego should take care to include attractions by San Diego's waters. With over 70 miles of coastline, it's easy to spend a day (or two!) exploring the waters with family and friends. Here's a look at San Diego's best beaches and attractions that get you closer to that pristine Pacific water:
Beaches & Boardwalks
Start your exploration of San Diego waters with a stop at the beach. A walk or bike ride along one of San Diego's many coastal paths and boardwalks will give you a good sense of San Diego beaches. The Oceanfront Boardwalk is one of San Diego's biggest, stretching three and a half miles along Mission and North Pacific Beaches. Besides its picturesque  views, the boardwalk offers up a number of shops, restaurants, and even a roller-coaster in Belmont Park.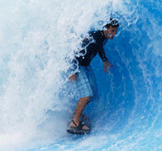 Belmont Park is also home to the Wave House, an all-in-one with restaurants, bars, and most importantly, wave machines. Visitors to the Wave House can choose between the FlowBarrel, for seasoned surfers, and the FlowRider, a family friendly flowboarding or bodyboarding experience. You can also rent beach equipment including boards, wetsuits, and beach chairs to take back with you onto the boardwalk and out onto the beach.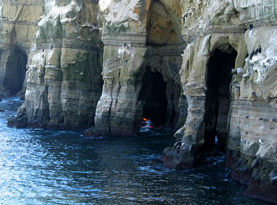 At La Jolla Beach,
San Diego Bike & Kayak Tours
gives visitors the opportunity to take directly to the water with snorkeling or kayak rentals year round. Tour the seven sea caves directly off La Jolla's shore in a rented kayak, or check out local wildlife on a guided snorkeling tour. Whenever you're ready to get back on land, you can pick up a bike rental with the same company and take a spin around La Jolla and Pacific Beach.
Water Parks & Sea World San Diego
If you'd still like a taste of San Diego waters without heading to the shore, consider making a trip to a water themed attraction such as Knott's Soak City Water Park or Sea World San Diego. While you'll still need to throw on some sunscreen, you and your family can enjoy fun in the water without fighting for a spot on the beach. Sea World San Diego is one of the top-rated
things to do in San Diego
- check out our tips on planning a hassle-free
visit to Sea World
to make the most of your visit!