Here's a clash of titans and no mistake. Two of the biggest and best in the States, the zoos in San Diego and LA are Sunshine State behemoths, welcoming millions of wildlife-loving visitors every year. Each has enough going on to while away an entire day or more, with hundreds of species and thousands of critters between them, ranging from tiny Honduran hummingbirds all the way up to ginormous giraffes. But which is best? San Diego Zoo with its enviable location in sprawling Balboa Park, or LA Zoo with its epic elephant and gorilla enclosures? We took a closer look to discover what these California giants have in common, and what sets them apart. 
But first… Zoos have a tendency to split opinion due to issues around conservation and animal welfare, so let's address the (ahem) elephant in the room straight away…
Conservation and Animal Welfare
Both San Diego and LA zoos are committed to conservation and have mission statements that clearly reflect a desire to preserve endangered species and contribute towards a better future for our shared planet. And they're not all talk either. Far from it. San Diego Zoo pioneered the cageless, open-air exhibits that you'll now find in most zoos worth their salt, while their Institute for Conservation Research has helped reintroduce more than 30 endangered species back into the wild. LA Zoo is no slouch either, having made perhaps the greatest single contribution to the number of California condors now in the wild, thanks to its intensive breeding program for this rare, threatened animal. Both run a number of talks and demonstrations aimed at educating visitors (especially younger visitors) in how best to appreciate, interact with and protect all wildlife.
San Diego Zoo Vs LA Zoo: A Short History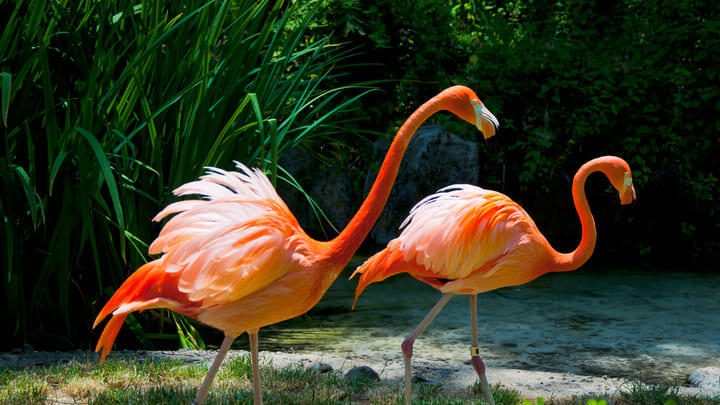 San Diego Zoo opened way back in 1916, taking abandoned exotic animal exhibitions from the previous year's Panama-California Exposition as its starting point. Over a century later, it's the most-visited zoo in the US, welcoming over four million visitors annually to its 100-acre corner of Balboa Park, just north of downtown San Diego. As well as around 650 species and somewhere in the region of 12,000 animals, San Diego Zoo is also a designated botanic garden with well over half a million exotic plants, which really help bring the jungle/rainforest vibe to the various zones. Quirky fact time! Did you know that San Diego Zoo is also where the first ever YouTube video upload was filmed. No? Well now you do. Entitled 'Me at the zoo', this 19-second piece of internet history is commemorated by a marker near the elephant enclosure.
LA Zoo is an even bigger beast, covering some 133 acres of Griffith Park east of the Hollywood Hills, its permanent location since 1966. Also a designated botanical garden boasting everything from Mexican fan palms to Hong Kong orchid trees, the zoo is home to more than 2,100 mammals, amphibians, birds and reptiles covering around 270 species, of which about a quarter are considered endangered, including regal snow leopards, brightly colored phantasmal poison frogs, and the famous California condor. Quirky fact time! In 2016, a California-based prankster left flyers containing comical fake facts all over the zoo. Highlights included the claim that southern crested screamers can see ghosts ('that's why they scream') and that first US President George Washington was in fact '9 koalas stacked on top of each other'.
San Diego Zoo: What to See and Do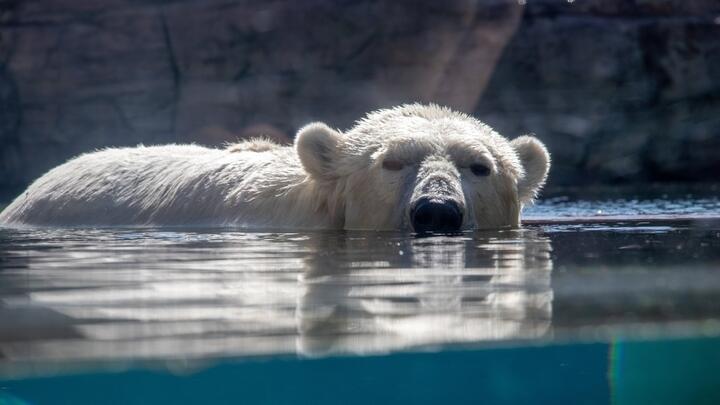 There are a number of ways to explore San Diego Zoo: on foot, by bus (which provides a guided tour of the entire zoo in around 35 minutes), on the aptly-named hop-on hop-off Kangaroo Bus, via miniature train or – best of all – aboard the Skyfari Aerial Tram, which soars over the treetops, affording epic views of the zoo and surrounding Balboa Park, with its many cool museum buildings, formal gardens and eye-popping pavilions. There are also loads of distinct zones to explore around the zoo. Get your giant lizard fix in the Komodo Kingdom, wander the Lost Forest to spot hippos, tigers, gorillas and more, and hit up the Northern Frontier for cute snow foxes and fearsome polar bears. You can also book special experiences like the early morning cheetah safari and exclusive VIP guided tours of the zoo. 
LA Zoo: What to See and Do
LA Zoo has its own share of must-see attractions, too. You'll want to check out the vast Elephants of Asia enclosure where you can watch these majestic creatures bathing beneath the waterfall, and the Rainforest of the Americas, where you can get up close (but not too close!) to tropical critters including jaguars, howler monkeys, red-bellied piranhas and Goliath bird-eating spiders. Like San Diego, LA Zoo runs an excellent program of special experiences, like wining and dining with spectacular nighttime views of the zoo and its inhabitants. Don't miss the free bird shows, seal demonstrations and messy giraffe feedings, and check daily schedules for free talks, feedings and keeper shows at both zoos.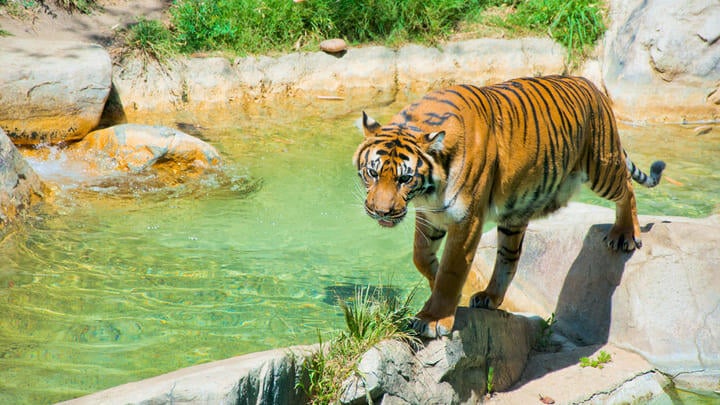 Fast facts: San Diego Zoo
Tickets
You can save by buying tickets in advance online at the official San Diego Zoo website. A range of options are available, from one-day zoo passes to multi-passes that include zoo entry as well as tickets to San Diego Safari Park and SeaWorld San Diego. The All-Inclusive attraction pass from Go City also includes all three of those attractions, plus more including Knott's Berry Farm theme park and the San Diego Museum of Art.
Opening Hours
Open daily from 9AM to 5PM, with some seasonal variation.
Getting There
San Diego Zoo is at 2920 Zoo Drive, San Diego, CA 9210. Rapid 215 and Route 7 bus routes connect the zoo to downtown San Diego. Parking at the zoo is free.
Fast facts: LA Zoo
Tickets
Buying advance tickets from the official LA Zoo website is recommended as walk-in entry cannot always be guaranteed at busier times. An attraction pass from Go City also includes entry to the zoo, plus many more LA highlights including Universal Studios Hollywood, La Brea Tar Pits and Madame Tussauds.
Opening Hours
Open daily from 10AM to 5PM, with some seasonal variation. Closed on Thanksgiving and Christmas Day.
Getting There
LA Zoo is at 5333 Zoo Drive, Los Angeles, CA 90027. You'll find the entrance at the northeast corner of Griffith Park,  at the junction of the I-5 (Golden State) and the 134 (Ventura) freeways. The LA Metro bus line 96 route serves the zoo from Burbank and downtown LA.