Travelers heading to San Francisco know that there's plenty to see and do here. From Fisherman's Wharf to the Golden Gate Bridge and Golden Gate Park - how can you decide, really? You know you've got to make it to the Wharf for sure, but which attraction should you tackle first? Among the stars of the Wharf, the Aquarium of the Bay is a must see, especially if you are traveling with children. For us, it's a definite number one. Interactive, educational exhibits entice young minds with dazzling facts about sharks, jellyfish, and other creatures of the sea. Check out our helpful guide for visiting San Francisco's Aquarium of the Bay, packed full of ways to save on admission, tips for visiting, other nearby attractions, and much more.
Looking for Aquarium of the Bay Tickets?
We've got you covered – Aquarium of the Bay admission is available with the below money saving options, so you can choose the attraction pass that's right for you: 1. All-Inclusive Pass – All you can do. Includes admission to dozens of attractions. 2. Explorer Pass – Choose as you go. Includes admission of up to 5 attractions. 3. Build Your Own Pass – Select the attractions you want to visit prior to visiting. See all available passes, attractions & prices – Learn more.
Tips for Visiting the Aquarium
Take your time! The aquarium is relatively small, but there is so much packed into the space. Be sure to go through slowly, and get to know the many exhibits.
Naturalists are on hand to discuss the residents of the aquarium, and often hold topical presentations. A look at the website will show specific times for these presentations.
Have a look at the feeding schedule and try to time your visit for this exciting daily event! There are scheduled times for shark feedings, as well as feeding times for the tide pool wildlife -- you won't want to miss it!
Be sure to eat before you arrive at the aquarium. There are no snacks inside, and you don't want to have to leave halfway through because someone is hungry.
Bring a camera to capture your experience. Photography is allowed in the aquarium, although flash photography will create glare when taking photos through the glass.You may want to take some video of the interactive tide pool activities!
Exhibits at the Aquarium of the Bay
Have you ever wondered what lies beneath the water in San Fran? At Aquarium of the Bay, you'll get to see, touch, discover and learn about the fascinating marine life that call the San Francisco Bay home. Explore crystal-clear tunnels that house over 2,000 species, learn how you can help conserve and save the ocean, and find your favorite aquatic critters all in one spot.
Discover the Bay
Discover the Bay is the first exhibit you'll stumble upon once entering the aquarium. You'll get to learn all about that animals that are local to the Bay area. Explore eight animal habitats that house more than 1,000 aquatic creatures, like Garibaldi, Moray Eels, perch, and more. These fun and fascinating habitats include "Beauties of the Bay," where the most colorful and striking of the aquarium's denizens live, and the ever-popular the "Bay Babies," where you'll see newly hatched critters of all kinds.
Under the Bay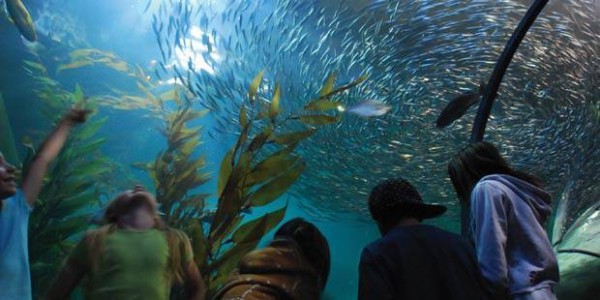 Walk through 300 feet of underwater tunnels and be inspired by the magnificent sights above you. Marvel along with the crowd as giant rays, sharks, sea bass and brightly-colored schools of fish swim freely through two 700,000 gallon tanks. Some of the many species you will encounter include Rockfish, Giant Pacific Octopus, Rays, Sevengill Sharks, Leopard Sharks, Sturgeon, and more.
Touch the Bay
One of the things that makes this destination so special for children is the interactive "splash zone" exhibits featuring species such as baby sharks, bat rays and more. These displays encourage kids to get up close and even touch these wondrous creatures. The tidepool-like interactive zone allows visitors to touch and interact with the marine life for themselves. You can stick your hands right in the water and marvel at the smooth, rubbery texture of Bat Ray skin, or the rougher texture of baby sharks! It is important to be mindful of these animals, and respect them and the rules of the aquarium by only touching them with your finger, and never poking or grabbing at them.
Go With the Flow
Allow yourself to be mesmerized by a sea of floating jelly fish. Ambient lighting and 700+ gallon tanks create a neon-colored atmosphere where these hypnotic invertebrates can float around. Did you know there are more than 200 species of jelly fish worldwide? Explore plenty of them at Aquarium of the Bay and learn about the species as a whole.
River Otters
Visit these adorable playful creatures in their spot-on river habitat. Meet the four river otters: Shasta, Ryer, Baxter, and Tahoe. They've all been rescued from throughout the Bay area's river systems and now reside full time in their cozy habitat.
Pier 39 Sea Lions
Don't miss the Sea Lions! While you are visiting Pier 39 and the Aquarium of the Bay, be sure to look for the San Francisco Bay's most popular residents - the playful, charismatic and laid-back Sea Lions! These guys are a permanent fixture at Pier 39, and always a big hit with kids and grown-ups alike. They arrived for the first time back in 1990, shortly after the Loma Prieda earthquake, and have been returning ever since. The aquarium has even created a special Sea Lion center, where you can go learn more about these magnificent creatures. After visiting the center, go outside and see them in person.
Fun Facts About The Aquarium
The aquarium is home to 20,000 animals from the San Francisco Bay and nearby waters.
The Aquarium of the Bay opened in 1996, and is the only aquarium strictly devoted to the marine life of the San Francisco Bay.
Over 600,000 visitors enjoy the aquarium each year.
The Aquarium of the Bay is a non-profit marine center affiliated with The Bay Institute.
Nearby Things to Do
While the aquarium is a destination in itself, the surrounding area is not to be missed. The Aquarium By The Bay is set right in the middle of the Pier 39 action, and near a multitude of other fun things to do, including museums, unique shops, and world-class dining. There is a carousel at the Pier, and talented performers put on family-friendly shows throughout the day.
Ripley's Believe it or Not! San Francisco
Ripley's Believe it or Not! appeals to visitors of all ages! With over 70 hands-on exhibits and plenty to learn about some of the most unbelievable accomplishments, its an entertaining day for all. Explore 18 themed galleries at the Odditorium filled with quirky artifacts like an Egyptian's mummified foot, shrunken heads, and incredible artwork. Getting in: Ripley's Believe it or Not! San Francisco tickets are included with Go San Francisco Card.
Madame Tussauds San Francisco
No need to travel to Hollywood – meet your favorite celebrities right here in San Francisco! A visit to Madame Tussauds is the best way to encounter some of the most iconic and notorious famous figures – wax figures that is. Whether you're looking to meet your favorite athlete or sing with your favorite artist, you're sure to run into them here. See Marilyn Monroe, Groot from Guardians of the Galaxy, Taylor Swift, Adele, and many more. Getting in: Madame Tussauds tickets are included with Go San Francisco Card.
Shop Around
If shopping is on your list, you won't be disappointed. In addition to the many locally-themed gift shops, you will also find an array of specialty boutiques featuring apparel, jewelry, gifts, collectibles and artwork. Leave plenty of room in your bag! If you want to get a better look at the world-famous San Francisco icon, the Golden Gate Bridge, there are Golden Gate Bay cruises that leave throughout the day to take you on informative tours, as well as excursions towards Alcatraz Island, called 'Escape From The Rock.' There is also an incredible selection of local and chain restaurants at your fingertips, including the Hard Rock Cafe, Bubba Gump Shrimp Co., Fog Harbor Fish House and more. You will find a wide array of international cuisine in the area, as well as plenty of fresh seafood, of course! When you have fully explored the Aquarium, restaurants, shops and entertainment (which is more than one day of sightseeing) a stroll along the wharf and nearby streets will take you to the many other wharf-side attractions.
Save on Admission with a Go San Francisco Card
Remember, the Go San Francisco® Card is the best choice for maximum savings and flexibility, which includes Aquarium of the Bay tickets, plus admission to your choice of other top attractions. Save up to 55% on top museums, tours, and activities vs. paying at the gate. Visit multiple San Francisco attractions for one low price.