It's tough to crack down on an objective best time to visit San Francisco, owing to its vast wealth of evergreen attractions and its plethora of fantastic cultural events taking place throughout the year. Preferences vary vastly between tourists, so we've outlined each season to help you figure out the best time to plan your ideal Bay Area city break.
Spring (March – May)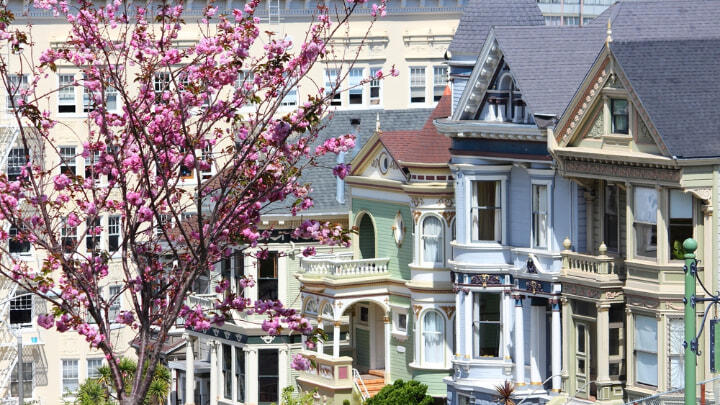 Average Temperature: 48 - 63°F • Average Rainfall: 4 - 10 days/mth • Average Sunshine: 9 – 11 hours/day
Entering into its first shoulder season of the year, San Francisco maintains a modest but steady flow of traffic throughout spring. Busier than winter but quieter than summer, this is an ideal time to experience everything that the city has to offer without the larger crowds. What's more, you can often still cash in on some fairly decent off-peak hotel prices, too.
Though the weather in the Bay Area certainly begins to chipper up throughout spring, this is still by and large a season you'll want to wrap up for. Temperatures typically flirt between cool and pleasantly mild throughout, with some fairly regular sunshine offering some decent city exploring conditions. Just make sure to be mindful of the windchill by the Bay, and packing an umbrella certainly isn't a bad call either.
Things to do in Spring
You'd be hard pressed to find a better time than spring for exploring some of San Francisco's quirkiest neighborhoods. Both Chinatown and Japantown offer some of the city's most enchanting cultural insights, characterized in large part by some charming traditional East Asian architecture and a variety of authentic eateries and stores.
Also particularly popular to explore is Fisherman's Wharf, a vast waterfront complex offering all manner of entertainment. Among its best attractions are the Pier 39 shopping district, the classic Musée Mécanique penny arcade and the Madame Tussauds wax museum. Keep an eye out for the local colony of playful, barking sea lions, too!
What's On in Spring
Springtime sees the Bay Area veritably blooming with cultural events, never more literally than during the Northern California Cherry Blossom Festival held in Japantown throughout April. This is also a season brimming with appreciation for the arts, best represented among the fantastic film screenings of the San Francisco International Film Festival.
Also popular in spring are St. Patrick's Day, host to a day of drinking and merriment as locals and visitors embark on epic bar crawls and revel at the annual St. Patty's Day parade. If that wasn't enough partying for you, then the massive Carnaval celebration most certainly will be, comprising two days straight of live music, dancing and drinking as locals in vibrant fancy dress take over the city streets.
Summer (June – August)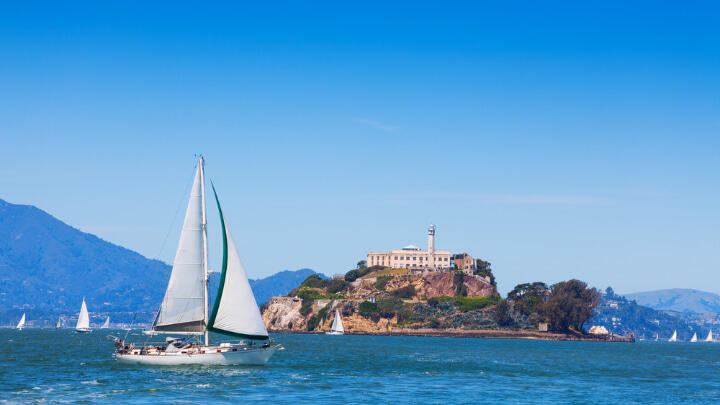 Average Temperature: 52 - 72°F • Average Rainfall: 0 - 2 days/mth • Average Sunshine: 12 hours/day
As with most northern-hemisphere destinations, summertime sees San Francisco at its busiest. Though it's rarely ever truly quiet throughout the year, the city takes on even more of a bustling and electric atmosphere in the summer months. Naturally, you'd be best advised booking your flights, hotels and venues sufficiently in advance so as not to miss out.
San Francisco's bayside location keeps the city's climate in somewhat of a goldilocks zone, never too cold but rarely warmer than a certain degree. That being said, the Bay Area's weather is at its most idyllic in summer, with temperatures averaging between mild and warm, complemented by very regular sunshine and rare rainfall.
Things to do in Summer
The idyllic climate throughout summer lends itself perfectly to exploring some of the Bay Area's fantastic green spaces. Enjoy the vast open space of Golden Gate Park along with its gorgeous Botanical Garden and serene Japanese Tea Garden, or admire the spectacular floral displays of the Conservatory of Flowers after a relaxing picnic in Mission Dolores Park.
San Francisco's picture-perfect landscape is truly a sight to behold from the right vantage point. Head up Coit Tower atop Telegraph Hill for some unobstructed panoramic views right down into the Bay, or if you're looking for a romantic way to spend a summer's evening, catch the sunset over the city skyline from the Twin Peaks summit.
What's On in Summer
Much like the rest of the nation, summertime means festival season for San Francisco. June sees the city come together for the likes of the annual Pride Parade and the North Beach Festival, while the San Francisco Jazz Festival and Fillmore Jazz Festival see the Bay Area embrace somewhat of a classier vibe.
Lighting up the skies in the name of independence, San Francisco's Fourth of July celebrations are truly a force to be reckoned with. All across the Bay Area, neighborhoods erupt in festivity as live music, partying and firework displays abound, most notably along the waterfront at Fisherman's Wharf.
Fall (September – November)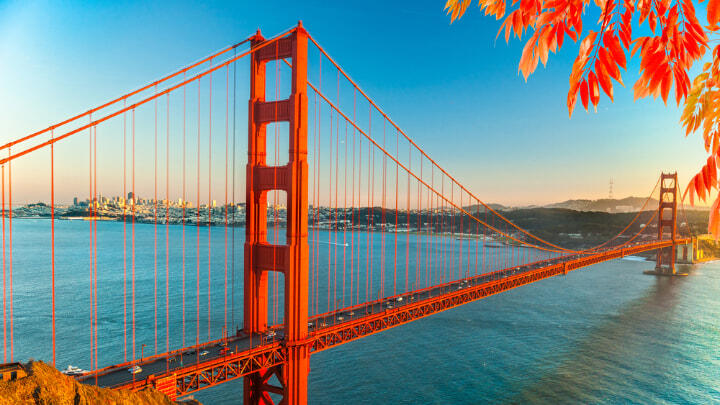 Average Temperature: 50 - 70°F • Average Rainfall: 2 - 7 days/mth • Average Sunshine: 8 - 11 hours/day
Unlike many comparable destinations, San Francisco maintains much of its peak-season popularity throughout fall, owing largely to its continued pleasant weather and the wealth of fantastic cultural events taking place throughout the season. While you're sure to find the city somewhat quieter than in summer, you'll still want to book your chosen hotels and attractions in advance to avoid any potential disappointment.
In much the same way, the Bay Area typically maintains its relatively idyllic summertime weather throughout fall. Though you can expect a touch more rainfall depending on when exactly you choose to visit, most of the season offers temperatures somewhere between mild and pleasantly warm.
Things to do in Fall
With the Bay Area's weather still so pleasant throughout fall, there are few better times to explore some of the city's top sights. Take some stellar shots of the iconic Golden Gate Bridge, often cloaked in its trademark scarf of fog, then take a load off in Alamo Square Park while admiring the famous row of Victorian-style Painted Ladies.
History buffs and the morbidly curious alike should be no stranger to Alcatraz Island, once the site of one of the nation's highest-security prisons. If you have the heart for it, you can take a boat tour out into the Bay to explore the hostile grounds and chilling cells that once held some of the most notorious criminals in American history.
What's On in Fall
Fall is perhaps the most culturally-rich season of the year for San Francisco, dominated in large part by a huge variety of film festivals. The United Nations Association Film Festival, SF International Festival of Short Films and Japan Film Festival are just a few of the events screening award-winning films throughout the city, with an event for just about every topic and area of interest.
Outside of the arts, the Bay Area is also host to the exceptionally popular Fleet Week event, dominated by a number of thrilling air shows, special boat tours and parades on the Bay. The San Francisco International Auto Show is a huge draw for motorheads from up and down the country, while thousands flock to the nearby city of Oakland to revel in celebration of the Día de los Muertos.
Winter (December – February)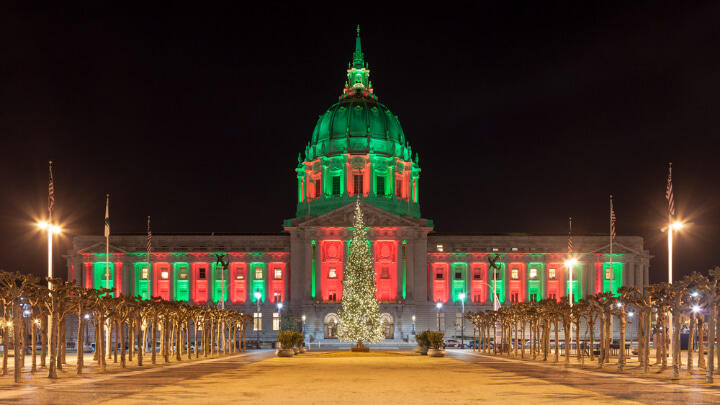 Average Temperature: 46 - 61°F • Average Rainfall: 10 days/mth • Average Sunshine: 6 - 9 hours/day
Though never truly quiet, winter offers a moment of respite for San Francisco. With the exception of the holiday season, when the Bay Area takes on a whole new lease of festive life, the low-season months are the perfect opportunity to experience many of the city's top attractions at their quietest. Visit after the holidays, and you'll even get to benefit from low-season hotel rates, often at quite a hefty discount on peak time prices.
As you might expect, winter is typically the coldest period for San Francisco. Though its bayside location protects it from any drastic temperatures, you'll certainly want to pack for the weather, particularly to combat the windchill and semi-regular rainfall. That isn't to say you can't also get some great weather throughout the season, as you're sure to find yourself with at least a few particularly pleasant days ideal for exploring the city.
Things to do in Winter
Should you find yourself in San Francisco in December, the holiday season festivities are truly a sight to behold. Explore the traditional displays at Union Square, the heart of all holiday activity in the Bay Area, and admire the adorable animals up for adoption in the annual SPCA Holiday Window. Once you're finished showing your moves at the Square's Ice Skating Rink, grab yourself some holiday deals at the likes of Macy's and Westfield Shopping Center.
For an escape from some of the season's chillier weather, head to the California Academy of Sciences in Golden Gate Park. This vast 400,000-square-foot complex houses both an enchanting aquarium and a four-story indoor rainforest populated by all manner of exotic flora and fauna, not to mention the impressive natural history museum and digital planetarium to boot.
What's On in Winter
Winter in San Francisco kicks off with a whole host of festive events. Alongside a whole host of magical holiday displays, the city is also host to The Great Dickens Christmas Fair, complete with festive market stalls among an impressive replica of Victorian London. Also popular in San Francisco holiday tradition are the enchanting performances of A Christmas Carol and the Nutcracker Ballet.
Not quite satisfied with the holiday season festivities alone, the Bay Area also quite literally lights up for New Year's Eve, as thousands of revelers flock to see out the year with an impressive firework display out on the Bay. Following swiftly afterwards, San Francisco's Chinese New Year celebration is among the largest and most vibrant in the world, drawing in millions to awe at the annual parade and its trademark 28-foot-long golden dragon.