All along Fisherman's Wharf you will find opportunities to explore the history and culture of the San Francisco Bay area. While there are many unique landmarks and attractions that make the area special, one of the most recognized and iconic symbols of San Francisco -- and Northern California -- is the Golden Gate Bridge. There are plenty of ways to explore and photograph this breathtaking landmark. You can drive across it, or take one of the hop on/hop off bus tours that will take you through the city, over the bridge and to the Vista Point lookout for photo ops and fun facts about the city and the bridge. You can also walk, jog or bicycle across. For a truly unique perspective, as well as a wealth of information about not only the Golden Gate Bridge, but the Bay Bridge as well, the "Bridge to Bridge" boat cruise is an unforgettable experience that the whole family is sure to enjoy. Check out our helpful guide for taking a San Francisco Bay Cruise, packed full of ways to save on admission, tips for visiting, other nearby attractions, and much more.
Looking for San Francisco Bay Cruise Discount Tickets?
We've got you covered – 
Bridge 2 Bridge Cruise admission
 is available with the below money saving options, so you can choose the attraction pass that's right for you: 1. 
All-Inclusive Pass
 – All you can do. Includes admission to dozens of attractions. 2. 
Explorer Pass
 – Choose as you go. Includes admission of up to 5 attractions. 3. 
Build Your Own Pass
 – Select the attractions you want to visit prior to visiting. See all available passes, attractions & prices – 
Learn more
.
Tips for Enjoying the Bridge 2 Bridge Cruise
If you are prone to sea sickness, take precautions before boarding the ship, the waters can get a little choppy, especially around the Golden Gate Bridge.
You have the option to sit at a table or bench on one of the boat's indoor levels, or to enjoy the fresh sea air and unobstructed views on one of two decks.
It tends to be chilly out on the water no matter what time of year, so dress in layers, bring a rain jacket, gloves and a hat.
Bring a well-charged camera with plenty of room for lots of photos. Even in foggy weather you will have the opportunity to capture some truly amazing shots of the bridge and the city.
Don't go on the cruise hungry. Have at least a light snack beforehand, or bring one with you. Bring a bottle of water as well.
The Bridge to Bridge cruise is entertaining and educational. It's appropriate for all ages and offers one of the best ways to get a close-up view of both of these amazing landmarks.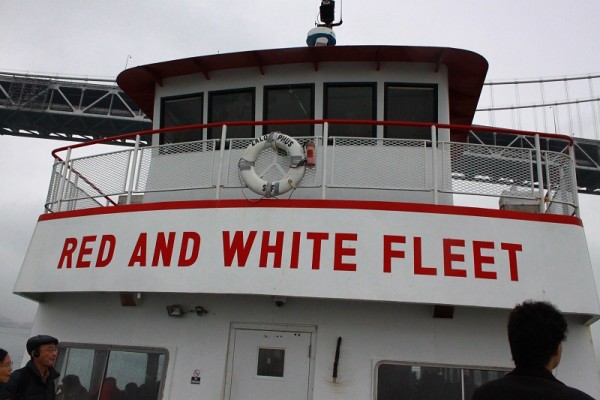 Nearby Attractions
The entire Pier 39 - Fisherman's Wharf area is packed with things to do and see. You could easily spend a few days here, wandering through Pier 39, shopping, taking bus tours and visiting nearby attractions. Here are a few we suggest adding to your itinerary...
Aquarium of the Bay
 - Explore underwater tunnels teeming with sea life from local waters. Sevengill sharks, leopard sharks, giant Pacific octopus, jellyfish, rays and more. Naturalists are on hand to answer questions and kids and adults alike will love the interactive pools that allow you to get up close and personal with smaller animals such as baby leopard sharks and bat rays. You can even touch them!
Madame Tussauds San Francisco
 - See wax statues of famous historic figures and modern day celebrities at this famous attraction. Take a selfie with your favorite A-list celebrities like Leonardo DiCaprio, Morgan Freeman, George Clooney and Jennifer Aniston. Music buff? Enjoy interactive displays featuring your favorite artists. Ever wanted to play piano with Elton John? Or, get up on stage with mega-star Adele. These are just a few highlights to be enjoyed at Madame Toussad's.
Ripley's Believe it or Not!
 - Visit the "Odditorium" and marvel at the collection of artifacts, unusual art and unbelievable displays.
Places to Eat Nearby
On The Wharf
If you are looking for a meal either before or after your cruise, you'll have more than a few to choose from! The Fisherman's Wharf and Pier 39 restaurant scene is hopping with plenty of options for all tastes and budgets. Here is a list of restaurants you will find in the immediate area:
Alioto's
 is a family restaurant serving classic seafood dishes. This is a great spot to sample some fresh, cracked crab with butter!
Bistro Boudin
serves up California cuisine in their upstairs restaurant. Downstairs you will find a cafe and bakery. Although the Boudin building is large, you'll find it a warm and cozy spot to get a coffee. If you are a fan of sourdough bread you won't want to miss Boudin's, the entire place is filled with the aroma of it!
Brick And Beam
is a stylish and popular restaurant with a modern rustic ambiance and serves a variety of organic and sustainable foods.
Castagnola's
is a renowned and respected Fisherman's Wharf landmark restaurant, and was one of the first in the area. Another family-run establishment, Castagnola' is the place to go enjoy fresh seafood with magnificent views.
At Pier 39
The pier offers a wide variety of restaurants, snack stands and dessert spots. The is something here for every taste and budget.
Bubba Gump Shrimp & Co.
Hard Rock Cafe
Fog Harbor Fish House
Wipeout Bar and Grill
Need to Know
Hours
Spring 2016 (March 26–May 25): 12:30 pm, 2:15 pm and 4:15 pm
Summer 2016 (May 26–September 5): 12:30 pm, 2:15 pm, 4:00 pm and 5:45 pm
Fall 2016 (September 6–November 5): 12:30 pm, 2:15 pm and 4:15 pm
Winter 2016/2017 (November 6-March 26): 12:00 pm and 4:15 pm (Thursday-Monday)
Directions & Address
Pier 43 1/2, Fisherman's Wharf San Francisco, CA 94133
Public Transportation:
The Bay & Taylor Street Cable Car Terminus is located within 4 blocks of Pier 43 1/2 and the MUNI F-Line streetcar is only one block away at Jefferson & Taylor.
Save on Tickets with a Go San Francisco Card
Remember, the 
Go San Francisco® Card
 is the best choice for maximum savings and flexibility, which includes
Red and White Fleet's Bridge 2 Bridge Cruise tickets
, plus admission to your choice of other top attractions. Save up to 55% on top museums, tours, and activities vs. paying at the gate. Visit multiple attractions for one low price.