The San Francisco Exploratorium is an internationally renowned museum of science, art, and human perception, located at Pier 15 in the heart of San Francisco's vibrant Embarcadero. A perfect destination for families, this wonderful museum contains more than 600 interactive exhibits and experiences which create a culture of learning through innovative environments, programs, and tools that nurture curiosity. Families visiting San Francisco should definitely plan to visit the Exploratorium and all of its wild and wonderful exhibits. Get the most out of your visit to this fun educational institution with these tips and ideas.
Looking for Exploratorium Discount Tickets?
We've got you covered – Exploratorium admission is available with the below money saving options, so you can choose the attraction pass that's right for you: 1. All-Inclusive Pass – All you can do. Includes admission to dozens of attractions. 2. Explorer Pass – Choose as you go. Includes admission of up to 5 attractions. 3. Build Your Own Pass – Select the attractions you want to visit prior to visiting. See all available San Francisco passes, attractions & prices. Families shouldn't miss out on this amazing institution during their San Francisco vacation – it is, after all, the most experimental museum in the world!
Tips for Visiting the Exploratorium
Consult the museum map online before arriving; it will help you plan the exhibits you most want to see and save you time during your visit.
Buy your tickets in advance to save on admission prices and skip ticket lines.
Wear comfortable clothes (preferably layers). You'll be very active inside the museum and may warm up, but San Francisco is breezy on the best of days outside.
If you have really young children, arrive especially early to reserve one of their complimentary strollers.
Minimize what you bring inside, or use the paid lockers provided by the museum to store your stuff as you explore.
If you get hungry during your visit, check out their popular SeaGlass Restaurant.
When to Visit
Arriving early is always a safe bet, and weekdays are going to be less crowded than weekends. We recommend either aiming to be there when they open, or arriving sometime in the mid afternoon (after the lunchtime crowd leaves).
What to Do There
*Keep in mind that many Exploratorium exhibits are temporary, and may be different at the time of your visit. The Exploratorium exhibits are located across six different, themed galleries. Here's a rundown of those galleries, and a selection of current exhibits within those galleries.
Gallery 1: Human Phenomenon
Exploring human thoughts, feelings, and social behavior through a variety of interactive exhibits, this is one fun place to start exploring this attraction. Kids can build, sit, play, listen, and more in these exhibits. Some of the current exhibits include exquisite Balinese masks, a bronze hand, a cloud ring, and more more.
Gallery 2: Tinkering
This gallery is bound to be the most popular with creative and crafty kids. It's filled with fascinating machinery, exhibits, and tools that all boast interactive components that allow visitors to play, create, and test out their inventions. Some featured exhibits in this gallery include the amazing Tinkerer's Clock, the super fun Marble Machines (build your own marble maze!), and the Art of Tinkering exhibition.
Gallery 3: Seeing and Listening
One of the central galleries of this attraction, the Seeing and Listening space is filled with activities and exhibits that highlight these all-important senses. Kids and adults alike can play with colors, shadows, sights, and sounds to get a feel for how light and sound work, and to gain a great understanding of scientific processes. Create colorful shadows. Paint with soap film. Wander through the monochromatic room where everything is drained of color. Marvel at a giant mirror (once part of a NASA flight simulator). And much more!
Gallery 4: Living Systems
Explore the growing story of, well, everything! See the living world from great to small as you learn about DNA, microorganisms, and entire ecosystems. Explore Plankton Populations to imagine what life is like on a totally different scale. Use special lenses to actually see this microscopic creatures who are responsible producing approximately half of the oxygens humans breathe each year. Explore live data from the NOAA tide station by the Golden Gate Bridge to see what the current tides are nearby and learn about how the tides have a monumental effect on life in the water. There's even a microscopic imaging station to give you a glimpse of what cells look like up close!
Gallery 5: Outdoor Exhibits
The Exploratorium actually has an entire series of exhibits in their exterior space, many of which are dedicated to exploring natural phenomena, physical curiosities, and feats of human ingenuity. Some of their most popular outdoor exhibits include the 
Over the Water 
collection of temporary art exhibits, in which the pieces each reflect something abut the Exploratorium's unique location in San Francisco, and the 27-foot-tall 
Aeolian Harp, 
built for the museum by artist Doug Hollis in 1976. In warmer weather, be sure to check out the interactive 
Remote Rains 
exhibit, which actually reproduces realistic weather patterns under a bright orange umbrella. BONUS! Enjoy at-home fun with Exploratorium Science Snacks. These snacks aren't the kind you can eat, but instead they're fun mini-experiments that teach kids basic scientific principles and practices. They're great hands-on activities that often model the larger exhibits at the Exploratorium. Visit their website for details.
Gallery 6: Observing Landscapes
Focusing on the natural history and ecology of the San Francisco Bay region, this gallery includes exhibits that trace human and natural forces on the landscape around you. Scope out sediment cores from around the Bay to see what's going on underneath the earth, follow the digital footprints of San Francisco residents as they go about their days, and peek at a live oyster colony.
Nearby Attractions
The Exploratorium is conveniently located on the waterfront, just a short jaunt from the bustling neighborhood of Fisherman's Wharf. There, you can enjoy everything from Madame Tussauds to a number of popular cruises and tours.
Madame Tussauds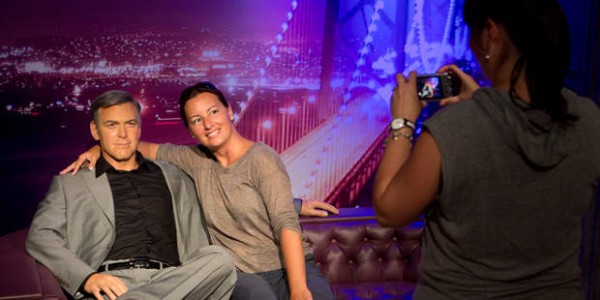 This is is everyone's favorite wax museum, filled with a variety of exhibits and themed rooms that appeal to broad interests. It's particularly suited for kids, too, because of their cultural and historical focus. Getting In: Madame Tussauds tickets are included with the Go San Francisco Card.
Aquarium of the Bay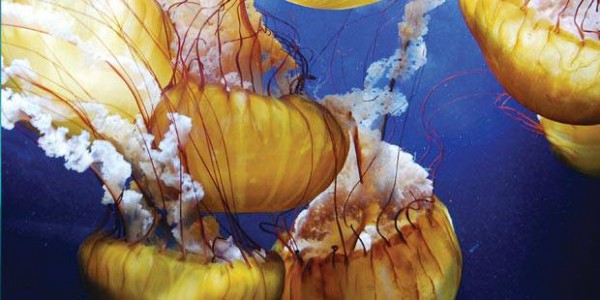 The Aquarium of the Bay is another popular attraction nearby, a local institution that features marine life specific to the San Francisco Bay Area (along with some other creatures, too!). Families love this aquarium. Getting In: Aquarium of the Bay tickets are included with the Go San Francisco Card.
Golden Gate Bay Cruise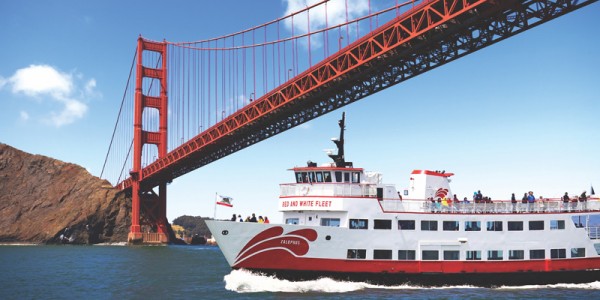 If you're looking to hop aboard a fun cruise, the Golden Gate Bay Cruise is a perennial favorite with visitors. It showcases the iconic bridge, as well as other landmarks that populate the Bay including Alcatraz, Angel Island, and more. Getting In: Golden Gate Bay Cruise tickets are included with the Go San Francisco Card.
Hop-on Hop-off Big Bus San Francisco Tour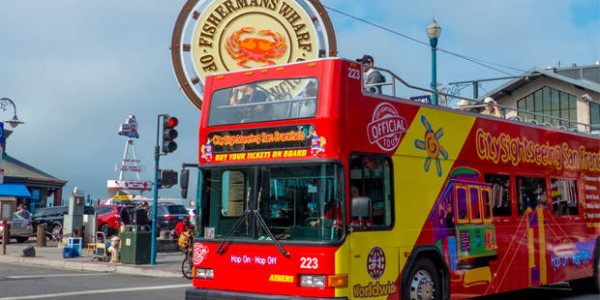 Fisherman's Wharf is also a pickup point for the famous Big Bus San Francisco tours, vehicles that provide convenient hop on and off service throughout the city. Getting In: Big Bus San Francisco tickets are included with the Go San Francisco Card. If you're looking for more information about how to explore San Francisco, including transportation information, check out our Getting Around San Francisco guide.
Places to Eat Nearby
If you choose not to eat at the Exploratorium itself, there are plenty of dining choices on the waterfront.
The nearby Grumpy's Restaurant & Pub is a local favorite that serves classic pub fare plus a full breakfast menu.
Or, choose something a bit more chic by dining at Café de Stijl, a casual eatery (owned & designed by a local architect!) specializing in French fare.
Looking to be right on the water? Head up to Pier 23 for the Pier 23 Café.
Save on Admission with a Go San Francisco Card
Remember, the Go San Francisco® Card is the best choice for maximum savings and flexibility, which includes Exploratorium tickets, plus admission to your choice of other top attractions. Save up to 55% on top museums, tours, and activities vs. paying at the gate. Visit multiple San Francisco attractions for one low price.