For such a compact city – just seven miles long by seven miles wide – San Francisco packs a heck of a punch when it comes to attractions, shopping and nightlife. Think world-famous icons like the Golden Gate Bridge, the historic wooden cable cars and Alcatraz Island. The parks, museums and expansive Bay views from the city's 50+ hills ain't too shabby either. But is San Francisco safe for tourists? Read on for our guide…
How Safe is San Francisco?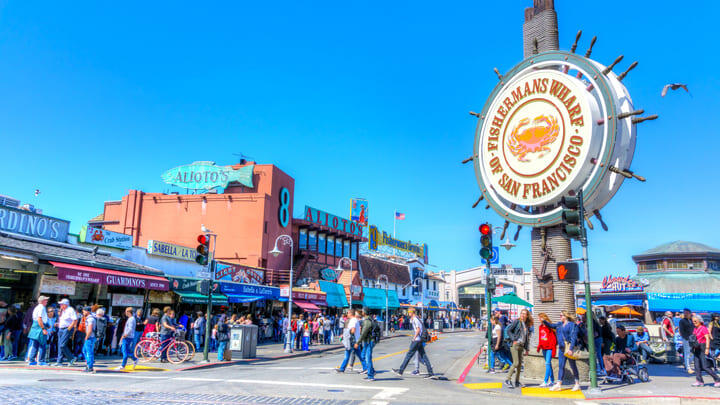 In spite of its relatively small size, San Francisco is one of the most densely populated cities in the United States, with knocking on for a million inhabitants. Add to this somewhere in the region of 25 million tourists passing through annually and there is, inevitably, some scope for petty crime. But, in truth, it's probably no worse than any other city of this kind.
As with most major cities there will always be an element of low-level, non-violent crime such as bag-snatching and pickpocketing, with tourists inevitably providing the easiest pickings. Car break-ins are a bit of an issue here but hey, you don't really need a car to get around and, frankly, parking fees in San Francisco are a form of daylight robbery in their own right anyway.
The city has a large homeless population, mainly centered around the Tenderloin district, which can be intimidating for newcomers. Even family friendly North Beach has a slightly seedier side after nightfall, while the crowded piers of Fisherman's Wharf are where you're most likely to be relieved of your wallet by an opportunistic pickpocket. But think of these areas as places to be more on your guard than somewhere to avoid entirely. San Francisco is generally safe for tourists and you're highly unlikely to run into any trouble at all. That said, there's no harm in taking a few common-sense precautions to avoid appearing vulnerable to would-be thieves.
Though rare, natural disasters are not unknown in San Francisco so it's also worth boning up on what to do in the event of e.g. an earthquake or wildfire, even if the chances of you encountering either on a visit to the Golden City are close to zero.
Tips for Staying Safe in San Francisco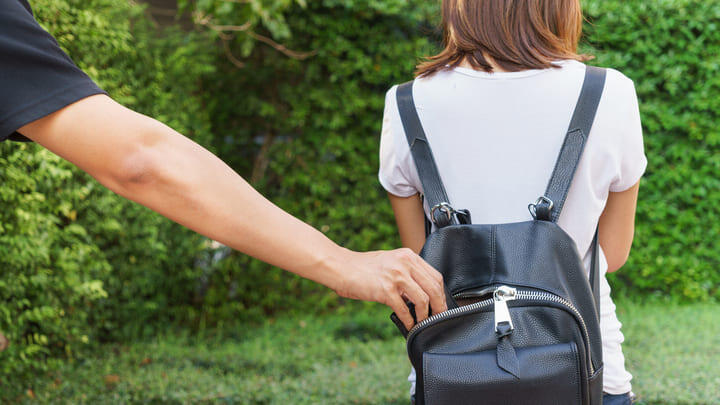 Opportunists looking to relieve you of your hard-earned vacation cash can mostly be found haunting the busiest attractions, where it's much easier to melt away into a crowd with their ill-gotten gains. Keep your wits about you in the likes of Fisherman's Wharf, and especially the ever-popular Pier 39, where tourists gather in their thousands to say hi to the resident sea lion colony and visit the Aquarium of the Bay and other San Francisco big-hitters. The same goes for parts of Downtown and Chinatown, where pickpockets ply their trade and seasoned scammers will try all manner of sob stories to get you to hand over a few dollars. Similarly, the thriving nightlife scene and major yearly festivals that draw revelers from across the globe are great fun, but mean more crowds and easier pickings for… well, you get the general idea.
So: stay alert in sketchy areas and be aware of your surroundings wherever you are. Keep valuables out of view and be skeptical of anyone who approaches you asking for money, especially those 'friendly helpers' who hang around ATMs, anyone offering to take a nice souvenir photo of you with your very expensive smartphone or anyone with a sob story. Trust your instincts on these – if it doesn't feel right, walk away.
While these may sound obvious, thieves rely on the element of surprise and it's easy to become flustered when suddenly confronted. Yes, even to the extent of willingly handing over your phone only to watch helplessly as it, and its new owner, melt away into the crowd. 
In the unlikely event you do lose your valuables to a bag snatcher, scammer or pickpocket, by all means raise the alarm, but it's really not worth giving chase. Instead, report the incident to police as quickly as possible (your insurers will require a police report) and, above all, try not to let one unpleasant experience spoil the rest of your trip.
San Francisco Beach Safety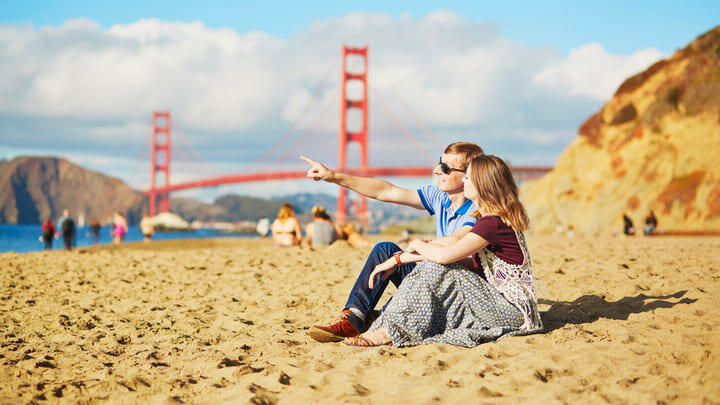 You'll want to spend plenty of time outdoors on your San Francisco vacation. And who can blame you? There's that mild climate, perfect for picnics in sprawling Golden Gate Park, boat trips around the Bay, epic climbs up Nob Hill and the quad-crunching Filbert Street Steps (all 500 of 'em). Not to forget ticking off that most essential of San Francisco activities: a stroll across the Golden Gate Bridge to the charming seaside town of Sausalito.
And then there are the beaches, from the wild, rugged expanse of Ocean Beach on the west coast, to the sheltered cove at the Aquatic Park. Now, San Francisco isn't exactly known for reliably sunny weather, what with the ubiquitous summer fogs that roll through the Bay, and surprisingly stiff sea breezes even during peak season. Indeed, the best beach weather is generally to be had in September into early October, when the fogs have abated and you can expect clear skies and temperatures in the high 60s much of the time. 
First things first: even though it might not feel that warm out, don't end up looking like a boiled lobster because you didn't think it was hot enough to burn: the San Francisco sun can be tricky that way, so slap on the sunscreen when you're going outdoors. Better safe than sorry, and all that. The beaches here are great for lounging and catching some rays, but not for swimming. There is little or no lifeguard presence in the Bay area, and the rough Pacific waters are not safe for swimming due to bone-chilling temperatures and dangerous riptides. Don't be tempted to go in even if the water looks calm – tourists wading in just three feet of water at Ocean Beach have been swept away suddenly.
If you do fancy dipping your toes, the sheltered cove at the Aquatic Park in the National Maritime Historical Park along the north coast is your best bet. Or head over the bridge to Stinson Beach in Marin County, where white sands, relatively calm waters and a lifeguard presence in summer makes for a fun (and safe!) day out. It's around 45 minutes' drive from downtown San Francisco.
Save on attractions in San Francisco 
Save on admission to San Francisco attractions with Go City. Check out @GoCity on Instagram and Facebook for the latest top tips and attraction info.