One of the best times to visit San Francisco is Independence Day - there's even more going on than usual! From bay cruises to bus tours and scavenger hunts, there are lots of fun and festive activities in the Bay Area. Since 4th of July falls on a Thursday this year, it's the perfect excuse to plan an extra long weekend in San Francisco. If you're looking for San Francisco 4th of July Weekend ideas, check out some of these  ideas! There are many local activities and fun things do in San Francisco in July, including…
Fireworks from Fisherman's Wharf
SoMA & the Yerba Buena Gardens Festival
Golden Gate Park Events
PIER 39 Activities
Sightseeing Cruises
and more...
Save on Admission to Popular Attractions
The Go San Francisco pass provides admission to a number of these attractions. Choose as you go from dozens of San Francisco attractions and activities and save up to 45% off combined admission vs paying at the gate. See all available passes and San Francisco attractions – Learn more. Please note, some of these special July and 4th of July weekend events may be separately ticketed and not included on the Go San Francisco pass.
San Francisco Fireworks July 4,
Everyone's favorite 4th of July activity is watching the fireworks. San Francisco will be setting off fireworks from two locations: from the foot of the Municipal Pier and from the barges north of Pier 39. Fireworks will begin at 9:00 pm. You'll be able to see both sets of fireworks from most central locations. The synced performance is an impressive sight, but for the best views of the firework display, head to one of the following areas:
Aquatic Park
Ghiradelli Square
The Cannery
Fisherman's Wharf
Coit Tower
Angel Island
No matter where you decide to set up camp, make sure to get there early for a good spot. Insider tip: Take public transportation to the area, as surrounding streets will be closed to cars for several hours in advance of the fireworks. Getting In: San Francisco Fireworks are free to watch. If you're opting to use public transit, a 1-Day MUNI Pass is included as an option on the San Francisco Explorer Pass.
San Francisco Museum of Modern Art
If you're looking for some artistic inspiration this July, stop by popular SFMOMA. It's a delightful artistic and architectural experience all around. Enjoy the unique displays and make sure you check out their exhibit on Andy Warhol, spanning three floors and featuring a dozen artworks unique to the museum. The exhibition closes on September 2. Their permanent collections are also quite impressive, with particular strengths in modern and contemporary art. Getting In: SFMOMA tickets are included with the Go San Francisco pass.
Explore Golden Gate Park
It's easy to turn a visit to Golden Gate Park to a full-on day trip. In addition to the number of beautiful biking and walking trails, you can browse through American art at the world-class de Young Museum. Don't miss the chance to see Specters of Disruption, an exhibition exploring  disruption within nature, history and myth, culture and technology. Why not pay a visit to the California Academy of Sciences? Ranked one of the 'New Wonders of the World' by Conde Nast Traveler, the Academy is full of things to do. Enjoy a four-story living rain forest and awe-inspiring coral reef ecosystem. Plus, check out immersive space shows that will transport you beyond the boundaries of our planet. In celebration of our nation's birthday, they often have live music and fireworks displays on the 4th of July as well.
Getting In:
de Young Museum tickets
and
California Academy of Sciences tickets
are included with the Go San Francisco pass.  
4th of July Celebration at PIER 39
Head to PIER 39 for Independence Day fun for the whole family. Enjoy musical performances reminiscent of the 80s and 90s live! There's tons to do on the pier on any given day, so imagine the fun you can have during their 4th of July celebration. Enjoy hours of waterfront fun and expand your explorations to Fisherman's Wharf. See what's new and weird at Ripley's Believe it or Not! or meet some of your favorite celebs in wax figure form at Madame Tussauds. Be sure to stay for the dazzling fireworks display over the San Francisco Bay at 9:30 pm.
Getting In: 
Ripley's Believe it or Not! tickets
and
Madame Tussauds tickets
 are both included with the Go San Francisco pass.
Fireworks from Angel Island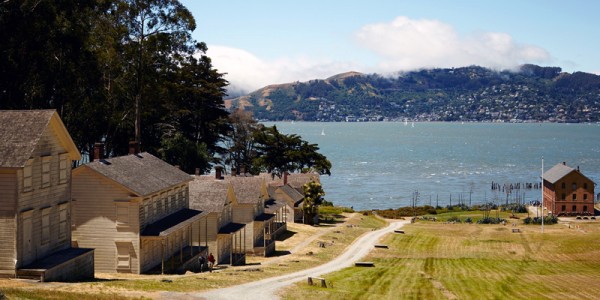 Head over to Angel Island for live music, dancing, delicious food, beer and wine, and unbeatable views of the fireworks over the bay. Book your ferry tickets in advance online (this event sells out!) for round trip transportation plus a round trip Tram ride from the Cover to Battery Ledyard for the best views of the fireworks. Insider Tip: Be sure to make your ferry reservations in advance, as this is a very popular spot for locals to watch the fireworks from. Getting In: Angel Island fireworks are free to watch. Angel Island Roundtrip Ferry tickets are included with the Go San Francisco pass.
U.S.S. Hornet Museum
Celebrate part of America's history by visiting the U.S.S. Hornet Museum. Her namesake stems from one of the first ships in the U.S. Navy and bears the creed: "A Heritage of Excellence". Chock full of stories and fun facts to learn about life at sea, this museum is a can't-miss. The museum will also be hosting a 4th of July party complete with live music, family activities, food and drink and a great view of the Bay Area fireworks.
Insider tip
: if you decide to visit for the 4th, fireworks will start around 9:15pm and we suggest bringing a warm jacket - it gets a bit chilly on the water.
Getting in
:
U.S.S. Hornet Museum tickets
are included on the Go San Francisco pass. The 4th of July celebration is a special event and is separately ticketed.
San Francisco Cruises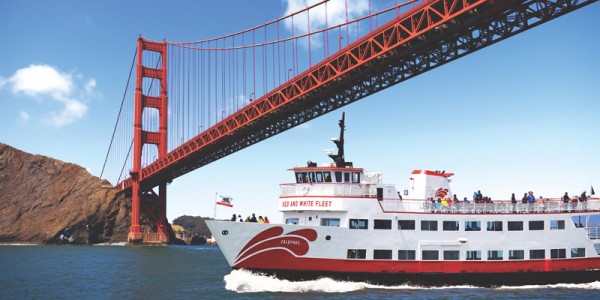 Is there anything better than enjoying the warm San Francisco sun from aboard a boat in the bay? Taking a cruise through the bay and under the bridge is a must, especially in the summertime. Choose from several top options, including the Bridge 2 Bridge Cruise, which sails beneath both the Bay Bridge and the iconic Golden Gate Bridge. Or, choose for a more expansive tour of the Bay with a Golden Gate Bay Cruise. There are also a number of specialty fireworks cruises available during the 4th of July holidays, so keep an eye out for those. Getting In: Bridge 2 Bridge Cruise tickets and Golden Gate Bay Cruise tickets are both included with the Go San Francisco Card. Fireworks cruises are separately ticketed and are not included with the pass.
Madame Tussauds San Francisco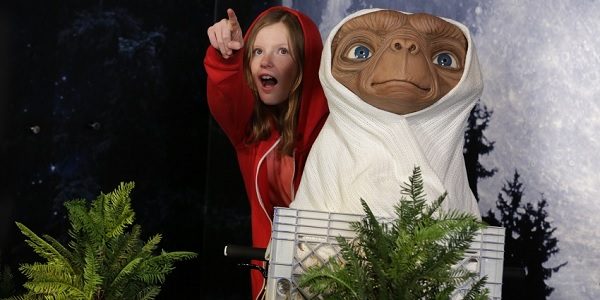 Madame Tussauds is the place for fun celebrity encounters, and is one of the most popular attractions in San Francisco. 'Meet' all your favorite stars, from Serena Williams to Taylor Swift. Then, explore the museum's themed areas filled with stars and memorabilia from blockbuster movies, sports, music history, leaders and entrepreneurs. Be sure to spend some time in the Spirit of San Francisco exhibit for a unique way to experience the Bay Area, home to iconic landmarks like the Golden Gate Bridge and Lombard Street. Getting In: Madame Tussauds San Francisco tickets are included on the Go San Francisco pass.
San Francisco Dungeon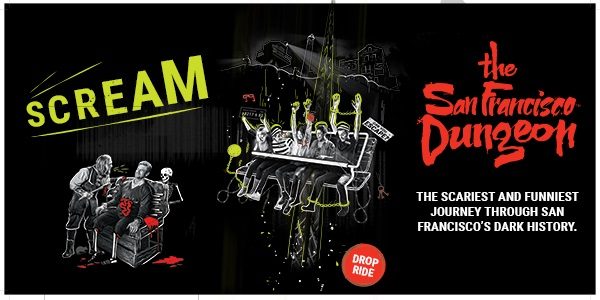 Experience 200 years of San Francisco history at the San Francisco Dungeon, a campy attraction that combines hilarious scares with fascinating history. Start on the part thrill ride, part theatrical performance, and be immerse yourself in the spectacle. Get a feel for Alcatraz prison life and see if you have what it takes to escape 'The Rock,' as you plunge into the depths of San Francisco's underground. Getting In: San Francisco Dungeon tickets are included with the Go San Francisco® Card.
Live Music at Aquatic Park July 4
In addition to all that there is to do at PIER 39, the city of San Francisco is also hosting a live music show at Aquatic Park. Starting at 6:oo pm, enjoy a free concert in the park and stick around for the 9:30 pm fireworks display.
Insider tip:
arrive early to secure a good spot on the lawn!
Getting in
: Admission to Aquatic Park and the performances are free.
Yerba Buena Gardens Festival & SoMA July
In an effort to enhance the vitality and quality of life of the Yerba Buena Gardens and San Francisco community, the Yerba Beuna Gardens Festival team hosts a summer long lineup of great events. They have a wide variety of free events like dance performances, kids shows, choral performances, art installations, and much more. All throughout July enjoy mime shows, concerts, jazz festivals and more. For dates and specific events, consult their website. You could also spend the day exploring the SoMa neighborhood (South of Market), a trendy, artsy space with lots to explore.
Getting In:
Yerba Buena Garden Fest events are free to attend.
Fillmore Jazz Festival July,
If you love music, then you won't want to miss this iconic local event. The Fillmore Jazz Festival (on its 36th year!) will take Pacific Heights, celebrating San Francisco's long and storied musical heritage. It's also the largest festival of its kind on the west coast - so you know it's a must-see! Enjoy world-class music, sumptuous food, and tasty beverages. The festival runs from 10:00 am - 6:00 pm both days, with performers varying on each day.
Getting In: 
The Fillmore Jazz Festival is free to attend.
Remember to Save on Attraction Admission
There you go - plenty of fun ideas for things to do in San Francisco in July to help you plan your 4th of July weekend itinerary. Remember, the Go San Francisco pass provides admission to many of these attractions. You can save up to 45% on combined admission vs paying at the gate. We really hope you consider adding a few of these popular options to your upcoming plans. Enjoy!