The City by the Bay is one of our favorite destinations to explore. With so many crazy nooks and artistic crannies, you'll find something new and exciting around every turn. Of course, there are a few iconic San Francisco attractions that first time visitors won't want to miss. If you're looking for the big San Francisco Experience, combine these four attractions on a San Francisco Pass and save 20% on admission prices.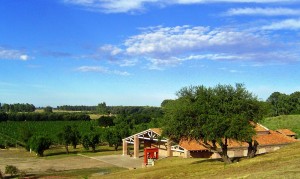 Even though San Francisco gets pretty chilly, fall is a great time of year to explore the vineyards of California with a Wine Country Tour. Roam Northern California's beautiful wine country with visits to several vineyards, large and small, and taste your way through multiple vintages and varieties. This all-day tour brings you to Napa Valley, Sonoma, Yountville, and more, with opportunities to stop for lunch along the way. It's a very thorough wine country experience and comes highly recommended for first time California visitors.
The
California Academy of Sciences
is not only among our favorite San Francisco institutions, but it's also among the most highly regarded museums in the country. Comprised of four distinct and equally amazing areas – an aquarium, a planetarium, a natural history museum, and a living rainforest – the California Academy of Sciences is a totally immersive learning environment that's ideal for visitors of all ages. Be sure to check out their award-winning living roof, too!   If you prefer paintings to penguins, then the
de Young Museum
is the place for you. Although San Francisco has a number of art museums (including the famous San Francisco Museum of Modern Art), the de Young remains the most popular among visitors. It's been an iconic part of the Bay Area's artistic landscape for over a century, hosting a wealth of treasures including 17
th
-century American masterpieces, textile arts, decorative arts, a robust photography collection, and much much more. Plus, rotating special exhibits often bring exciting and intriguing new pieces or collections to the de Young, making each new visiting experience a unique one. Last but not least, you won't want to skip a stop at
Madame Tussaud's San Francisco
, located on Fisherman's Wharf. Who doesn't love this world-famous wax museum and its recreated host of celebrities, musicians and historical figures? The San Francisco branch of this famous institution features seven distinct themed galleries, each with a unique selection of figures from across history. Figures are often placed in recreated environments to convey a true sense of their historical context – a great way to really feel like you're "meeting" these famous folks! This attraction is a big hit with the whole family. Create your perfect Bay Area vacation with a fully customizable
San Francisco Pass
and save on all your attraction visits. Check out these four iconic attractions, or create a unique itinerary to see the sites that interest you the most. Happy exploring!