At the peak of spring, the increasingly more pleasant weather of San Francisco in April complements a host of hotly-anticipated cultural events. If you're looking to experience the best of the Bay Area in the absence of the summertime crowds while also cashing in on everything the season has to offer, this is the trip to beat.  
Visiting San Francisco in April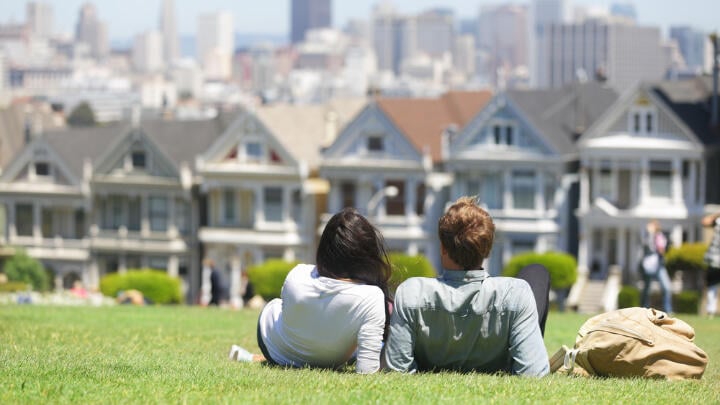 Average Temperature: 50 - 63°F • Average Rainfall: 6 days/mth • Average Sunshine: 10 hours/day
Now in the penultimate month of its early-year shoulder season, San Francisco maintains a steady flow of traffic throughout April, though still in relatively small numbers. As with much of spring, this is an ideal time to experience the charms of the Golden City without too many crowds, while also cashing in on some off-peak hotel prices when booking sufficiently in advance.
With spring now in full swing, it's likely you'll start to see San Francisco's weather begin to chipper up. Temperatures throughout April tend to flirt somewhere between cool and pleasantly mild, bridging on some warm days if you're really lucky. That being said, windchill by the Bay is still something to wrap up against, and you'll want to pack an umbrella for the potential for at least one day of rain per week.
Things to do in April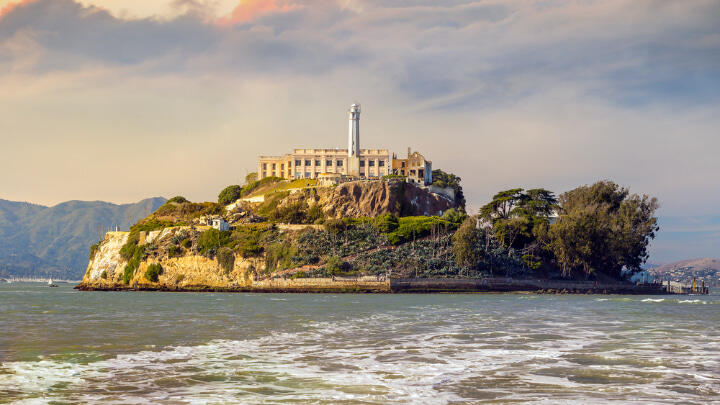 No trip to San Francisco would be complete without an obligatory tour of some of its most iconic sights. Taking pride of place are the crimson beams of the world's most recognizable bridge, the Golden Gate Bridge, followed swiftly by the attractive Painted Ladies lining Alamo Square Park.
Though you can certainly explore many of the city's sights and attractions on foot, you can save yourself some energy with a Hop-On, Hop-Off Bus Tour. Operating a central route via many of the Golden City's most popular destinations, the tour allows visitors to board and alight at their leisure. To sweeten the pot, the tour also offers audio commentary in a selection of major languages, rich with valuable local insight into some of the city's most interesting history and culture.
Particularly popular around this time of year is Japantown where, alongside its usual charming architecture, restaurants and stores, many can enjoy the Cherry Blossom Festival. In a similar vein, San Francisco's Chinatown stands as the largest and most popular in the country, where you can explore a host of traditional stores and restaurants and even stop in at the Golden Gate Fortune Cookie Factory to watch employees hand-fold one of the nation's favorite after-dinner treats.
To make the most of the improving weather, why not take a particularly pleasant day to explore some of San Francisco's fantastic green spaces? Golden Gate Park makes for a wonderful picnic spot if you can manage to find a free space, while Mission Dolores Park remains more of a serene experience and offers stellar views over the city skyline.
If you're keen to feed your inner history buff, few experiences match up to a visit to Alcatraz Island. Take a trip into the center of the Bay to explore the hostile remoteness of this former high-security military prison and breathe in the chilling atmosphere of its now empty halls and cell, once home to some of the nation's most notorious criminals.
Whether you're visiting with kids or looking to embrace your inner child, the delightful exhibits of the Walt Disney Family Museum are bound to bring about a smile. Over 40,000 square feet of engaging and interactive exhibits explore the life and work of the world's most famous cartoonist, documenting the evolution of his vision into the family-favorite media empire we know and love today.
What's On in April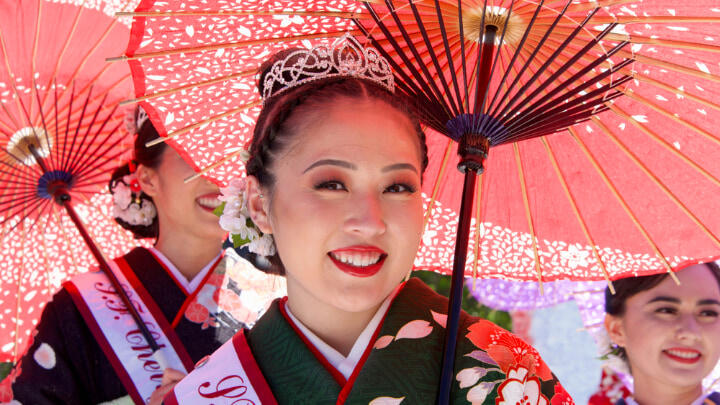 San Francisco International Film Festival (SFFILM)
Now the longest-running and most hotly-anticipated film festival in the US, SFFILM champions the world's finest films and filmmakers with a refreshingly intimate program of marquee premieres, international competitions, compelling documentaries, live music performances and star-studded red carpet events.
For a little over a week each April, visitors to SFFILM can catch a stellar lineup of screenings across many of the Bay Area's finest venues. Promoting the works of both established names and promising newcomers, the festival offers a wide range of genres and perspectives, bringing light to stories from around the world and helping raise upcoming filmmakers to the limelight.
Northern California Cherry Blossom Festival
For the last two weekends in April, San Francisco's Japantown erupts in celebration of the humble cherry blossoms lighting up much of Northern California. Mirroring the globally-renowned tradition of Hanami in Japan, the Northern California Cherry Blossom Festival typically draws in around a quarter of a million visitors each year.
A rich schedule of cultural programs, live entertainment, art and crafts, traditional food and drink and a grand parade all come to a head in celebration of springtime. Having run each year since the late 1960s, the festival serves primarily to honor the rich heritage and diversity of the Japanese American community in sharing a cultural snapshot with visitors from both near and far.
Earth Day
Since its inception in 1970, Earth Day has grown exponentially as more and more each year into the globally recognized event we know today. San Francisco's Earth Day brings together a host of environmentally-minded local and national artists, musicians, speakers and performers to frontline an electric, open-air celebration to promote climate-positive action.
Throughout the event, visitors can enjoy an all-star lineup of psychedelic, funk, rock, and global beats while exploring the various different zones of the festival. Family-friendly workshops range from recycled art classes to making solar rockets to yoga and meditation demos, while representatives from a variety of major environmental organizations head talks on making a positive global impact.
Art Market San Francisco
Art aficionados visiting San Francisco in April should take a trip to the Bay Area's principal contemporary and modern art fair. Over the course of a weekend, Art Market San Francisco hosts over 70 established galleries alongside innovative newcomers from across the country, exhibiting a stellar collection of contemporary and modern artworks in a variety of different forms.