Already one of the United States' most recognizable cities for its iconic architecture, vibrant culture, complex history and wealth of excellent activities, San Francisco adopts a whole new festive persona throughout December. Whether you're keen to explore one of California's most culturally diverse cities or cash in on some unique festive spirit, a trip to San Francisco in December could be just the ticket.
Visiting San Francisco in December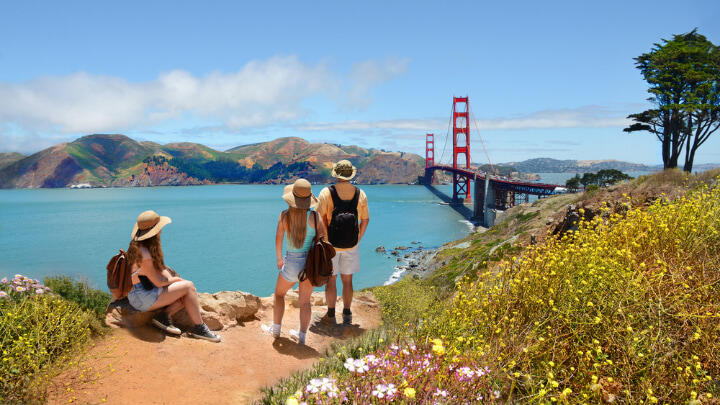 Average Temperature: 46 - 55°F • Average Rainfall: 10 days/mth • Average Sunshine: 6 hours/day
As the winter period begins to unfold, San Francisco waves off the final few shoulder-season tourists enjoying the idyllic conditions of fall, while beckoning in a whole new wave of holiday season revelers. Though certainly quieter than the peak months of the year, San Francisco in December remains a bustling metropolis. Airfare and hotel rates tend to rise throughout this period, though may still come at something of a discount on summertime rates.
Entering into December, the Golden City adopts a more modest climate, with temperatures averaging between cool and mild. Though you can expect somewhat regular sunshine, you'll want to pack appropriately for the likelihood of at least two days of rainfall per week. For those looking to experience a festive wonderland, San Francisco unfortunately tends to see very little snow throughout December.
Things to do in December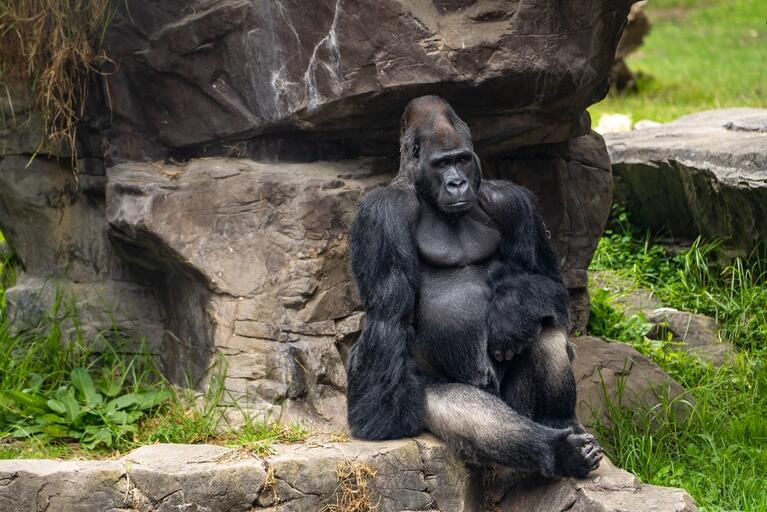 Families and the inherently inquisitive alike are bound to get a kick from the Golden City's wealth of educational hotspots. The California Academy of Sciences, for example, boasts a digital planetarium, an aquarium, a natural history museum and even an immense indoor rainforest. Meanwhile, the Exploratorium stands as the intersection between art and science, offering a wide range of engaging interactive exhibits to scratch your curiosity.
Those looking to embrace their inner Dolittle should head to the San Francisco Zoo & Gardens, home to over 2,000 endangered and rescued creatures from around the world, alongside 100 acres of tranquil gardens populated with stunning plant species both local and exotic. If you're keen to get up close and personal with some 20,000 beautiful marine animals, then follow up with a visit to the Aquarium of the Bay.
If you've a hunger for the arts, San Francisco has you covered there, too. The San Francisco Museum of Modern Art explores various mediums of contemporary art, hosting established artists such as Andy Warhol alongside more experimental pieces. And nestled among much of the largely Asian influence throughout the city, the Asian Art Museum exhibits over 17,000 art pieces from across the continent, complemented by a selection of delicious and traditional cultural dishes served at the in-house café.
History buffs should find their way to the California Historical Society, exploring various facets of the state's history, with a general focus on San Fran itself. The USS Pampanito and USS Hornet each offer unique insights into American naval and nautical history, while the Contemporary Jewish Museum explores various aspects of Jewish pop culture, history and art.
Of course, much of what San Francisco has to offer comes in the form of its architecture and landscape. If you're looking for an engaging way to explore the city, then a Hop-On, Hop-Off Bus Tour offers both flexibility and expert insight throughout the day. For something a little more authentic, you simply can't go wrong with a Bay Cruise, allowing you to sit back while you glide past many of the city's top waterfront landmarks.
With the holiday season in full swing, why not make the most of the festive spirit by exploring Union Square? Each year, Union Square becomes the epicenter of San Francisco's holiday scene, boasting an awe-inspiring Christmas tree alongside a popular ice skating rink, making for an overall warm and jovial winter atmosphere. Round of the experience with a trip to Westfield Mall around the corner to bag yourself some holiday bargains!
What's On in December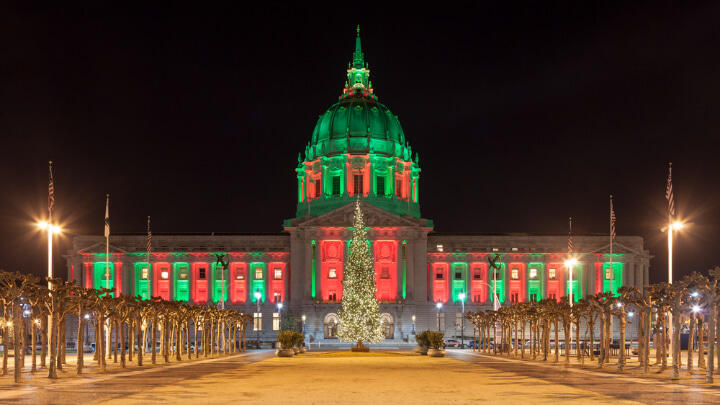 Dickensian Festivities
Credited for having pioneered modern holiday spirit, Charles Dickens has permanently etched his place among worldwide Christmas tradition. In San Francisco, locals and visitors alike celebrate the holiday season with tickets to a Christmas Carol theater performance. Each year, the American Conservatory Theater puts on a delightful adaptation of the popular story, complete with a bubbly cast, vibrant costumes and a host of spooky ghosts. Tickets sell out very fast, so be sure to act quickly if you're interested in catching one of these lauded performances.
That isn't the end of San Francisco's Dickens-mania, though. For a series of weekends throughout the holiday season, the city hosts The Great Dickens Christmas Fair, complete with festive market stalls among an impressive replica of Victorian London. Visitors can enjoy various Victorian-themed events and pick up some treasures while exploring the world which so inspired the famous nineteenth-century writer.
SantaCon
You'd better watch out, as Santa Claus is coming to town in his masses! Each December, Union Square and its surrounding streets, bars and venues become overtaken by a colossal procession of Christmas characters, most of which end up in quite the drunken state as the day rolls on.
This Santa-themed celebration comes complete with caroling, costume contests and stockingfuls of merriment. Though entirely free to enter, SantaCon asks that visitors bring unwrapped toy donations of any size and value to help local charity drives aimed at disadvantaged families across the city. And, of course, festive fancy dress is highly encouraged!
New Year's Eve
The Golden City is considered to be among the top five destinations in the United States to spend New Year's Eve, and that certainly isn't without merit. Like many cities, San Fran veritably lights up with activity for the twilight hours of the year, with many of its top restaurants, bars and venues filled to the brim with jovial revelers.
Throughout the night, the city hosts a number of popular live events and concerts to beckon in the turn of the new year. As the night reaches its peak, many flock to the waterside to watch as barges 1,000 feet out in the bay set off a magnificent firework display, illuminating their surroundings in a blaze of vibrant color. The most popular site to catch the show is typically just south of the Ferry Building near Pier 14.