Should you be willing to brave the regular windchill and rainfall of San Francisco in February, you're bound to find yourself handsomely rewarded. In its winter low-season, the Golden City tends to be quieter than ever, leaving its top attractions and photo ops ripe for the picking.
Visiting San Francisco in February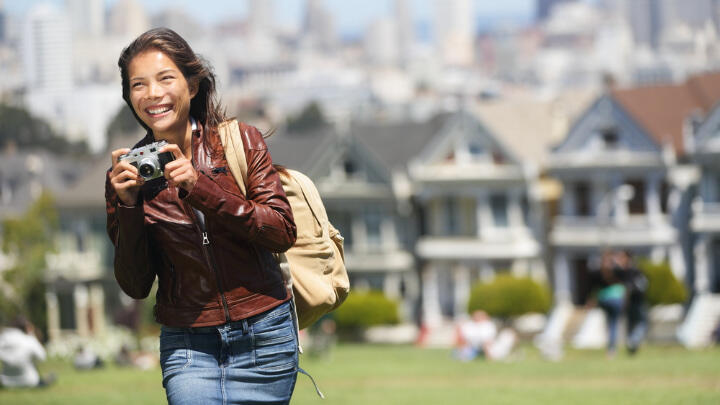 Average Temperature: 48 - 61°F • Average Rainfall: 10 days/mth • Average Sunshine: 9 hours/day
Continuing to plod through the winter months, San Francisco very much maintains its low-season character. Though you'll still find plenty of tourists passing through the Golden City, this is one of the best times to explore some of its iconic sights and attractions without the need to battle with huge crowds. What's more, many hotels tend to operate at somewhat of a discount on high-season rates, meaning you can often grab yourself quite the steal if you book sufficiently in advance!
Though famously somewhat cooler than its other California neighbors in the summer, San Francisco maintains a minimum baseline throughout winter. Though you'd be best advised to wrap up for February to combat the inevitable wind chill, temperatures typically flirt between cool and pleasantly mild throughout the month. You'll also want to pack an umbrella for the likelihood of at least two days of rainfall per week.
Things to do in February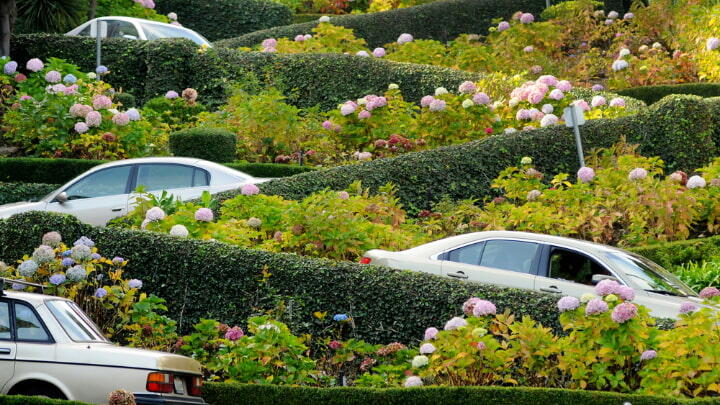 Naturally, visiting San Francisco should come with the obligatory tour of some of its top monuments and landmarks. Take a stroll among the fiery beams of the world-renowned Golden Gate Bridge and sit back with a picnic in Alamo Square Park across from the iconic Painted Ladies. Be sure to also snap some photos of motorists attempting the twists and turns of the world's most crooked road, Lombard Street.
If you're keen on exploring the city from a new perspective, there are few better ways to do so than atop a popular Bay Cruise, sitting back as you drift by the picture-perfect skyline. And if you're looking to zip around the city a little faster, a Hop-On, Hop-Off Big Bus Tour operates a convenient route via most of San Francisco's top sights, accompanied by optional audio commentary in several major languages.
Families and the insatiably curious alike can easily fill a day or two exploring some of the Golden City's brilliant educational centers. Electrify your senses with the interactive science exhibits at the Exploratorium – best experienced in the evening to avoid the rush of school groups. If that doesn't quite scratch your itch, then perhaps the planetarium, aquarium, natural history museum and indoor rainforest of the California Academy of Sciences will do the trick.
Those looking to feed their inner art enthusiast should head to the San Francisco Museum of Modern Art, exhibiting contemporary art in its various mediums through the work of both well-established and lesser-known artists. In the same vein, complementing the large East Asian influence visible throughout the city, the Asian Art Museum exhibits over 17,000 art pieces from across the Asian continent.
If history is more up your alley, make your way to the California Historical Society to gain some fascinating insight into the history of both San Francisco and California as a whole. And to complement the fourth-largest Jewish population in the US, the Contemporary Jewish Museum explores various facets of Jewish pop culture, history and artistic expression.
Whether you're visiting with kids or looking to embrace your inner child, the delightful exhibits of the Walt Disney Family Museum are bound to bring about a smile, exploring the life and work of the world's most famous cartoonist. You'll learn through over 40,000 square feet of engaging and interactive exhibits just how one man's vision evolved into the family-favorite media empire we know and love today.
Some of the best areas to explore in San Francisco largely reflect the city's large East Asian-descended population. Both Chinatown and Japantown stand as some of the most trendy neighborhoods throughout the city, characterized by traditional architecture from their respective countries alongside various authentic cultural eateries and retailers.
What's On in February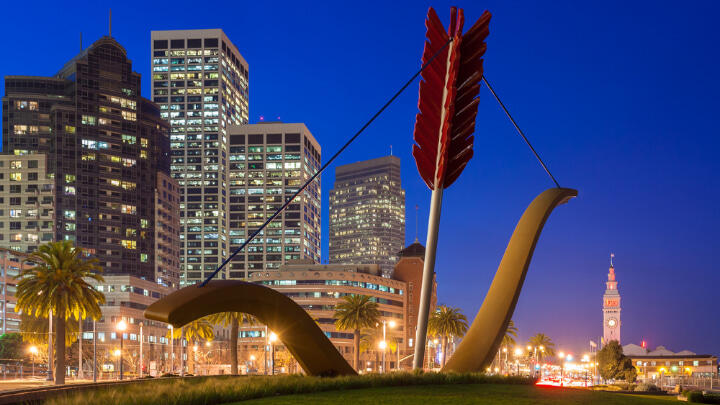 Chinese New Year
Given its significant Chinese-descended population and its claim to the most impressive Chinatown in America, it comes as little surprise that the San Francisco Chinese New Year celebrations stand as some of the largest and most vibrant in the world. Naturally, the exact month of this celebration differs depending on the year, so be sure to double check if you're keen to join in.
Attracting a crowd of over three million observers from both near and far, the event is marked by various traditional markets, fairs, balls and cultural activities. Topping off the celebration is the famous Chinese New Year parade, featuring performers carrying flags, lanterns and drums along with a procession of colorful floats, not least of all the iconic 28-foot-long golden dragon.
Valentine's Day
Whatever your perfect Valentine's Day date night may look like, San Francisco has you covered. Whether you're looking to take an intimate cruise through the bay, take a stroll through some of the city's beautiful green spaces or wine and dine from a unique prix fixe menu under candlelight, there are few better places to treat that special someone to a date to remember.
SF Indie Fest
Independent cinema fans visiting San Francisco in February are in for a real treat, with almost two whole weeks of the month dedicated to the San Francisco IndieFest. The festival brings to the limelight the independent media usually overshadowed by stiff Hollywood blockbusters,  celebrating independent and alternative films and the manpower that goes into them.
Throughout the festival, visitors can attend a variety of screenings from both around the world and around The Bay. Those keen to absorb as much of the alternative cinema atmosphere as possible can grab a pass covering the whole event, providing access to all screenings throughout the festival.
SF Beer Week
Rarely is there a whole week more refreshing in San Francisco than SF Beer Week. Featuring more than 30 San Francisco Brewers Guild members alongside dozens more Northern California craft breweries, this week-long event celebrates the city's local beer venues by inviting visitors to explore different beers up and down the Bay Area.