With spring drawing to an end ready to usher in San Francisco's busy summer season, May is a fine time to visit the Golden City, thanks to its mild climate and the kicking off in earnest of the city's colorful festival season. If it's pleasant weather, fewer crowds, and affordable accommodation you're after, May in the Bay could well be for you.
Visiting San Francisco in May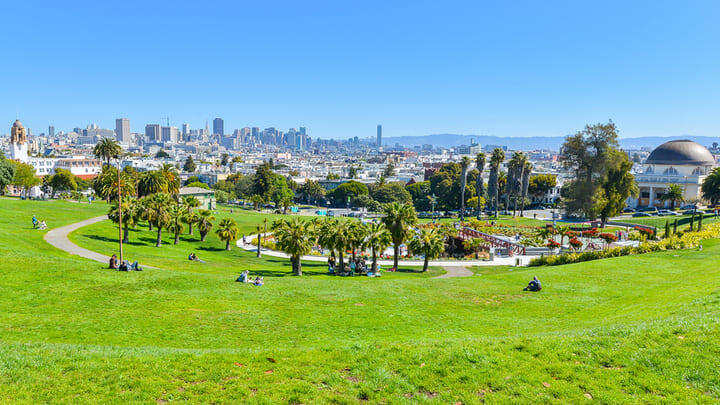 Average Temperature: 51–64°F • Average Rainfall: 3 days/mth • Average Sunshine: 10 hours/day
Daytime temperatures in May reach average highs in the mid-60s, meaning it's still cool enough to explore the city on foot. So the chances of  looking like you've just stepped off a treadmill in those essential hilltop selfies are vastly reduced. There's also little or no need to remember to pack an umbrella. April showers having apparently purged the clouds of their cargo for the foreseeable future, you can expect a mere three days of rain on average in May.
Better yet, hotel prices have yet to rise for peak season and it's another month before the tourist hordes descend, meaning shorter queuing times at the big attractions. What more can we say to convince you to spend May in San Francisco? Read on...
Things to do in May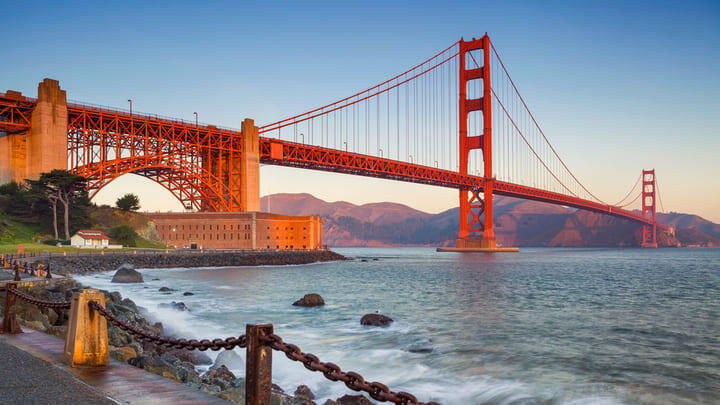 Of course no visit to the Golden City would be complete without seeing the bucket-list attractions. The Golden Gate Bridge will be at the top of most itineraries and May is as good a time as any to visit. Better, perhaps, as the summer fogs are yet to roll in and shroud it. Top tip: wrap up warm if you're planning to stroll out to the middle of the bridge for those picture-perfect Bay views – it can be breezy and teeth-chatteringly chilly up here at the best of times, so stick on your thermals and a fleece. Or two.
Bay cruises are another great way to get a different perspective on the famous San Francisco skyline, and May's clear blue skies will make for some fine photo opportunities. Most cruises will take in the Pier 39 sea lion colony, the historic waterfront, the Golden Gate Bridge and Alcatraz. You can also just get straight to the notorious island penitentiary, should you so desire, with a cruise and tour of the facility.
Those rolling historic landmarks that are San Francisco's painted wooden cable cars can get really busy, and we mean sardines-in-a-can busy, in summer. You'll likely still find queues in May, but nothing like during peak season. It's worth the short wait to travel in style, as the bell rings out and your carriage rattles over the San Francisco hills, affording splendid views of the Bay, loopy Lombard Street and the ultra-luxe hotels in swanky Nob Hill, depending which of the three lines you take.
And if the weather gets a little too cool for your liking, duck into any number of world-class museums around the city. Art museums including SFMOMA in the heart of downtown and the striking, copper-clad de Young in Golden Gate Park are among the best in the country. Golden Gate Park is also where you'll find the California Academy of the Sciences which contains – beneath its living rooftop – a planetarium, an aquarium, a rainforest dome and a huge natural history museum. Embarcadero icon the Exploratorium is the place for interactive art and science exhibits: step into a tornado, get lost in the fog and see the San Francisco skyline modeled from thousands of tiny toothpicks.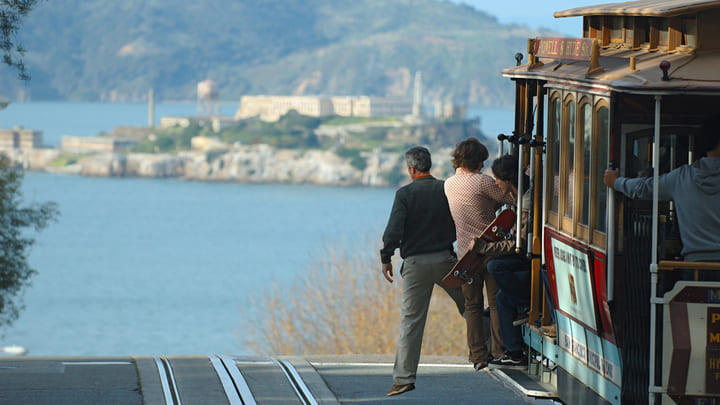 What's on in May?
Memorial Weekend
May sees San Francisco's festival season crank up a gear as Mother's Day and Memorial Weekend give locals all the excuse they need to celebrate. Memorial Weekend is the biggie, with a major ceremony at the National Cemetery in the Presidio to honor and remember America's veterans. Expect a reflective but celebratory tone that includes music, parades, speeches and a 21-gun salute.
Down in the trendy Mission district, it's all kicking off as the two-day Carnaval Festival rolls into town. This riot of color and sound celebrates the arts and traditions of Latin America and the Caribbean through lively street performances, flamboyant costumes and some of the best street food this side of the Mexican border. Beer and cannabis gardens help you stay mellow and there is, of course, a grand parade through the streets.
Cinco de Mayo
Also held in The Mission (we're sensing a pattern here), the Cinco de Mayo festival celebrates Mexican and Central American culture and is held annually on – as the name suggests – the 5th of May. Families bring picnics and deckchairs to immerse themselves in the action in and around Valencia Street, where food vendors hawk spicy treats and live bands get the party started with mariachi, salsa, merengue music and more. There are costumed dancers, artists, magicians and street performers galore, and even a petting zoo to keep the kids entertained.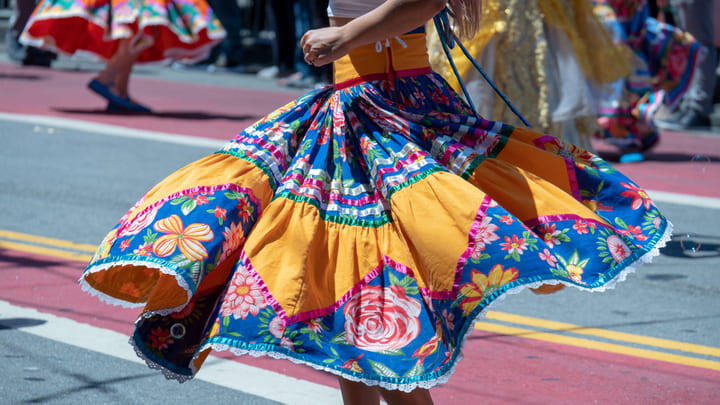 Bay to Breakers
Bay to Breakers is a 12k fun run that usually takes place on the third Sunday of May. Weaving its way east to west from the Embarcadero to Ocean Beach, it takes in nine of the city's neighborhoods. Fun-loving San Franciscans have gamely established a tradition for donning fancy dress during the race, which means you can expect to see overgrown chickens, shambling pantomime horses and huge conga-lines in which teams of 13 or more runners tether themselves together for the duration of the race. In other words: it's great fun. 
Get involved yourself: it includes many fun sections like Golden Gate Park, where you might even get to spot the resident buffalo. On the other hand, Hayes Street Hill is an absolute beast that rises over 200 feet above sea level and will challenge even the most seasoned runner. If all that sounds a bit much, you can always just find a nice spot on the sidelines and enjoy all of the fun with none of the exertion.
Save on attractions

in San Francisco

 
Save on admission to San Francisco attractions with Go City. Check out @GoCity on Instagram and Facebook for the latest top tips and attraction info.