Southern California may get a lot of hype. But if you are looking for some summer fun, don't count Northern Cali out either - there's plenty to do! While it's a beautiful city to visit year-round, summer in San Francisco is the best time to plan a trip. Summer in San Francisco is the warmest, most festive and arguably most fun time of year in the Bay Area. There are tons of special street festivals, events, races, attractions, tours, museums, and more that happen all summer in San Fran. So, if you're planning a visit and looking for things to do in San Francisco for summer 2020, check out our list of the top attractions and activities going on this year, including...
San Francisco Museum of Modern Art
Escape from the Rock Cruise
California Academy of Sciences
California Wine Country Tour
and more...
Heading to the area to celebrate Independence Day? Then check out our post on things to do in San Francisco 4th of July Weekend. In the Bay area towards the end of summer? Here are a few fun things to do in San Francisco during Labor Day Weekend.
Escape from the Rock Cruise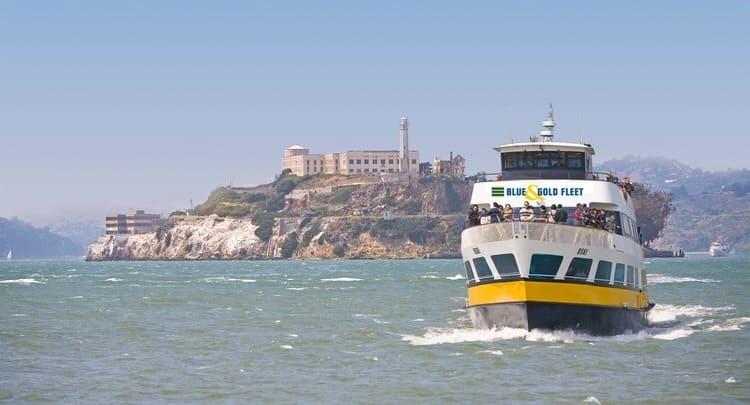 One great way to go about exploring San Francisco this summer is to embark on a relaxing and informative sightseeing cruise to Alcatraz.
One of the most popular and exciting options is the 'Escape from the Rock' cruise. This 90-minute tour will teach you about what it was like for inmates of Alcatraz who spent a life behind bars and will also give you some great opportunities to take photos of the infamous island.
Each Escape From the Rock tour features sound effects and stories about famous inmates like Al Capone, Billy Cook the Killer and Clyde Johnson.
Exploratorium
If you're traveling with kids, you can't miss out on an afternoon spent at the awesome Exploratorium.
Fueled by creativity and curiosity, this amazing institution offers over 600 interactive exhibits for kids of all ages to engage with.
During the summer, the Exploratorium offers a ton of great events and specials. For more information and specific event offerings, visit their website - you're sure to find something you'd like to partake in from the list of festivals and shows. 
San Francisco Museum of Modern Art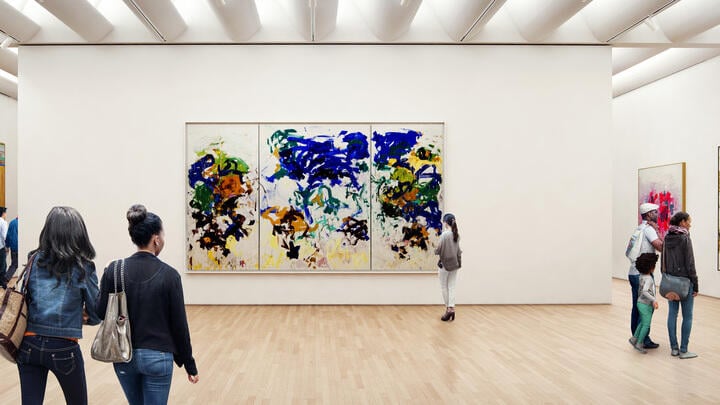 One of San Francisco's most beloved cultural attractions is the must-see art destination, the San Francisco Museum of Modern Art (SFMOMA).
Boasting stellar collections of contemporary and modern art that include works from big names like Calder, Klee, and Pollack, to emerging Bay Area artists and more, the SFMOMA is the artistic destination in San Fran. 
Madame Tussauds San Francisco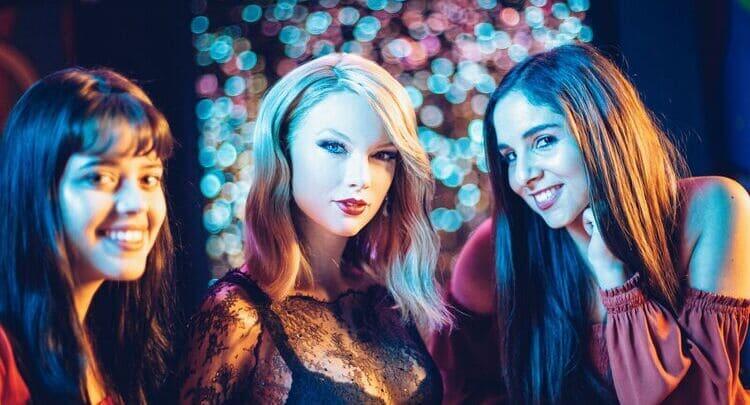 Madame Tussauds is your chance to get closer to your icons than ever before. 
With seven different themed areas that range from Hollywood classics to sports to music and even Bay Area entrepreneurs and historic figures, this is a totally unique way to experience San Francisco history.
Step onto the court and shoot hoops with Steph Curry or jam on stage with Jimi Hendrix to experience the full "Spirit of San Francisco." Whether you want to take a selfie with Mark Zuckerburg and Bill Gates , or strike a pose with Beyoncé and sparkle center stage with Adele –- there's a star studded line up for everyone to enjoy. 
Fisherman's Wharf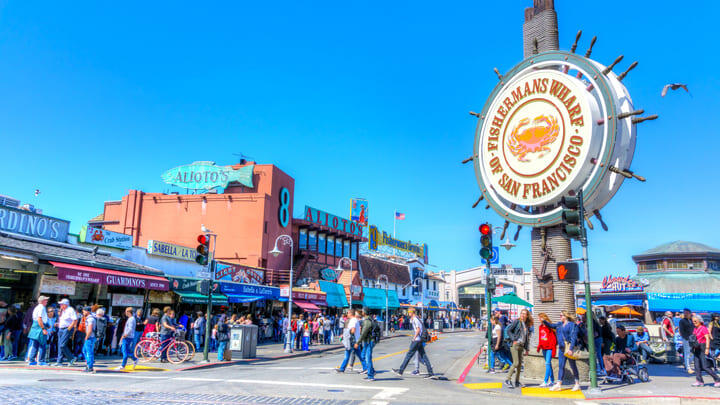 This eclectic waterfront neighborhood is a prime destination for visitors and locals alike who are looking for some fun and entertainment.
Although Fisherman's Wharf as a term technically refers to just one particular wharf, the neighborhood is actually comprised of an entire waterfront district filled with attractions.
Some of the exciting and entertaining attractions you'll find in this destination include Madame Tussauds Wax Museum, the Musée Méchanique, a famed Sea Lion colony, seafood markets, and much more.
Aquarium of the Bay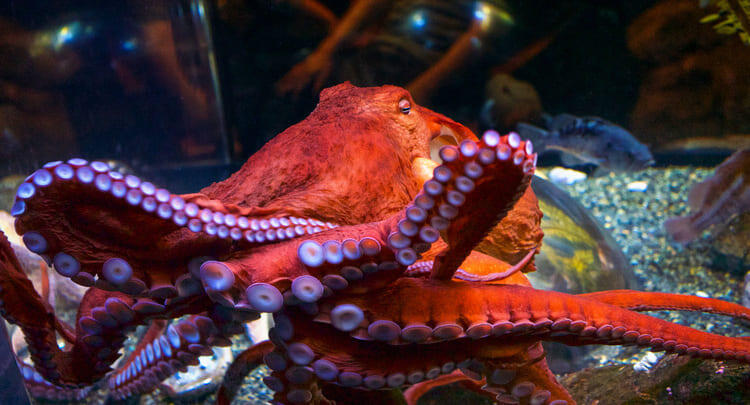 If you prefer sea life to still life, the Aquarium of the Bay (conveniently located on Fisherman's Wharf's iconic Pier 39) is where you'll have some of the most fun this summer in San Fran.
With its exclusive focus on the marine life of the San Francisco Bay, this regional aquarium is the perfect destination for those looking to learn more about the environment and its inhabitants.
Enjoy visiting exhibits like Discover the Bay, Go With the Flow, Under the Bay and more - all full of colorful jellies, fish and aquatic animals. 
Golden Gate Park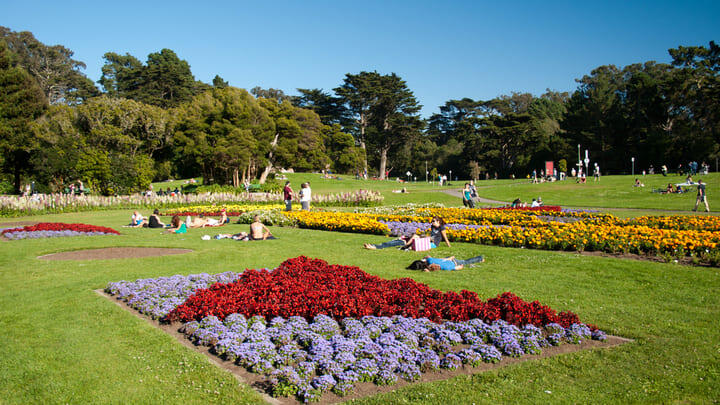 There's no better place to be on a sunny day than Golden Gate Park. It's filled with dozens of gardens, playgrounds, trails, recreation areas, picnic areas, monuments, and much more spread through over 1,000 acres of delightful urban green space.
There are also a number of top attractions and museums located in the park if you're feeling motivated to do more than lay back on the picnic blanket and enjoy San Francisco sunshine.
One of our favorites is the de Young Museum, another premier art institution. The museum is one of the most visited in the country and is home to over 1,000 pieces of fine art, including sculptures, paintings and more.
California Academy of Sciences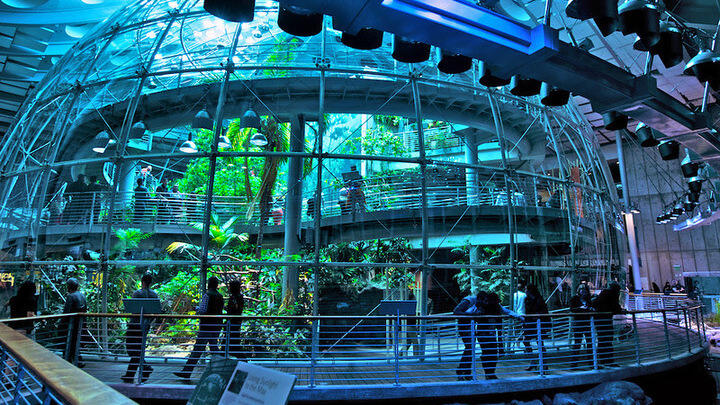 Also located in Golden Gate Park, this premier institution of science, learning, and entertainment is a must for visitors of all ages.
Where else in the world can you find such a comprehensive and amazing four-in-one experience? That's right - the California Academy of Sciences is actually comprised of a 4-story rainforest, a natural history museum, an aquarium, and the world's largest all-digital planetarium.
From the splashing penguins in African Hall to the awe-inspiring reef ecosystem, there are plenty of habitats and exhibits to explore - make sure to check out their newest exhibit Giants of Land and Sea. Allow science to take over all your senses as you feel your way through a fog room, keep your balance in the earthquake simulator and ascend to the top of a towering Redwood. 
Union Street Festival
Get your summer started with the Union Street Festival.
One of the city's most enjoyable and well-known free arts festivals, the Union Street Festival is quite eclectic. Featuring not only a wide selection of arts and crafts made from sustainable materials, but an organic farmers market, gourmet food booths, and live entertainment, it's easy to see why it has gained such popularity.
See over 20 live bands perform and explore the five entertainment areas that showcase Jazz, Blues, Country, Bluegrass and Local Bands! Then peruse the sponsor tents, Arts & Crafts exhibitors, food vendors and more. 
North Beach Festival
The North Beach Festival is considered one of the oldest and original fairs in the country.
You'll find a wide variety of activities, entertainment, and objects for purchase, including the area's best arts and crafts. Known to locals as San Francisco's Little Italy, the North Beach area is the perfect place to spend a day perusing all the booths and local vendor options.
There are also activities like face painting and more for children to enjoy. With over 125 options packed with paintings, vintage knick-knacks, and gourmet food and two stages for live entertainment, it's sure to be a summer day well spent.
Save on Summertime Activities
So there you have it. Our picks for some of the top things to do in San Francisco in during the summer.
A number of these attractions are available with Go City, where you can save on admission vs paying at the gate. Click here to explore your options. 
Plan to visit some of these top attractions during your trip. Whether you are traveling with your family or a couple of friends, we're sure you will have a great time.