If you're looking for the best things to do in San Francisco for a birthday, you've come to the right place. From white-knuckle rides to spooky tours, we've picked the very best birthday entertainment for you and yours. So, without further ado, let's get into it. 
Including:
Six Flags
California's Great America
GoCar San Francisco
Escape from the Rock
and more!
If you, or the birthday person, are a thrill-seeker, these white-knuckle attractions will surely make it one to remember!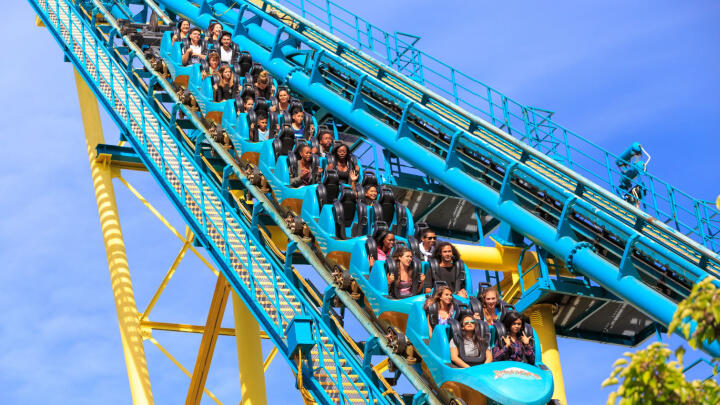 Image courtesy of Cassiohabib/Shutterstock
Six Flags is a national treasure, so it hardly needs an introduction. Arguably the second most popular set of theme parks behind the House of Mouse, Six Flags offers thrill-seekers plenty of bendy, windy, heart-pumping rides to test their mettle. 
And San Fran's Discovery Kingdom is no different. Visitors will find it full of exciting rides, animal attractions, and live entertainment that's suitable for little ones and us oldies too. 
But let's be honest; if you're heading to Six Flags, you're going for the rollercoasters. And Discovery Kingdom doesn't disappoint. The park's signature coaster is the Joker, a hybrid coaster with multiple inversions, twists, and turns, which is themed around Batman's arch nemesis - the dastardly maniac. Other popular coasters include the Medusa, a floorless coaster with a 150-foot drop, and the Superman Ultimate Flight, which takes riders on a flying experience through loops and twists alongside the Man of Steel himself. Delightful.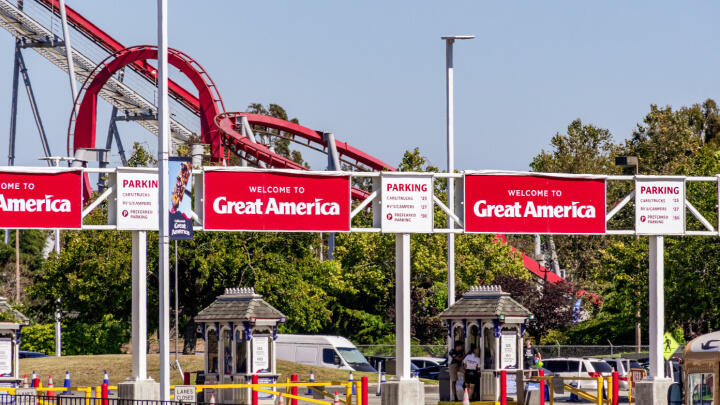 Image courtesy of Sundry Photography/Shutterstock
For a unique theme park experience you won't find anywhere else, head to California's Great America. Sure, it's not in San Fran per se, but it's only an hour's drive away in Santa Clara. And, for a theme park this fantastic, it's worth the miles. 
Like any park worth its salt, you'll find plenty of thrilling rollercoasters to ride, including Gold Striker, a rollercoaster ranked in the top ten wooden coasters in the world! Not bad. 
Other popular coasters are Flight Deck, a suspended coaster that takes riders on a high-speed flurry of twists and turns, and Rail Blazer, which throws riders around a rocky course of rocks. It's like a minecart ride but without the fear of death. 
And for the little ones who won't make the height requirement, there's the Planet Snoopy Construction Zone, a park-within-a-park that's dedicated to everyone's favorite 2D beagle. With kid-friendly rides, interactive play areas, and opportunities to meet and take photos with Snoopy and his friends, it's ideal for little ones who don't need all that coaster stress.
Now, for all you seekers of the strange and satisfying, we've collated some unconventional means of seeing San Francisco!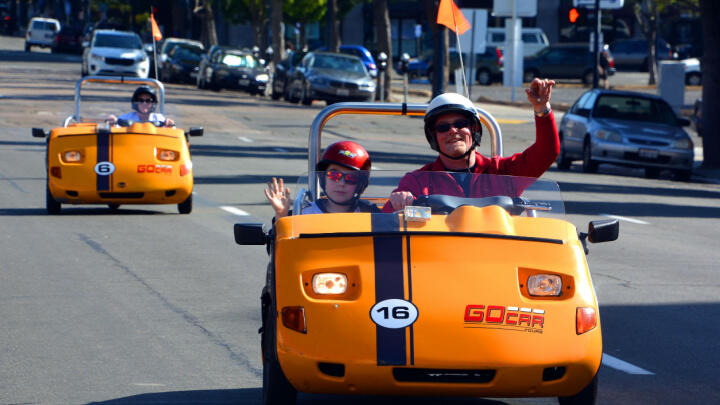 Image courtesy of meunierd/Shutterstock
Why not see the city in style with GoCar San Francisco. But what is GoCar? Well, it's a compact, three-wheeled, two-seater, GPS-guided car. So, a mini-car, then.
The benefits of traveling around in such a small vehicle are plenty. Firstly, it's easy to drive, which is a godsend for anyone unfamiliar with San Fran's peaks and troughs. Secondly, its compact size means it's easy enough to navigate through the city's many smaller streets. And, like Kit from Knightrider, the GoCar even talks to you as you drive. It will tell you where to go while also providing color commentary for each landmark and area you pass.
But you aren't just sent off into the great unknown. In fact, you book specific tours before heading off. The most popular tour is the Golden Gate Bridge and Back Tour, which takes visitors on a scenic route across the Golden Gate Bridge and through the Presidio, with stops at popular landmarks like Lombard Street, Fisherman's Wharf, and Coit Tower. If you're in a small group, GoCar could be one of the best things to do in San Francisco for a birthday!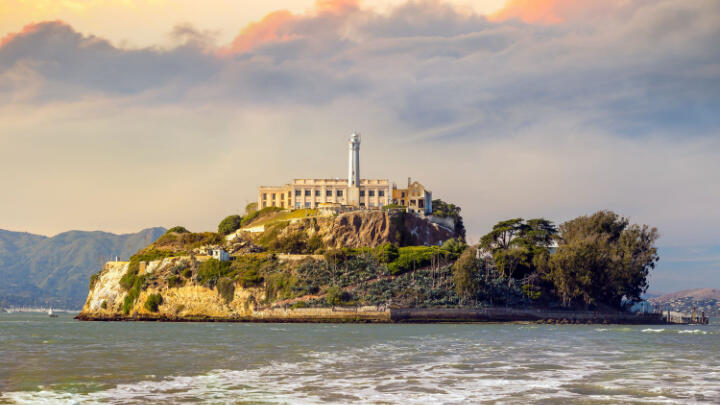 Ever watched The Rock? Ever wondered if you have the steel to escape from a floating prison? Well, wonder no more, because Escape from the Rock is here to give that very experience. And, if you want to do something entirely unique for a birthday, it's easily one of the best things to do in San Francisco. 
This tour/prison break starts with a ferry ride from Pier 39 to Alcatraz Island, where you'll be greeted by a park ranger. They'll fill you in on the island's history as America's once-most secure prison. Then, you'll head into the prison itself to take a tour of the facilities. You'll visit cell blocks, the exercise yard, and other areas of the prison that are off-limits to regular visitors. Because you're special; never forget that.
You'll learn all about the many famous inmates that once called it home, including Al Capone, as well as Frank Morris and the Anglin brothers, who escaped the prison a year before its closure in 1963. 
Looking for a birthday fright-fest? Check out these spooky birthday adventures!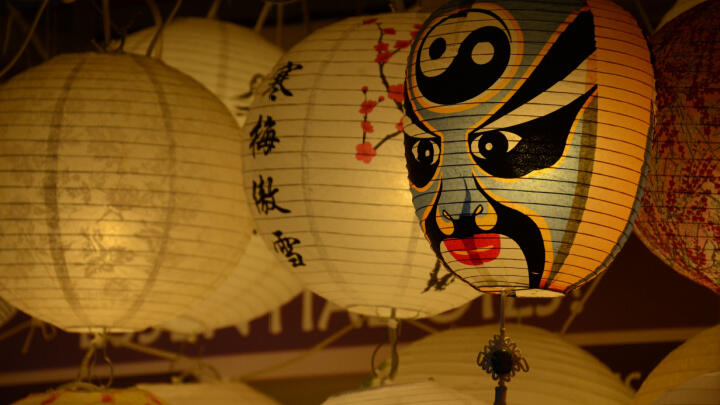 Why not try a spooky exploration of San Fran's Chinatown? There are plenty of paranormal legends to discover and haunted sites to visit, and you get a tour of the area to boot!
Your spooky guide will fill you in on all the supposed ghostly goings-on. They'll take you through the oldest parts of the district built during the Gold Rush era, and share stories of every apparition and haunting that is said to remain today. 
Expect to see and learn about phenomena reported at the old Chinese Phone Exchange building, a former opium den, and the Hang Ah Tea Room, one of the oldest tea houses in the city. They also do some delicious dim sum if you need a bite. A haunted bite? Maybe.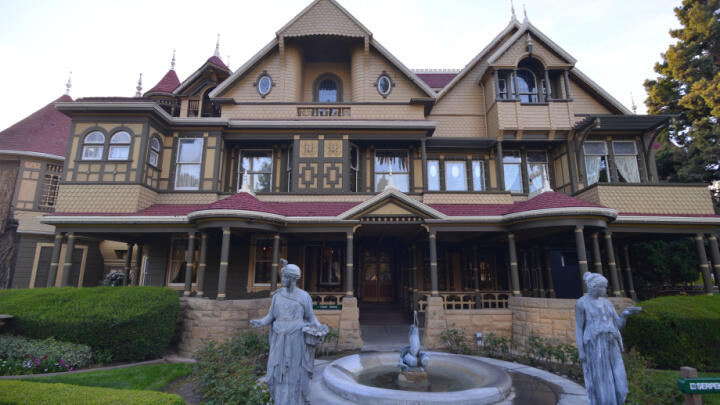 The Winchester name is famous in the US for the lever-action repeating rifles popularized during the Wild West. You may also know the story of Sarah Winchester, the inventor's wife. Once widowed, she was overwhelmed with guilt. After all, her husband's rifles had taken untold lives. In response, she started remodeling her house in bizarre ways. Some say it's because she feared the ghosts of those who fell to her husband's weapons were after her. But the truth of the matter has never been revealed. That didn't stop Hollywood from completely embellishing the story a century after Sarah's death. 
However, you can now make up your own mind by visiting the house! On your tour, you'll find stairs that lead to ceilings, brick walls behind doors, and rooms hidden behind secret panels. Then, when you're done, visit the on-site museum, or sit in the garden and contemplate the bizarre structure you just explored. It's all in a hard birthday's work!
And those were our picks of the best things to do in San Francisco for a birthday! If you're not keen on some of the above, or just want some more ideas to fill out your birthday weekend bonanza, check out Go City. With our All-Inclusive Pass and Explorer Pass, you can see all of San Fran's best bits for one low price!