Heading to Seoul this year? It's an amazing city with so many things to see and do. You can immerse yourself in its long and storied culture, you can feast on exceptional Korean cuisine, and explore the city's nightlife. All true. But really, deep down, one question burns inside you like an insatiable pyre; what's the water situation like? Is there plenty of water? Do you need to necessarily be in said water, or can you enjoy it from afar? 
Well, wonder no more aqua lovers, because if you like rivers, there's a big one that cuts a path right through Seoul. It's called the Seoul River, and you're going to learn about it right now! Yay! In our guide to the city's eponymous river, we'll give you a bit of backstory and what you can expect to see, do, and experience around the river. All aboard the Seoul River train!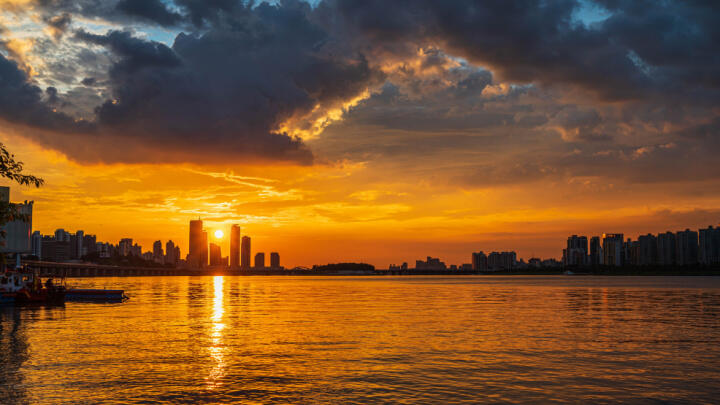 Seoul River; a backstory
Colloquially, the Seoul River is known as the Cheonggyecheon River, and it's been a key part of Korean civilization for thousands of years. Over time, it transformed from an ancient means of transportation, irrigation, and fishing, to a recreational hotspot during the Joseon Dynasty. However, over the last one hundred years, the river fell into disrepair. People stayed away as factories filled the riverbed with pollution. That all changed when the Korean government stepped in and cleaned the whole thing up! Now, it has retrieved its status as a hotspot for culture, entertainment, and general revelry. After all, if it was never fixed, you wouldn't even be reading this right now!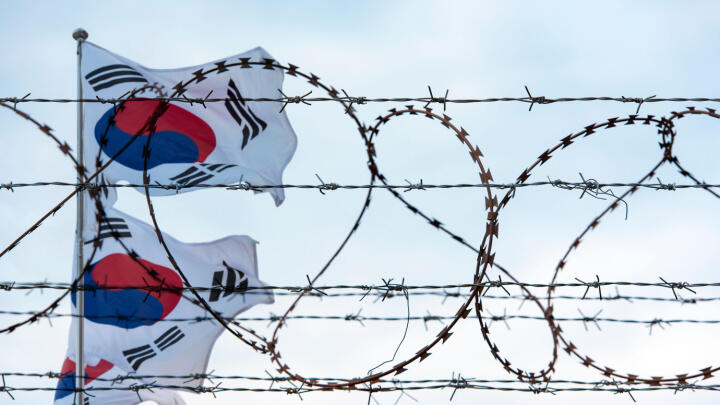 The river runs through several neighborhoods and districts of the city, including Gangnam, Yeouido, Mapo, and Jung-gu. But it doesn't even start in the Korean capital. In fact, it begins in Paju, near the Demilitarized Zone - or DMZ - that separates North and South Korea. From there, it flows south through Seoul before emptying into the Yellow Sea.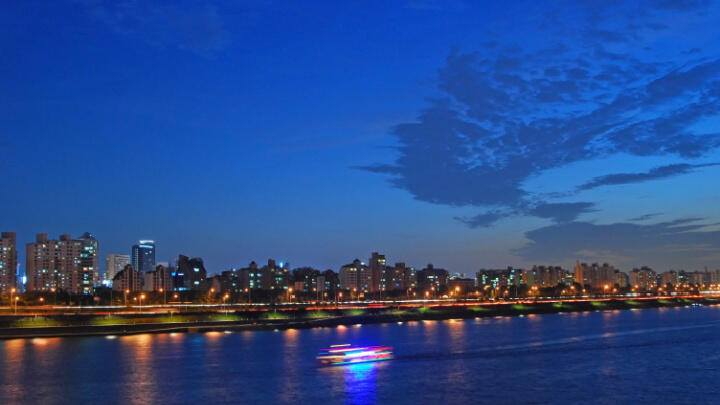 What to see and do around the Seoul River
If you want to see the whole of the river in one fell swoop, travel in style with a cruise! You can go in the afternoon for clearer views of the Seoul skyline or head out at night and see the city and its reflection soaked in neon. And, to learn more about the city and the landmarks you'll pass, your guide and co-captain will give you the low down as you cruise. You'll even have the chance to feed some seagulls if you're brave enough. We're not saying that seagulls are inherently terrifying, but they're inherently terrifying.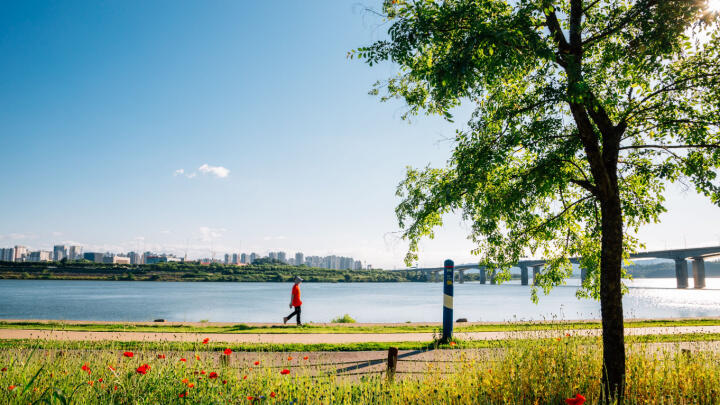 If you'd rather be on dry land, not to worry. In fact, the Cheonggyecheon River has some fantastic green spaces along it that beg to be explored. Yeouido Hangang Park is perhaps the most popular, as it hosts events, live performances, and, most importantly, the Yeouido Spring Flower Festival. Millions travel there every year to see the cherry blossoms alongside countless other wonderful plants and flowers. It's free to enter, so if you're heading to Seoul in April, go and check it out. Or, if you're in the market for unforgettable Gram memories, head to Banpo Hangang Park. Every evening, the park's verdant landscape is lit up by an eye-catching fountain show that will make perfect profile picture fodder. Alternatively, if you're simply looking for a calm and relaxing place to escape Seoul's hustle and bustle, Ttukseom Hangang Park is ideal. Featuring walking trails, perfect picnic spots, and a swimming pool, it'll help you wash off the city and refresh your very soul.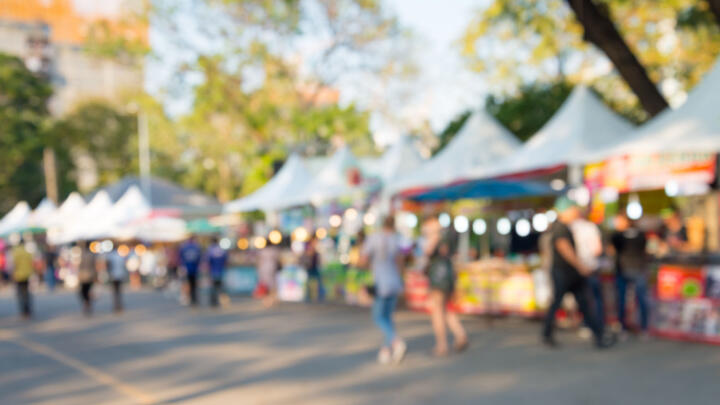 Seasonal events along the Seoul River
Of course, no guide to the Cheonggyecheon River would be complete without a rundown of seasonal events throughout the year. So, what are they?
Well, other than the aforementioned flower festival, the biggest is arguably the Hangang Summer Festival. It's a month-long celebration between July and August that's dedicated to the majesty of the sun. Visitors can enjoy water sports, live music, and cultural performances. And don't worry, you're more than welcome to take part. The Hangang Summer Festival is spread out along the river, and you'll find festivities in the likes of the also previously-mentioned Yeouido Hangang Park and Ttukseom Hangang Park.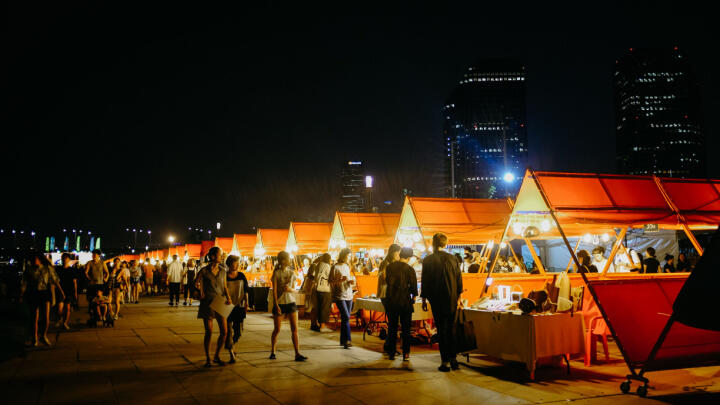 Image courtesy of threebeanies/Shutterstock
If you fancy yourself a bit of a night owl, set your sights on the Bamdokkaebi Night Market. From March to October, when the temperature is more than fine, you'll find this outdoor market bustling with like-minded late shoppers. The market features a variety of food trucks offering the best of Korean street food, and you can also purchase craft jewelry and knickknacks, all while enjoying the odd live performance. Brilliant.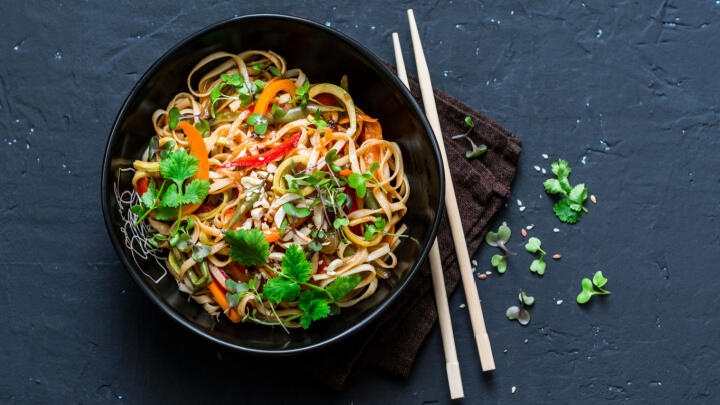 Best places to eat and drink nearby
Phew! After all that fun/relaxing/spectacle, you might need to refuel. Thankfully, you'll find a ton of places to eat and drink a stone's throw from the Cheonggyecheon River. And what kind of guide would this be if we didn't give you our top tips? No guide. No guide at all. 
If you're in need of some authentic, homemade noodles and dumplings, Myeongdong Kyoja's got you covered. It's a pretty popular chain in Korea, and for good reason. They offer no-nonsense, delicious bites that will hit the spot.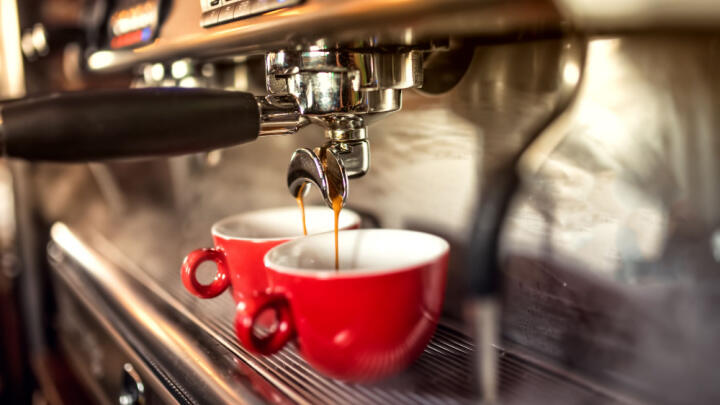 Need a cup of coffee to kickstart your morning, afternoon, or evening of entertainment, head to Cafe Bene. You'll find their Scandi-minimalist spots dotted all over the city, but lucky for you, you'll find one near the Seoul River too! And, if you need to feel the sweet release of sugary treats, they also offer desserts like Korean-style shaved ice and waffles. Nice. 
However, if coffee won't hit the spot and you're looking for something with a bit of kick, Pocha is a trendy bar that offers a number of refreshing drinks alongside its selection of authentic bar snacks. Soju, beer, and rice wine are all available and waiting for you. Will you answer the call?
And therein ends our guide to the Seoul River! Need more inspiration to bulk out your Seoul itinerary? Check out Go City! With our All-Inclusive Pass and Explorer Pass, you can see all of Seoul's best bits for one low price!