When visiting a new country, we often fall back on public transport, taxis, or our own two legs to get around. But the former two can be expensive, and the latter can be tough if you're planning on traveling great distances. So, where does that leave you? Well, you could hire a car, but why not hire a bike instead? The freedom two wheels provide and the calories it burns make it the perfect way to combat rising travel costs - and help keep your midriff in check! 
Thankfully, Seoul is a cycle-friendly city. But which are the best routes? Read, and discover our picks of the best cycling routes in Seoul!
Including:
Hangang River Parks
Bukchon Hanok Village
Seoul Forest Park
Cheong Wa Dae
Namsan Park
Hangang River Parks
Did you know that the Han River is one of the largest in all of South Korea? Well, now you do. And all along the river's banks, you'll find a multitude of wonderful green spaces that make the most of their waterfront view. In fact, eleven separate parks make up the Hangang Parks repertoire, making the area a perfect cycle route!
As it's all park-based, you won't have to worry about traffic; you're free to pass from park to park and see all the different flora and fauna; and you'll pass by plenty of restaurants and cafes if you need to refuel. Easily one of the best cycling routes in the city, so if you're heading to Seoul on your vacation and want to keep active, you can't do much better.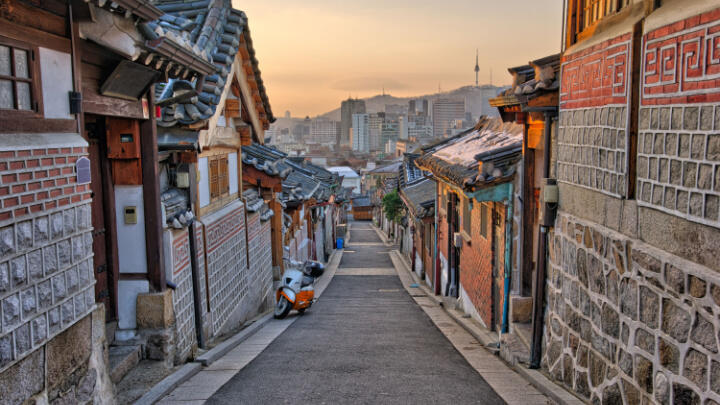 Bukchon Hanok Village
Want a blast from the past with your cycle adventure? Take your two-wheeled wonder to Bukchon Hanok Village! Not only will your route be filled with beautiful period scenery, like classicly-styled Korean houses, but you may also find some hidden gems on your travels. 
In the village, you'll find a bike-only side street. Who knows what you'll find when you enter? Could it be one of those infinity paths where, as soon as you leave, you end up at the entrance? Probably not. It's more likely you'll find a nice cafe to grab a coffee and snack. But you'll only truly know if you brave it yourself. Idyllic doesn't really do it justice.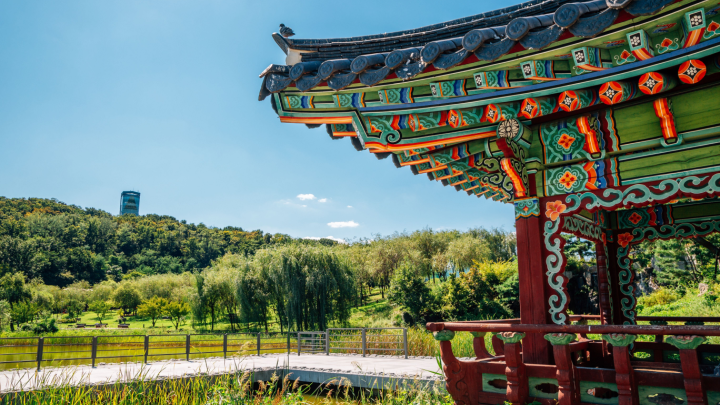 Seoul Forest Park
Seoul Forest Park is one of the biggest standalone parks in the city. So it's no wonder it makes it onto our list. Parks are the perfect places to plan a cycle route, with existing paths to traverse and plenty of room to go off them and explore the unexplored. 
If you're looking to combine your route with a healthy dose of nature, it doesn't get much better than this. Verdant green as far as the eye can see and peaceful surroundings make this the perfect remedy to Seoul's often hectic city life.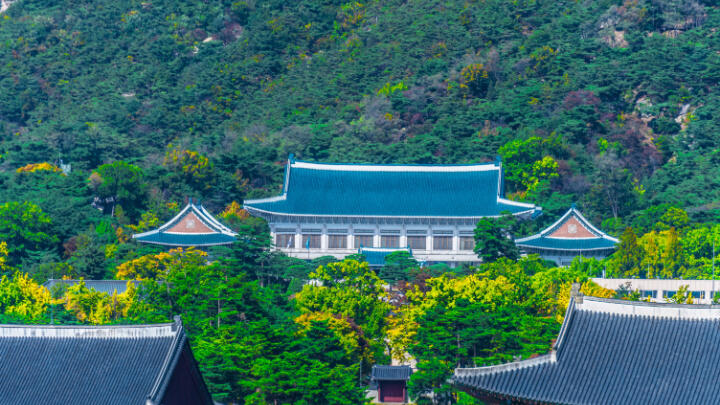 Cheong Wa Dae
Cheong Wa Dae - or the 'Blue House' - is the official residence of South Korea's president. Sure, that might not sound like the ideal place to pop some wheelies and cycle in the sunset, you'd be wrong. Dead wrong. That's because you can actually take a cycling tour of the entire area!
Your tour will take you past Gamgodang-gil, Palpan-dong, and Samcheong-dong. You'll also pass the maze road in Seochon, as well as the Blue House's exhibition center. If you're interested in Korea's governance, Cheong Wa Dae is arguably one of the best cycling routes in Seoul!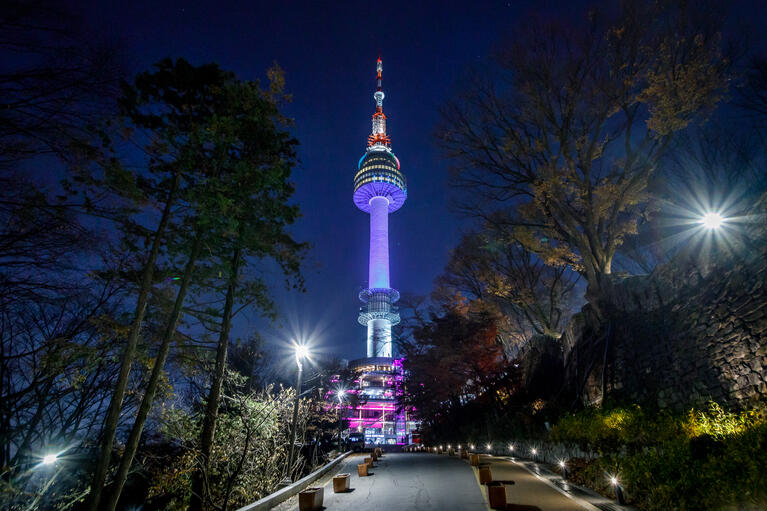 Namsan Park
Another entry, another park. This time, we're headed to Namsan Mountain, home of the famous N Seoul Tower, to check out the eponymous Namsam Park. It's a park, so expect the usual surroundings of flora and fauna. But this time, you're on a mountain!
The ride provides you with plenty of things to look at besides green space. There's the tower, for one, but you'll also find some of the best views of the city from up on high. So feel free to grab some snaps on your trip; your social media followers are bound to be impressed/jealous.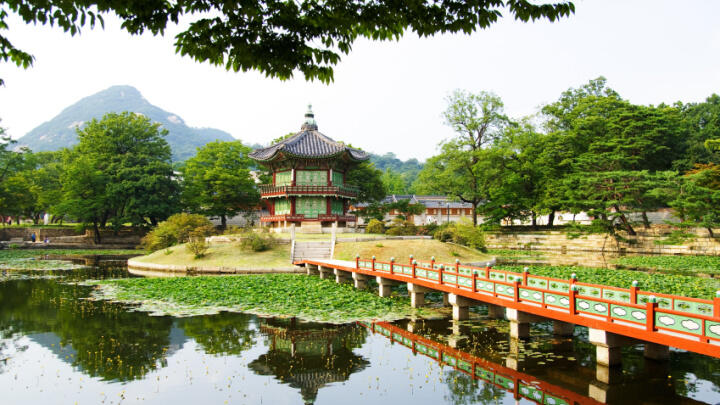 Gyeongbokgung Palace
If you're not familiar with Seoul's streets and don't want to risk the wrath of the cycling locals, why not start off with something simple? And don't worry; 'simple' doesn't mean it's not worthwhile. In fact, you'll be touring the city's regal palaces! So head over to Gyeongbokgung Palace and go check out the area.
It's a relatively low-traffic area, so you needn't worry about motorists spoiling the fun - or ending your vacation prematurely! Just rent a bike, hop on, and go exploring. Besides the palace, which has to be seen to be believed, you'll also head through Gwanghwamun and Sejong Village. Each has its own fantastic scenery, which makes this entire stretch one of the best cycling routes in Seoul.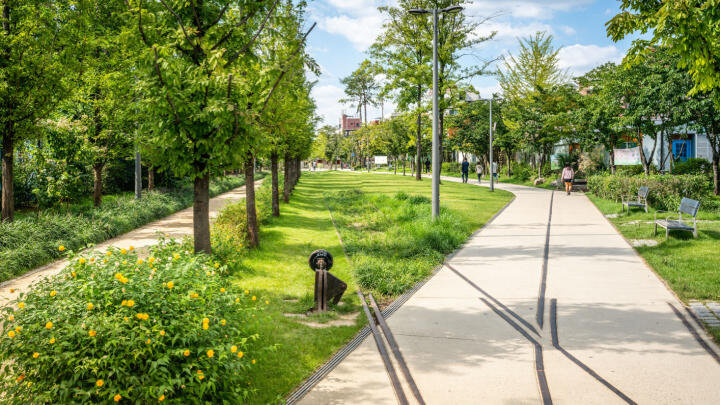 Gyeongui Line Forest Park
Yes, you read it right. Another forest! How many forests can one city even contain? A fair few, fortunately for you. This one's a little different however, as Gyeongui Line Forest Park is actually located on a former railway line. Since reclaimed by nature, it now makes for one long, linear, amazing cycle route!
The park itself is well-maintained and provides a safe, traffic-free route for cyclists. So why not cycle along the park, enjoy the beautiful scenery, and see if you can spot wildlife that calls it home?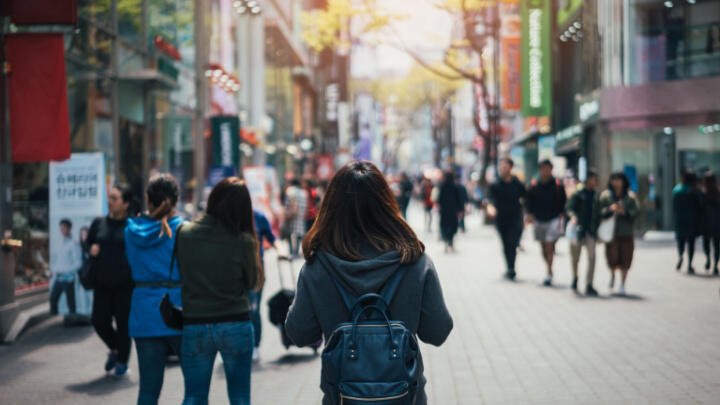 Hongdae 
Hongdae is one of the liveliest areas in Seoul, with plenty of nightlife and eateries thanks to the nearby university. If you're confident on your bike and don't mind navigating people, traffic, and other inner-city hazards, it could be one of the best cycling routes in the city!
Not only will it get you familiar with one of Seoul's coolest areas, but you're also likely to find plenty of places you'll want to visit during - or after - your ride.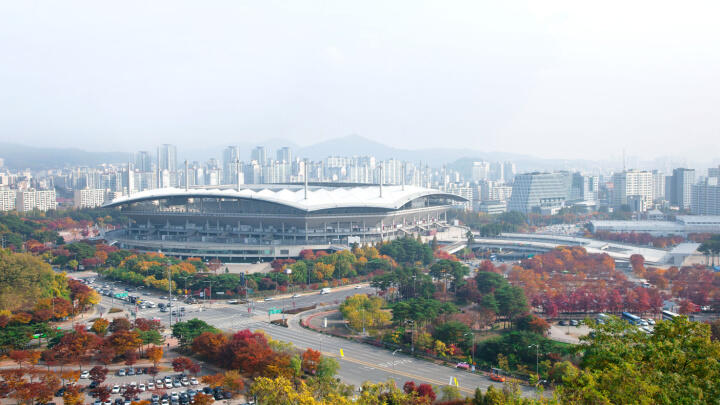 World Cup Park
Over twenty years ago, South Korea and Japan joint-hosted the World Cup, sporting's biggest event. The soccer - or football - tournament is watched by billions of people every four years, so host nations tend to build big, lavish stadiums that hold thousands of eager fans. Today, the World Cup Stadium still stands, used mainly for national matches in the country's K League. And surrounding said stadium is one of the city's best parks - the World Cup Park. And, thankfully for you, it's the perfect place to let off some two-wheeled steam!
Ideal for cyclists who are looking for a quiet, relaxing cycle route, you can cycle along the park's paths, taking in the stunning views of the city and the Han River. You'll also pass the stadium, which is photo-worthy in itself. 
And that's our guide to the best cycling routes in Seoul! Need some inspiration for when you're off the bike? Check out Go City! With our All-Inclusive Pass and Explorer Pass, you can see all of Seoul's best bits for one low price!