The capital city of South Korea and one of the most cosmopolitan cities in Asia, Seoul has it all. Great shopping, nightlife, attractions around every corner and a rich culture to explore. The city's also filled with many historical landmarks, including palaces and temples. With so much to see and do, is there a bad time to visit Seoul?
Short answer, no. It's an incredible city all year round. You literally cannot pick a bad time to visit. With 4 distinct seasons, it all comes down to what you want to get out of your Seoul experience.
Winter (December - February) in South Korea
Winter in South Korea is an amazing experience. While it may be cold, it's nothing extreme.
During winter, the average lowest temperature in Seoul is 2ºC (36 F) and the average highest temperature is 11ºC (52 F). It gets dark early, with sunset around 4:00 PM. If that sounded like a negative, it's not!
If you're looking for a unique and exciting vacation, this is your season. From the crisp winter air to the colorful lights and festivities, it's a feast for all your senses.
One benefit of winter in Seoul is the abundance of cultural events. Experience the Lantern Festival, indulge in the traditional winter market experiences, and join in the fun at the Hwacheon Sancheoneo Ice Festival. The three week long ice festival attracts over a million visitors per year, as you try your hand at ice fishing, sledding, bobsled and even ice soccer.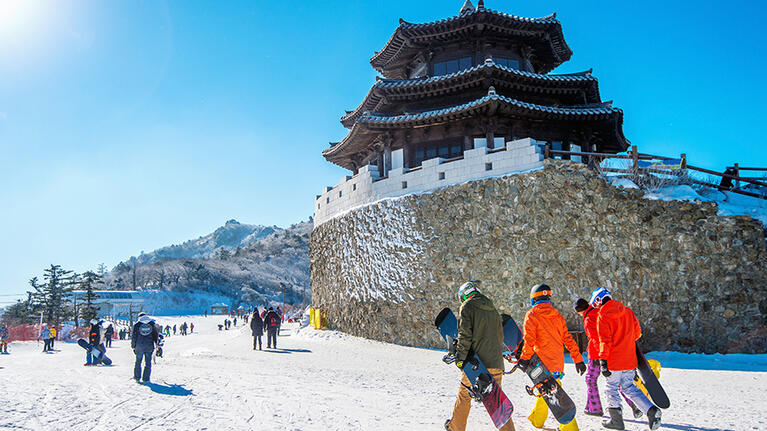 During this period, the city comes alive with street performers, art installations, and ice sculptures, meaning you won't be short of either entertainment or photo opportunities.
Winter's the perfect season to witness the breathtaking snow-covered landscapes of Bukhansan National Park. If you're feeling adventurous, you could also give ice-climbing a go. Who doesn't love climbing up a frozen waterfall with a pair of ice-axes?
If you're planning to stay indoors, visit the temples and museums, or spend your time bouncing from restaurant to restaurant, the season won't really affect you. You may notice a handful of markets or eateries closed during the winter season, but nothing to spoil your trip.
As skiing is such a popular seasonal pastime, many locals and tourists flee the city for the slopes. That's a win for you, as it means shorter queues and more space to take some epic selfies.
Whether you're looking for a memorable cultural experience or a chance to explore the great outdoors, winter in Seoul's an unforgettable experience.
Spring (March - May) in South Korea
Spring is the season of new beginnings and rebirth in South Korea. It's the time Koreans welcome the warmer weather with festivals, colorful flowers and a carnival-esque atmosphere.
If you arrive during the Spring months, you're in for a treat with some amazing weather. The average temperature of Seoul during this season hovers around 20ºC (68 F). The highlight of the calendar has to be the Jinhae Cherry Blossom Festival.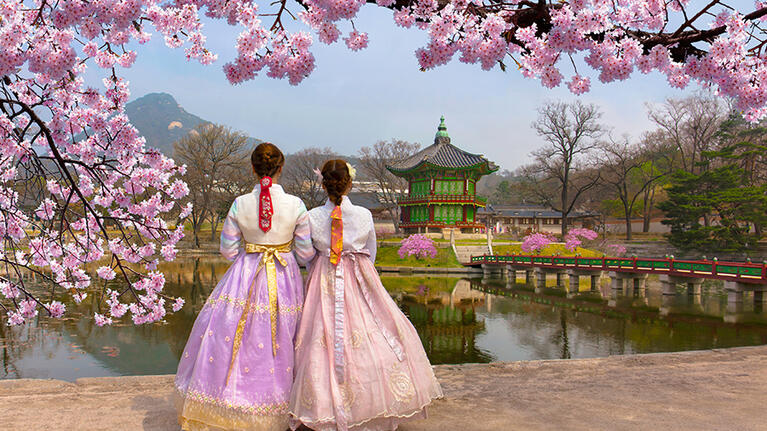 The Jinhae Cherry Blossom Festival is renowned for its breathtaking beauty and cultural significance. From late March to early April, millions of people flock to Jinhae to witness the incredible transformation of the landscape into a sea of pink. Expect to see thousands of stunning, vibrant cherry blossom trees, set against the beautiful backdrop to the nearby rivers and mountains.
Aside from the stunning performance of Mother Nature, there's a variety of events and activities to enjoy, including musical performances, fireworks, markets, and more.
Cherry Blossoms can also be found at Gyeongbokgung Palace, one of the most jaw-dropping attractions in the city. While it's possible to combine the two for some incredible photo opportunities, it's unlikely you'll get the place to yourself. Expect to share the experience with thousands of other tourists.
If you're looking for somewhere a little less crowded yet equally photogenic, head to Changgyeonggung Palace. It's smaller, yet equally incredible to see and with much fewer visitors.
Aside from all the floral joy, it's just a much more pleasant time to go out exploring. Prices are cheaper as it's low season, and the pleasant temperature means night walks are dreamy.
Summer (June - August) in South Korea
Summer in Korea is hot and humid, with temperatures hovering around 30ºC (86 F). The humidity fluctuates, sometimes reaching 90%, and rainfall is frequent, especially between June and August. It's not called monsoon season for nothing.
The rainy season in South Korea is unpredictable and it can change from day to day or even hour to hour. The rainy seasons usually come in waves and can last for a day or two. Rainstorms can often be severe and accompanied by strong winds, typically occurring in the afternoons when temperatures are the hottest.
During the summer months, Koreans flock to the beaches of Haeundae beach, Jeju, and Hajodae to soak up some sunshine and enjoy the ocean.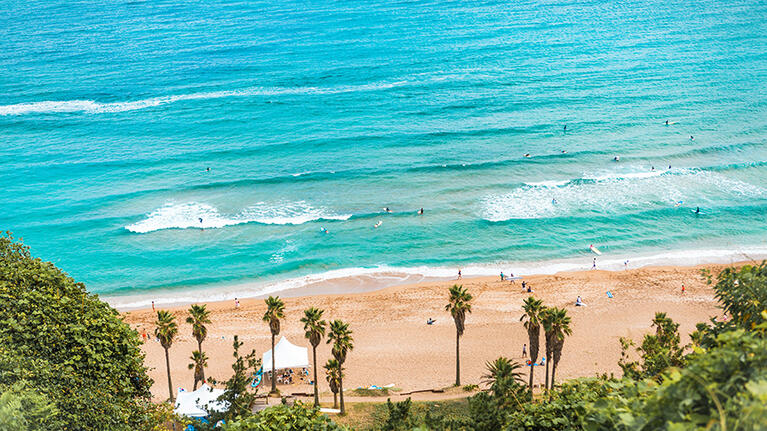 There are several stunning beaches close by to Seoul that offer plenty to do and explore, no matter what kind of traveler you are.
If you're looking for a family-friendly beach experience, then Ganseong is for you. Easily accessible by train from Seoul, this beach is great for swimming, sunbathing and lazy days by the water. With plenty of nearby restaurants and shops, you won't find yourself short of options for entertainment.
Jeju island offers spectacular sunsets and stunning sandy beaches. There are also waterfalls, forests, lava tubes and volcanic outcrops to explore should you want a little more excitement.
If you're ready to catch some gnarly waves, Hajodae beach should be your go-to. It's not called 'Surfy beach' for nothing. The 2 mile stretch of sand is perfect for catching either tubes or rays. The view from the nearby lighthouse is also well worth checking out.
Fall (September - November) in South Korea
Fall in South Korea brings together multiple distinct experiences. From festivals to food, there's a lot to see and do in the waning months of the year.
Temperatures in September typically range between 17°C and 25°C, while October is 12°C to 22°C and November is from 9°C to 20°C. However, it's not always this cold. The weather can be unpredictable and turn without warning, so it's advisable to wear layers.
The leaves turn a mesmerizing combination of yellow, orange and red during this season, and this creates a stunning visual display on the tree-lined streets.
Fall is the time that South Korea is the most festive, with festivals popping up all over the country during this time. They range from food to music, film, and dance. These festivals are a prominent part of South Korean culture and are full of activities, celebrations, and joy that are a must-see.
The Chuseok Harvest Festival brings everyone together to celebrate the year's harvest and to honor their ancestors with traditional prayers and offerings. For visitors, this is the perfect opportunity to experience traditional Korean culture in full force – from ancestral memorial ceremonies and special foods to traditional folk games and vibrant dances.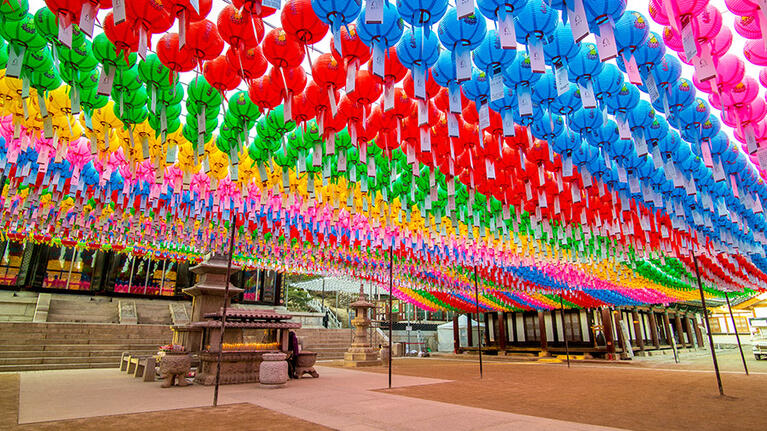 The Lantern Festival is another popular event during the autumn season. Here, visitors can marvel at the beauty of paper lanterns as they are lit along the Cheonggyecheon Stream. During these festivals, you can enjoy performances by traditional Korean music and dance troupes, taste traditional Korean delicacies, and even take part in games and activities.
Overall, the Fall festivals in Seoul are a wonderful way to experience the culture and customs of South Korea. Whether you're looking to learn more about the history of Korean culture or just looking for a fun-filled day, these festivals in Seoul provide an unforgettable experience for all ages.
When is the cheapest month for tourists to visit Seoul?
Visiting Seoul in the high seasons - Summer and Winter, can be expensive for tourists. Accommodation prices go up and the queues for everything are much longer. If you're traveling on a budget, aim to arrive in Korea during Spring or Fall. The weather's better, fewer tourists are on the streets and the prices come down considerably.
So, when's the best time to visit Seoul?
Winter:
Visiting Korea during winter can be either a peaceful or adventurous experience, depending if you spend your time on the ski slopes or in the city. You can enjoy all of Seoul's attractions and landmarks in the beautiful and serene snow-covered environment. However, be aware of the temperatures, as Seoul can be extremely chilly during this time.
Spring:
If you're a photographer or content creator, Spring is like a playground. Picture postcard scenes all over the country, joy in the air and free rein to explore the city's many highlights without the crazy summer crowds.
Summer:
The hot and humid weather is perfect for outdoor activities, so pack your swimming outfit and hit the beach. Try your hand at some of the crazier adventure sports on offer, including paragliding, skydiving, bungee jumping or ziplining. Be sure to layer up with sun protector and drink lots of water as the heat can creep up on you.
Fall:
Fall offers a peace and calm to all the city's attractions and landmarks. The mild temperatures and beautiful autumnal colors make it a great place to explore, and the cooler temperatures make it an ideal time to enjoy outdoor activities like hiking. However, because of the colder temperatures that creep in towards the end of the season, be aware of the need for extra layers to keep warm.