There aren't many places like Seoul, with uber-modern skyscrapers organized neatly within its ancient walls and elegant pagodas. It's packed to its edges with markets and museums, parks and palaces, and experiences all extremes of weather, from summer monsoons to winter freezes. There's no doubt a visit to the Korean capital should be on every bucket list – but that doesn't mean it isn't nice to escape its confines for a day or two. Here's our list then, for your next visit, of our best day trips from Seoul – all fun, all interesting and all unique:
Minsok Village

The Demilitarized Zone

Nami Island

Onyang Hot Springs

Everland

Mount Seorak National Park

Gwangmyeong Cave
Korea Folk Village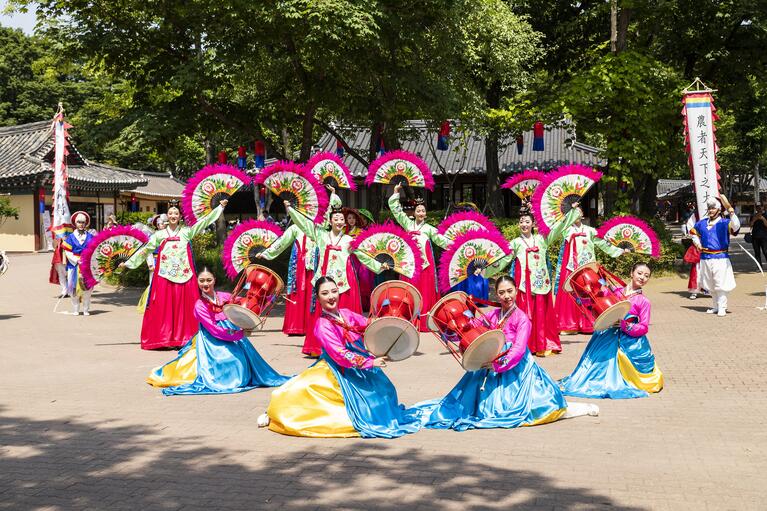 Minsok Village, also known as the Korean Folk Village, is a living museum in the city of Yongin, about an hour south east of Seoul. Real houses, temples and other buildings dating from the late Joseon period have been arranged to replicate a genuine Korean lakeside village from the 18th and 19th centuries. As well as being a popular attraction for international visitors, it's been the filming location of several Korean films and dramas, including the 2012 drama Moon Embracing the Sun. Visitors can easily spend a pleasant day here, exploring traditional architecture and appliances, an art museum, sculpture garden and even a world folk museum. There are lots of experiences to try, including horseback riding, dyeing and live performances, as well as a theme park with rides and games.
The Demilitarized Zone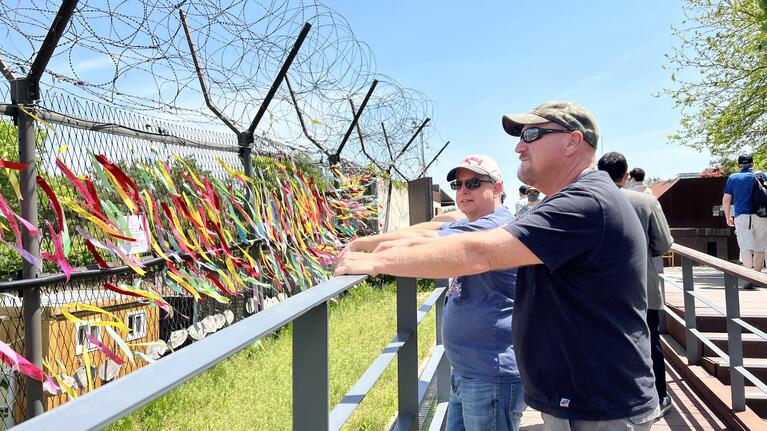 A slight change of pace, but a visit to the Demilitarized Zone is essential for military history buffs and anyone interested in the conflict (and continuing tensions) between North and South Korea. This tour takes you from the capital to the northern border, where there's a two-and-a-half mile stretch of land, running from one side of the peninsula to the other,  separating the two countries. You'll know when you see it for the barbed wire, electric fences and general eeriness. On the tour, your guide will fill you in on the history and purpose of the zone, and you'll have a chance to see the Freedom Bridge, the 3rd Infiltration Tunnel, and take a peek at North Korea through high-powered binoculars in the Dorasan Observatory.
Nami Island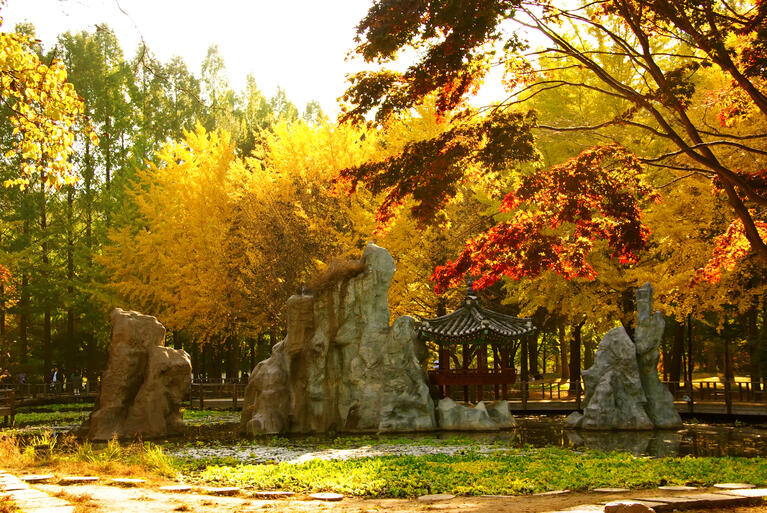 Another spot that's popular with Korean film makers, Nami Island is a perfect city escape for anyone who loves to wander under leafy canopies or cycle along idyllic streams. It's a tiny, crescent-shaped bit of land in the Han River and though it's not far from Seoul, it feels worlds away. Visitors can puff along on the tourist train, ride a zipwire, try some watersports or simply wander along the leafy avenues that famously formed the backdrop of the K-drama Winter Sonata – just be sure to watch out for free-roaming rabbits, squirrels and deer! This charming getaway spot is stunning at any time of year, but is at its most glorious during the fall color and spring cherry-blossom seasons.
Onyang Hot Springs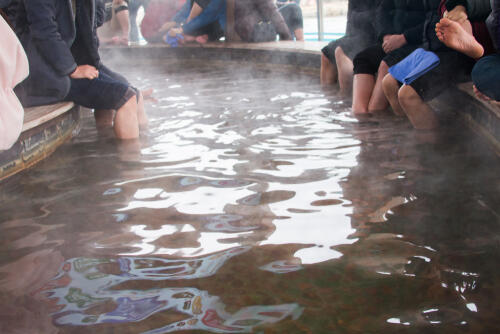 If you want to truly unwind while you're in South Korea, then you should absolutely visit a traditional bathhouse, known as a jjimjilbang. There are several around the city, but even better are the natural hot springs found in some of the mountainous regions around the country. One that's relatively accessible from Seoul is Onyang Hot Springs to the south, believed to be the oldest hot springs in the country and a favorite of Korean royalty over the centuries. If you're in need of a little rejuvenation, spend a day de-stressing in the warm, healing waters of the springs, enjoying whatever views (or weather) you're blessed with, and feel your worries and cares evaporate faster than the mineral-rich steam.
Everland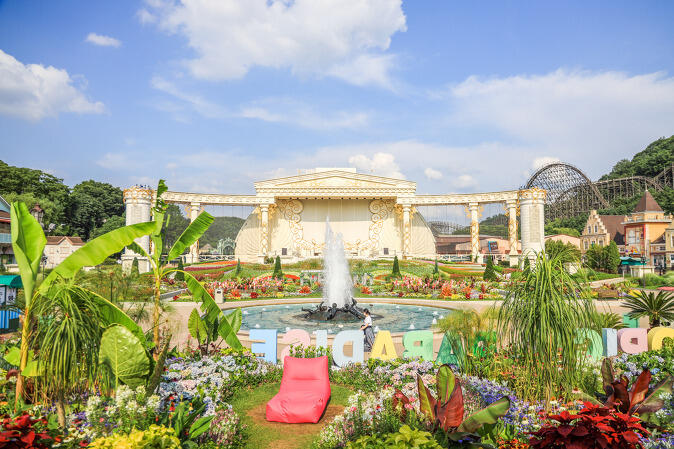 If you enjoy letting your inner child out for the day (or have some actual children with you) don't miss a chance to visit Everland, Korea's largest theme park. It's easy to get to, with a shuttle bus that picks you up from Seoul first thing in the morning and drops you back in the evening, and while you're there you can enjoy roller coasters, water rides, bumper cars and mazes. There's also a zoo, where you can go on safari and might spot the elusive pandas, and an epic flower garden that's always in bloom no matter what time of year you're there.
Mount Seorak National Park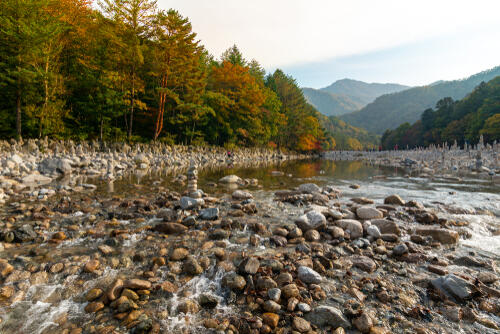 South Korea is roughly 70% mountains, so if you love the outdoors and don't mind a drive then it would be a shame not to experience one of its stunning national parks – especially if you're here during the fall. To the east, one of the most popular is the Seoraksan National Park, which lies along the coast with mountain views on one side and the Sea of Japan on the other.  There are dozens of hiking trails to suit all ability levels, or if you prefer there's a cable car which will dangle you over the mountains so you can concentrate on the views. One of the most popular trails takes in the Shinheungsa Buddhist Temple, believed to be one of the oldest zen temples in the world – if you fancy staying overnight, it's also one of the most spectacular places to view the sunrise.
Gwangmyeong Cave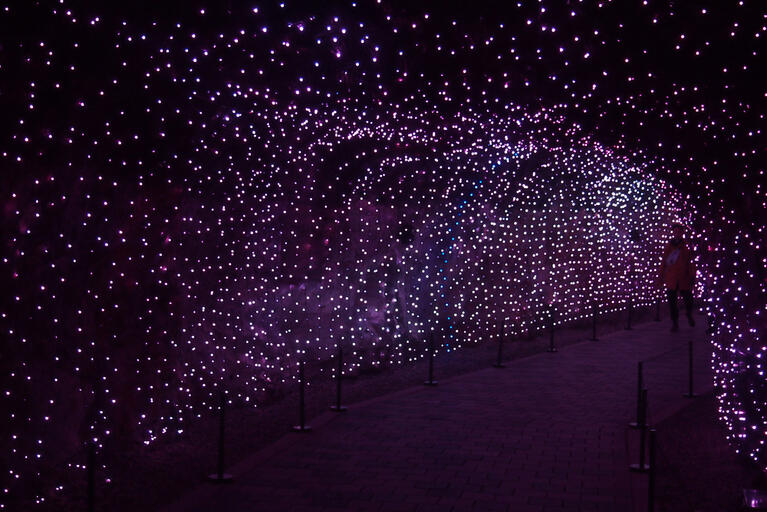 If you're looking for something a little different, that will appeal to all the family and provide a retreat from any undesirable weather, consider an expedition to the Gwangmyeong Cave, about an hour south west of the city. Gwangmyeong is an abandoned mine that's been reimagined as an underground theme park and – wait for it – wine cave. Send the kids off to look at the aquariums and try the VR experience while you sample some sauvignons, then catch up with them for the sound and light show or to climb up to the top for some cool views. There's an interesting exhibit on the history of the mine, for those who are curious about its former identity, and when you're hungry you can grab something from the café or any food trucks that may be hanging around outside.
Have the best day with Go City
Whether you're after a family fun day, an encounter with history or an escape to nature, there are plenty of day trips from Seoul that everyone will love. Wherever you go, be sure to take your Go City Explorer or All-Inclusive Pass with you, so you'll save on all your favorite attractions and adventures!