South Korea isn't just full of delicious food, stunning architecture, incredible shopping, and K-Pop. No, there's a side of Seoul that'll leave your heart pumping and your knees trembling! Push yourself to the limit, crush your comfort zone, and check out the newest hotspot for extreme sports: Seoul.
What are extreme sports? Any sport that requires the participant to push themselves to their physical limit. From skydiving to ski jumping, scuba to scary thrill rides, if it gets the adrenaline pumping, it makes the list. And Seoul has a very long list!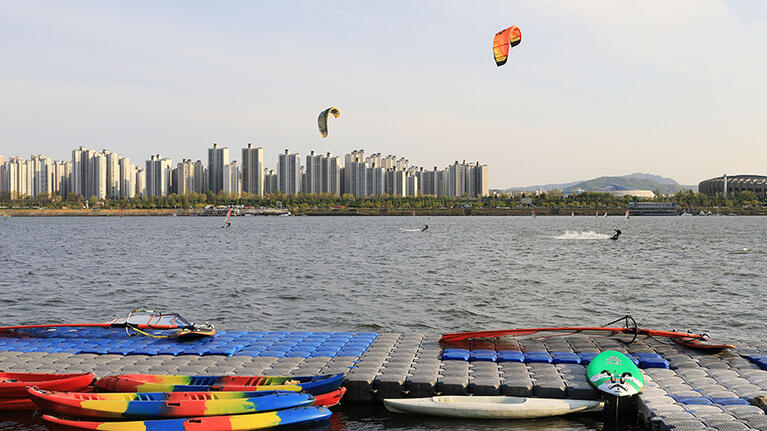 Where are the best bungee jumping spots in Seoul?
If jumping from great heights with your feet tied to a giant elastic band sounds like fun, you're going to love Seoul!
Take a 2-hour bus ride northeast of Seoul and you'll reach Inje County. Here you'll find some of the most stunning natural beauty in South Korea, including Naerincheon Stream and valley.
The rugged environment makes it a playground for adventure sports lovers, including rafting, waterfall climbing, and bungee jumping!
Take on the highest bungee jump in Korea, with a 63m (206 feet) drop at the X-Game Resort! Prices start around $50 and include a certificate documenting your bravery.
Explore the hidden depths of Seoul by scuba diving
Seonyudo Park, located on Seonyudo Island, is a hidden gem that few people know about. This park is not only home to several rare species of plants, 260 species of birds, and 80 species of butterflies, but it is also a great place to scuba dive.
There's no parking, so top up your public transport card and take either the subway, train or bus to Gunsan Coast Passenger Terminal and take the ferry across.
Scuba diving at Seonyudo Park may not be the most extreme activity on the list, but it's something everyone can enjoy. If you're planning a trip to Seoul, be sure to include this park on your itinerary.
You'll have the chance to see some of the best marine life in Seoul, as the water offers great visibility and is relatively free of currents. If you're lucky, you'll see rare species such as the giant sea bass, red rockfish, and warsaw grouper.
Take a scuba diving course, or hire a guide to take you down and show you around. Whichever you choose, be sure to book in advance.
Get a different perspective with a skydive
Is it a bird? Is it a plane? No, it's someone having the time of their life, skydiving above Seoul!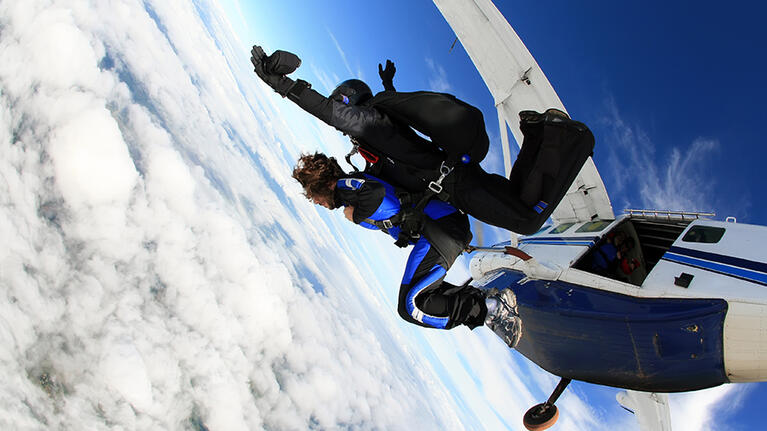 With its stunning views of the surrounding mountains and spectacular city skyline, Seoul offers an unforgettable skydiving experience. Popular dive locations near Seoul include Jukdo and Gyeongju, offering incredible views of the city, rivers, and stunning countryside. The freefall experience in Seoul lasts an average of 45 seconds before gliding gently to the ground, giving thrill-seekers the chance to feel the adrenaline rush of a lifetime.
For the ultimate skydiving experience in Seoul, the Seoraksan National Park is a must-see. With breathtaking mountain landscapes, lush valley views, and incredible coastal views, this park offers a skydiving experience that is unparalleled.
Soak in a bird's eye view of the area's majestic beauty as they soar through the sky. The freefall in this area can take up to a full minute, allowing you time to fully appreciate the magnificent scenery below.
Take to the skies of Seoul with a Paragliding adventure
Less intense than throwing yourself out of a plane, but you're still running off a cliff strapped to a set of wings. Plus, the ride lasts much longer.
Unless you're a seasoned professional, you'll take a tandem flight. That means you're strapped to the pilot, allowing him to do all the work which leaves you to enjoy the incredible views. Soaring through the air at speeds of up to 140 km/h, you'll fly 1150 feet above the ground with flights lasting anywhere from 15 to 30 minutes.
There are plenty of options to choose from, all easily accessible by public transport and most operating year round, dependent on the weather.
Be sure to book in advance, and double check the rules regarding bringing your own camera. Most companies record the experience, with the video available for a small additional fee.
Try zip Lining in Seoul for a quick shot of adrenaline
Ziplines are everywhere in Korea, which options to fly along with your children or enjoy some adult-only thrills. If you've never ridden a zipline before, there's no steering involved. Just strap yourself in, sit back and enjoy the ride (at speeds of up to 50km/h).
One of the most popular locations in Seoul is the Jangchung Resort Park, an idyllic spot and well worth a visit, zip lining or not. The ride is short and family friendly, taking around 5 minutes.
If you're looking for something a little more challenging, check out Nami Island. A popular day trip from Seoul, it's home to another excellent zipline across the Han river which allows you to reach speeds of up to 50 km/h. Climb a 262 ft tall tower before zipping off across the 1km long trip to reach Nami Island.
Enjoy the water sports at the Hangang River
Seoul is an urban city, but there's still plenty of natural beauty to enjoy. One such place is the Hangang River. While the river has a strong current, there are safe spots which are well maintained with lifeguards on duty.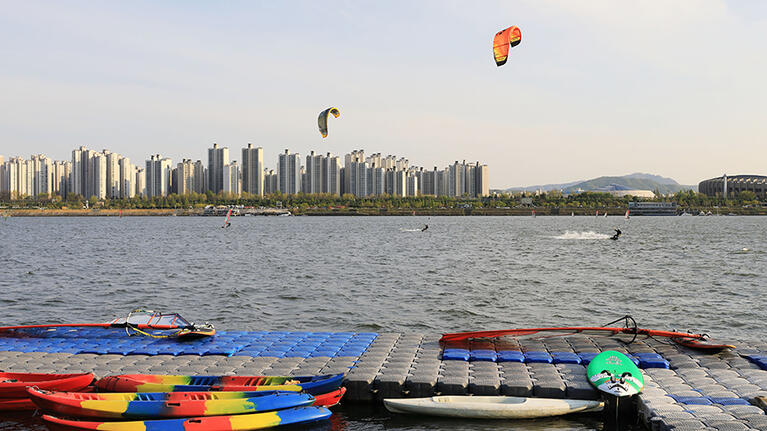 You'll find pools along the banks, with some infinity pools providing excellent photo ops. The watersports include canoeing, kayaking, standup paddle boarding, and even rafting.
To crank up the adrenaline levels, why not take a speedboat up the river?
Climb to new heights in Korea
The climbing scene in Seoul is huge. While not as well advertised as other climbing locations, the terrain is a climber's dream. The community's also very welcoming, with locals happy to point out routes and prime locations.
One of the most popular climbing sites is Baekwundae on Mt Bukhan, with plenty of routes for all abilities. Bukhansan National Park's also easily accessible from central Seoul and provides ample challenging lines.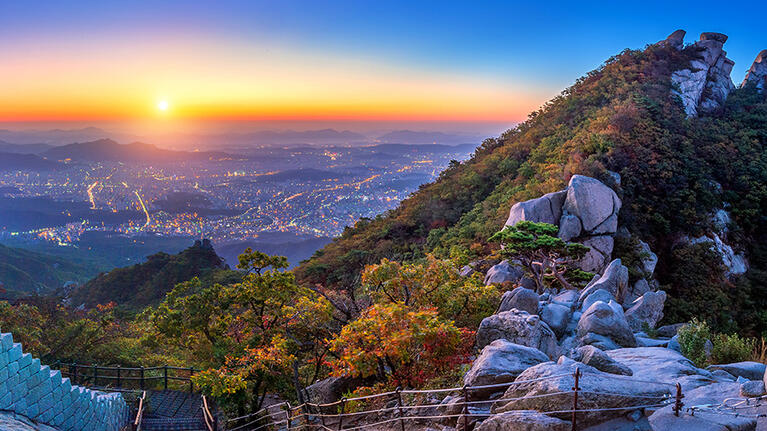 Don't think climbing's just a summer sport though. Seoul has some of the finest ice-climbing around. If scaling a frozen waterfall doesn't get your blood pumping, you should probably go see a doctor. Visit Seoraksan National Park to find some of their frozen beauties.
If you can bring your own gear, amazing. If not, there are plenty of shops to buy or rent equipment.
If you're not yet ready to clip in, there are several climbing gyms and indoor climbing centers in Seoul that offer lessons for beginners.
Ramp up the excitement with the Rail-bike at Gangchon Rail Park
While not the most white knuckle of rides, Gangchon Rail Park is the first of its kind in South Korea and one of the largest in the world.
After you zipline across to Nami Island, hop on the rail tracks where you can pedal to propel the rail-bike along the 6km track. On your way, you're treated to the picturesque scenery of the Bukhangang River, mountainous skylines and multiple themed tunnels.
It runs year round, meaning you'll have an original experience whenever you choose to ride it. The snowy peaks in winter are breathtaking, while the fresh flowers blooming in Spring are the stuff of dreams.
Once you reach Gangchon Rail Park, you can hop on a free shuttle bus to bring you back.
Enjoy the white knuckle theme park rides
Everland is the largest theme park in South Korea. The park has over 100 rides and attractions, including thrill rides, water slides, and plenty of family-friendly alternatives rides. Lotte World is slightly different, being mainly indoors with a slightly more grown-up focus.
If you're looking for thrills, both parks are jam-packed.
The T Express in Everland is one of the tallest, longest, and steepest wooden roller coasters in the world, flying around at over 100km/h.
Gyro Swing in Everland does exactly as the name suggests, spinning you around at insane speeds while whipping you high in the air. That's not to be confused with Gyro Drop in Lotte World, which only goes up... then down, very, very fast! Dropping 75m at a speed of 100km/h in 2 seconds!
Other enjoyable Lotte World thrill rides include French Revolution and Atlantis - both classic corkscrew style rides offering ample heart-pumping dips, twists and spins.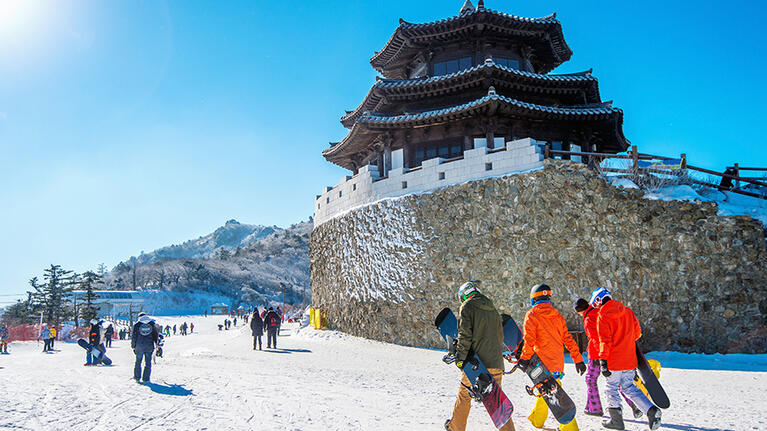 Take to the slopes of South Korea
Ski season runs from December until March, with more than enough slope for everyone. None are in Seoul directly, but they're easily reachable on a day trip or longer via public transport and shuttle buses.
Unless you're proficient in the Korean language, you may struggle to arrange things on your own. If in doubt, book a tour. They're plentiful and usually offer excellent rates for foreign visitors.
Yongpyong Resort has the most slopes with close to 30 different runs, allowing you to relive your favourite moments from the 2018 Pyeongchang Winter Olympics. It has the longest slopes in the country and offers the most challenges for advanced skiers and snowboarders.
High1 Ski Resort caters to the other end, welcoming beginners with wide slopes and less crowded runs.
Phoenix Ski Resort leans more towards snowboarding, with over 20 slopes offering plenty of boarding action.
Are you brave enough to take on Seoul?
With its vast array of extreme sports activities, Seoul is the dream destination for thrill seekers and adrenaline junkies. From soaring high to skimming the slopes, scuba below the surface or zipping across rivers, Seoul will not disappoint those looking to live life on the edge. 
Throw in all the other benefits of a Korean holiday - rich culture, delicious dining experiences, endless shopping and crazy nightlife, and you've got the ultimate one-stop shop destination.