If there's one thing the Koreans know how to do, it's celebrate life in all its forms – whether it's a religious occasion, the turning of the seasons or just an excuse to have fun. That means whatever time of year you're here, there's bound to be a festival somewhere – and visitors are always welcome to join in! As always, it's a good idea to check and plan ahead, but to get you started here's our list of some of the most well-known festivals in Seoul:
Lunar New Year

Pride

Water Bomb Festival

Sinchon Water Gun Festival

Yeouido Spring Flower Festival

Lotus Lantern Festival

Kimchi making and sharing

Seongbuk World Beer Festival
Lunar New Year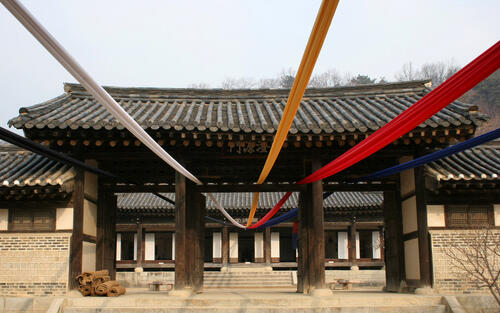 Kicking off the annual program of events in South Korea, the Lunar New Year takes place over three days at the end of January or beginning of February, depending on the timing of the full moon. Though it's one of the biggest parties of the year, many people return to their hometowns and villages for the celebrations, so you'll find Seoul a little quieter than usual, and many small businesses closed. That doesn't mean there's nothing to do though! This is a great time to rent a traditional hanbok and explore one of the city's palaces. Many of the city's tourist attractions stay open, too, so you can enjoy some city views from the N Seoul Tower, or even visit a theme park like Lotte World, Everland or Seoul Land. The choice is up to you!
Pride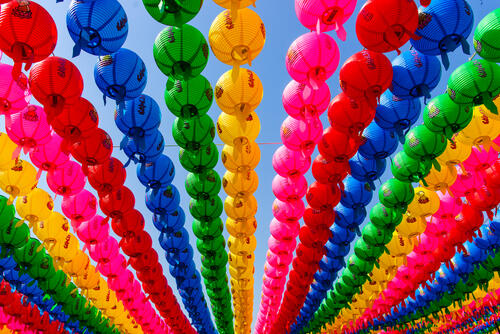 Pride is one of the more colorful festivals in Seoul, and that's saying something! It's grown over the years – from only 50 people in the year 2000, tens of thousands of people now line the streets each year. Festivities take place over two weeks every July, and if you're in Seoul you'll find parties, film screenings and other cultural celebrations, culminating in a great parade on the final Saturday. Wear your brightest colors and be swept up in the fun and euphoria that is the Seoul Queer Culture Festival.
Water BOMB Festival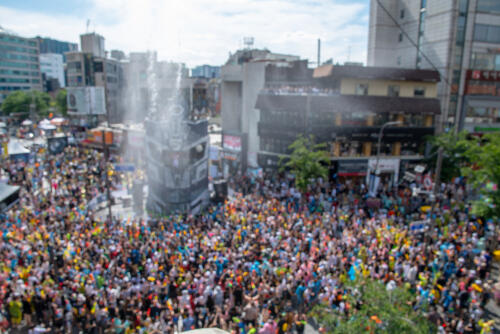 If you love music festivals but hate getting hot and sweaty and being stuck to your neighbors, then you'll love Seoul's Water BOMB Festival, held every year in summer. It's been running since 2015 and is known for having an impressive line-up of Hip Hop artists as well as a giant water cannon that keeps the crown nice and cool – so make sure you wear your swimsuit, or any other clothes you don't mind getting soaked in! Water fights are encouraged, so bring or hire a water gun, and make sure you have some waterproof SPF!
Sinchon Water Gun Festival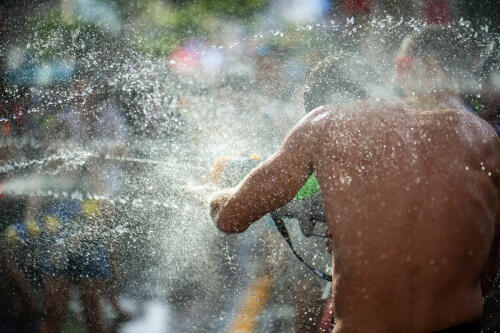 Once a year – usually over a single weekend in July – the streets of Sinchon in Seoul are closed to traffic and crowds fill the streets for the iconic Water Gun Festival. It's basically a massive water fight, with themes like 'aliens vs earthlings' or 'man vs robot', and there's music, water slides, games and even a family friendly area that's safer for the young ones. You can rent a locker so your things will stay dry and safe, or hire a waterproof pouch and poncho. Then all you need to do is select your water gun, and you're ready to join the battle!
Yeouido Spring Flower Festival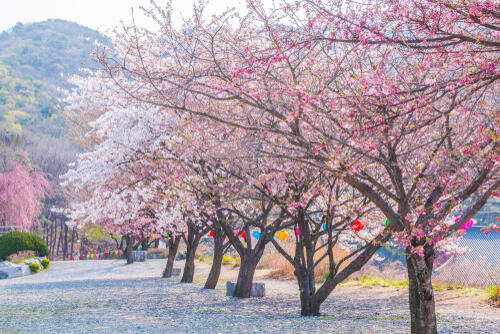 You may think Japan is the place to go for cherry blossoms, but Korea also has its fair share of these charming trees, and they're just as pretty as any you'll find anywhere else. In Seoul, streets and parks are transformed into a sea of pink and white flowers, and locals celebrate the coming of spring by heading outside to walk or picnic under this delicate and oh-so-romantic canopy. Festivals happen all over the city at this time, but the biggest is on Yeouido Island, where you'll find street food vendors, entertainers and gazillions of love-struck couples walking hand in hand along the banks of the Han River.  
Lotus Lantern Festival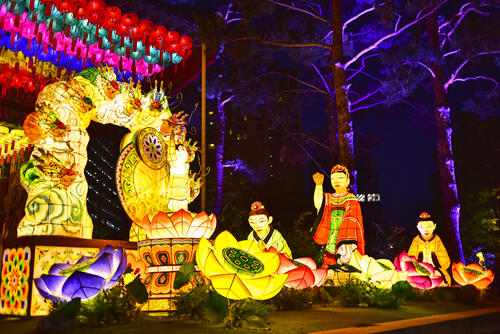 Every year in Spring, South Koreans celebrate Buddha's birthday by decorating the city with thousands of beautiful colored lanterns. They'll start to appear in the streets and on houses in the days before the main festivities, and cities will be full of the sound of bells ringing to mark the occasion. On the final day there's a great parade of 100,000 lanterns through the streets of Seoul, from small lotus lanterns to great birds and fire-breathing dragons. Visitors – Buddhist or otherwise – are welcome to line the streets and watch, and then join in the massive street party that happens afterwards. 
Seoul Kimchi Making & Sharing Festival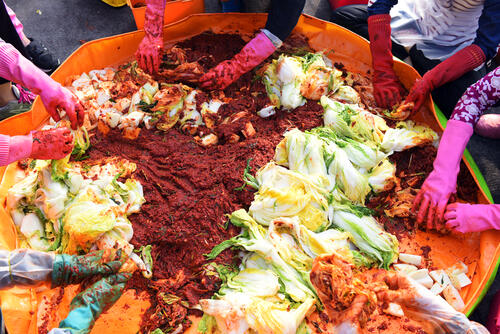 Korea's most famous food, kimchi, is a fermented vegetable dish – usually made of cabbage, with a spicy chili sauce – that's prepared in late fall and left to ferment over winter. This preparation, called Gimjang, is an annual tradition that's become just as important as the food itself. Families and communities get together to make the kimchi, which will be enjoyed throughout the following year, and any leftovers are shared with underprivileged neighbors. In Seoul, visitors can join in the fun at the Kimchi Making & Sharing Festival held every year at the beginning of November, where you can make and sample as much kimchi – also known as 'red gold' – as you want. The whole thing is enough to warm your heart and your stomach!
Seongbuk World Beer Festival
September is a wonderful time to visit Seoul – the monsoon is finishing but the days are still warm, the fall colors are coming out and there are plenty of daylight hours for exploring the city's many parks, palaces and outdoor museums. And as if that wasn't enough, there's also the Seongbuk World Beer Festival, held at Seongbukcheon Fountain Square in the city center. Sit outside sampling beers from all over the world, enjoy Korean street food and be entertained by street performers throughout the day – there are even games and competitions to try, like blind beer tasting and beer-drinking contests.  If you ever needed a place to unwind after a few days of serious sightseeing, this has to be it!
Join the celebrations with Go City
With Go City, every day feels like a festival in Seoul! Grab your All-Inclusive or Explorer Pass whenever you head to the South Korean capital, and you'll save on dozens of attractions all around the city!