What do you see when you summon up an image of Seoul in your mind's eye? Most likely, your first thoughts will be of soaring glass-and-steel skyscrapers, streets bustling with people and cars, and futuristic transportation systems that shuttle distracted passengers through a hi-tech urban landscape. But that would be to overlook the vast green spaces in and around this sprawling megalopolis. We're talking parks, gardens, forests, mountain trails and, well, more superb natural attractions than you can shake a very large stick at. Take a woodland walk with us as we explore some of the top natural attractions in and around Seoul, including:
Seoul Forest 

The Garden of Morning Calm

Nami Island

Bukhansan National Park

Jade Garden

Seokchon Lake

World Cup Park

Ansan Mountain Trail
Seoul Forest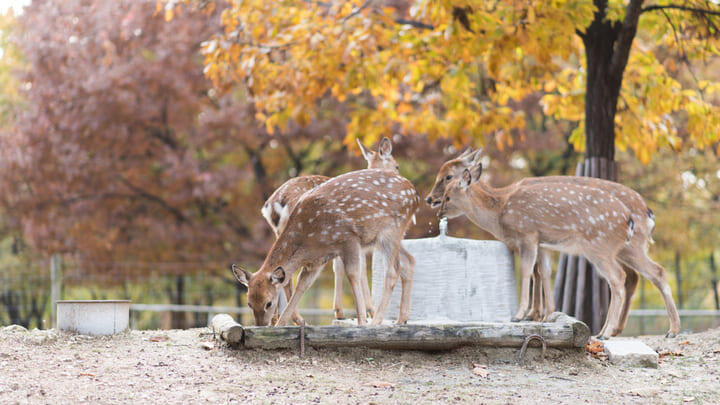 Covering a sizeable chunk of the Seongdong-gu suburb, Seoul Forest boasts some 3,000 acres, comprising woodlands, wetlands, flower gardens, walking trails and a whole host of other attractions. Visit in spring for the explosion of pale pink cherry blossoms and come back in autumn to experience the gingko forest in its full fiery finery, as leaves turn various burnished shades of red, gold and orange. Kids will relish the opportunity to say hi to the resident deer and explore the beautiful butterfly and insects gardens. There's even a cute children's play area with little wooden houses and other attractions.
Garden of Morning Calm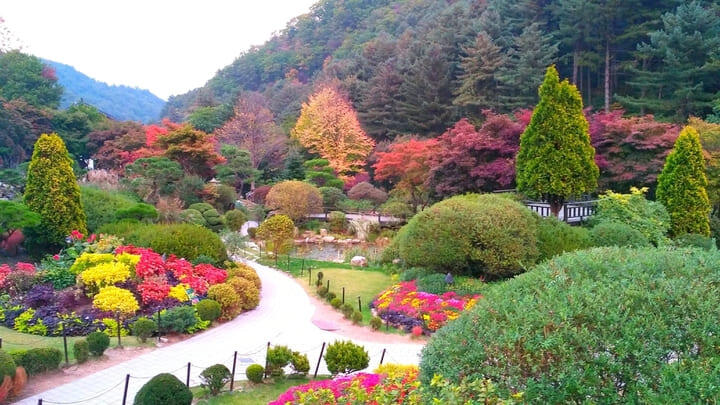 The Garden of Morning Calm… that name alone conjures images of tranquil, dew-dappled gardens and sunshine breaking through the morning mist. Arrive early enough at this arboretum in Gapyeong east of Seoul and that's pretty much precisely what you can expect. A stroll through this peaceful valley reveals all manner of photo opportunities, with brightly colored blooms, endangered trees and abundant wildlife providing the Insta-perfect backdrop. There's plenty here to fill at least half a day, too, with something like 5,000 plant species across 20 zones, all handily connected by picturesque pathways.
Nami Island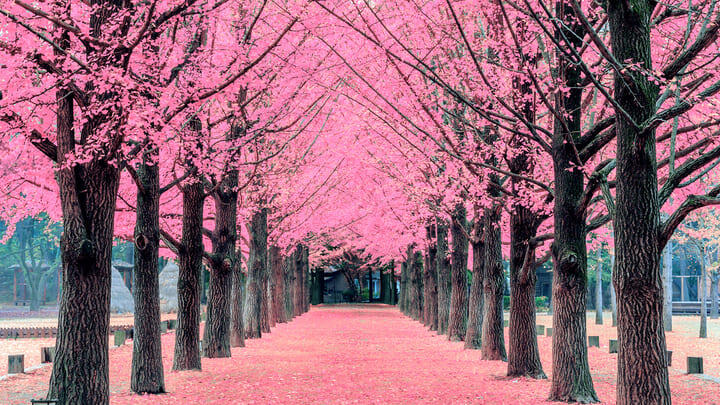 Perhaps best known for its connection to popular K-drama Winter Sonata, Nami Island is a tiny crescent moon-shaped island in the North Han River. Stroll long, leafy lanes lined with chestnut and poplar trees and don't miss picture-perfect Gingko Tree Lane with its canopy of golden leaves and playful squirrels scampering through the treetops. Enjoy a lazy riverside picnic or take a gentle bike ride along avenues of giant redwoods and pines. Then there's the self-explanatory Maple Lane of True Love, for romantics with a fondness for deep-red autumnal vibes. In winter, a blanket of snow lends a magical feel to dense birch groves and traditional pagodas. Fans of the aforementioned Winter Sonata should, of course, be sure to visit the life-sized statue of characters Kang Joon-sang and Jeong Yoo-jin, who shared their first kiss on the island's Glass Sequoia Bridge.
Bukhansan National Park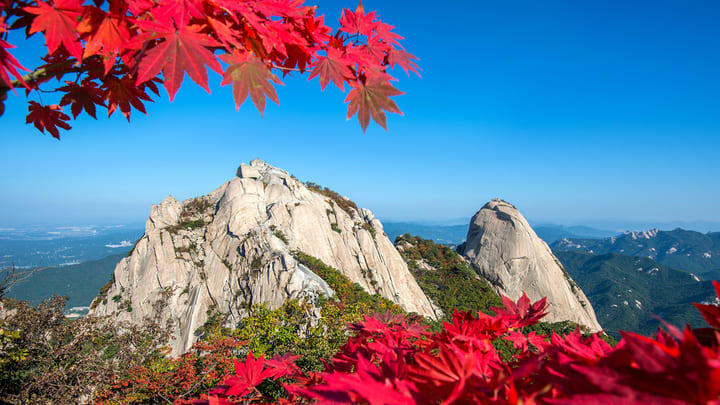 Bukhansan National Park is one of the most-visited in South Korea, and with good reason. Gorgeous gorges and precipitous peaks make this sprawling green space north of the city great for walkers and climbers alike. There are various routes available, from easy strolls through verdant parkland to strenuous mountain hikes along rocky paths. Pause for reflection at Buddhist temples, keep your eyes peeled for native wildlife including wild boar, water deer, chipmunks and woodpeckers and, of course, take time to appreciate the far-reaching views across Seoul from atop the lofty peaks of the Baegundae, Insubong and Mangyongdae mountains.
Jade Garden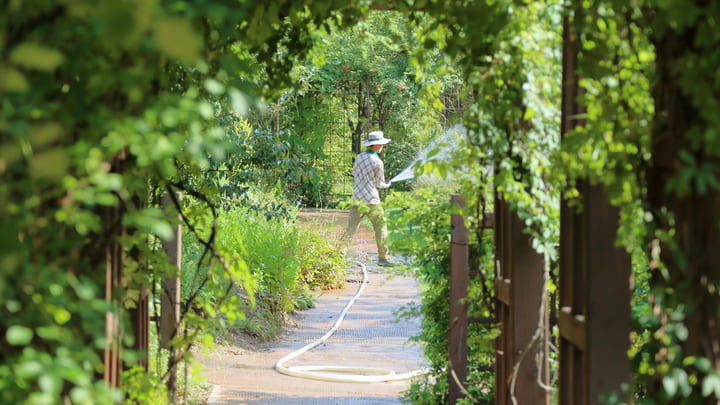 Visit the Jade Garden on a day trip to Chuncheon, east of Seoul. This large, formal garden in the mountains boasts somewhere in the region of 3,000 plant species across several themed zones, cut through the middle by a tranquil stream. You can expect to see impressive displays of huge rhododendrons, blueberry bushes and maple trees as well as sections of dense, natural forest and colors that change dramatically with the seasons. Like many of the gardens here, the foliage-clad visitor center is distinctly European in style and really wouldn't look out of place in Tuscany. You'll find a small gift shop and restaurant inside.
Seokchon Lake Park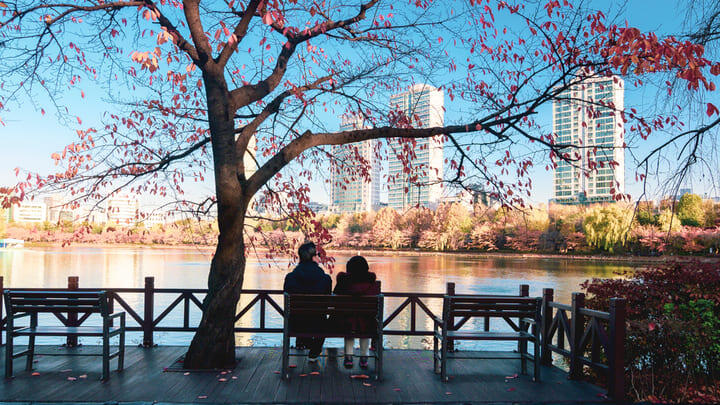 Popular with walkers and joggers, Seokchon Lake Park has a pedestrianized path that winds, in a figure-eight shape, around the East and West lakes. At about 2.5 kilometers it's great for a short run or for a nature stroll in (more or less) the heart of the city. As with much of Korea, you'll find the most picturesque times to visit are during cherry blossom season in spring and when the foliage puts on its spectacular color-changing display in autumn. There are plenty of other attractions to visit here, too, including the fantastic Lotte World theme park.
World Cup Park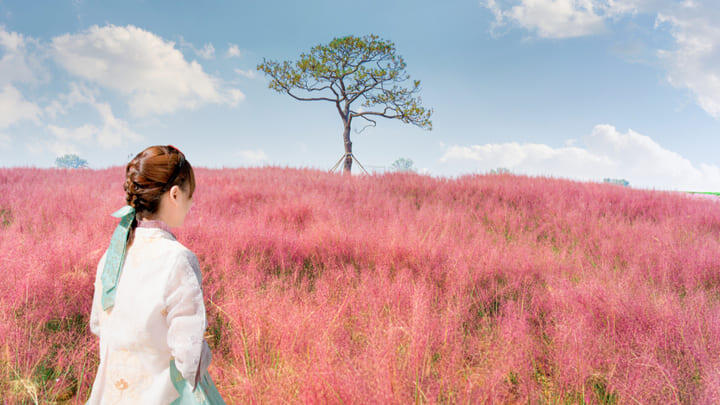 World Cup Park was created to commemorate the football tournament co-hosted by Korea and Japan in 2002. Comprising five connected parks and covering some 850 acres, this vast network of green spaces has a little bit of everything. Want to walk among tall, swaying grasses and take in sweeping views of Seoul and the Han River? Haneul Park (aka Sky Park) is the one for you! Looking to keep the kids entertained for hours on end? Hit the playgrounds in Nanjicheon Park. Fancy ogling wild animals including deer and raccoons and getting your culture fix in an extensive sculpture park? That'd be Noeul Park, also known as Sunset Park, where you need only spend a single spectacular evening to discover how it got its name. Head up to the park's observation deck for the best sunset seats in town.
Ansan Mountain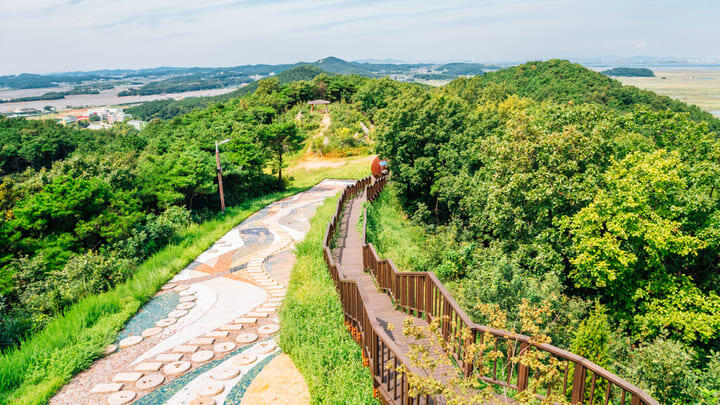 Seven kilometers of raised wooden decking make walking the Ansan Mountain trail something of a breeze, no matter your age or ability. The walkway encircles the iconic mountain in Seodaemun Independence Park and makes for a great family day out. Walkers who leave the wooden track can make the short additional trek to the forested peak via dirt paths. This section can be completed in 30–60 minutes and, at 296 meters, rewards the intrepid hiker with far-reaching views of the city and the great mountains and valleys that surround it. 
Save on attractions and activities

in Seoul
Save on admission to Seoul attractions with Go City. Check out @GoCity on Instagram for the latest top tips and attraction info.