As spring is the season of cherry blossoms, so autumn belongs to the turning of the leaves, as Korea's millions of trees – gingkos, maples, oaks and more – burst into a spectacular rainbow blaze of pinks, reds, yellows and oranges. Camera-toting tourists from around the globe descend for the annual festival, making the most of those long, clear and (in early autumn, at least) balmy days. Read on for our expert guide to autumn in Seoul, and mark your calendar with the most essential Seoul autumn events, from lantern festivals to firework displays.
Visiting Seoul in Autumn
Come September, Korea's summer sizzle has begun to fizzle and days, while still pleasantly warm, no longer carry the hot and humid sting of August. Clear skies make for a perfect cobalt-blue backdrop in vacation snaps and temperatures are still well within the comfort zone for strutting your stuff in light linens and floaty cotton dresses. You'll want to start layering up in October though, especially in the evenings, and, by autumn's end in late November, we're talking chunky jeans, jackets and boots, maybe even scarves and gloves.
It is resolutely a season to be spent outdoors enjoying the many marvels of Seoul. There's plenty going on at this time of year but, frankly, you'll be hard-pushed to distract yourself from the main event, as trees across the nation dress themselves up in a blazing display of flamboyant fall foliage. We're talking crazy crimsons, terracotta reds, mustard yellows and eye-popping burnt oranges that cascade down through the mountains, turning the city streets into vibrant pop art masterpieces that wouldn't look out of place in the Seoul Museum of Art.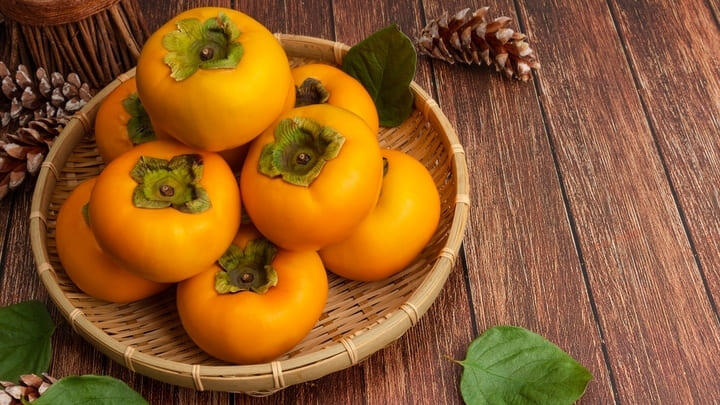 It's harvest season and therefore a great time to try Korean fall specialities such as lovely ripe persimmons, ubiquitous at this time of year. The harvest is celebrated with the Chuseok festival where songpyeons – sticky little steamed rice cakes with sweet or savory fillings – are the go-to snack for locals and definitely worth a try! Crispy fried hotteok pancakes filled with melted brown sugar are an indulgent, warming treat when temperatures begin to drop, and sweet blue crabs are at their plumpest and most juicy. 
All these vibrant colors and fine flavors mean only one thing. Yep, you guessed it: autumn is Seoul's most popular tourist season, with prices rising accordingly and foliage tours that are booked out weeks in advance. Our advice? Plan well and book the accommodation and tours you want as far ahead as you possibly can.
Things to do in Seoul in Autumn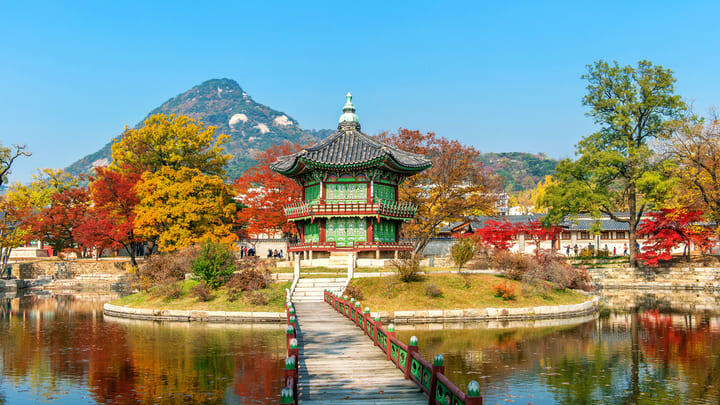 Clear, dry weather and bright blue skies make for fine conditions for exploring Seoul's great outdoors. Visiting in mid-October? Don't miss your opportunity to wander among the waving grasses of Haneul Park. It's stunning at any time of year, but particularly during this short fall window when the grasses turn silver and budding Instagram influencers can be spotted trying to achieve the shot that will send their 'likes' into the stratosphere. Views of the Seoul skyline and Han River ain't half bad from the park's hilltop location either.
It's also a good time to explore Seoul's extraordinary Joseon dynasty palaces, with their grand interiors and beautiful landscaped gardens. Perhaps the most celebrated of these, Gyeongbokgung Palace is an opulent 14th-century complex in view of the Namsan and Bugaksan mountains. Enjoy the colorful explosions of autumn foliage and catch the equally vibrant Changing of the Guard ceremony here hourly between 11AM and 3PM, every day except Tuesdays.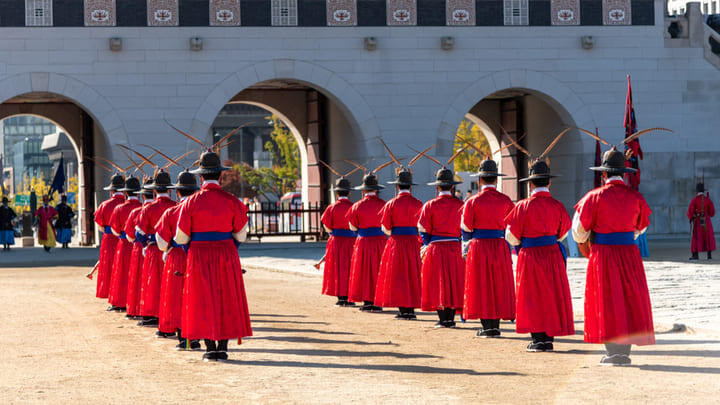 More colorful still is the secret garden in the grounds of Changdeokgung Palace, a Confucius-inspired collection of grand pavilions and residences. Book ahead to access the gardens, where the glorious reds, yellows and oranges of the leaves reflected in the small pond are sure to send budding photographers ga-ga.
Hit the hiking trails of Bukhansan National Park, with its gorgeous gorges, precipitous peaks, Buddhist temples, abundant native wildlife and far-reaching views across Seoul. Or dodge the crowds at the Seonjeongneung Tombs, final resting place of several 15th-century Joseon kings and queens. This huge tract of parkland is relatively untroubled by tourism, meaning you can enjoy the fantastic fall foliage and serene walking trails in (near) perfect solitude. Don't miss the ancient gingko tree in all its sunshine-yellow glory – said to be around 500 years old, it's one of the oldest in Seoul.
What's on: Seoul Autumn Events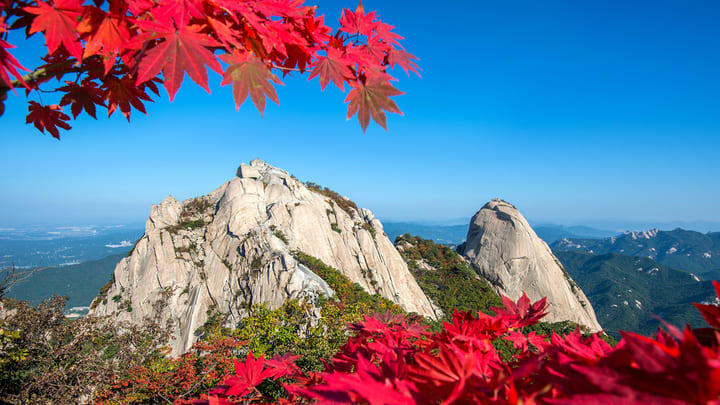 While we really hate to labor a point, autumn in Seoul is pretty much all about the foliage, with tours and events galore to keep the visiting hordes entertained. As mentioned, the most popular of these – guided tours in the mountains, day trips to Naejansan and Seoraksan national parks – tend to sell out well in advance, so do book early if you want to take part.
Don't fret if you arrive late to the party though: the good news is there are oodles of free and cheap ways to enjoy the autumn displays. Take a stroll through the riot of color that is Namsan Park, then take in aerial views of the city's tree-filled avenues from the N Seoul Tower, the 774ft landmark atop Mount Namsan. Stroll the ginkgo-lined avenues of Seoul Forest, an enchanting network of woodlands, wetlands and flower gardens spanning over 3,000 acres.
Chuseok is a major mid-autumn harvest festival that merits a three-day holiday and festivities galore in South Korea. It takes place on the 15th day of the eighth month of the lunar calendar on the full moon (that's sometime in September to you and me) and involves the giving of gifts, the playing of games and the eating of songpyeons. Don't be alarmed if you see locals dancing, wrestling and even dressing up as turtles and cows – it's all part of the fun. Experience it up close at the Korea Folk Village, a lovingly recreated Joseon-era lakeside hamlet in Yongin, where Chuseok festivities include all of the above, and more.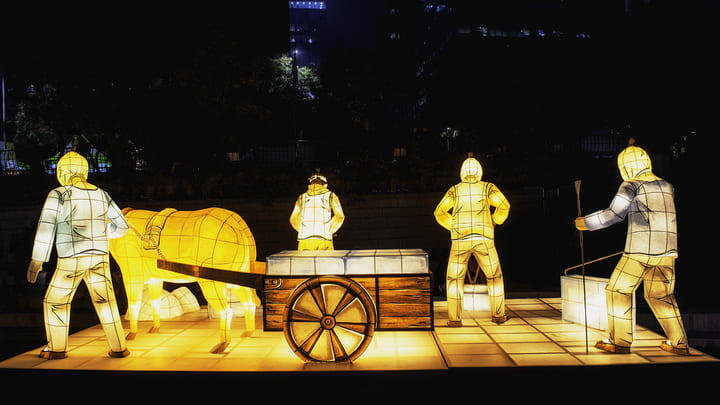 As if to rival nature's arboreal technicolor spectacular, October is also the month of the Seoul Fireworks Festival, a quite extraordinary display of pyrotechnic prowess that sees somewhere in the region of 100,000 fireworks set off from Yeouido island in central Seoul. Head to Yeouido itself for the best views, or find a spot at any number of parks, bridges and other vantage points around the city. We recommend riverside Ichon Hangang Park for close-up views, or Namsan Park for its elevated position, uninterrupted views and smaller crowds. You can even catch the show from the comfort of a Han River cruise.
As autumn draws to a chilly close and the trees shed their leaves, the Seoul Lantern Festival continues to bring light and color to the city. The festival runs for around two weeks in mid-November and sees elaborate lanterns in all manner of shapes, sizes and unusual designs lit up along Cheonggyecheon Stream in the city center. We're talking dragons, buildings, figures from Korea's folk history, and just about everything else you can imagine. Catch the display just as the sun goes down for some of the best photo opportunities.
Save on attractions and activities

in Seoul
Save on admission to Seoul attractions with Go City. Check out @GoCity on Instagram for the latest top tips and attraction info.