Fashionistas rejoice; finally, a guide just for you! Because fashion isn't just a choice; it's a way of life. Adorning your withered body with brands and glam helps you ascend above other mere mortals. If you consider yourself a swaggy sort, you'll be pleased to know that Seoul has plenty of shopping opportunities that will drain your bank account quicker than you can scream "deals!" And really, isn't that what life is all about?
So what is Seoul's fashion district? Does it even have one? And if it does, what will you find there? Well, thankfully for both you and us, there isn't just one district in Seoul that will fulfill your fashion needs. There are three of the monstrosities. So where are they, what are they called, and what will you be spending your hard-earned cash on? Read on, and discover the wonders - nay, the wonderfully wonderful wonders - of Seoul's fashion districts.   
Including:
Myeongdong
Cheongdam Fashion Street
Apgujeong Rodeo Street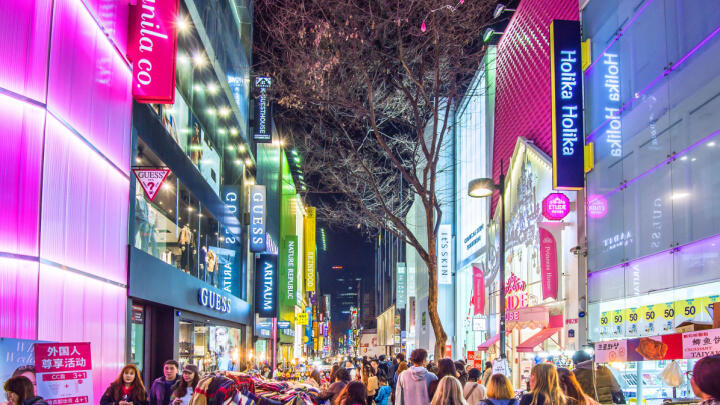 Image courtesy of Guitar photographer/Shutterstock
Seoul Fashion District #1: Myeongdong
Arguably the jewel in Seoul's fashion crown is Myeondong. You'll find innumerable boutiques, high street shops, and department stores (a whopping 5!) in the area. And, while you can pretty much purchase brands from all over the world, what Myeongdong offers over the other areas on this list is an exhaustive list of Korean brands. 
Since Korean culture is slowly taking over the world, with everything from food to music and even cinema making its way into the everyday lives of your average westerner, Korean brands might be something you're looking for in your shopping district experience. And Seoul's Myeongdong doesn't disappoint. The likes of SPAO, 8 Seconds, TOP TEN, and Bean Pole all offer tons of Korean-styled clothing for you to sink your teeth, and your wallets, into. They're joined by popular Korean sporting brands like ABC Mart and Kumkang, if you want to pick up some Korean fitness gear on your vacation.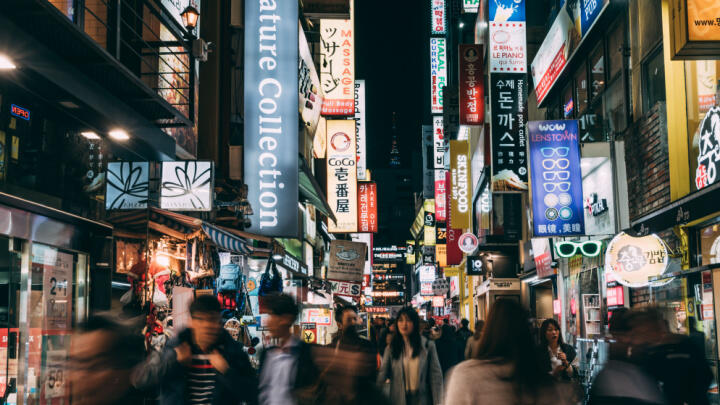 Image courtesy of Travel man/Shutterstock
Besides those, you'll also find plenty of established global brands hawking their wares. Sports giants like Adidas and Nike have a big presence alongside fast fashion juggernauts like H&M and Zara. 
But fashion is just one of many things you'll find in Myeongdong. You'll also find street food aplenty if you need a quick refuel during your spree. Or, if you don't fancy eating on the go, a host of restaurants line the district that will cater to your every culinary need. And, if you're all shopped out and need some entertainment, Cookin' Nanta is in Myeondong.
And what is Cookin' Nanta? Well, it's only the longest-running theatrical show in Seoul! Join three chefs as they sing, dance, and fumble their way through a cavalcade of errors in an attempt to cater a wedding. It'll certainly help bring a smile to your face after hours upon hours of shopping/choice paralysis in Myeondong!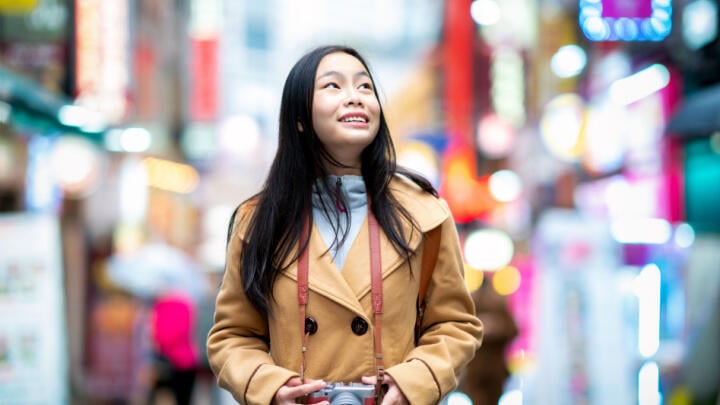 Seoul Fashion District #2: Cheongdam Fashion Street
One down, two to go. If you prefer your shopping district to have the word 'fashion' in the name - you know, for authenticity - then Cheongdam Fashion Street will be a winner. Unsurprisingly found in the opulent Cheongdam-dong neighborhood, it's one of the most popular shopping areas in the city. Busy with both local and tourist traffic, you'll find plenty of people looking for deals when you head there. 
You'll find both big global brands and Korean fashion giants on Cheongdam Fashion Street, though arguably, the western ones win out. Chanel, Gucci, Prada, and Louis Vuitton are just a few of the big boys with big stores in the area. Whether you're looking for clothes, coats, bags, or shoes, your shopping addiction will be well-served here.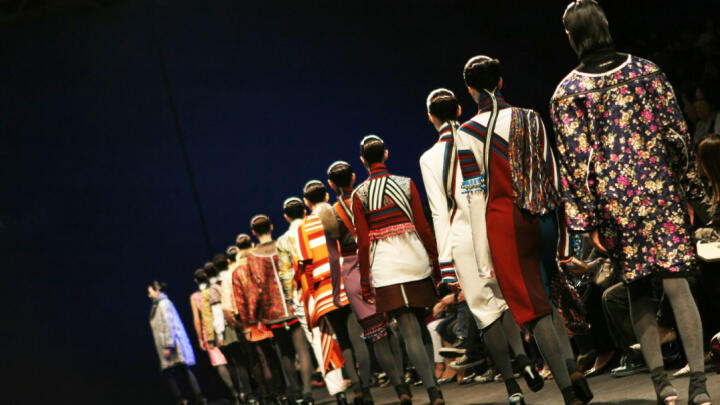 Do you know how 'fashion' Cheongdam Fashion Street is? It's so 'fashion' that regular fashion shows and catwalks pop up in many stores. You'll even find runways outside, depending on the weather. Madness.
It's also home to a number of K-beauty stores, so if you need to pick up some treatments, you're in the right place. Not heard of K-beauty? It's simply Korean skin and hair treatments. They're pretty popular these days, slowly but surely eating up the market share that western brands had on lock. If you've never tried them before, check them out. Usually made with natural ingredients, they could completely change your beauty regime!
If you need to sit down for a meal after all that, you're in luck. TOKYO SIRLOIN is on hand to serve you up a succulent steak you won't soon forget.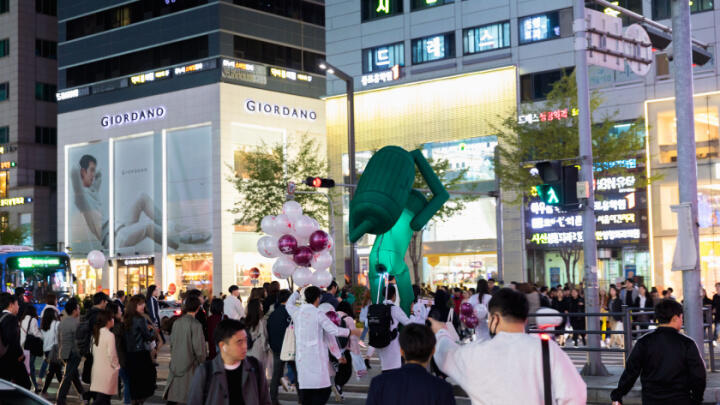 Image courtesy of 2p2play/Shutterstock
Seoul Fashion District #3: Apgujeong Rodeo Street
If you know anything about Seoul, you might be wondering why we haven't mentioned Gangnam yet. Settle down; we're about to. 
Arguably made famous to western audiences due to the internet hit Gangnam Style, Gangnam the district has been making culture waves in Seoul for decades. So it's no surprise you'll find one of the best fashion districts in the city there. It's called Apgujeong Rodeo Street, and it's yet another shopper's paradise.
Big brands call Apgujeong Rodeo Street home. Your Diors, Guccis, and Pradas all have their own slice of the street, practically begging you to enter and spend your money. They're also joined by Korean brands, as is typical of any shopping mall or street in Seoul.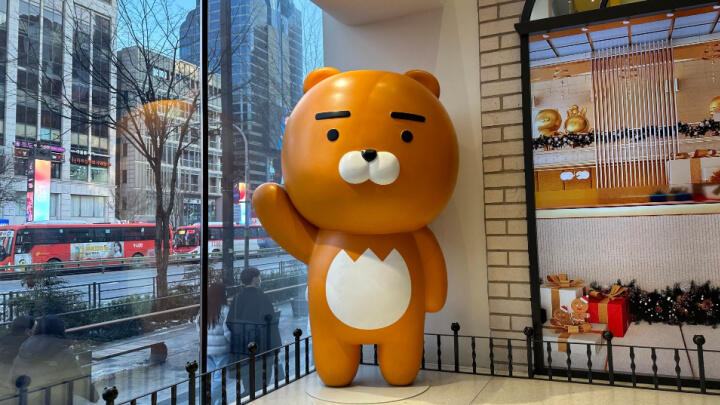 Image courtesy of yllyso/Shutterstock
But what makes Apgujeong Rodeo Street distinct is its beauty offerings. Arguably the mothership of K-beauty, you'll find flagship stores from companies like Laneige, Innisfree, and Etude House there. So, if you need some skincare pronto, you know where to go. 
And, if you need some souvenir ideas for your loved ones back home, Line Friends Cafe has tons of cutesy plushies and other merch that will make great stocking fillers for the little ones. They also offer a number of delicious drinks and treats too, which helps. 
And that's everything you need to know about Seoul fashion districts! With the knowledge you've learned here, go forth and spend, spend, spend. But after you're done maxing your credit cards, you might need to balance the books. If you want great deals on the best experiences in Seoul, check out Go City! With our All-Inclusive Pass and Explorer Pass, you can see all of Seoul's best bits for one low price!