Seoul is one of the most exciting cities to visit as a tourist. Western travelers are in for quite the culture shock, but that's half the fun of visiting new places! Once you've immersed yourself in the local culture and customs, you'll feel right at home. So, a round of applause for picking Seoul! Now you know where you're going, you'll need to know when to go.
If you're not a heat seeker and prefer your holiday humidity-free, October might be the perfect time for your vacation in Seoul! That's why we've crafted this handy guide. So read on, and learn about Seoul's weather and temperature in October, what to pack, what to see, and where to eat!
Including:
Weather and Temperature
What to Wear and Pack
Seoul Events in October
Unmissable Experiences
Best Restaurants and Bars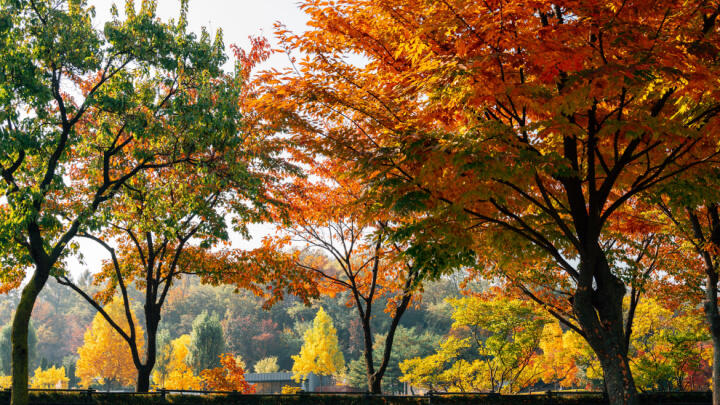 Weather and Temperature
As mentioned above, October leaves Seoul's stifling summer firmly in the rearview mirror, but that doesn't mean you won't enjoy it. In fact, Seoul's summer humidity brings the city's heaviest rainfall throughout the year. In October, humidity is low, so you can expect pleasantly warm, dry days and chilly nights. Average daytime temperatures are between 50°F - 68°F. 50°F might seem unusually cold, but you'll only experience them on clear nights.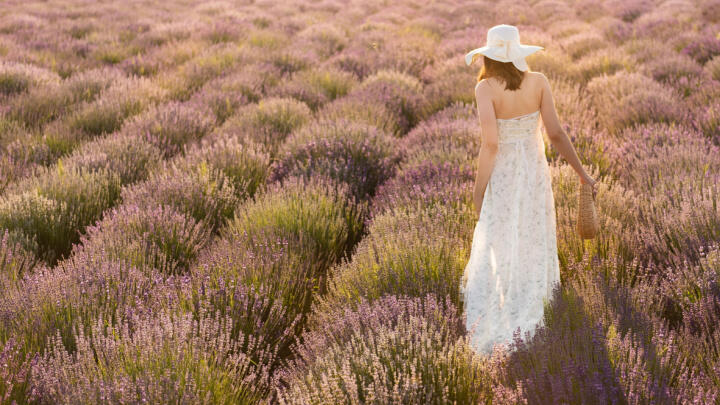 What to Wear and Pack
The key here is to dress for both the warmest and coolest temperatures. So, when the temp's flying high around 70°F, you might be comfortable in jeans and a tee or a skirt and leggings. Really, it depends on you. 
And, when the temperature inevitably drops as the sun goes down, make sure you've got sweaters and jackets on hand to keep you warm. Oh, and a light raincoat or umbrella wouldn't hurt either, just in case it rains. 
Seoul Events in October
Now you know what the weather will be like and how to pack accordingly, what can you expect to do when you get to Seoul? Thankfully, there are a ton of great events in October, so see which ones suit you!
Running until October 30 is Daehakro, a performing arts festival that takes over the streets of Seoul. Like a Fringe Festival, though not the official Seoul Fringe Festival, Daehakro offers visitors plenty of free performances, including spoken-word poetry, musical numbers, mini-plays, and traditional performances.
Having started back in 2017, Daehakro has gone from strength to strength. So, if you're in town, go for a wander and see what you can discover!
Hanseong Baekje Cultural Festival
Though it only runs until October 2, culture lovers should check out Hanseong Baekje Cultural Festival as soon as they land! 
Held in Seoul's Olympic Park, the Hanseong Baekje Cultural Festival features traditional folk performances, live music, and activities that commemorate a fortress that once stood in the same spot as the stadium. 
Foodies will want to be in Seoul for the first week of the month because Taste of Seoul runs until October 6. Held all over the city, the festival of food involves 100 restaurants that have been carefully selected by prominent members of the culinary community. 
You'll find special dishes, discounts, and deals all over the place. So, if you want to see what Korean cuisine is really about, check out the Taste of Seoul!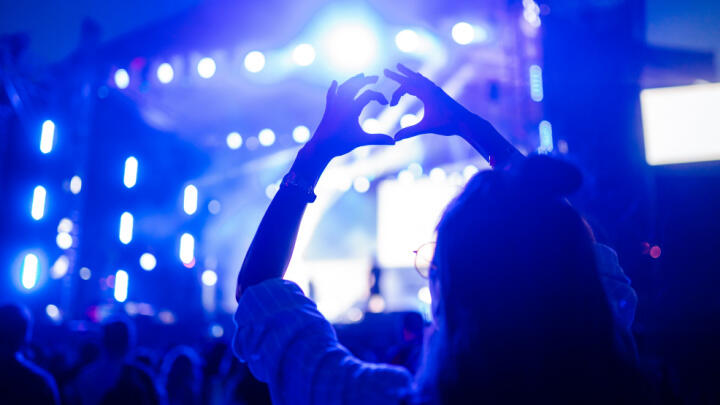 If you're heading to Seoul, you may already be aware of K-pop. Korea's preeminent music export is taking the world by storm, with groups like BTS and Blackpink household names in many countries. And, at Gangnam Festival, you can see plenty more. And best of all - it's free!
That does come with the caveat that you need to get a free ticket before you turn up. However, if tickets are all taken, you can still enjoy the festival's other offerings, including art installations, fashion shows, street food, and more. 
Unmissable Experiences
Of course, Seoul has plenty of amazing experiences available all year round. So, if you need to fill out your itinerary with fun, read on. 
Seoul's weather in October makes it the perfect time of year to visit Korea's biggest and best theme park! Lotte World is packed full of rides, experiences, and fun for the whole family. 
Little ones will dig Kidstoria, a theme park inside a theme park geared toward their tiny minds. And for you grown-ups, you'll enjoy dozens of rides, boat trips, an IMAX theater, and an ice rink. Nice.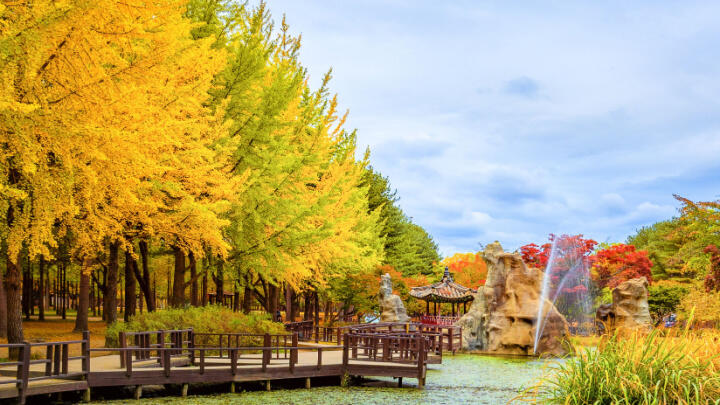 Need to get away from the hustle and bustle of a packed October in Seoul? Take a load off and reconnect with nature at the fantastic Nami Island.  
In the fall, the island is awash with autumnal colors, making it the perfect place to stretch out and have a picnic or simply snap some pics. And, if you're looking for some excitement, there's a mini tourist train, a zip wire, a museum of musical instruments, and even watersports. Really, Nami Island is what you make of it. 
Leave the kids at home for this one. Hongdae is one of Seoul's vibiest districts, so if you're traveling alone or just want to make some friends, get a tour of the best watering holes and grab a few free shots while you're at it. 
Organizers 'Absolute' are known for their inclusive, relaxing, and fun nights, so no matter who you are, you'll likely have a blast. 
Best Restaurants and Bars
Before we go, we have to talk about food. Korean cuisine is one of the best on the planet, so you won't want to miss our recommendations for the best places to eat and drink in October!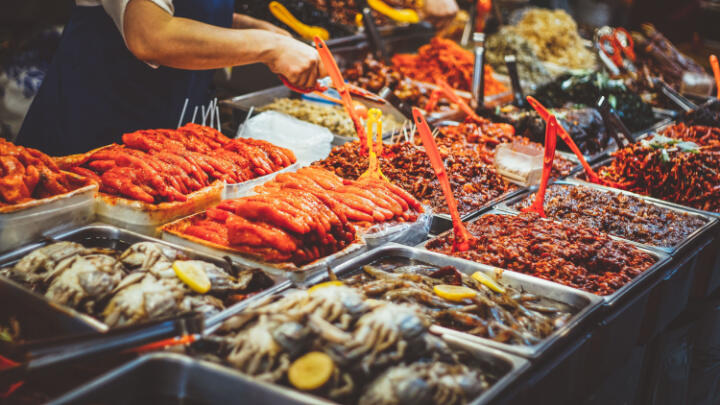 Gwangjang Market is one of the city's most popular markets, with tons of stalls selling all manner of things. You can pick up groceries and even souvenirs if you hunt around. What it's also good for is street food, which is on full display to all who enter. Visitors can try a range of dishes such as bindaetteok - bean-filled pancakes, and tteokbokki - spicy rice cakes, among many other favorite Korean dishes. 
If you're heading to Lotte World and need an imbibing break, check out The Lounge at SIGNIEL SEOUL. Located on the 79th floor of the Lotte World Tower, it offers stunning drinks that perfectly complement its spectacular views of the city.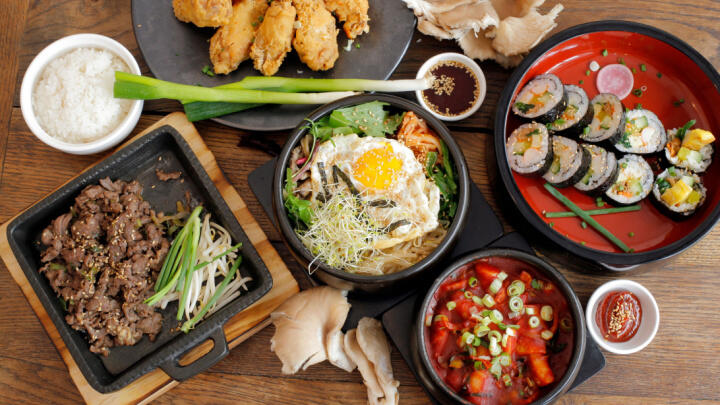 Or, if you're a sucker for Michelin-starred restaurants, Mingles is your go-to. Their contemporary take on Korean cuisine is simply divine, utilizing seasonal ingredients sourced from local farms. Think of it as Korean food with an upgrade. 
And that's everything you need to know about visiting Seoul in October! If you need more vacation inspiration, look no further than Go City! With our All-Inclusive Pass and Explorer Pass, you can see all of Seoul's best bits for one low price!