Let's not beat about the bush: winter in Korea can be punishing. We're talking freezing temperatures, bone-chilling Siberian winds and air so dry you'll feel your lips start to crack the minute you step outside. But, boy, is it also beautiful: think snowy mountain landscapes, fairytale palaces blanketed in the white stuff and gorgeous clear blue skies that seem to go on forever. Not to mention winter warmer street food like chestnuts and roasted sweet potato. Yum. Check out our guide to winter in Seoul below, and discover the most essential Seoul winter events to add to your diary.
Visiting Seoul in Winter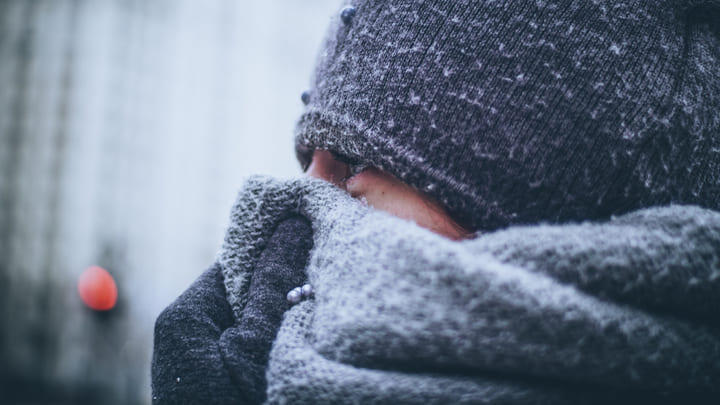 It's difficult to convey just how cold it can get in Seoul between December and March, when the Siberian high pressure system brings teeth-chattering, knee-knocking north-westerly winds rushing down the city streets and January temperatures plummet to, on average, just 27℉, and often significantly lower. Basically, you're going to need plenty of luggage space for all those bulky coats, scarves, leggings and other winter woolies. 
Don't underestimate the benefits of layering here. Thermal underwear, leggings, shirts, jeans, wooly socks and hefty winter coats should be considered a bare minimum, and you'll need sturdy, waterproof shoes or boots for snowy conditions. Bring gallons of moisturizer and do invest in heat packs, too. Available in any Seoul convenience store worth its salt during winter, they provide around 10 hours of heat and can be stuffed into pockets or strapped around your middle to stave off the worst of the cold if you plan to be outside for long periods.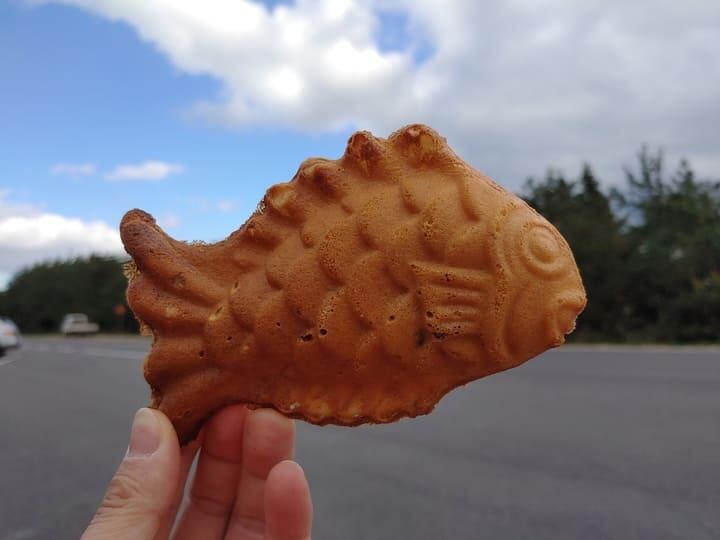 Another great way to stay warm is by gorging yourself on the fine winter soups, stews and snacks that appear on menus at this time of year. Tuck into a bag of roast chestnuts from a street vendor, or try roasted sweet potato, with rich caramel flavors that will soon have you forgetting the cold. Another winter street food favorite is bungeo-ppang, cute little fish-shaped pastries filled with sweet red bean paste (pictured). Kimchi-jjigae (kimchi stew) is a hearty, soul-nourishing dish with a spicy kick, of which one bowl is never enough. And crispy hotteok pancakes filled with brown sugar and fresh from the fryer make for an excellent choice of winter dessert.
As for accommodation, prices tend to be at their highest during the Christmas holidays, when vacationers flood the city, but this is otherwise considered low season, and there are many bargains to be had during January and early February, particularly around the Korean New Year, a three-day holiday which sees city slickers head back to their countryside hometowns to visit family.
Things to do in Seoul in Winter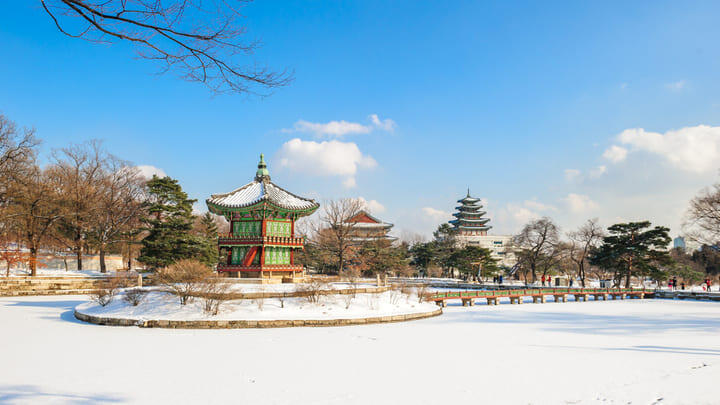 Our advice for a wonderful winter Seoul vacation? Lean into it. Don your warmest hat, scarf and gloves and go ice skating, go skiing, go sledding. Go strawberry picking (they're in season). Heck, go ice fishing!
No, we're not kidding, although you will have to go a little out of town for that last suggestion. January's Hwacheon Sancheoneo Ice Festival is held north of Chuncheon in the neighboring province of Gangwon and sees professionals and amateurs alike take to the ice in the hope of catching a trout to eat – grilled or sashimi style – for lunch. Try with a rod through holes in the thick river ice, or go old school and try to land your fish in shorts and t-shirt using only your bare hands (this option for hardy souls only, obvs). There's also a huge snow and ice sculpture exhibition and several other amusements. Enough to keep the family entertained for a whole day, in other words.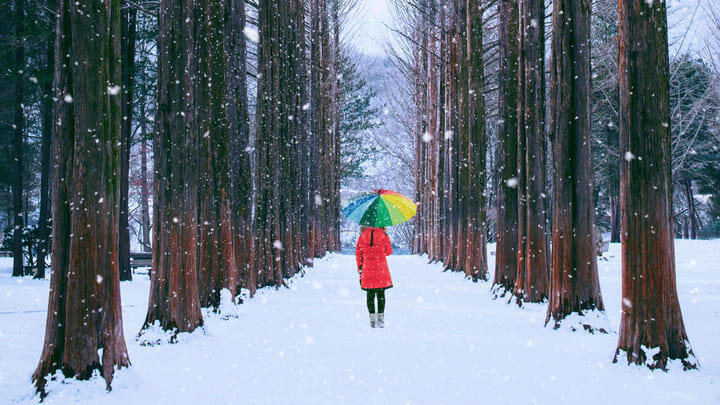 There are several good ski resorts within an hour or so of Seoul, including Bears Town, with 11 slopes, and Vivaldi in Hongcheon, which is located close to another of the region's prime winter destinations: Nami Island. Why not take a daytrip from Seoul and tick off both? The thick blanket of snow that shrouds Nami in winter lends an extra sprinkling of magic to its already enchanting birch groves, gingko-lined lanes and traditional pagodas.
Fill your Instagram feed with glorious winter scenes featuring Seoul's many temples and palaces. Think red pagoda rooftops contrasted with crisp white snow and you'll get the general idea. Gyeongbokgung and Changdeokgung palaces are particularly picturesque at this time of year, with their snow-blanketed grounds and backdrops of white-capped mountain peaks.
Unleash your inner child as you sled squealing down the snow slopes at Seoul Land and Lotte World or go full adult mode and spend a day in one of Seoul's celebrated jjimjilbangs. These gender-segregated public bathhouses have hot tubs, intensely hot saunas and massage rooms. Perfect, in other words, for thawing out after a long day's ice fishing!
What's on: Seoul Winter Events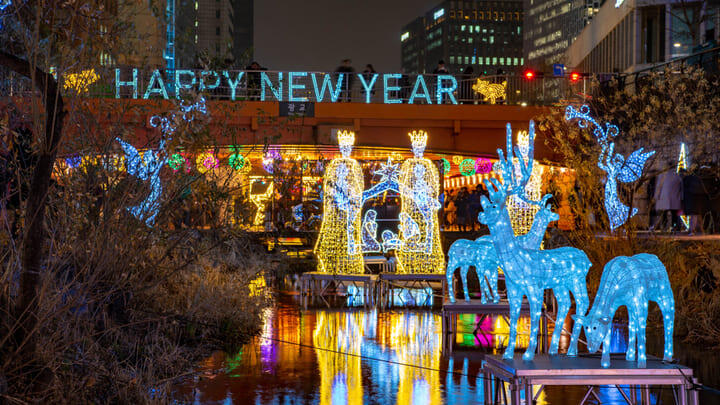 The Korean Folk Village in Yongin, just outside Seoul, runs special events throughout the year. These are particularly fun in winter, when this lovingly recreated Joseon-era village celebrates the winter solstice, lunar new year and full moon with activities that include fortune-telling, traditional Korean dance, burning a 'moon house' made of pine and bamboo and stuffing yourself silly with sweet rice cakes and red-bean porridge. 
Christmas in South Korea isn't quite the consumerist extravaganza it is in the Western world, but that's not to say you can't get in the festive spirit. Markets such as the Marche du Noel in Seorae Maeul Park pop up across the city, promising hot roasted chestnuts, warming mulled wine, carol singing and – who knows – maybe even a visit from the man in red himself. Head down to Myeongdong for some of the best Christmas shopping and fairy-light-festooned facades in town and hit up the Lotte World theme park, which really ramps up the festive spirit with its towering tree, performances, parades and magical Miracle Santa Village.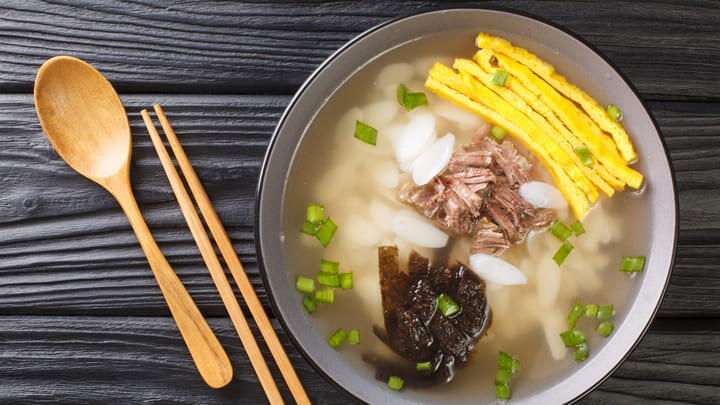 As the mercury plummets, so Seollal rolls around in January or early February. This is one of Korea's most important holidays, better known to you and me as the Chinese or Lunar New Year. It's at this time that many locals head home to their villages in the country to visit family, leaving the streets of Seoul waaaay less crowded. Many businesses shut up shop on the big day, but palaces are open and free to visit, so it's a great time to tick off some of the city's bucket-list big-hitters, including 14th-century Gyeongbokgung and the magnificent Changdeokgung with its stunning (and probably snow-covered) gardens. Get right into the spirit of Seollal by learning the noble art of yut nori, a Korean board game played with sticks and tokens at New Year. And miss your chance to sample the traditional New Year feast of tteokguk, a warming broth with sliced rice cakes, at your peril!
Save on attractions and activities

in Seoul
Save on admission to Seoul attractions with Go City. Check out @GoCity on Instagram for the latest top tips and attraction info.