If you want to get to the heart and, um, soul of Seoul, there are a few essential attractions that you simply have to experience. To save you the arduous task of googling these individually, we've put together a whistle-stop guide to some of the most famous Seoul landmarks and must-do activities, including:
The Royal Palaces

Bukhansan National Park

Lotte World theme park

N Seoul Tower

Gwangjang Market

Bukchon Hanok Village

Dongdaemun Design Plaza
The Most Famous Landmarks in Seoul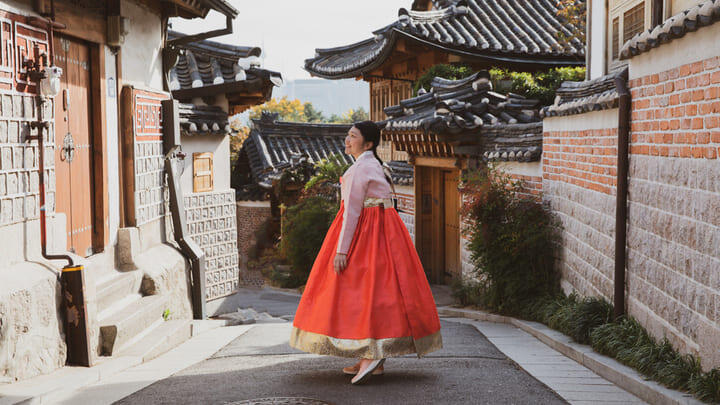 Let's jump straight in at the deep end and start by ticking off some of Seoul's big-ticket items. You should consider these the bucket-list best ofs; the big kahunas; the absolute must-sees on all but the very briefest of Seoul sojourns.
First up are the royal palaces. All five date waaaay back to the epic Joseon dynasty era and all five, with their colorful pagodas, pretty pavilions and perfectly manicured gardens, are absolute manna from heaven for Instagram addicts. Get in the groove at Gyeongbokgung Palace and Changdeokgung Palace where you can rent traditional Korean clothes (hanbok) that will really make your vacation snaps pop. 
You've probably noticed that there are a few fairly substantial buildings in Seoul: great glass towers that crowd the riverbanks and make for an impressive skyline when viewed from any of the city's seven mountains. Lotte World Tower trumps the One World Trade Center by just a few feet, but it's enough to put it well inside the world's top 10 tallest buildings. For now, anyway. Head to its uppermost floors some 1,800 feet above terra firma for a nice cup of green tea and unparalleled views across Seoul and beyond – and walk the utterly terrifying Skybridge if you dare. That tiny dot of color on the lake far below? It's only Magic Island, part of Lotte World, Seoul's premier theme park with dozens of adrenaline-fuelled rides.
Seoul Tower aka Namsan Tower aka – officially – N Seoul Tower is the landmark beacon that sits proudly atop Mount Namsan. Tick it off your list with a leisurely stroll up through the park, which is beyond stunning during the popular cherry blossom and fall foliage seasons. Or, if you're in a hurry, hop on the cable car to reach the base of the tower in minutes. Trust us when we tell you the sunset views from the observation platform up top are among the best in town.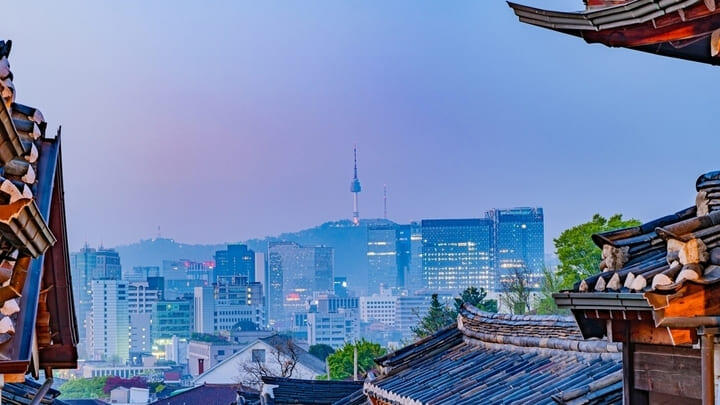 Other iconic Seoul landmarks that you should add to your itinerary include Dongdaemun Design Plaza, an architectural marvel that looks like a giant aluminum mushroom and, again, is at its best in the evening as the changing colors of the Seoul sky dance on its reflective surface. Fans of all things shiny might also enjoy the  huge bronze sculpture outside the COEX Mall in Gangnam, its crossed arms mimicking the horse-riding hand gesture popularized by the Gangnam Style dance craze. For older examples of South Korea's cultural importance, hit up the excellent National Museum of Korea and visit Bukchon Hanok Village to immerse yourself in 600 years of history by way of traditional hanok houses, cute alleyways and museums covering everything from Asian art to… owls.
Seoul Market and Shopping Must-Dos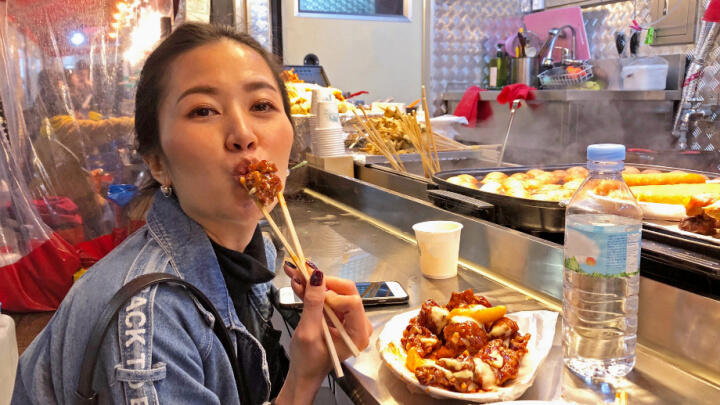 If you're going to visit just one of Seoul's many markets, make it Gwangjang, one of the oldest (and biggest) street food markets in town. Enter with an open mind and we guarantee you'll leave with a bellyful of delicious Korean goodness. We're talking dak-galbi (spicy stir-fried chicken), umami kimchi stew and classic Korean BBQ pork. And that's just for starters. You can gorge yourself on pretty much the full gamut of Korean snacks here: mung bean pancakes (bindaetteok) sweet'n'spicy rice cakes (tteokboki), seaweed rolls (mayak gimbap) and even – for gourmands of a stronger disposition – live octopus, steamed silkworm larvae, fried chicken feet and blood sausage. Nom. Wash it all down with a couple of shots of the national drink, a rice-based spirit called soju.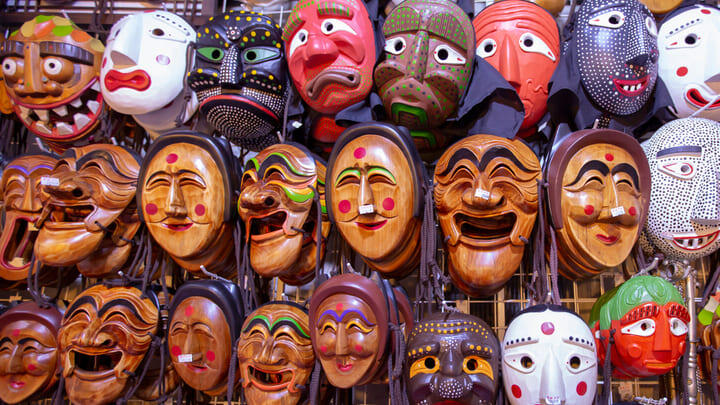 You'll also want to bag some classic Korean souvenirs while you're here. Make a beeline for the hip Insadong district, where narrow alleys teem with cute old-fashioned teahouses, modern art galleries and traditional craft stores. Can you even say you've been to Seoul if you don't leave town with sackfuls of jade-green glazed pottery, delicate Hanji paper lanterns and a hand-carved wooden tal mask?
The Best Natural Attractions in Seoul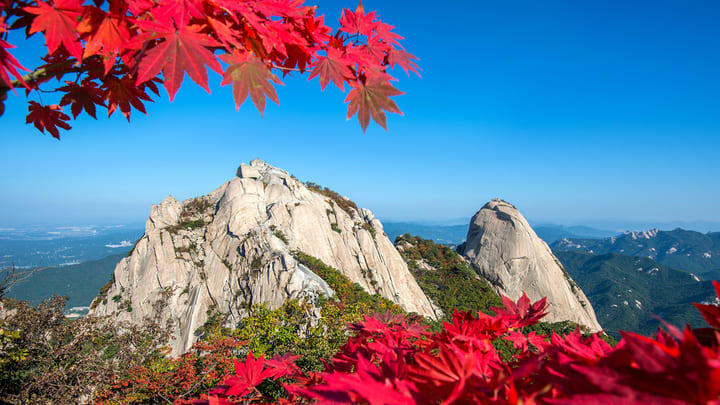 Not all of Seoul's most famous landmarks are manmade, you know. Sure, those gleaming skyscrapers are impressive but they're really no match for the eye candy provided by Seoul's ancient peaks. Visit for the annual fall foliage when the mountains come alive with the warm tones of autumn, a technicolor spectacle that seems to cascade down into the city streets, setting Seoul's oak, maple and ginkgo trees alight with fiery oranges, sunset reds and mellow yellows. It's really quite something to behold. 
You can climb those mountains, too. Have a pop at Bukhansan if you're up for a rewarding climb that takes in picture-perfect Buddhist temples, wild pine forests, carpets of colorful wildflowers and – who knows – maybe even the odd badger or two. Bukhansan is the big kahuna of Seoul's magnificent seven mountains with Baegundae, the loftiest of its three peaks, clocking in at 2,743 feet. Intrepid hikers who reach the summit are rewarded with life-altering views across Seoul's shimmering skyline to the mountains beyond.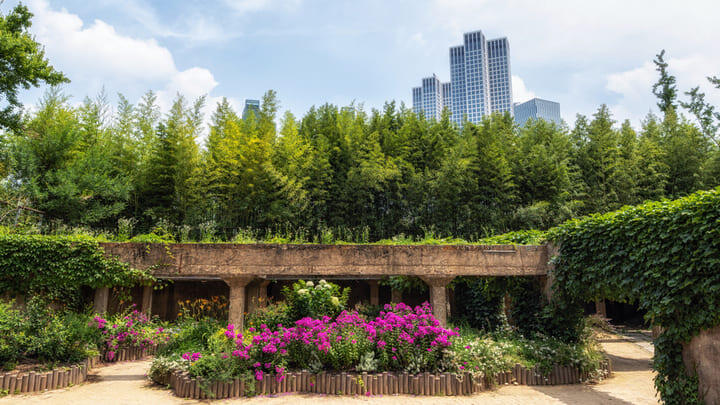 Prefer your encounters with nature a little… flatter? Seoul Forest is one of the most beautiful places in Seoul, and a little easier on the quads and glutes for the casual wanderer. Lose yourself on a meander along tranquil paths as the sun peeps through the towering treetops overhead and the city begins to feel very far away indeed. Heck, why not take a picnic along and find your perfect lunch spot among the 3,000 acres of woodlands and wetlands. Don't miss the colorful foliage in the arboretum or the regal white swans that glide gracefully across the forest's tranquil lake, where willows reflected on the water's glassy surface make for the kind of painterly holiday snaps that might make Monet weep.
Save on activities and attractions

in Seoul
Save on admission to Seoul attractions with Go City. Check out @GoCity on Instagram for the latest top tips and attraction info.