If you're heading to the Korean capital, you've probably already got plenty of ideas and lists of things to do during the day – after all, this city is packed full of historic and modern attractions. But there's no reason to stay in at night – even on hot summer nights or snowy winter ones, there's plenty to do, from hitting the local nightlife hot spots to late night shopping. And if finding the best places to view the city lights is your thing, our list includes a few good spots for that too:
N Seoul Tower

Gyeongbokgung Palace

Night markets

River Cruise

Fortress wall hike

Culinary Show

Ghost walking tour

Pub crawl
N Seoul Tower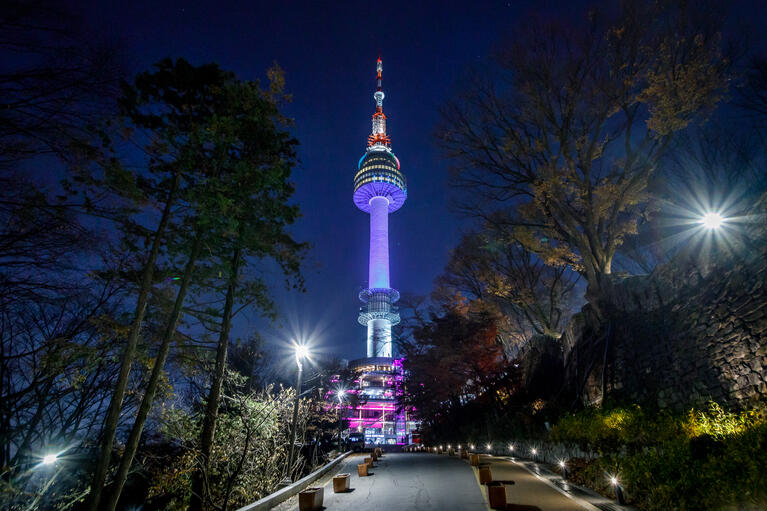 More commonly referred to as the Seoul Tower or Namsan Tower, the 774-foot-high N Seoul Tower is the second highest point in the city after the Bukhansan Mountain. Though it's officially a communication and observation tower, visitors can ride to the top for views over the city and beyond. The best part is that it's open till 10pm daily, so you can head up at night and view the city lights in all their twinkling glory. Hike or ride the cable car to its base, snap a padlock with your loved one on the roof of the plaza, then head to the observation deck for some awesome night time pics over the city.
Gyeongbokgung Palace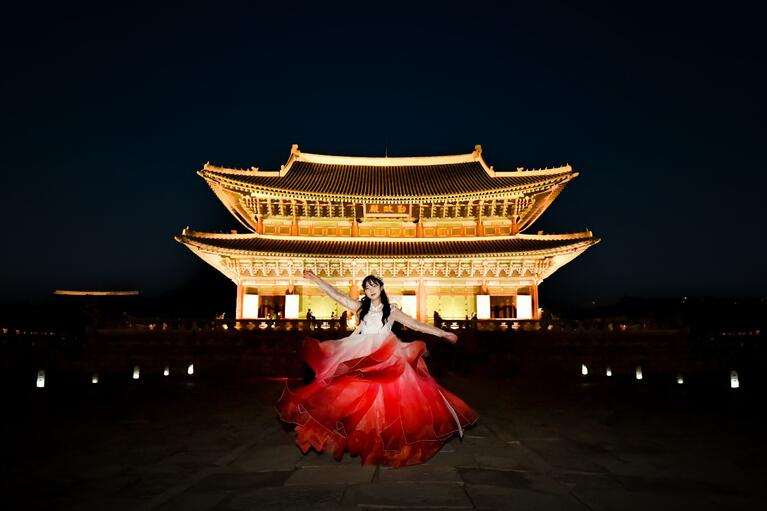 Seoul's most famous palace is a fascinating place to explore during the day, with its ancient and imposing gates, stunning pavilions and fascinating museums – but it's a different world completely after dark. If you're there on the right day, the palace opens its gates after sunset for evening tours, traditional meals and concerts. Explore the opulent rooms and exquisite furnishings in a completely different light, and if you really want to get in the mood you could rent a traditional costume, to give your pictures that extra special something.
Night markets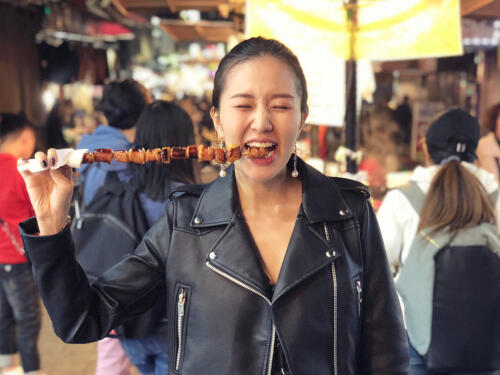 Depending on what day of the week it is, there will always be a night market somewhere in Seoul if you're in need of a little late-night retail therapy. One of the most famous is the Dongdaemun Night Market, near the city's eastern walls. It's open every night till 3am and is an excellent place to find that new bag to carry all your souvenirs in. One of the oldest night markets is the Bamdokkaebi Market in the Yeouido Han River Park, which is popular for its food markets, street performances and views across the river to the twinkling city skyline. Wherever you go, be sure to grab some Korean steamed dumplings or the local favorite, cold buckwheat noodles!
Han River Cruise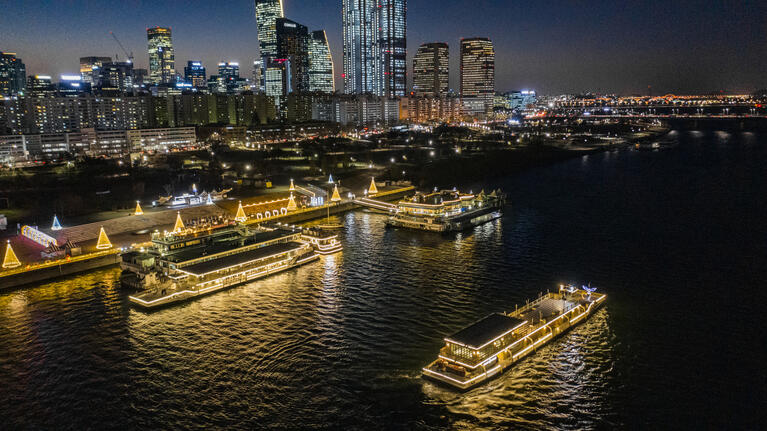 One of the best places to view any city at night is from a boat, because you get a zoomed-out perspective and all the lights reflecting in the water. In Seoul, this means jumping on a Han River Cruise, which departs every day at sunset. Head to the Yeouido Dock on the southern side of the river (near the KBS building) and choose to head east towards the Banpo Bridge or west to the Seogang Bridge. Depending on your choice, you'll see the spectacular Rainbow Fountain Light Show or the picturesque Bamseom Island in the river.
Fortress wall hike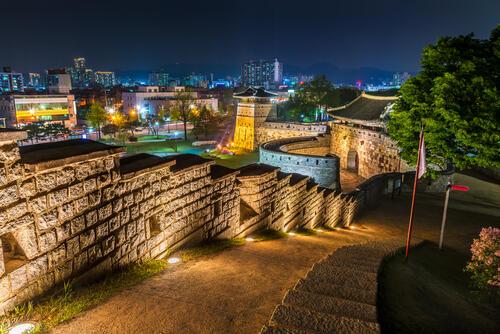 Head out from the center of Seoul in any direction and eventually you'll come to the Seoul Fortress Wall, circling the entire city in an ornate and stony embrace. Initially built in 1396 to protect the city from invaders, the 11.5 mile circuit is marked with eight stunning gates which are now left open for visitors to come and go as they please. While any section of the wall is pleasant to walk along, and all the gates are worth seeing (although not all are possible to climb up), one of the nicest stretches to hike at night is the Naksan Mountain Trail, running 1.3 miles from the Hyehwamun Gate to the Heunginjimun Gate. The walls look stunning all lit up, and you'll get some great views of the city lights – on a clear night, you might even see some stars!
Cookin' Nanta Culinary Show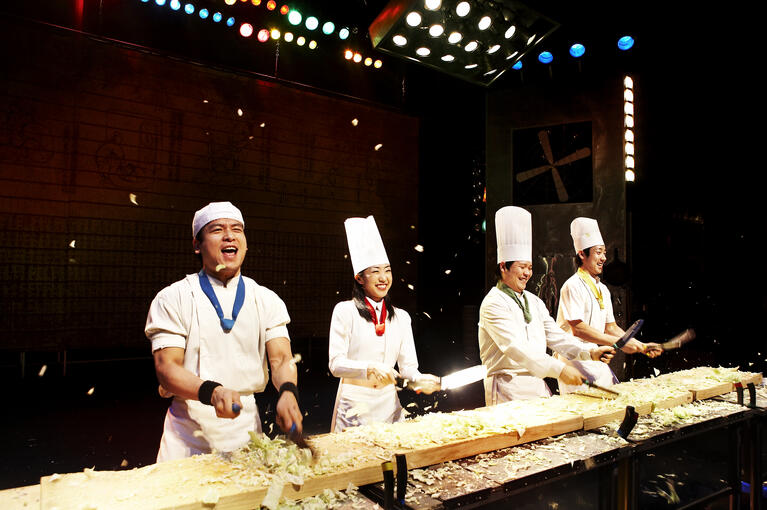 If you love an evening show, but don't speak Korean, then you'll love the Cookin' Nanta Culinary Show, which tells its story through music, dancing and slapstick comedy – if you're brave enough, get up and join the show! The Cookin' Nanta show has been running for more than 25 years and tells the story of a traditional Korean wedding. You'll see acrobatics, knife juggling, plate balancing and dumpling stacking, all set to a background of traditional Korean music and kitchen-themed percussion. Sounds crazy? Well, you'll have to go and see it to find out!
Ghost Walking Tour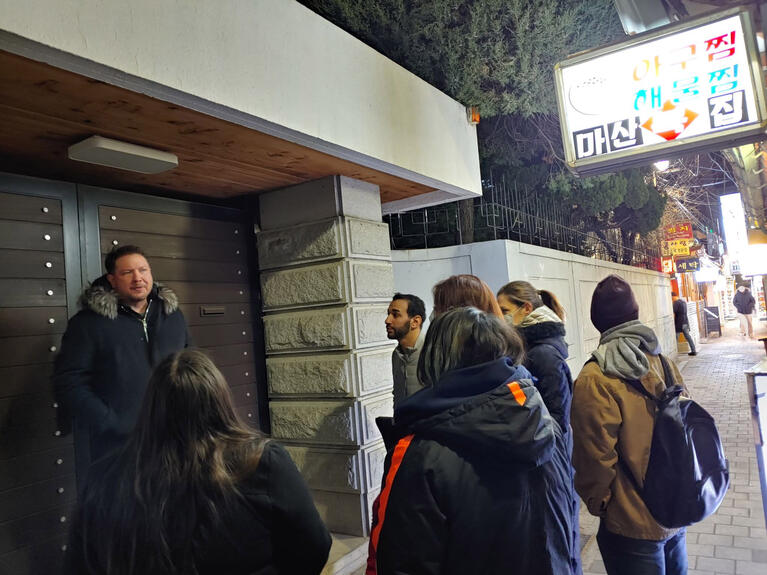 Every city has its dark history – so why not get to know Seoul's on a guided night time tour that gives you all the grisly details in a real-life setting? If you dare, you can follow your guide through twisting lanes and dark alleys on a 90-minute Ghost Walking Tour, discovering the sights of royal massacres, a former red-light district and the favorite hideaways of Seoul's seedier residents. If you prefer stories based on myth and folklore, you could try the Urban Legends Walking Tour, which will take you on a hunt for Seoul's most haunted streets and houses. Will you encounter one of the legendary monsters said to haunt the streets at night… only you can find out!
Pub crawl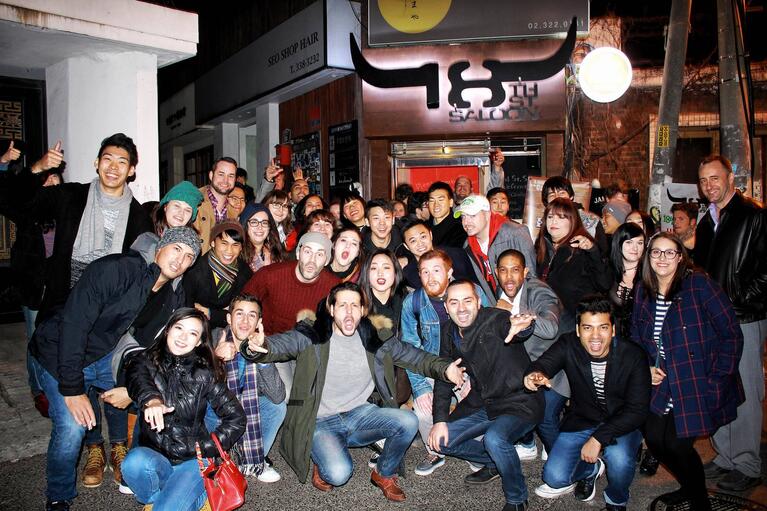 If your inner party animal is crying out for a night on the town, head north to the university district of Hongdae to find some of the best clubs, bars and live music in town. If you're not sure where to start or are in the mood to make some friends, try joining an organized pub crawl. As well as having a guide to show you the best places and a fun group to dance the night away with, you'll also get free entry into the district's best pubs and clubs, plus some free shots along the way. This neighborhood is also where you'll find the Coconut Box and Love Museum, so if you want to head out earlier you can start your evening with some grown-up fun and cheeky photo shoots!
Be a night owl with Go City
Whether you prefer indoors or outdoors, being entertained or being scared, there's plenty of things to do in Seoul at night. Be sure to make the most of all the hours and have your Go City Explorer or All-Inclusive Pass handy wherever you go!