There's nowhere like Seoul for color and positive vibes – especially in spring! Life and people emerge from the chilly depths of winter, and trees and gardens burst into bloom all over the city. Weather wise, it's a very pleasant time to visit – temperatures in March are still hanging around the low 40s, but are usually up to a balmy 65 degrees by May. Of course, this means the Korean capital is usually bursting with crowds and locals, but if you book ahead – and maybe plan a day trip or two to explore the stunning parks and views around the country – you'll have a wonderful time. Our list of the best things to do in Seoul in spring includes:
Hanbok rental

Yeouido Spring Flower Festival

Han River Cruise

Nami Island

Seoul Land

Bukhansan Mountain and National Park
Hanbok rental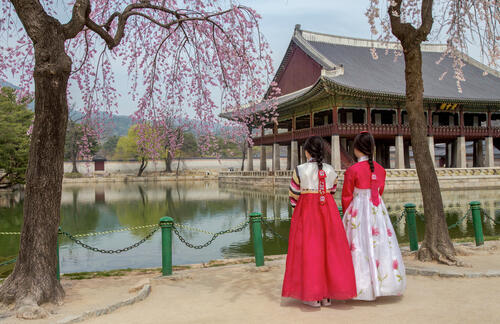 Seoul's open spaces are particularly stunning in spring, and none more so than the parks and grounds in its five main palaces. Gyeongbokgung and Changdeok, for example, are two of the most popular – they're located close to each other in the north of the city and are both free to the public. That makes them perfect places to rent a traditional Korean hanbok and explore the many gardens, ponds and pavilions within the palace grounds – the profusion of flower blossoms against the intricate architecture of the palace walls and buildings will make a spectacular backdrop to your photographs! Plus, there are more than 300 hanboks to choose from, and you can even have your hair styled as well. Pack a picnic and settle in for a fun photo shoot, Korean style!
Yeouido Spring Flower Festival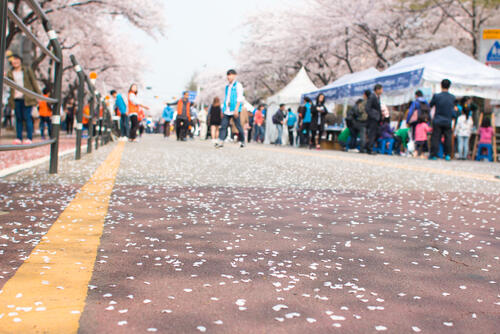 Koreans love a festival, and what better excuse for one than to celebrate the spring bounty – in particular, the fleeting beauty of the emergence of the cherry blossoms. There are cherry trees all around the city, and every year at this time they burst into flower in a profusion of soft pink and white petals. You can enjoy them anywhere, but the best place is at Yeouido Park, on the southern banks of the Han River. Cherry groves line the many paths and lanes of the park, and falling petals form a delicate carpet underneath. Lovers stroll hand in hand underneath them, and you'll find live entertainment, street food and of course plenty of photo opportunities. You might even spot a k-drama film crew!
Han River Cruise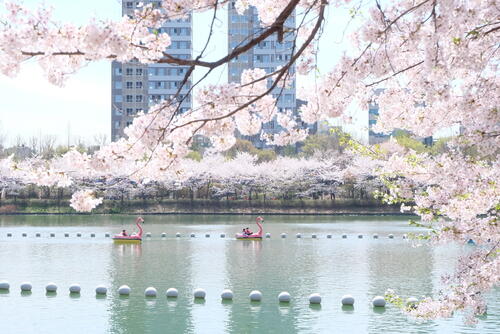 Speaking of Seoul's main waterway, if the crowds in the park are getting too much for you, why not escape for a couple of hours to the calm and pretty waters of the Han River? Cruise up and down this scenic stretch enjoying views of the city skyline and experiencing the spring blossoms from a new perspective. You can choose to go in the afternoon, when the flowers will be glistening in the slanted spring light, or at sunset, when the city lights come out and colorful light shows dazzle and reflect in the water. Either way it's an invigorating way to pass some time, with the breeze in your hair and cool water spray in your face, and you'll be back on dry land in time for an aperitif before dinner.
Nami Island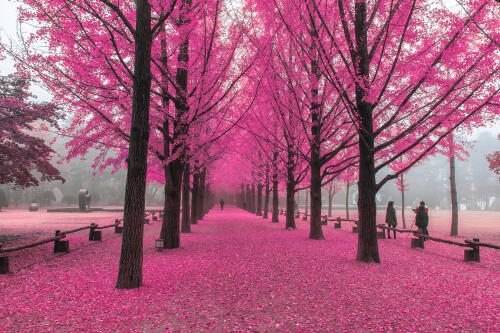 In spring in Seoul, you just have to be outside enjoying the panoramic display of color that nature puts on at this time of year. One of the best places to do that is on Nami Island, a small, crescent shaped spit of land in the Han River, north east of the city. Fans of the K-drama series Winter Sonata will recognize many of the views and vistas on the island, but even the uninitiated will appreciate the idyllic picnic spots and enticing paths through enchanting tree groves. If you're feeling adventurous you could hire a bike, try some watersports, or ride the UNICEF Charity Train between Nami Wharf and Central Station. Or, simply wander around and see what you discover, from pretty bridges and winding trails to hidden statues and secret gardens. You're sure to get a good vitamin-D top up as you go!
Seoul Land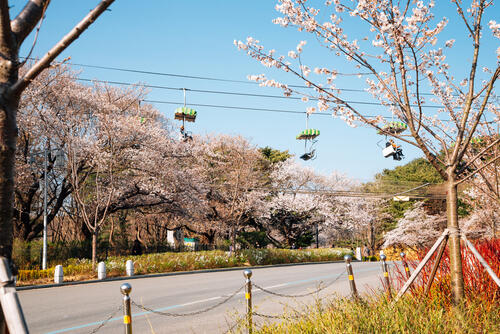 There are plenty of theme parks in and around Seoul, but the best one to enjoy in spring has to be Seoul Land, set in the vast acreage of Seoul's Grand Park. The theme park itself has everything you'd expect, from thrilling roller coasters to live performances and plenty of restaurants and cafes, but there's also an extensive zoo, which has a strong focus on conservation and animal welfare. In spring, many animals will be emerging and active, so it's a great time to visit – and when your legs need a rest you can ride the scenic cable car over the whole park, which will be awash with color and blossoms swaying in the spring breezes.
Bukhansan Mountain and National Park
If you're a nature or outdoor lover and fancy giving your legs a stretch while you're on vacation, there's no better place in Seoul than the Bukhansan Mountain and National Park to the north. There are hiking trails for every difficulty level, and in spring you'll find yourself transported through a tunnel of spring blossoms. The trails frequently intersect with sections of the old city walls, the gates of which are sometimes open for the public to climb up. The park is particularly stunning at the beginning and end of the day – if you're an early bird, you'll be rewarded with a spectacular sunrise, if you're more of a night owl, pack a picnic and find a nice spot to watch the sunset.
Spring into action with Go City
March to May is one of the best times to visit Seoul – especially if you've got your Go City Seoul Explorer or All-Inclusive Pass! Enjoy the stunning spring blossoms and get discounted entry to all your favorite attractions all over the city!