If you're heading to the Korean capital in summer, there's a lot to look forward to – warm evenings, days by the water, and spectacular sunrises. Be prepared, though, as it's also the monsoon season and there's a good chance you're going to get wet. Things get pretty humid here from about late June until the end of August, so pack light, moisture wicking clothes and keep a thin waterproof layer in your bag. Once you're all set, grab your waterproof SPF and portable fan and enjoy these things to do in Seoul in Summer:  
Nami Island

Beach trips

Morning and evening walks

Laze by the river

Museums

Theme parks

Nightlife
Nami Island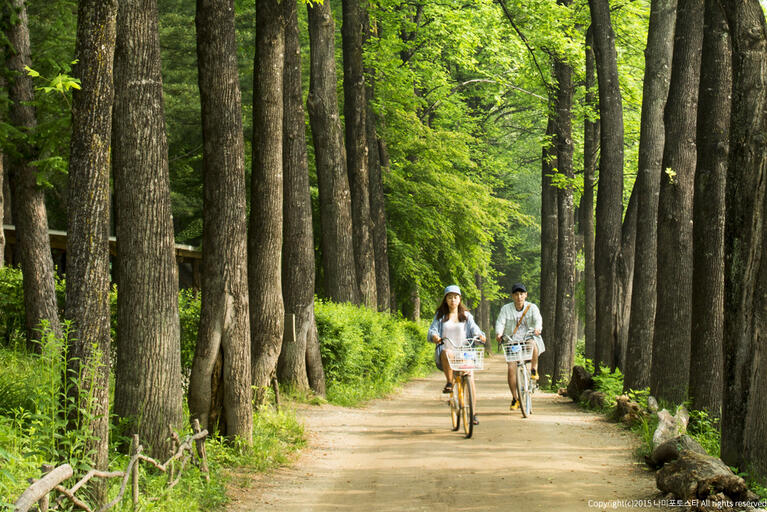 Escape the oppressive heat and humidity of the city with a day trip to the idyllic Nami Island, a small, crescent shaped micronation in the Han River. Here, birch groves and ancient pines offer plenty of shade, there are miles of walking and cycling trails to explore, and fans of the K-drama Winter Sonata can go hunting for familiar bridges and statues dotted around the place. When you need a rest, grab a refreshing bingsu or stop for a picnic on the bank of a babbling stream. While you're in the area, why not stop by Petite France, a small village modeled on Montpellier in France, or the Garden of Morning Calm, which is in fact a lovely spot for an evening stroll.
Beach trips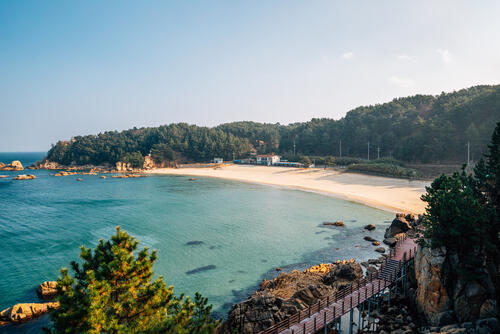 The Korean peninsula is less than 200 miles wide, so there are plenty of opportunities to escape to the beach for a day. Head west, and there's Yeongjong Island, a popular spot for families due to its sandy beaches and shallow waters. To head east you'll need to set off early, but it's worth the travel once you get there for the long beaches protected on one side by the dark green peaks of Mt Seoraksan National Park. Naksan and Gyeongpo Beaches are two of the most popular, although surfers prefer the aptly named Surfyy Beach a little further up the coast. While you're there, the National Park is a stunning place to go hiking, and if you have time to stay overnight you'll be treated to one of nature's most glorious sunrises.
Sunrise hike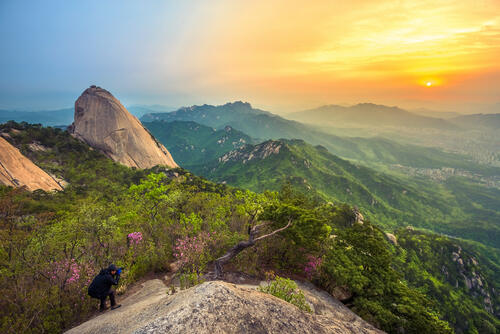 Speaking of sunrises, if you can get up early enough this is one of the best times to be out and about before things get uncomfortable. One of the nicest spots is the Bukhansan National Park to the north of the city, with pretty mountain trails that frequently intersect with old city gates and fortress walls – pack a snack, as you're bound to find a pretty spot for a breakfast picnic. Evening is also a good time to get your exercise in – Mount Namsan is a popular hike as it only takes 30 to 40 minutes to reach the top, and you'll find excellent views and several food and drink outlets when you get there. It also has the N Seoul Tower, for even better skyline and mountain views!
Laze by the river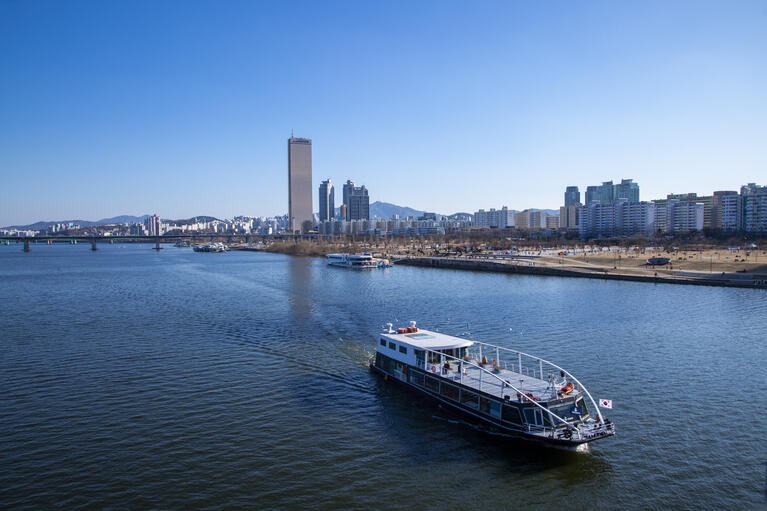 The Han river snakes its way lazily through the city, dividing it neatly into north and south. There are parks on both sides – some are green, perfect for picnicking, and some are paved, ideal for watching the locals showing off their skating tricks. Spend the hot part of the day lazing by the water, slurping on a bingsu and catching any cool breezes coming through. On the other hand, you could just jump in, or head east up the river a bit to try kayaking at Ttukseom National Park. When evening comes, head south to the Hangang Moon Light market in the Banpo District, or go out onto the water itself on a refreshing sunset cruise. 
Museums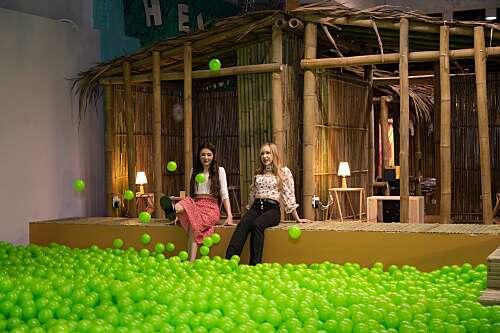 If you get a really rainy or oppressive day, this is the one to spend exploring Seoul's many museums. The indoor ones are all air-conditioned (so much so that it's wise to pack a light cardigan) and have cafes, no there's no need to venture out at all if you don't want to. For Korean history, the National Museum of Korea covers life on the peninsula from paleolithic times to the 20th century, or for military history the War Memorial of Korea is a sobering but worthwhile place to visit. If your inner child needs some nurturing, then head to the Alive Museum, for a sensory experience try the Colorpool Museum, or if you're feeling a little naughty, take your friends or significant other to the Love Museum, take some cheeky photographs with the interactive exhibits (just don't send them to your mom).
Visit a theme park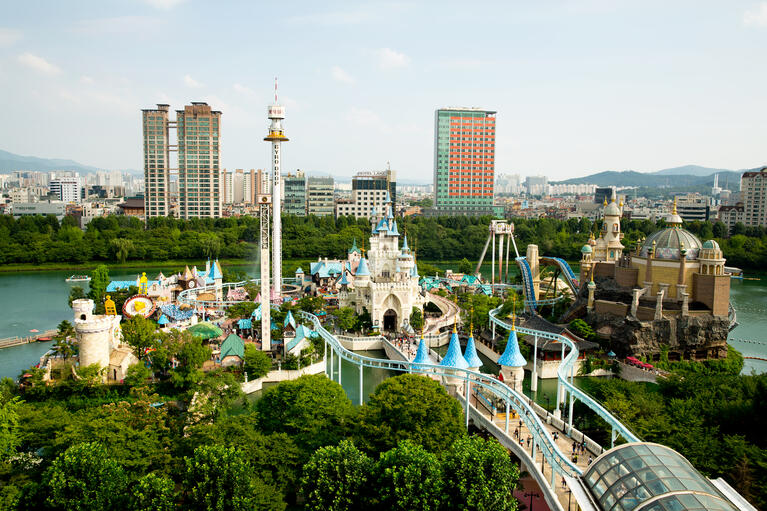 With their combination of indoor, outdoor and water-themed attractions, theme parks are great places to escape to during Seoul's sultry summer. In the city itself there's Lotte World, which has five themed zones and a Magic Island, all inspired by Disney films and characters. It has indoor rides, an IMAX theater and an ice rink, all perfect for cooling off, as well as boat rides and of course thrilling roller coasters to help you feel the wind in your face! There are other water parks outside the city, but the biggest is Everland, which you can get to via an air-conditioned shuttle bus. Everland has water rides, rollercoasters and a zoo, where you might just spot some native inhabitants cooling off in the monsoon showers!
Nightlife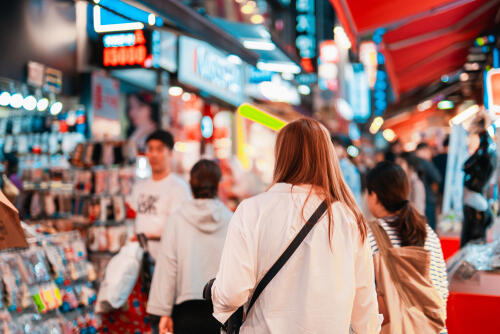 Make the most of the warm and breezy summer evenings in Seoul by heading out after dark and seeing the city in a different light. There are several night markets to explore, and on some evenings you'll find live outdoor entertainment around the city. The Gyeongbokgung Palace often opens its gates for evening tours and traditional meals – you could even rent a traditional hanbok for some stunning nighttime palace pics! Or if you want to party the night away Seoul style, head north to the Hondae district and join a pub crawl, which will get you into some of the more popular clubs and entitle you to at least three free shots – that should get the party started!
Beat the heat in Seoul with Go City
Seoul in summer may be hot, but you'll get some cool deals with Go City! Grab your Explorer or All-Inclusive Pass today, so you'll never run out of things to do!