Seoul is a beautiful and eclectic city – equally famous for its parks, palaces and ultra-modern skyscrapers. It's always alive with visitors, and though most come in spring and fall when the colors are at their most vibrant, there are plenty of reasons to come in summer, too, when things are quieter and locals spend lazy days lounging by the river. Although it's hot, it's generally not roasting – July and August temperatures tend to hang around the 75-degree mark. In fact you're more likely to get wet than sunburnt, as the monsoon arrives in late June and hangs around until early September. So grab your camera, umbrella and SPF, and check out these things to do in Seoul when it's hot out:
Hop-On Hop-Off Bus Tour

Summer picnics

Han River Cruise

Mornings and evenings

Theme parks

Museums

Festivals

 
Hop-On Hop-Off Bus Tour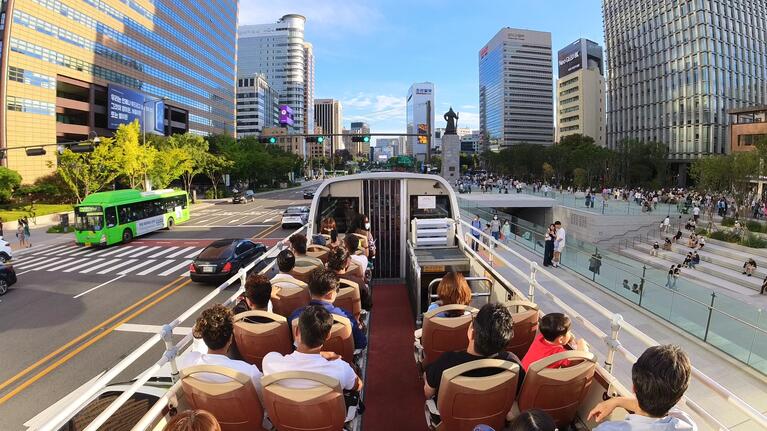 When the outside is feeling more like a sauna than suburbia, why not see it all from the comfort of a climate controlled Hop-On Hop-Off Yellow Balloon City Tour Bus? Chill out from behind the glass as it takes you around all the best sights in Seoul, including Gyeongbokgung Palace, Namdaemun Market, Lotte World and the N Seoul Tower. Stay on the bus for the whole circuit to get your bearings, use the bus to travel in comfort (and stay dry) between stops, or both! If it's not raining, choose an open-top service, sit out in the sunshine and let the refreshing breeze cool you down!
Summer picnics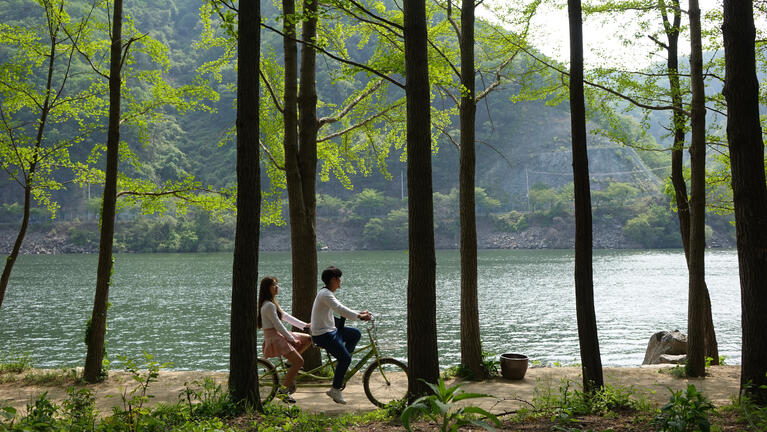 In any city, there's always something to learn from the locals – and in Seoul, it's how to picnic on a summer's day. Choose one of the city's many parks (Yeouido and Banpo parks by the Han River are very popular), hike through the Bukhansan National Park to the north of the city or even take a day trip out to Nami Island, where you'll find plenty of shady spots and pretty streams to lounge by. Koreans also have plenty of refreshing food options – try their summer favorite, naengmyun, which is buckwheat noodles in a cool broth, or a refreshing bingsu, the nation's favorite dessert. It's basically frozen cream or milk, shaved to make it fluffy and traditionally topped with bean paste – though nowadays popular toppings include fruit, yogurt, nuts, chocolate, cookies or syrup.
Han River Cruise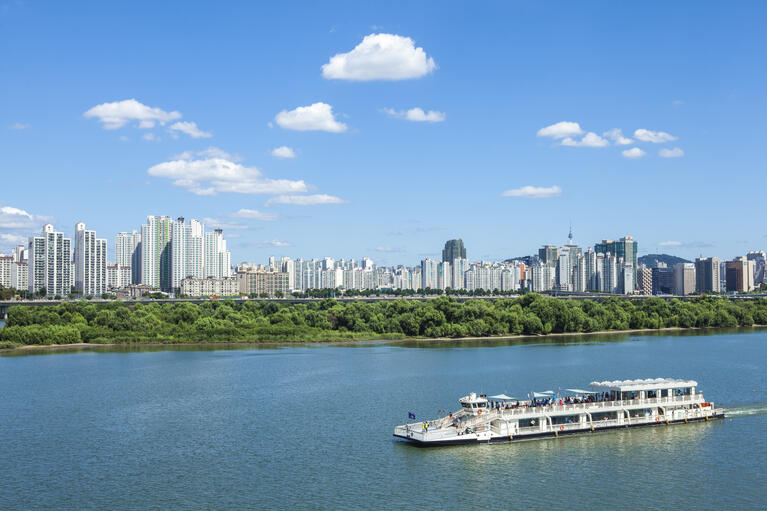 Is there a mode of transport better than a boat for when you're feeling hot and sticky? (FYI – there's not.) If you find yourself in Seoul on a day when you can't tell if you're in the river or not, head out on a Han River Cruise to catch some fresh air and blow away any humidity-induced lethargy. The cool air from the water is sure to bring your temperature down – especially if you're a little damp already – and you'll get to see the city from a new perspective. Head west in the afternoon to admire the small but tranquil island of Bamseom, or go east in the evening for the Rainbow Fountain Light Show spectacular. Either way, you'll finish feeling refreshed and ready for the evening's entertainment.
Mornings and evenings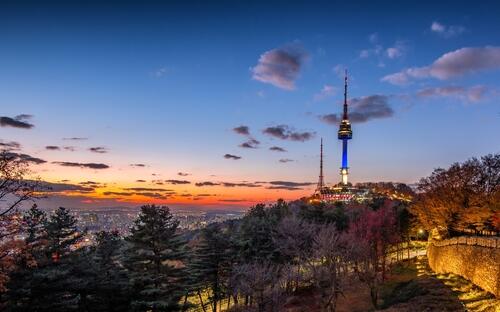 Speaking of which, evening really is the best time to be out and about on a hot, sticky day (unless you're more of an early bird, in which case we recommend getting out to view the hills in the spectacular sunrise light). There's plenty to do, from just wandering around and admiring the illuminated palaces or night markets, to hiking around the city walls and checking out the views from the N Seoul Tower. If you like to party, you could join a pub crawl in the Hongdae district, or if you're the kind of person who likes to see the eerie parts of a city, then try a Ghost Walking Tour or Urban Legends Tour, and learn all about Seoul's seedy and sinister past!
Museums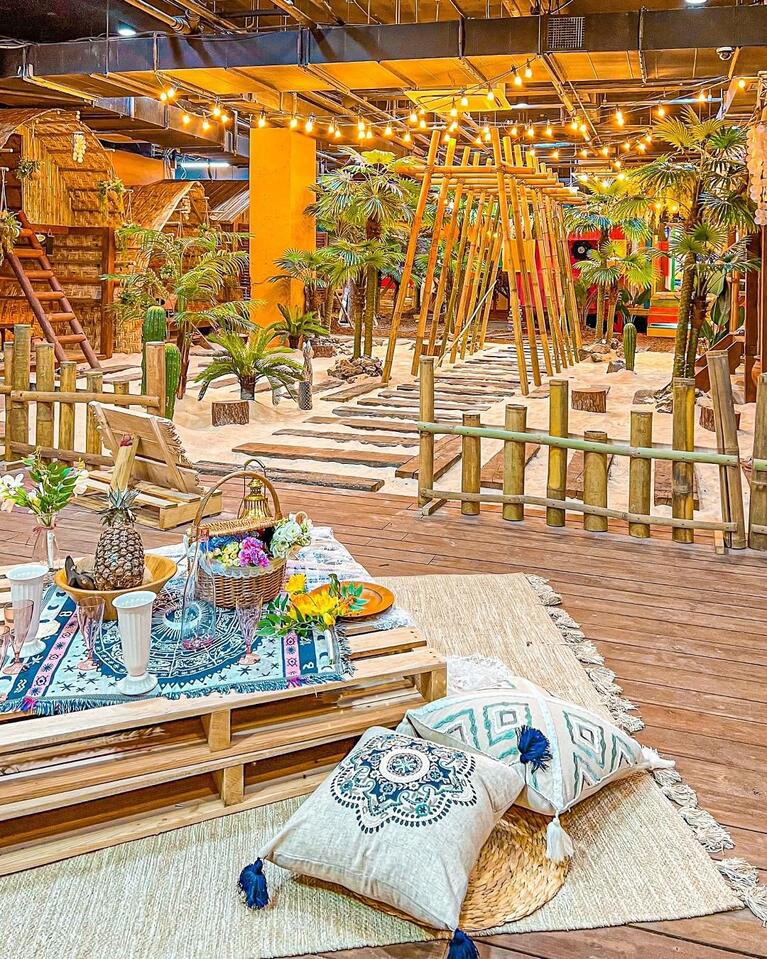 Sometimes it just isn't nice to be outside on a humid day – so that's the time to retreat into one of Seoul's many and varied museums. There are loads of fun ones, where you can let your inner child out for the day, including the Alive Museum, the Colorpool Museum and the Piece of Time: Seasons Exhibition. If you're feeling cheeky, there's the Coconut Box and Love Museum, where you can take photos posing with the naughty exhibits, or if you're in a more reflective mood then there's the War Memorial of Korea. For history, the National Museum of Korea is nearby, or you could explore the National Palace Museum of Korea and the National Folk Museum of Korea, both housed within the grounds of the Gyeongbokgung Palace.
Theme parks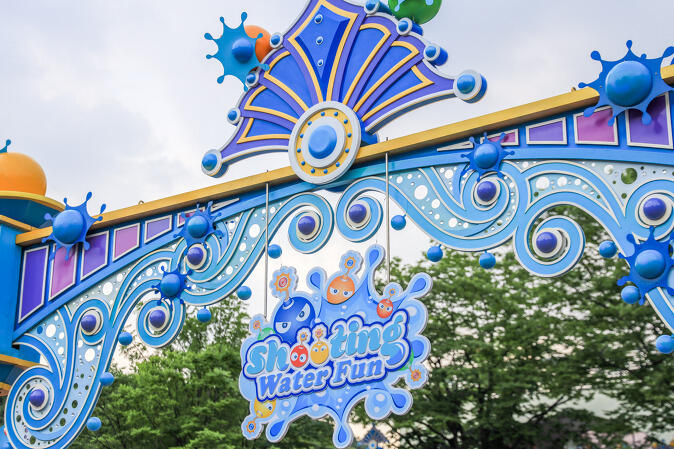 Sometimes the best way to escape a hot city is to escape into a different world! In Seoul, there's the magical theme park of Lotte World, where the young and old can feel as though they've stepped into their favorite Disney film. There's also boat rides, an ice rink and an IMAX theater, all perfect for cooling off on a sultry day. If you want to go further afield, you can easily get to South Korea's biggest theme park, Everland, by shuttle bus, where you'll find water rides, gardens and a zoo. South Korea also has plenty of nice beaches within easy reach of the city, as well as a lot of mountains and national parks, so you're spoilt for choice if you're looking for a cool and pretty day trip escape.
Festivals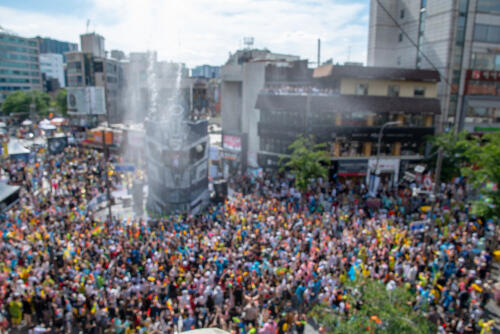 Who doesn't love a festival? It's the perfect excuse to let your hair down, chill out and enjoy your favorite things for a day – whether that's music, food or even ice fishing – we won't judge. In Seoul, there are lots going on that'll help you cool down, from the Water Bomb Festival held between July and August every year, to the Water Gun Festival in the streets of Sinchon – expect water fights! Or if you prefer just to get your throat wet, then we recommend the Daegu Chimac Festival, which means chicken and beer, and as far as we're concerned needs no other explanation!
Stay cool with Go City
Seoul can be pretty hot, but you won't get bothered with Go City! Make sure you've got your All-Inclusive or Explorer Pass with you, and you'll save on dozens of cool attractions all around the city!