One of the premiere destinations for water sports enthusiasts, South Korea has it all. From extreme adrenaline sports to gentle ferry cruises, hit the water and have the time of your life. Don't be deceived - the Land of the Morning Calm holds many adventures beneath the waves.
Why Seoul is a hotspot for water sports enthusiasts
Whatever your energy levels, Seoul's a hotspot for water sports lovers, whether they're extreme sports enthusiasts or just looking to relax on the water.
From the rivers and reservoirs around the city, to the huge Han River that runs through it, Seoul offers plenty of opportunities for water sports. Here, you can try your hand at waterskiing, wake boarding, jet skiing, and even more extreme activities such as flyboarding. Seoul's also perfect for surfing, offering several surf schools and plenty of beaches along the sea.
For those looking to slow things down a little, kayaking, canoeing, and peaceful boat rides along the river offer a more relaxing approach to enjoying the water.
No matter what your activity of choice, if it's wet and wild, you'll find it in Seoul.
Windsurfing
For those looking to take up windsurfing in Korea, you've got options. One of the most popular spots is Hallyeohaesang National Park in the South of the country. Enjoy the fresh sea breeze and warm waters throughout the year, making it the perfect place to learn the basics.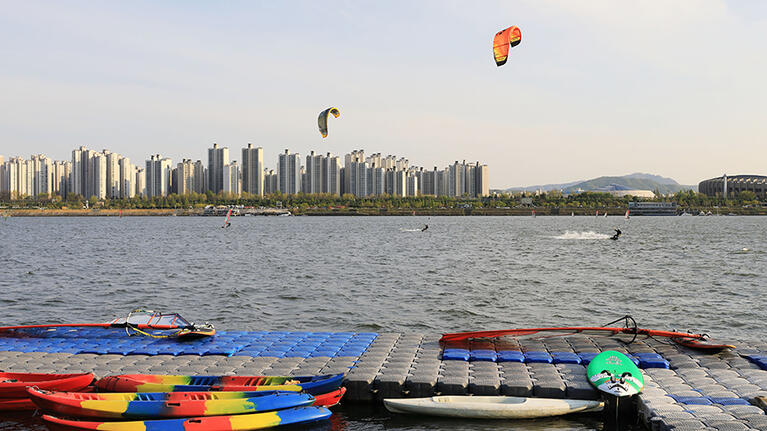 Alternatively, check out Gyeongpo Beach on the East coast. It's known for its calm currents, making it suitable for both beginners and more experienced windsurfers. And for some of the more adventurous types, Gyeongpo Beach is also a great destination for kite surfing.
The best time to visit Korea for windsurfing is during the summer months, when the temperature's at its highest and the winds are strongest. During the peak season, you'll find plenty of rental options available, as well as a range of instructors who can help you hone your skills.
And, if you're looking for an even more exciting experience, don't forget to check out the windsurfing competitions that take place each year.
Kayaking
Offering some of the best kayaking experiences in the world, Seoul caters for everyone for both beginners and experienced paddlers.
One of the most popular places for kayaking in Seoul is the Han River. It's a spectacular place to explore, with its views spanning from the modern skyline of Seoul to the rolling hills of the surrounding countryside.
You can rent a kayak from one of the rental shops near the river, or you can join a guided tour to get the most out of your experience. During Spring the river is usually much calmer, making it an ideal spot for beginners to practice and boost their confidence.
Another great option is the Namhan River. It's an ideal spot for those who want to try more challenging rapids. It's also great for wildlife enthusiasts, as you might just spot some of the local birds and fish while you're out paddling. The best time to visit the Namhan River is during the autumn, as the falling leaves make for a truly magical experience.
Whatever kayaking experience you're after, you'll find something to suit your needs in Seoul. With its stunning views, fascinating wildlife, and thrilling rapids, it's the perfect place to test your skills.
Flyboarding
This unique, adrenaline-filled activity is the perfect way for thrill seekers to explore the beautiful Korean coast. There are a few different flyboarding options available in Seoul, depending on the season and your budget.
The first kind of flyboarding is the standing option, meaning you stand on a gas-propelled board that generates enough lift to elevate you up to 70 feet above the water.
This is a popular option for those who have some experience in other board-sports. Controlling your balance is key, otherwise you'll just keep face-planting the water.
One of the best places to try it in Seoul is the Han River, which offers a variety of wakeboard parks throughout the year. It is best to visit during the summer months when the water is at its warmest.
Then there's hoverboarding. Not quite the same as the Back to the Future version, this is a more advanced activity and is best suited for more experienced watersport enthusiasts. Where Flyboarding goes vertical, hoverboarding goes horizontal like a skateboard, allowing you to fly over the waves at great speeds.
Again, the Han River is where the action's at.
No matter which option you choose, it's a wild experience for watersport lovers.
Stand Up Paddle Boarding
Stand up paddle boarding (SUP) is growing in popularity around the world, and Seoul is no exception! Gliding along, taking in the exciting cityscape and natural beauty at your own pace, stand up paddle boarding in Seoul is something you don't want to miss.
The Han River is the perfect place to start your SUP journey. You can choose between two options: rent a paddleboard or take a SUP tour. Both are great ways to explore the Han River and get a sense of the city from the water. Rentals are available starting in Spring and going through to Fall.
For those who want a more immersive experience, SUP tours are the way to go. You not only get a great workout, but your guide provides cultural and geographical insights as you paddle along.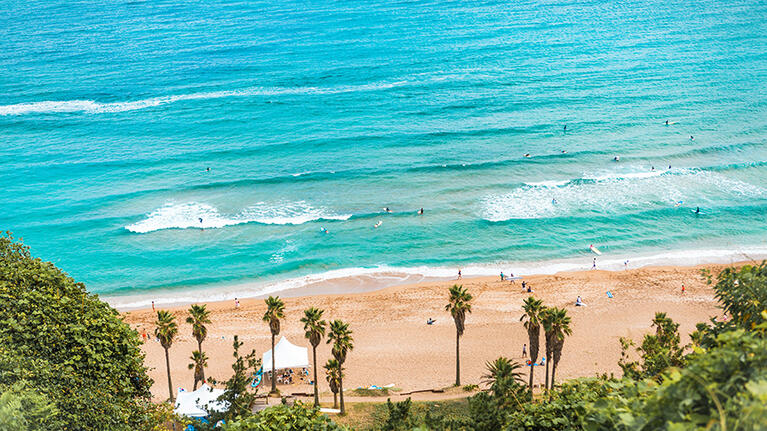 Supercharge your SUP experience by paddling along the coastal waters of the Yellow Sea. Calm, clear waters, the area is home to several species of wildlife. The best time to visit the Yellow Sea is either Spring or Fall. The heat of summer makes the water much more pleasant, but it's also monsoon season, meaning the weather's way more unpredictable.
Tubester
One of the more unique watersport activities in Seoul is tubester. Tubester is a type of inflatable leisure boat that gives visitors a slow, relaxed ride around the various rivers and canals that run through the city. Visitors can find tubester boats at many of Seoul's official parks, including Seoul Grand Park, Olympic Park, and Banpo Hangang Park.
You can also find them in some of the riverside marinas, such as Yeouido Marina, Batlatos Marina, and Jamsil Marina. The best time to take a tubester ride is during the summer months, when the weather's warm and sunny and you have an unbeatable view of the city's many attractions.
The boat includes a parasol, meaning you're protected from the sun. Grab a few friends and drift away, either during the daytime with a few drinks, or in the evening to marvel at the illuminated skyline.
Boats, Yachts and Ferry Cruises
Boat rides and ferry cruises are popular for those looking to enjoy more leisurely water activities. The Han River provides the perfect backdrop for an unforgettable journey, and the cruise offers stunning views of the city's skylines.
A day trip to Gyeongjongdo Island is also highly recommended, where you can experience the island's rich wildlife, crystal clear waters, and breathtaking sunsets. Other popular locations include the Cheonggyecheon River, as well as the sea off the coasts of Incheon, Busan, and Mokpo.
Surfing
There are several quality surfing beaches around Korea, each offering its own unique conditions. With plenty of warm water, great waves and a variety of surfing spots, it's easy to find the perfect wave for your adventure.
The best time to go surfing in Korea's during the summer months, when temperatures are warm and the waves are plentiful.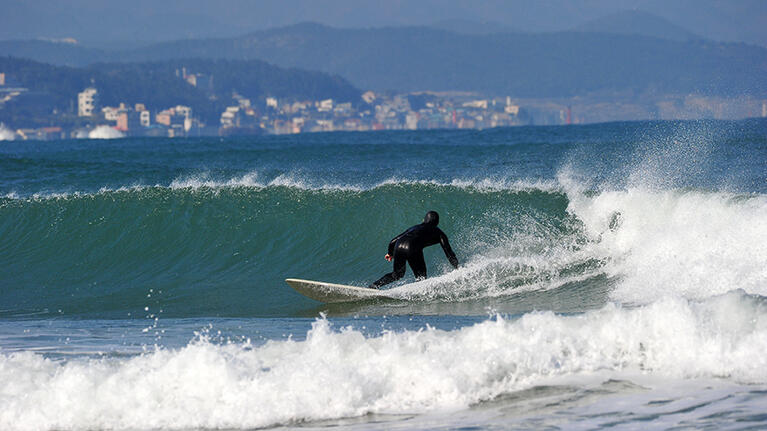 Two of the most popular surfing spots in Seoul are Hwangsan Beach and Somang Beach. Both offer excellent waves and wide open spaces, and they are both relatively easy to get to from the capital. Hwangsan Beach is great for beginners, while Somang Beach is best for more experienced surfers.
Yangyang County in Gangwon Province is another hotspot, featuring intense waves and a warm, welcoming environment. It's two hours from Seoul by bus and a great place for beginners and seasoned surfers alike.
Almost all the beaches provide rental options, with lifeguard stations and first aid facilities in case something goes wrong.
Water Parks
Seoul boasts several world-class water parks where you can enjoy a wide range of thrilling watersports, or just lounge by the bar with your feet in the pool.
Popular among locals and tourists alike, Sealala Water Park offers a wide range of water slides, wave pools and whitewater rides, making it perfect for those looking for an adventurous and adrenaline-filled day out. Visitors can also rent out inflatable tubes for exciting river rafting and kayaking experiences.
For those looking for an even bigger adrenaline rush, Lotte World Water Park is the place to be. It boasts many high-speed water slides, the world's largest wave pool and the world's tallest aqua coaster ride. There are also facilities available for water sports activities such as wakeboarding, kneeboarding and more.
The Everland Theme Park is another great option for those looking for some aquatic fun. It's home to multiple water slides, raft rides, and an impressive pirate-themed ship ride.
Ocean World Water Park, also known as Vivaldi Park, is one of the largest water parks in Seoul. It's home to several exciting water slides, as well as large wave pools, lazy rivers and a beach area, making it the perfect place to relax and cool down.
There's also Gyeongju World, a theme park located just outside of Seoul. It features a huge wave pool, epic water slides, and a wide range of additional activities, including live performances on weekends.
Whatever your energy levels, there's an aquatic adventure awaiting you in Korea. While most are available during the winter months, the water's freezing! Save yourself a nasty cold and opt for the summer months where you'll enjoy toasty hot weather, crystal clear water and an unforgettable adventure that'll certainly leave you wanting more.