Shanghai is a major metropolis, one that is simply full of energy and excitement. There is no shortage of fun and interesting things to do. And even better? Many of them are free! From parks to museums to markets, Shanghai is also chock full of free things for tourists to do. The following sites are completely free to visit; they are a great way to enjoy the city without spending a dime!
A Way to Save on Ticketed Shanghai Attractions
We know that this blog post is about listing the FREE things to do in Shanghai, but, are you looking to visit a few of the ticketed attractions during your vacation? Consider using a Go Shanghai Card – which includes free admission to lots of the area's most popular attractions – all for one low price. See all available Shanghai attractions, passes, & prices - Learn More A Go Dubai Card can save you up to 30% off combined admission vs paying at the gate.
Tianzifang Enclave
Tianzifang was once full of residences and factories but is today an area bustling with bars, cafes, studios, galleries, and boutiques. Everyone gathers here, from the young to the old, from trendsetters to designers and expatriates. Visitors come to shop, dine, and check out the old Shikumen Houses (stone-framed-door houses).
The Bund Waterfront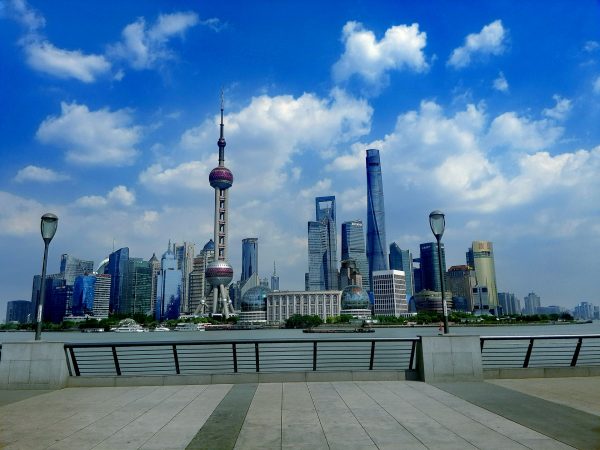 Looking for a beautiful view of Shanghai at night? Head to The Bund. Here, the city's gorgeous skyline comes to life along the waterfront. Tourists flock to The Bund to see the impressive architecture of China. Here you'll find both historical and modern examples across the river in Pudong. The area is crowded, but visitors will want to head down as soon as dusk falls because the light displays end at 10 PM.
Shanghai Museum
Another free attraction in Shanghai is the city's museum. The Shanghai Museum is a city landmark; it's home to an extensive collection of ancient relics. The museum houses over 120,000 pieces of art and relics from the Ming and Qing dynasties. Here, visitors can view bronzes, ceramics, calligraphies, coins, jade pieces, costumes, and more. The museum is free, but there is a catch: the museum issues only a specific number of free tickets each day in a variety of time slots. Head over early to get yours!
The China Art Museum
Another free museum in Shanghai is the China Art Museum. It can be found in the former China Pavilion from the 2010 Shanghai Expo. The building is quite a sight—it looks like an upside-down pyramid. One of the largest art museums in China, the museum is home to modern Chinese art.
M50
Art lovers will also want to visit M50 (or "50 Moganshan Road"), a contemporary art district which was formed in a former manufacturing center. Today, over 100 up and coming and established Chinese artists and gallery owners use the space for their studios and galleries—which are all open to the public. M50 is home to the infamous "Graffiti Wall" and is the best place to see modern, free art in the city.
Red Town
Another creative space in Shanghai is Red Town. Like M50, this area is full of galleries and studios visitors can peruse for free. You'll find free art openings during summer and fall, plus there are plenty of cafes and cool outdoor installations to take a peek at.
Fuxing Park
If you'd prefer to head outdoors, choose Fuxing Park. It's overflowing with culture and often you'll find local groups performing tai chi, flying traditional kites, dancing, singing, playing musical instruments and more. There's a wide open green space in the park where you can picnic, too.
Century Park
Or, visit Century Park, Shanghai's largest park. Locals and tourists enjoy running, picnicking, and people watching in Century Park. It's also home to music festivals throughout the year.
French Concession
Everyone who visits Shanghai must take a walk through the charming French Concession. The French Concession was once a French-occupied neighborhood that today is filled with beautiful trees, international embassies, cute shops and boutiques, excellent restaurants, bars, and cafes, as well as examples of Art Deco and French architecture. It's the perfect place to walk or bike on sunny days.
Yuyuan Garden
Visitors looking to visit a classic Chinese garden should visit Yuyuan Garden. This traditional Chinese garden has been around for 400 years; it is made up of delicate rockeries, koi-filled ponds, cloisters and wooden pavilions. You will find six main scenic areas here, each with its own distinctive features and scenic spots.
Marriage Market in People's Park
While the Marriage Market should not be considered a tourist attraction, it is a place to get a glimpse into modern Chinese life. The Marriage Market of People's Park is an institution in the city: Every Saturday and Sunday parents and grandparents come to the park to find what they hope are the perfect partners for their children and grandchildren. At the market, potential partners, parents and 'agents' peruse the eligible twenty- and thirty-year-olds, looking to finding a suitable match. Respectfully, they swap details in the hopes of creating a happy couple and a successful union.
Jiading Confucian Temple
Tourists who would like to see a traditional Chinese temple will want to visit the Jiading Confucian Temple. It introduces visitors to the history of the Chinese imperial examination system with its five exhibition halls. This Confucian Temple is considered the source of education in China. The temple took 30 years to build, beginning in the 12th year of the Jiading reign of the Southern Song Dynasty (1219). It is free to visit and wander the grounds. There are many free attractions in Shanghai! Tourists need not worry about breaking the bank on their vacation.
Let's Recap on How to Visit Shanghai for Cheap
So there are some fun ideas for free things to do in Shanghai. Remember, if you want to add some attractions to your itinerary that normally cost money, consider purchasing a Go Shanghai Card. With the Go Shanghai Card, you get free admission to dozens of attractions all for the one low price of the pass. You can save up to 30% off combined admission costs vs paying at the gate. Enjoy!