Sentosa is Singapore's playground: a tiny island resort just off the main island's south coast with enough attractions and activities packed into its two square miles to keep you occupied for at least a week. Read on for our full guide to Sentosa Island, Singapore.
Getting to Sentosa Island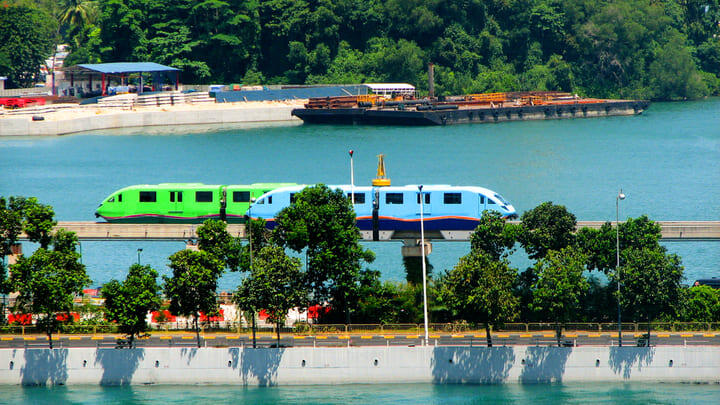 Getting yourself over to Sentosa is all part of the fun, with several different ways to cross Keppel Harbour. Quickest and easiest of these is the inexpensive Sentosa Express monorail. Board on level three of the VivoCity mall above HarbourFront MRT station and you'll be at your destination (Resorts World, Imbiah or Beach station) in just 3–5 minutes. There's also a pedestrian boardwalk with a separate lane for cyclists, and a road link means you can even arrive by cab or hire car.
But it's the Sentosa cable car that's hands-down the most fun (and most scenic) way to arrive on Sentosa, and definitely worth doing at least once, assuming you have a head for heights. The 30-minute ride departs HarbourFront cable car station and cruises across the harbor at heights of around 200 feet above sea level. After arriving on Sentosa, you can easily walk to Imbiah station for cable car connections to the beaches.
You'll find that the monorail and cable car stations drop you close to the majority of Sentosa's main attractions. A free beach shuttle also operates between the sandy Palawan, Tanjong and Siloso beaches along the island's southwest coast.
Resorts World Sentosa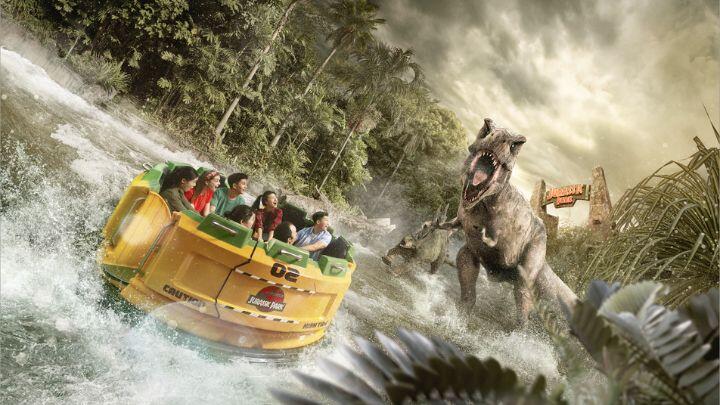 There are so many things to do on Sentosa that it can be difficult for a newbie to know where to start. The sprawling Resorts World complex is as good a place as any though, encompassing several of the island's best attractions, plus luxury hotels, restaurants and more. 
Undisputed star of the show here is Universal Studios Singapore (USS), where a whole bunch of themed zones offer entertainment for kids and grown-ups alike. Even the most difficult-to-please teen won't fail to be charmed (and soaked) by The Lost World zone's Jurassic Park Rapids Adventure, in which friendly families of stegosauruses and gently meandering rivers may well lull you into a false sense of security before you hit the rapids, stalked by hissing velociraptors and a hungry escaped T-rex. Yikes! 
The most adrenaline-pumping rides are to be found in Sci-Fi City, where the dueling Battlestar Galactica rollercoaster is the tallest of its kind on the planet, and the 3D Transformers ride is guaranteed to leave your heart pumping and nerves jangling. The popular Far Far Away zone offers an altogether calmer (but no less fun!) experience for younger kids, featuring rides based on characters from the Shrek movie series. Take flight over the forests aboard Donkey's beloved Dragon on the Enchanted Airways ride, and go in search of Mother Goose's golden eggs on Puss in Boots' Giant Journey.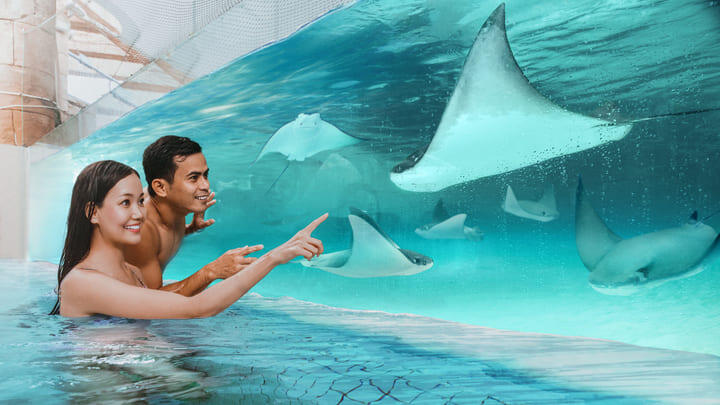 No less thrilling is Adventure Cove water park, where heart-stopping rides include the Riptide Rocket and Spiral Washout, both every bit as terrifying as they sound. Brave souls grip their floats for dear life as they enjoy/endure gravity defying loops, hairpin bends and hair-raising drops before being flushed out (at very high speeds) into a huge pool at the bottom. For those who like their water-based entertainment a tad more sedate there's the Adventure River, where you can drift oh-so-gently through 14 different zones in your enormous donut, taking in tranquil grottoes, verdant jungle gardens and marine life along the way. Don your snorkel and get even closer to native tropical critters at Rainbow Reef, home to over 20,000 colorful fish, or pop to the resort's S.E.A. Aquarium, home to over 100,000 marine creatures including manta rays, bottlenose dolphins and a giant Pacific octopus.
Sentosa Beaches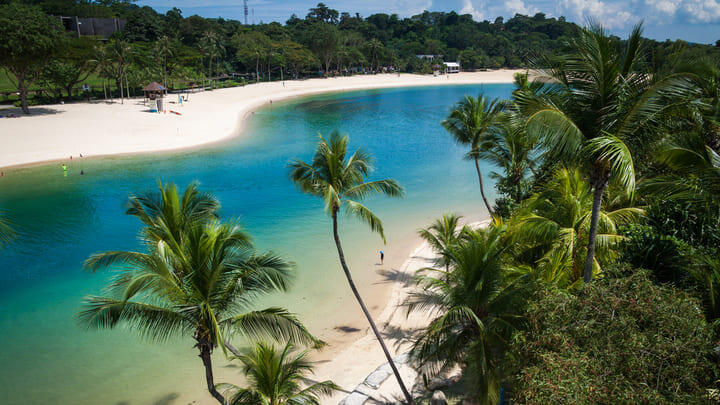 The trio of man made beaches along Sentosa's southwest coast offer opportunities for the lazy sunbather and adrenaline junkie alike. Siloso is the liveliest and most popular of the three, with opportunities for history buffs, adventurers and sun seekers along its sandy, palm-lined length. Fort Siloso saw action in the Battle of Singapore during World War II and is now a museum that provides a fascinating glimpse into the country's military history. The fort can be reached via an elevated walkway that's easily accessed from the beach and takes you on an epic adventure through the treetops, with bird-eye views of the fort.
Siloso is also home to thrilling luge tracks, a bungee rope and a huge swing that soars high above the beach. Or, you know, you could always just enjoy the feeling of the warm sand between your toes and indulge in a little gentle snorkeling in the emerald-green waters that lap the shores of all three beaches.
Sentosa Restaurants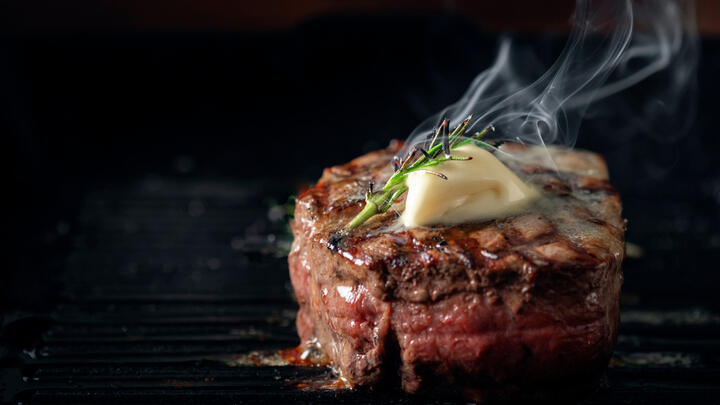 Thanks to the proliferation of attractions and hotels here, there are plenty of dining options available, whether you're after a romantic fine-dining banquet for two, or something much more casual with the kids. On Siloso Beach, Coastes is a relaxed beach bar that's all rustic woods in marine blues and sandy tones. Kids can play in the sand while grown-ups linger over a languid weekend brunch of fruit-laden waffles, fluffy pancakes and smoked salmon with poached eggs and avocado. Yum! Just along the coast, FOC Sentosa serves up chilled Mediterranean vibes on laidback Palawan Beach.
Resorts World Sentosa is the hub for some of the best big-name brands and fast food joints on the island. We're talking the Hard Rock Café, Krispy Kreme, McDonalds, Starbucks and more. In other words: plenty to keep the kids happy. Hit up Din Tai Fung to make all your dumpling and dim sum dreams come true, or make for the underwater Ocean Restaurant, where the magnificent rays and other marine creatures peering in at you may make you reconsider that fish starter.
Date night is best enjoyed at the W Hotel in Sentosa Cove, where Woobar provides a sultry setting for pre-dinner cocktails including the rum-laced Seaside Queen with mangosteen and the zingy Lesser Known Spice, shot through with tequila and mace from the Sentosa forests. Your resulting double vision will likely do nothing to help you decide whether to opt for a rare grilled steak with all the trimmings at Skirt, or international cuisine at The Kitchen Table.
Save on attractions

and activities in Singapore
Save on admission to Singapore attractions with Go City. Check out @GoCity on Instagram for the latest top tips and attraction info.