There's oodles of adventure to be had in Singapore, a huge playground where activities range from giant swings to futuristic indoor surfing to outdoor adventures amid the vast tracts of lush jungle and tropical rainforest that cover around half of the entire island. Read on for our pick of the most adventurous activities in Singapore, including:
The Singapore Flyer

SkyPark Observation Deck

Sentosa Island

Forest Adventure

Chestnut Nature Park

Southern Ridges hiking trail

Hawker centers for adventurous foodies
Adventurous Activities in Singapore for Thrill Seekers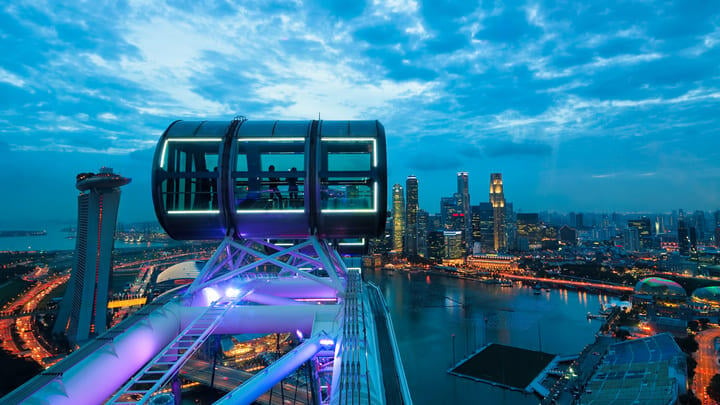 Adrenaline junkies on vacation in Singapore are in for a real treat. Heck, you only have to look at the forest of skyscrapers in the Downtown district to know that this is a city that takes its dizzying highs seriously. Head to the SkyPark on top of the soaring Marina Bay Sands hotel and you'll soon see what we mean. At 56 floors up, this observation deck is one of Singapore's highest and affords splendid views across the city and bay. Evenings are particularly special, with spectacular light shows taking place far below at both the Gardens by the Bay and the Marina Bay Sands' own Event Plaza.
Also in the Marina Bay area, the Singapore Flyer is one of the planet's tallest observation wheels, soaring to a heart-pumping 541 feet. Steady your nerves by booking a ticket that includes a glass of champagne or go native with a classic Singapore Sling.
Best of Sentosa Island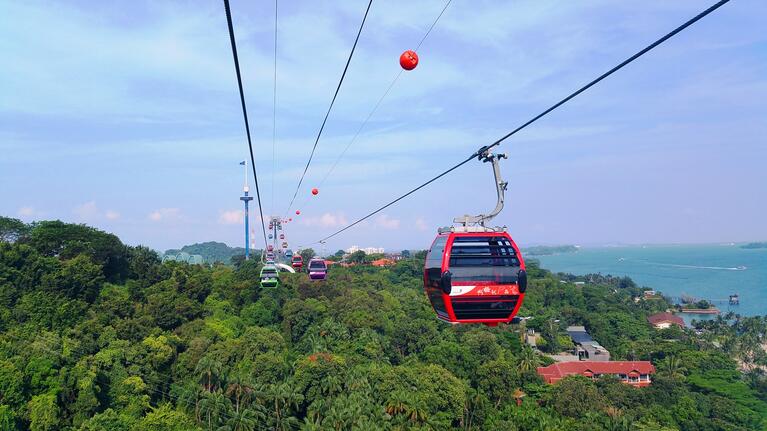 Sticking with the vertigo-inducing theme, hop on the cable car to Sentosa island for a thrill ride with a very gentle pace. The 15-minute journey across the bay carries passengers at around 200 feet above sea level. Essentially just a mode of traveling from A to B, it doubles as an adventurous Singapore attraction in its own right. Visitors with a passion for natural highs will be in clover once on Sentosa, where the SkyHelix spins heavenwards, reaching a dizzying 260 feet above sea level, with views from its vantage point on Imbiah Lookout that take in Singapore and the Southern Islands. This rotating ride lets you take in those glorious sunset vistas with a soda or slushie as your feet dangle underneath and you spend a full 10 minutes right at the top. Best of all, phones are permitted on the ride, so you'll be able to fill your Insta feed with dozens of envy-inducing filter-free snaps.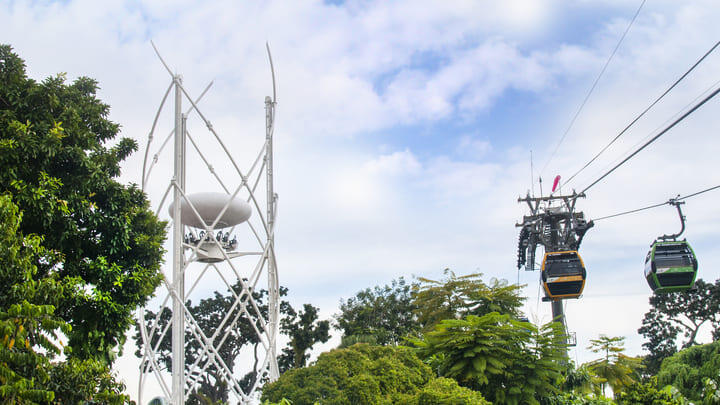 And, if you like your thrills a little more… high octane, you could always try the giant swing at Siloso Beach. What's so thrilling about a giant swing, I hear you cry! Well, this one soars out above the palm-lined white sands at heights of up to 100 feet so, suffice to say, it is not for the faint of heart. There's also bungee jumping here as well as a nearby luge track that winds through rainforest, down hillsides and around hairpin bends at hair-raising speeds. Splash down on the Double FlowRider at Wavehouse Sentosa's Surf Cove, where beginners and pro surfers alike can wipeout in the huge artificial wavemaker.
Back to Nature
Singapore is one of the greenest cities on the planet, with almost 50% of its urban sprawl dedicated to green space. It stands to reason then that there are multiple outdoor adventures to be had here, whether in the city's parks or beneath the jungle canopy that covers much of the rest of the island.
Forest Adventure is as good a place to get a taster as any, its treetop obstacle course and multiple ziplines making for a fun family day out. Wobble across rope bridges high in the canopy and zip your way across the waterways; there's quite literally hours of fun to be had.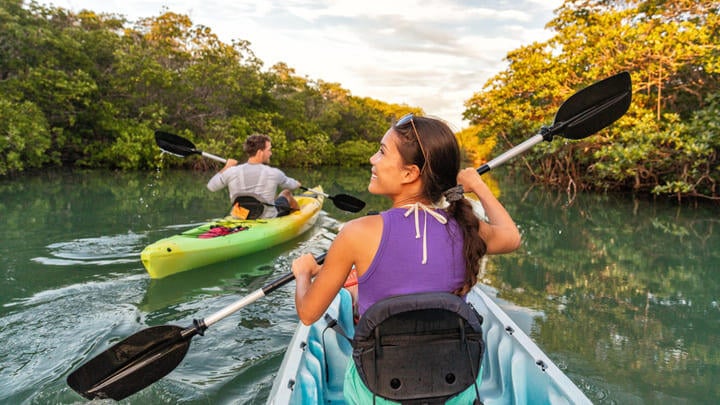 Or take to the waters in a kayak. This guided tour lasts 4.5 hours and takes you along the northeast coast by Pulau Ubin, a traditional Singaporean village set among the ancient mangrove forests. Your guide will steer you out towards the island of Pulau Ketam, where native wildlife includes kingfishers and herons, and where you may even be lucky enough to spot the occasional otter frolicking playfully in the shallows.
Such lush countryside of course makes for world-class hiking and cycling opportunities. Saddle up, slap on the sunscreen and hit the Northern Eastern Riverine Loop, a 26km route that takes you through the parks, beaches, waterways and wetlands of Punggol. Or walk the stunning Southern Ridges Trail. This elevated walkway takes you through the treetops south of the city, where the canopy fairly teems with red-whiskered bulbuls, banded bay cuckoos, and other colorful native birdlife. Meanwhile, Chestnut Nature Park offers the best of both worlds, with 81 hectares of segregated hiking and biking trails that take in secluded streams and lakes and provide further opportunities to spot endangered bird species like the delicate orange-bellied flowerpecker.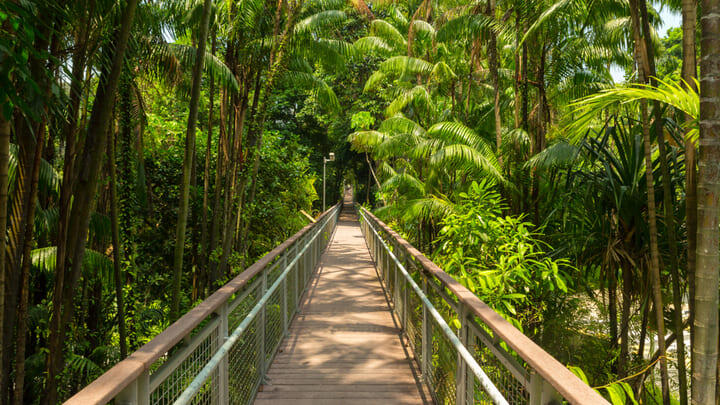 Adventures in Food
There's much for adventurous foodies to enjoy in Singapore, with over 100 hawker centers serving cheap and delicious street food across the city. The meeting of Malaysian, Chinese and Indian cooking here, melded with that of other neighboring nations, has created a unique cuisine with something for everyone, though lovers of seafood and spice are particularly well catered for. 
Our advice? Bodyswerve the ubiquitous burger and pizza joints and get straight to the heart of the action in the bustling hawker centers, where the aroma of sizzling satay and pungent fish head curry alone are enough to make a grown man weep.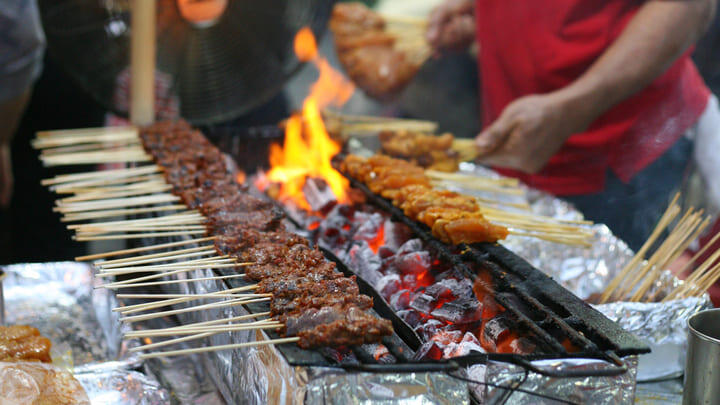 Spicy, sticky, peanuty satay is easy to track down here (just follow your nose!). It's a national favorite and you'll find purveyors of this heaven-sent treat in its many forms (chicken, pork, beef, fish) in any Singapore hawker center worth its salt. Try local favorite satay bee hoon, in which the spicy hot sauce is liberally smothered over a bed of rice vermicelli, often with prawns or pork. Sweet-and-savory-sauce-drenched chili crab – effectively the national dish – is another absolute must-try.
Feeling bold? Up the ante with some of the nation's more out-there delicacies. We're talking turtle soup, live octopus, pufferfish, fried pigs' fallopian tubes in piquant kung pao sauce and – for the truly adventurous – century egg, a highly, shall we say… aromatic dish of egg preserved in salt, lime and clay. Don't knock it until you've tried it!
Save on attractions and activities for teens in Singapore
Save on admission to Singapore attractions with Go City. Check out @GoCity on Instagram for the latest top tips and attraction info.