Brunch: The most indulgent meal of the day. Maybe you skipped breakfast because of visiting an early attraction, or maybe you slept in after sampling the incredible nightlife. Whatever the reason, you deserve a decadent dish to recharge your batteries and get you fired up for more exploring. We've listed our top 10 places in Singapore to grab brunch. Bon appetite!
Boomerang café and bistro Singapore
Resting on the Singapore River you'll find Boomerang Cafe and Bistro, serving fresh, authentic Australian cuisine day and night. Australians know that to keep your energy levels up you need some good grub, and there's plenty of that at Boomerang.
With opening hours between 6am and 3am, you've got plenty of time to explore the menu. Breakfast runs until 11:30, after which it switches to the lunch menu.
There's a vast selection of breakfast options, including light and airy pancakes, to a fully Ozzy steak and eggs. The lunch menu contains a vast array of starters and sharing platters, although we'd recommend the garlic prawn and mango salad for the perfect brunch meal.
If you're craving more Boomerang action, Happy Hour runs Monday to Friday from 5pm until 8pm, and 2pm until 8pm on Sundays.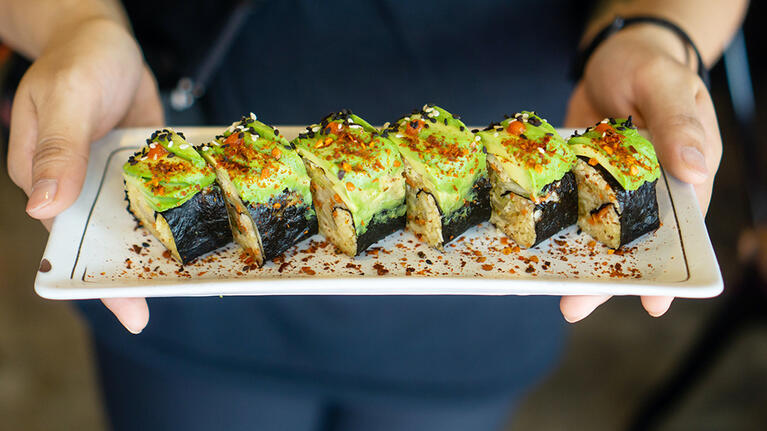 Kinki Restaurant + Bar
If bold Japanese cuisine is more your thing, try Kinki Restaurant + bar. Found near Marina Bay and Raffles Place, the views from the rooftop bar are breathtaking.
The food's a delight for all your senses, with bright colorful dishes created using exquisite ingredients. While we could talk about the menu all day long, the real show-stopper is the bottomless brunch.
Available Saturdays and public holidays, the all-you-can-eat brunch includes fresh sashimi slices, a variety of maki rolls, various mains, and much more. For $68 you can feast on the smorgasbord of delights, and for an additional $38, you can add unlimited Sake, Beer, Prosecco, or Shochu to the mix.
LAVO Restaurant & Rooftop Bar
Enjoy classic Italian American food and hand-crafted cocktails from the 57th floor of Marina Bay Sands Hotel. The view from the outdoor balcony is worth the visit alone.
The prices reflect the exclusive location, with the Free Flow Dom Pérignon & Buffet Menu coming in at $398 per person. A seafood feast awaits with fresh lobster, tiger prawns, crab, and enough dessert options for even the sweetest of teeth.
We also recommend ordering a slice of the 20-layer cake. You'll thank us later.
Carrotsticks and Cravings
If healthy living is your thing, Carrotsticks and Cravings is the destination for you. Using the freshest ingredients and packed with superfoods, they cater to all dietary requirements.
There's no poor option on the menu, as everything looks and tastes delicious. The signature smashed avocado toast is a great start, with a baked chia parfait or superfood salad providing an excellent backup plan.
If gluten-free, dairy-free, refined sugar-free, and vegetarian-friendly foods make your stomach smile, add Carrotsticks and Cravings to your brunch itinerary.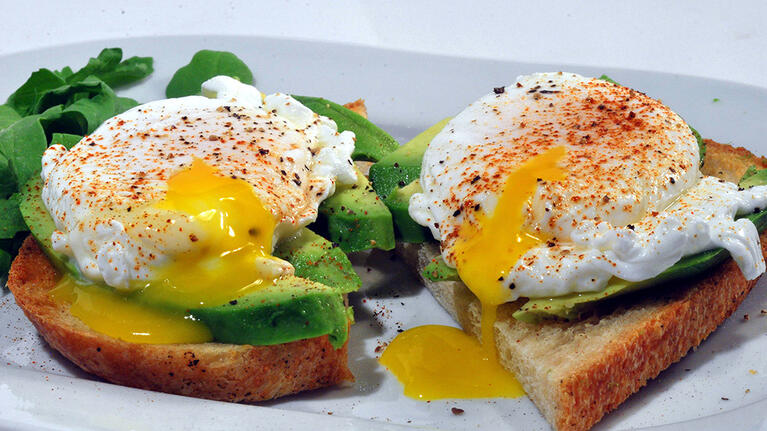 Butcher's Block
If you're a carnivore who loves their meat flame-grilled, you may find your dream brunch at Butcher's Block. Raffles Arcade houses this avant-garde steakhouse where fire is the star of the show, whether you're ordering meat or fish.
Smoking with wood, slow roasting, or grilling directly over embers, Butcher's Block knows how to extract every drop of taste out of their meals.
Brunch is available on the weekends with a mouth-watering a la carte menu, or an option to upgrade to the Sommelier's Selection which includes a 90-minute high-end wine-tasting experience.
Waffle Place
If you're looking for somewhere unique or unusual to enjoy brunch, look no further than Waffle Place in Singapore. This halal cafe serves premium waffles with a multitude of toppings. With a variety of interesting flavor combinations, you're unlikely to have the same waffle twice.
There are some 'classic' topping options such as apple pie or ice cream, as well as more unusual toppings like duck in kerutuk sauce, or crispy chicken with a fried egg, spicy mayo, and maple syrup.
A truly unique experience awaits you at Waffle Place, Singapore.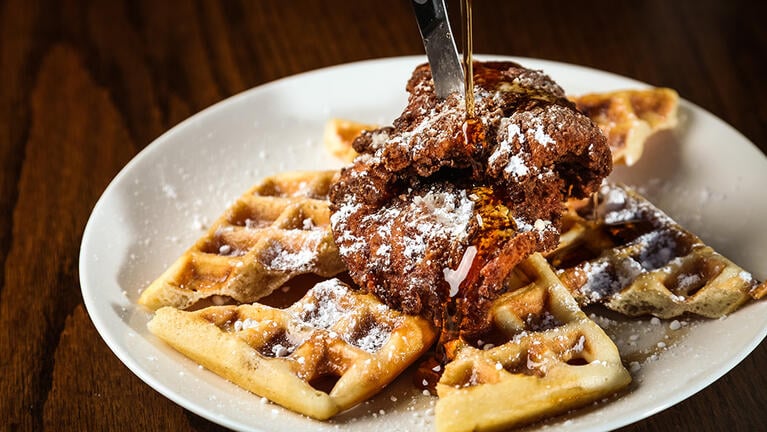 Astor Bar
Astor Bar at The St. Regis Singapore offers an adult-only cocktail brunch every Saturday, but don't worry - it's not just a liquid lunch.
A luxurious platter of seafood on ice, including crab, oysters, and shrimp, ensures a decadent brunch to remember. Add in a soundtrack of live jazz music performed by the resident band and you're only missing one thing; cocktails.
Whatever your tipple of choice, it's on the menu at Astor Bar. A Sip of Gilded Age, the iconic Chilli Padi Mary, or a chocolate martini are just a tiny sample of the cocktails on offer. Luckily, if you're spoiled for choice and tormented by indecision, the helpful mixologists will guide you through the flavor profiles.
Red House Seafood
With influences from the Malay, Indian, and Peranakan traditions, Red House Seafood provides a brunch filled with exquisite Singaporean seafood dishes.
Chili crab and satay chicken are classic Singapore mains, but here they're handled with finesse and elevated to new levels. As one of Singapore's oldest seafood restaurants, they know how to treat diners to something special.
The Dim Sum lunch buffet allows you to choose from a menu of 50 items, including delicious steamed fish, prawn rolls and, of course, the delectable dim sums.
Save on Admission to Top Singapore Attractions
Explore the best things to do with a pass for Singapore by Go City®. Select from top attractions with our All-Inclusive and Explorer passes, where you'll enjoy access to galleries, museums, tours much more.
Share Your Adventure with Us
Tag @GoCity in your vacation photos and we'll feature you on our page. Follow the Go City Instagram and Facebook channels for exclusive competitions, special offers, and events to help you make the most of your travels.