Wandering the galleries and halls of a well-curated museum is a wonderful way to while away the hours. Lucky for museum lovers, Singapore is packed with blockbuster art galleries, top-notch museums, and one-of-a-kind cultural institutions. From contemporary art and natural history to thought-provoking science and technology - whatever your interests, there is a museum in Singapore to explore. Here's our list of the best museums in Singapore.  
National Museum of Singapore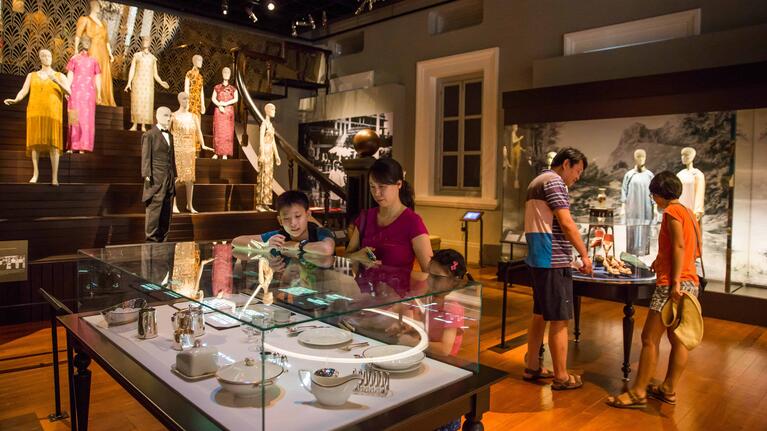 The National Museum of Singapore is the oldest and largest museum in the city and should be your first port of call. Opened in 1887, the museum is housed in a stately 19th-century Neo-Palladium-style building with a beautiful glass rotunda. Take a moment to admire the exquisite architecture – it's a work of art in itself.  
The museum houses two main galleries - the Singapore History Gallery and the Singapore Living Galleries. Start in the Singapore History Gallery and learn the intriguing history of Singapore from its humble beginnings in the 14th century to the present day. Interactive and immersive exhibitions highlight Singapore's development into a global powerhouse.  
Your next stop is the Singapore Living Galleries where you'll exhibits themed around food, fashion, film, and photography. Don't miss the museum's permanent exhibition, Story of the Forest, which brings the treasured William Farquhar Collection to life through a fantastic digital presentation. Use your pass to gain access to this fantastic museum.  
Opening hours: 
Daily: 10AM – 7PM  
Singapore Art Museum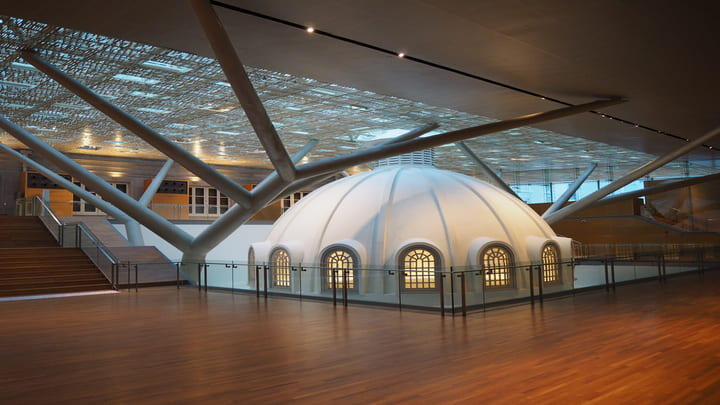 If you're a lover of contemporary Asian art, the Singapore Art Museum (SAM) is a treat! The museum exhibits artworks in multiple spaces, including a satellite space at Tanjong Pagar Distripark, and the main building along Bras Basah Road. This is the one you want to visit not only to marvel at the beautiful architecture of the heritage buildings but to see some impressive art, too.  
The main wing of the museum is housed in the former St Joseph's Institution – the oldest Catholic boys' school in Singapore. With a striking design that harkens back to the European Renaissance, you'll be amazed by its beauty before even seeing any art.  
The museum's extraordinary collection of 20th-century Asian art is exhibited in small and unusual gallery spaces. Nooks and crannies hold impressive works across various mediums and around every corner is another delight.  
While the museum has never presented blockbuster exhibitions due to its size, it does take part in the Singapore Biennale, and if you're around for that, it's well worth visiting.  
Opening hours: 
Mon – Thu: 10AM – 7PM  
Fri: 10AM – 9PM 
Sat - Sun: 10AM – 7PM 
National Gallery Singapore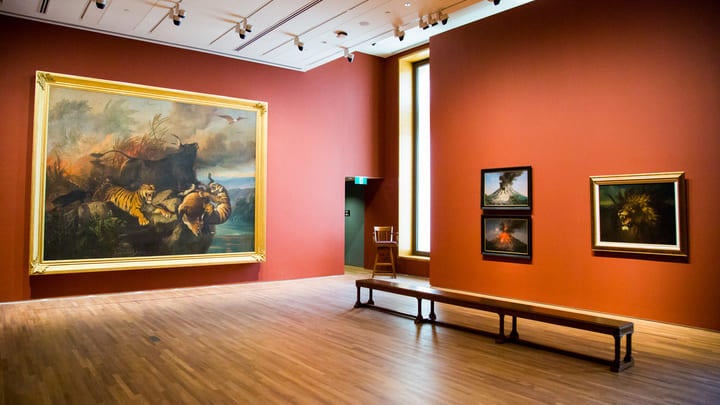 Another luminary in Singapore's art world, the National Gallery Singapore is huge! The largest visual art gallery of its kind in the city, it's packed with the world's largest collection of Southeast Asian art from the 19th century to the present. And there are interactive installations and exhibits for the kids too, so make a day of exploring this glorious behemoth.   
Housed in the former Supreme Court and City Hall building, the sprawling museum building is an architectural wonder in itself. Inside, vast galleries display over 8,000 modern Southeast Asian artworks. Wander around the airy exhibition spaces and admire works by pioneer Singaporean artists like Cheong Soo Pieng and Georgette Chen. You'll need more than a few hours to explore the entire museum.  
Head to the Keppel Centre for Art Education where the kids can get creative with a range of artful and active learning activities. When you need to re-energize, the museum has several casual cafés and fine dining restaurants. Head up to the rooftop cocktail bar, Smoke and Mirrors, for a quiet drink and spectacular views of the city.  
Don't forget to use your pass to get free access to the National Gallery Singapore. Your pass also allows you to join complimentary tours like Highlights of the Gallery and Building Highlights  
Beyond their exhibitions and programs, National Gallery Singapore houses a range of art-inspired shops and restaurants, including the three MICHELIN-starred Odette, and one MICHELIN-starred Art. 
Top Tip: Avoid long queues and visit on a weekday and book your tickets in advance.  
Opening hours: 
Mon – Thu: 10AM – 7PM  
Fri: 10AM – 9PM 
Sat - Sun: 10AM – 7PM 
ArtScience Museum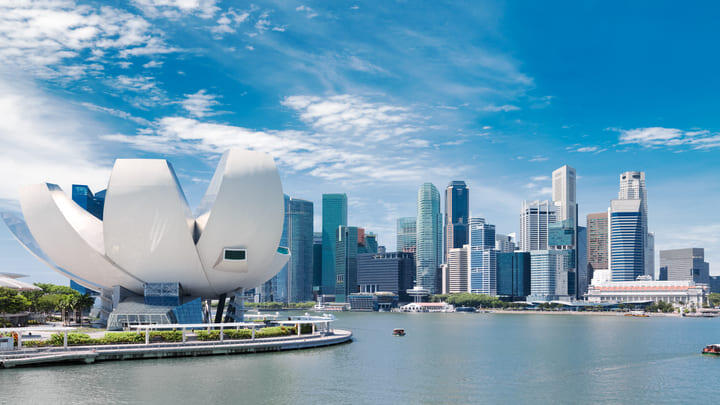 No matter what your age, visiting Singapore's ArtScience Museum is a must! Based in a striking building overlooking Marina Bay, the museum brings together culture and technology in fascinating ways. Wander around internationally acclaimed exhibitions that explore the fusion of art and science with some amazing interactive multimedia.  
You can't miss the museum building. Designed by Israeli architect Moshe Safdie, it looks like a gently unfurling lotus flower. Inside, the art continues with a variety of world-class exhibitions. Marvel at works by Eames, Dalí, Warhol, and Van Gogh or travel back in time to the world of dinosaurs and Genghis Khan. You'll also find film sets and props from blockbuster films like Harry Potter and Titanic. Don't miss the interactive journey of lights, digital art, and magic show designed by Japanese arts collective teamLab.  
The ArtScience Museum is part of the luxurious Marina Bay Sands complex. Why not head up to the CÉ LA VI SkyBar  on the 57th floor of Marina Bay Sands for a drink against a backdrop of breathtaking vistas. Use your pass to enjoy a complimentary drink and kick back and enjoy the views.   
Opening hours: 
Daily: 10AM – 7PM  
Asian Civilisations Museum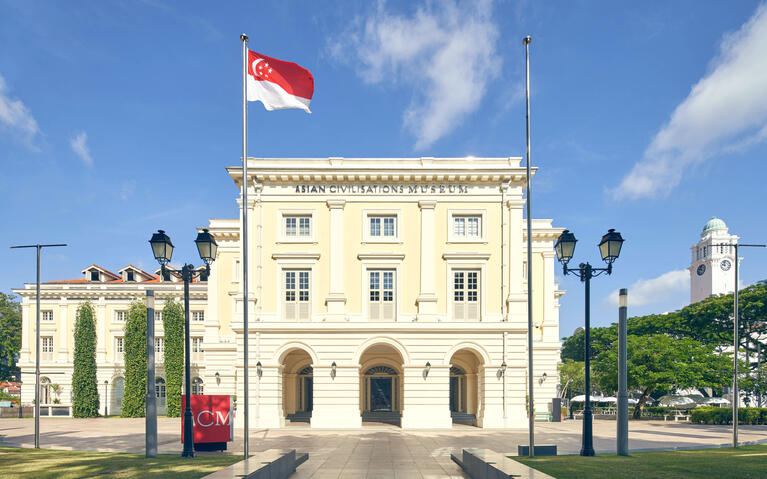 Singapore is a cultural melting pot and one of the best places to delve into its rich multicultural roots is at the Asian Civilisations Museum . You'll find the museum at the stunning Empress Place, fittingly located at the mouth of the Singapore River, once the center of global trade.  
Meander around the galleries boasting thousands of artifacts relating to different cultures from around the continent. Gain an integrated perspective of pan-Asian cultures and civilizations and discover how they have come to define Singapore as it is today.   
When you are done, relax over a coffee at the museum café and take in the beautiful views of the Singapore River and city skyline. Visit the museum store and pick up a few stylish Singaporean design gifts. Remember to use your pass to gain free access to this museum.  
Opening hours: 
Daily: 10AM – 7PM  
Fri: 10AM – 9PM 
Lee Kong Chian Natural History Museum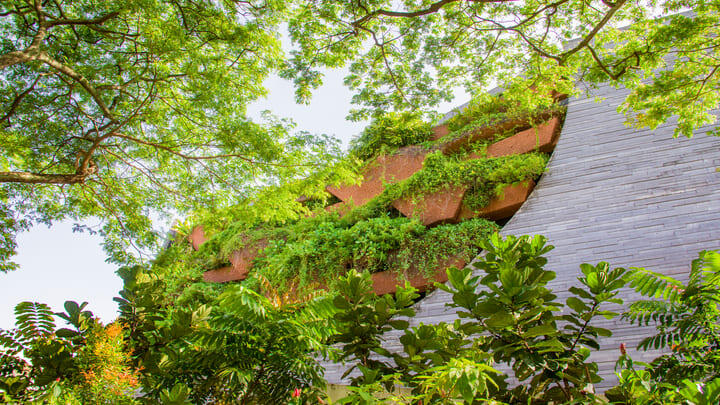 The Lee Kong Chian Natural History Museum is a treasure trove of natural history and museum that needs a few hours of exploration. An impressive collection of more than 2,000 specimens of Southeast Asian fauna and flora is spread across two floors and 15 zones. You'll find a wealth of fascinating finds from the skeleton of a sperm whale to 150-million-year-old dinosaur fossils.  
Apollonia, Prince and Twinky - three humungous dinosaur skeletons greet you in the main atrium of the museum and your journey through the history of the natural world begins. Wander through themed galleries of fungi, plants, and mammals; get up close to dinosaur bones, and see the largest species of turtle ever recorded. 
Take a stroll through the museum's beautifully themed gardens from mangroves to dryland swamps and marvel at the cliff-like façade and living museum of local plants on the front of the building.  
Opening hours: 
Thu - Sun: 10AM – 5PM  
The National Design Centre of Singapore 
A nexus for all things, the National Design Centre of Singapore is a design lover's paradise. Housed in an art décor building in the trendy Bras Basah-Bugis arts and culture district, the center hosts design exhibitions and events that draw Singapore's coolest crowd.  
Discover the evolution of Singaporean design at the permanent exhibit, 50 Years of Singapore Design, or attend one of the many art-centric events promoting Singapore's design scene. Check out Hong Kong-based cult lifestyle and design boutique, kapok NDC for stylish apparel. After all that browsing and shopping, put your feet up and enjoy a cocktail at Tanuki Raw. 
Opening hours: 
Daily: 9AM – 9PM  
Indian Heritage Centre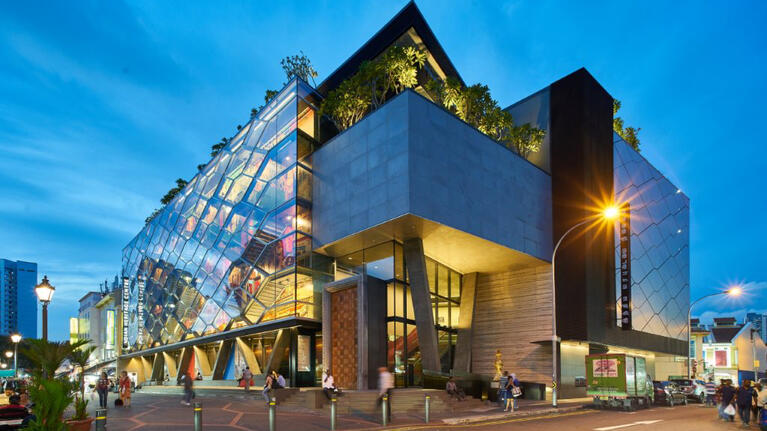 The Indian Heritage Centre  may not be up there with the big guns, but it's a great little museum that focuses on Indian and South Asian history and is well worth a visit.  
Located in the heart of the Little India Heritage District, the four-story Heritage Center features chronologically arranged themed galleries that explore the distinctive Indian cultural heritage of Singapore. Activity spaces and interactive displays add an element of fun and special gallery houses touring exhibitions.  
You can use your pass to visit this fascinating museum, and don't forget to swing by the museum shop to pick up a souvenir or two after your visit. 
Opening hours: 
Tues - Sun: 10AM – 6PM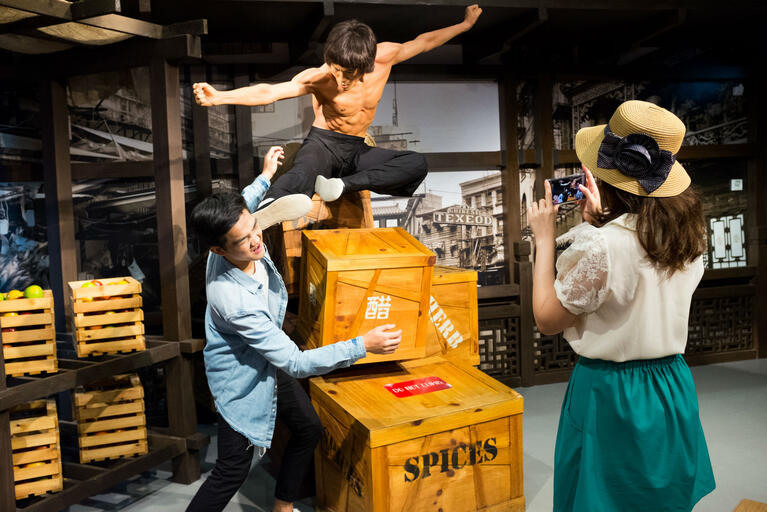 What would a visit to a major international city be without popping into Madame Tussauds?  
Head to the Singapore outpost at Imbiah Lookout at Sentosa for a few selfies with the stars. Mingle with the usual coterie of international celebrities in the A-List Party section like Brad Pitt and Angelina Jolie. You'll also see local superstars like Gurmit Singh, Jack Neo, and Singapore's Prime Minister, Lee Hsien Loong.  
Hop on the Spirit of Singapore Boat Ride for a multi-sensory journey through Singapore's rich culture.  Sing and dance with some of Bollywood's top celebs and enjoy a 4D experience with your favorite superhero.  
Bear in mind you can use your pass to gain free entry into the wax museum and enjoy all the extras at no extra cost!  
Daily: 10AM – 6PM  
Tues: 10AM – 5:30PM