There's no denying it: meat is big business in Singapore. A short stroll through any of the legendary hawker centers or wet markets confirms it, and many vegetarians will quail at the sight of ducks roasting on the spit, or stalls that advertise their wares by displaying a dangling pig carcass or two.
But that's just one side of the story. Singapore has come a long way in recent years, with vegan and vegetarian restaurants popping up faster than bunnies in a cabbage patch, meaning there's plenty of choice nowadays for the increasing number of people who favor a plant-based diet. Read on for our pick of the best vegetarian restaurants in Singapore.
Whole Earth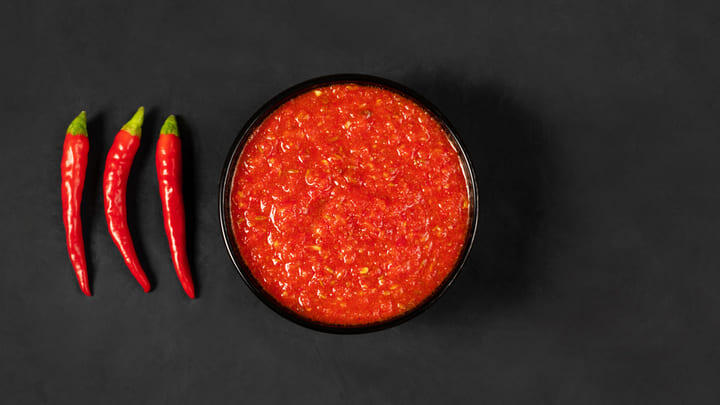 Awarded the prestigious Michelin Bib Gourmand for six years running (2016–2022), Whole Earth is fast becoming a Singapore institution. This cute downtown eatery styles its menu as "vegetarian cuisine for non-vegetarians" and, truly, even the most dedicated carnivore might be hard-pushed to tell the difference. Or, as one impressed punter gushed in their 5-star Tripadvisor review: "Vegetarian? Nah. Can't be." Thai and Peranakan cuisines are king here, with highlights that include fiery sambal chili, sweet and sticky honey lotus roots and crispy monkey head mushrooms in teriyaki sauce (NB: no monkeys were harmed in the preparation of this dish). Wash it all down with a zesty lime ice jelly and warming lemongrass tea. Yum.
Find it: 76 Peck Seah St, Singapore 07933
Original Sin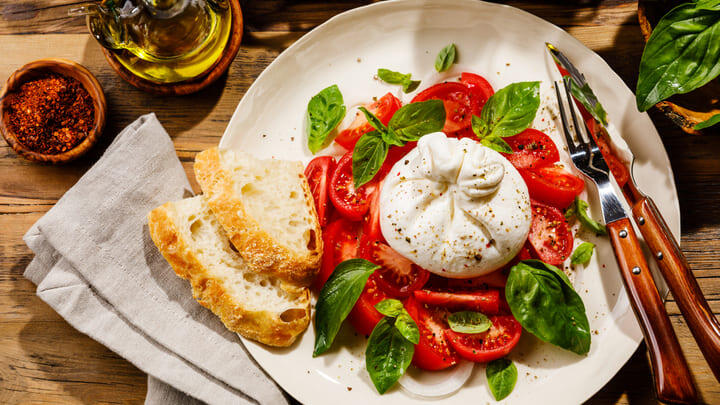 Can vegetarian food really be 'sinful'? You bet it can! We're talking sunny Mediterranean fare that includes the likes of creamy burrata, hearty lentil moussaka, crispy truffle fries and great slabs of devilishly indulgent tiramisu. Stuff yourself silly in the smart interior with its patterned banquettes, pretty glass murals, crisp white tablecloths and romantic candlelight. Or take it up a notch and dine al fresco beneath the stars at cute mosaic-tiled tables on the terrace. Easily one of Singapore's best vegetarian dining experiences.
Find it: #01-62, Blk 43 Jln Merah Saga, Chip Bee Gardens, Singapore 278115
Boneless Kitchen
Looking for a casual Korean dining experience with stacks of delicious vegetarian sharing plates? Boneless Kitchen is the one for you. Grab a group of friends and head to this airy eatery in the Joo Seng area of Singapore, where all ingredients are sourced direct from Korea for authenticity and sauces and dishes are created from scratch on the premises. Order up the sundubu-jjigae (a smooth and spicy Korean broth), perfectly plump kimchi dumplings, gochujang-spiked bibimap and colorful kimbap (a bit like Japanese sushi rolls) and get stuck in! 
Find it: 1 Irving Place #01-31, The Commerze@Irving, Singapore 369546
Analogue
Analogue – in its noble mission to save the planet – really doesn't do things by halves. That eye-catching cerulean-blue bar that dips and flows like the ocean? It's fully 3D printed from 1,600kg of recycled plastic bottles. The beer mats? Also recycled. If that's not enough to get the conversation flowing, there's also a long list of quite stunning planet-based cocktails. Try the Cactus with its smoky mezcal notes and refreshing hit of pink dragon fruit, prickly pear, and aloe vera. Or send yourself into orbit with a Spaceman, a delectable punch of gin, campari, peanut butter and sweet Kyoho grapes. The food menu at Analogue is equally enticing, with hearty jackfruit tacos, eggplant curry and a must-try fermented sourdough ice cream that may have you questioning whether you'll ever feel the need to eat meat again.
Find it: 30 Victoria Street, #01-31 Chijmes, Singapore 187996
The GoodBurger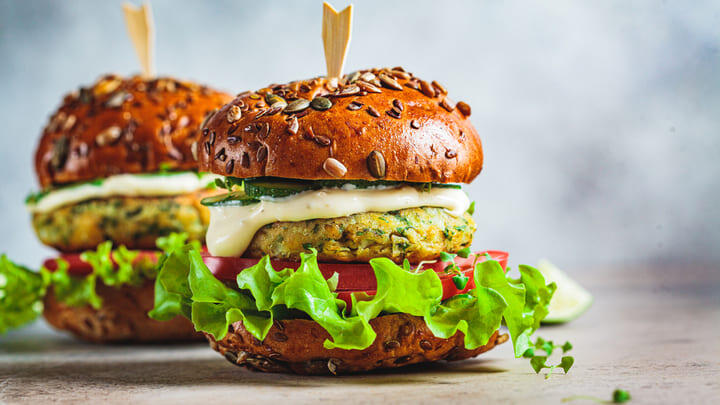 "Saving the world… one burger at a time" is the motto at The GoodBurger, a popular plant-based burger truck at the Coronation Shopping Plaza. Do your bit for the planet by tucking into some of the best Impossible burgers you'll ever taste. Try the aromatic One Night in Bangkok for a spicy taste of Thailand. Or go high end with The Black Tie, with posh truffle, aioli and rocket. The Happy Days burger comes crammed with onion rings and smoky BBQ sauce, while What The Cluck – crispy Southern-fried chicken with cheese, pickles and garlic – will have you convinced you're eating the real thing. Unmissable.
Find it: Coronation Shopping Plaza, 587 Bukit Timah Road, Singapore 269707
Joie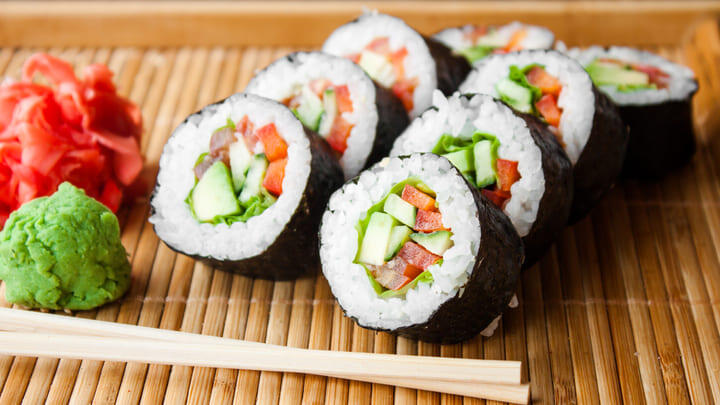 Vegetarian fine dining is very much the vibe at Joie (pronounced 'joy'). Set in the tranquil surroundings of Orchard Central's verdant rooftop garden, this sleek 11th-floor restaurant has panoramic views of Orchard Road, Singapore's shopping mecca. Inside the bright dining room, bronze lights, plush velvet armchairs and cozy banquettes set the scene for imaginative dishes such as Japanese kelp broth with tofu, truffle risotto and warm chocolate cake with vanilla ice cream.
Find it: 181 Orchard Road Orchard Central #12-01 Orchard Central, Singapore 238896
Herbivore
Herbivore is an unassuming Japanese joint in the Fortune Center inside which, in fact, vegan and vegetarian dining options abound. Perhaps the pick of the bunch, Herbivore's sushi dishes do a very convincing impersonation of the real thing, with salmon pieces that both look and taste like actual fish. Grilled chicken and freshwater eel taste just like, well, chicken and eel, and there's an extensive selection of zingy noodle and ramen dishes to pick and choose from. Colorful, flavorsome salads and moreish desserts complete the line-up at this veggie favorite.
Find it: Fortune Center, 190 Middle Road, Singapore 188979
Hawker Centers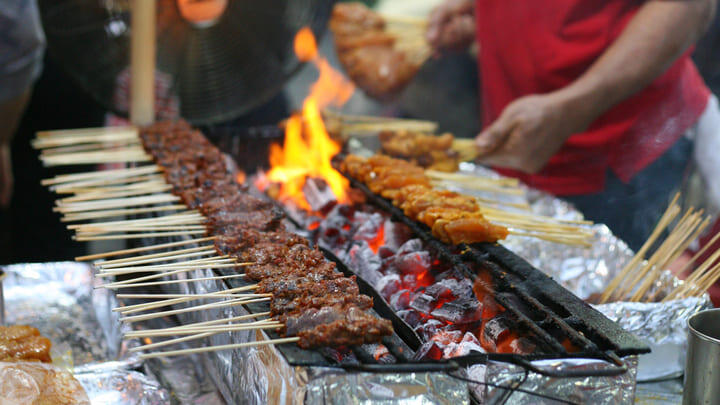 While many vegetarians may balk at wandering through these traditional Singaporean street food emporia – due to the vast number of meat products on display – there are some fine veggie options to be found if you know where to look. And the atmosphere in these places, bustling with hungry locals, the air thick with steam and heavy with the aromatic scents of fragrant pan-Asian cooking, is something that should really be experienced by all visitors to the Garden City. Check out Victor Veggie at the Circuit Road center for his sticky satay skewers. Or hit up 33 Vegetarian in the Teck Ghee Market & Food Centre for the best poultry-free chicken and rice in town. There's even a handful of hawker centers where vegetarian eateries can be found in abundance; try Bendemeer Market and Food Centre, Kim San Leng Food Centre or Redhill Market and Food Centre for a plant-based party in your mouth.
Find them: Everywhere! There are over 100 hawker centers in the city.
Save on attractions

and activities in Singapore
Save on admission to Singapore attractions with Go City. Check out @GoCity on Instagram for the latest top tips and attraction info.