Do you have the need for speed? Do you yearn for the feeling of adrenaline pumping through your veins? Of course you do, or you wouldn't be here. So let's discuss extremes, specifically, extreme sports. Such activities have only grown in popularity in recent years, with the likes of Tony Hawk becoming household names throughout the world. 
But what about Singapore? Does this fine country cater to the wilder ones in the audience? Why yes, it does, you lucky devils! So what kinds of extreme sports activities can you try in Singapore? Let's take a look. 
Including:
Nature Kayaking Adventure at Pulau Ubin
AJ Hackett Sentosa's Giant Swing and Skybridge
Bungee Jumping
MegaZip Adventure
iFly Singapore
and more!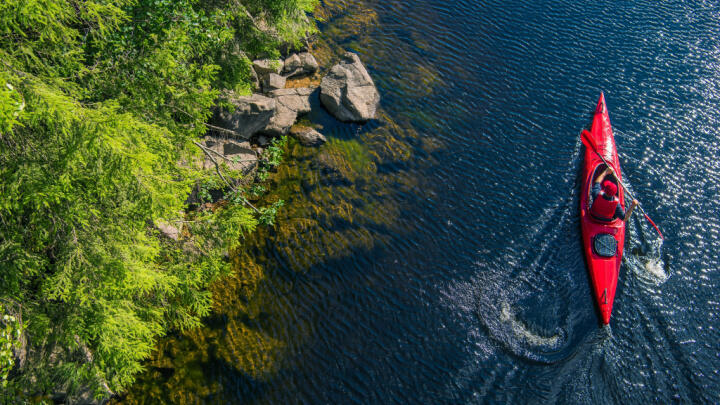 The sea is an unforgiving beast. So much of our oceans are still unexplored, so really, there's no telling what horrors could lie beneath the waves. But don't worry yourself with any of that existential dread! Instead, takes to the seas in a kayak on this adventurous tour of Ketam Island!
Located just off Singapore's northeastern coast, Pulau Ubin is famous for its traditional way of life. Given it's known as one of the last surviving villages in the country, it's no surprise you'll feel like you've been transported back through time. To a calmer, simpler time. For this reason, the island enjoys relatively undisturbed natural scenery. As you set off on your kayak adventure, you'll take in Pulau Ubin's thriving mangroves, which many plants, flowers, and exotic animals call home. 
Is that not extreme enough for you? Don't worry; we're just warming up.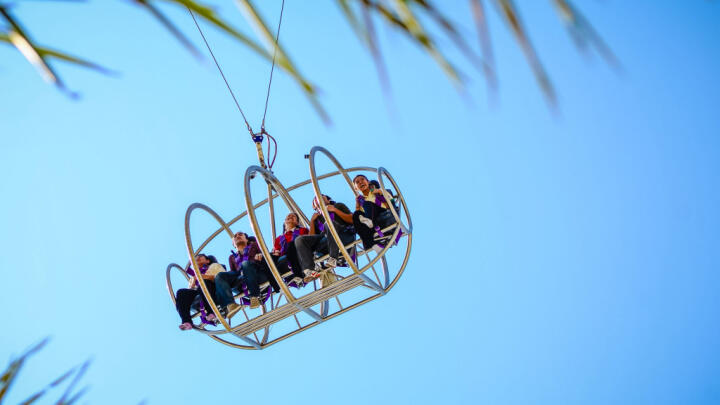 Image courtesy of Mr.Cherdsak/Shutterstock
Remember swing sets? As a kid, you'd feel like you were flying off the ground when in reality, you were only a few feet off the floor. Hopping on a swing as a worn-down, tax-paying adult just doesn't have the same joy to it. But what if the swing was suspended over 130 feet above the Earth? Welcome the Giant Swing at AJ Hacket Sentosa. 
Either alone or with a daring partner, you'll be hoisted far into the air. Once you've taken in the amazing views, prepare to swing. Pull the chord, and you'll soar through the sky at over 70mph. Then, you'll swing back again. Exhilarating stuff. 
If you want to capture your daredevil antics, you needn't put your phone at risk. 16HD cameras will record and snap the whole ordeal. Once you've attained proof of your bravery, check out the Skybridge, where you can take in the views, including straight beneath your feet, thanks to the see-through portions of the bridge. Extreme!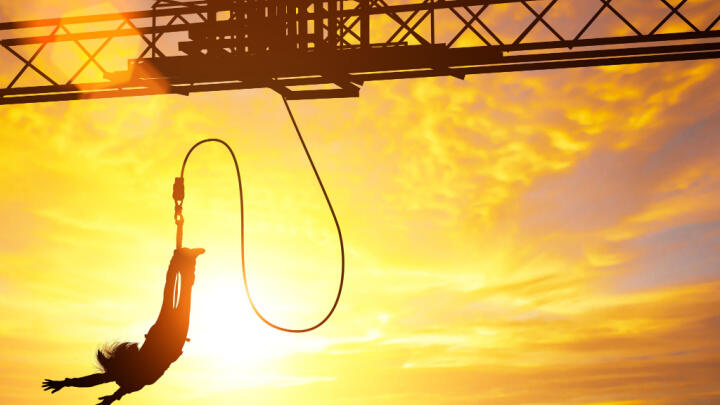 No list of extreme sports activities would be complete without bungee jumping, so if you're looking for bungee-adjacent thrills, Singapore has you covered. And it doesn't get much better than this. AJ Hackett Sentosa is the location once again - do you dare go bungee jumping after riding the giant swing?
Thanks to the trained instructors monitoring every jump, 
even newbies will feel safe before taking the plunge. You can even choose where to jump and how you want to fall. Presumably, they're all a variation on 'down'. 
Bungee jumping is easily one of the best extreme sports activities you'll find in Singapore. That is, if you dare to jump.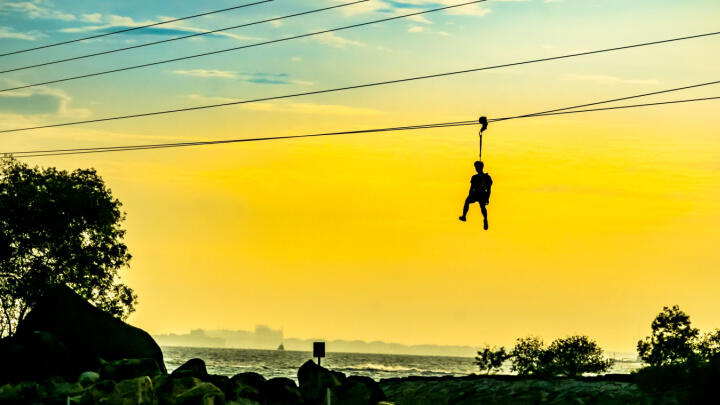 Image courtesy of DerekTeo/Shutterstock
Want to ride in style? Why not zipline? These zippy, liney beauties are the new cool thing to do. And if even a former prime minister of the UK can look cool doing it, so can you. 
More suitable for the little ones if you're planning a family vacation, MegaZip Adventure Park is packed full of action-packed fun for the whole fam. Suspended nearly 250 feet in the air, you'll zip down for nearly 1500 feet while the wind ruffles your hair. Then when you get off and the screaming stops, you'll want to do it all over again.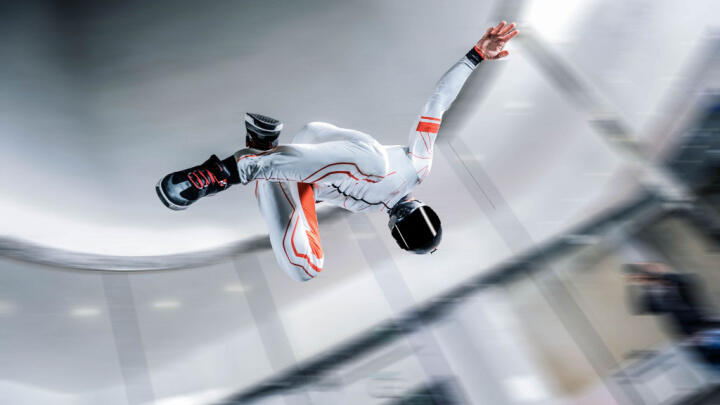 Ever wanted to try skydiving, but the thought of traveling 30,000 feet into the air and jumping out is just too extreme for you? Don't worry; we've got skydiving at home, thanks to iFly Singapore. 
Thanks to scientific breakthroughs in fan technology, they're now strong enough to lift up two fully-grown adults and mimic the thrills and spills of falling from the sky. So suit up, hop in, and get falling. Newbies can take it easy and get used to the sensation, and professionals are free to flip, spin, and do other cool, extreme things as they go. 
And who knows, maybe it'll inspire you to hop on a plane and try it for real?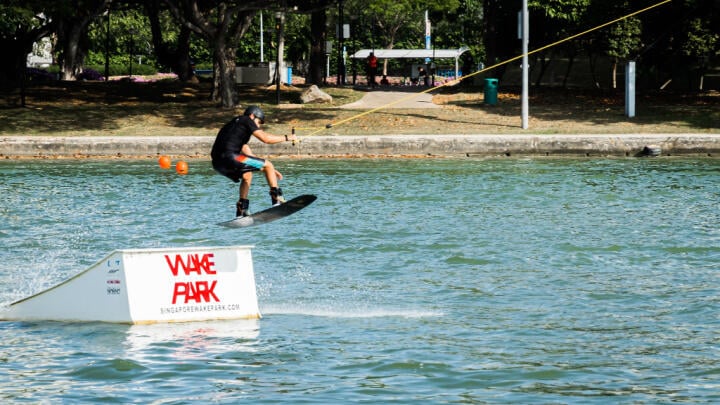 Image courtesy of Hafiz Bin Ismail/Shutterstock
Water lovers rejoice! We're returning to the murky, terrifying depths for more extreme sports activities in Singapore! Wakeboarding is the game, and Singapore Wake Park is the name. But this time, you don't even need the winds on your side, because this is wakeboarding on cables. 
Hook yourself up, step atop your board, and enjoy the thrill ride as you make your way over ramps and around obstacles. Both newbies and veterans are welcome, with courses of varying skill levels on offer.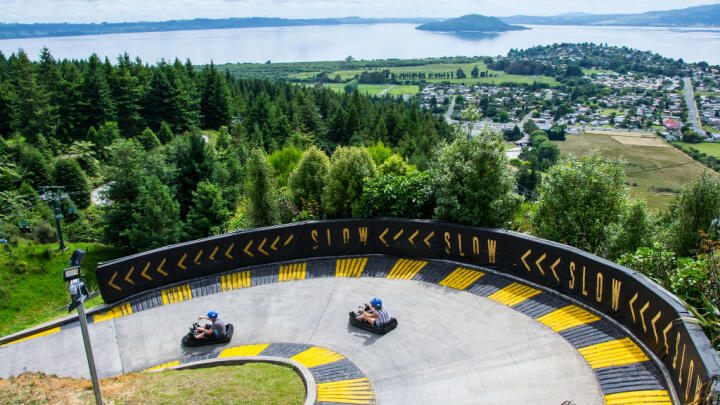 Ever played Mario Kart and hoped to do it for real? Step up Skyline Luge, Singapore's most extreme kart/luge fusion. 
With gravity driving you forward, your luge/kart vehicle must best hairpin turns, travel beneath tunnels, and down myriad slopes as you aim for the finish line. If you've got some friends with you, all the better. You can take a luge each and see who comes out on top, or pair up for some two-person action. Will you win? Probably not? Will you at least try? We hope so.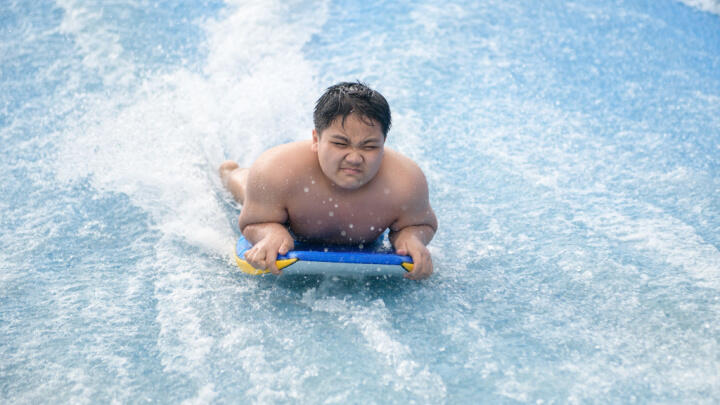 And finally, why not try your hand at some artificial surfing? After all, the sea is a scary place. You must never forget. There's no telling what horrors call it home. 
Sadly, Singapore doesn't get much in the way of waves, so in an effort to bring the surf to their shores, they created Surf Cove. This state-of-the-art tech will let you feel like you're really riding the waves. Extreme! 
And best of all, you won't risk waking the Great Old Ones. They will take you without a moment's notice, so why not just avoid any of that unpleasantness and go surfing in a more safe environment! Extreme!
And those were our picks of the best extreme sports activities in Singapore! Looking for drier activities to fill out your vacation itinerary? Check out Go City. With our Explorer Pass and All-Inclusive Pass, you can pick and choose the best of Singapore for one low price.