Singapore is an expensive, luxurious city, but there's still plenty to see and do on a budget. You don't need to break the bank to have an unforgettable Garden City experience. So, put your purse away and check out our favorite free things to do in Singapore!
Wander through Gardens by the Bay
Gardens by the Bay offers a magical experience with its lush greenery and mesmerizing nature. This multi-award winning construction is one of the most visited gardens in the world, housing the world's tallest indoor waterfall and the largest greenhouse.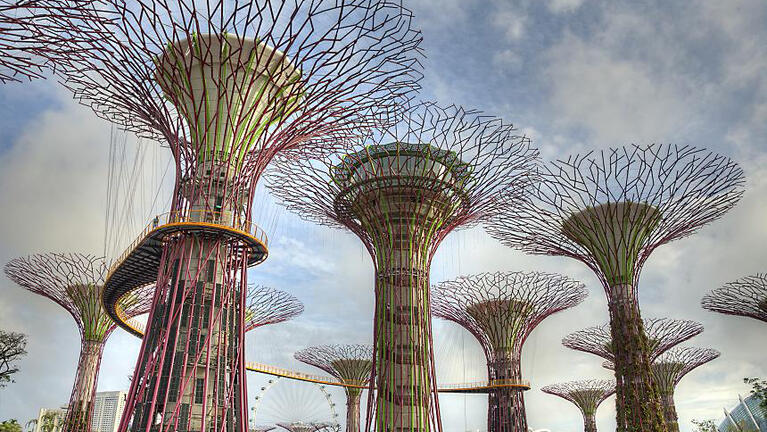 The Flower Dome and Cloud Forest are both cooled by a climate-controlled mountain mist system, meaning it's a breath of fresh air during the hot, sticky Singapore days.
There are paid sections, however it's free to explore a good portion of the gardens. Plus, if you time it right, you can treat yourself to a free light show in the evenings too.
Snap a selfie with the Merlion statue
The Merlion statue is Singapore's most iconic landmark and a go-to attraction for both locals and foreigners. A mythical creature with the head of a lion and the body of a fish, it's by the waterfront and a great place for a selfie.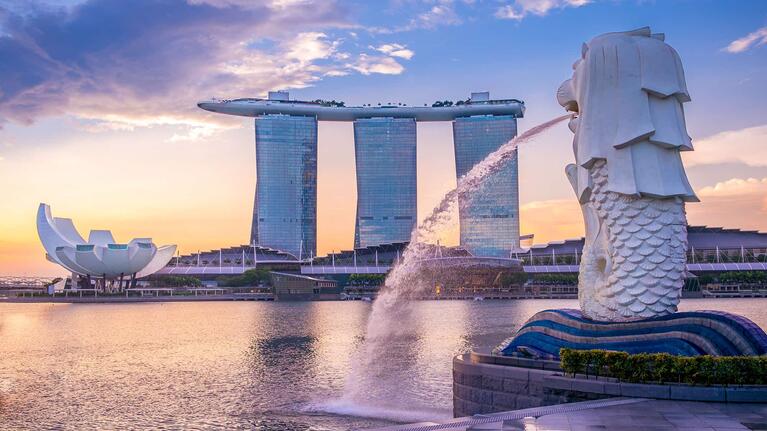 Its fishlike body represents Singapore's origins as a fishing village, while its head represents the city's original name, Singapura (lion city) in Sanskrit.
It's a popular spot for photographers, so try to get there early when it's nice and quiet. You can find the statue in Merlion Park, just behind the Fullerton Hotel. Take the MRT subway to Raffles Place station or hop on bus 131.
Go green at the Singapore Botanic Gardens
Singapore's Botanic Gardens is one of the most-visited tourist attractions in Singapore and for good reason - the Gardens are blissfully serene, and many people visit the Gardens for their daily stroll through nature. The Gardens house hundreds of species of native and exotic plants, as well as a beautiful orchid garden, and serve as a home for animals such as snakes and turtles.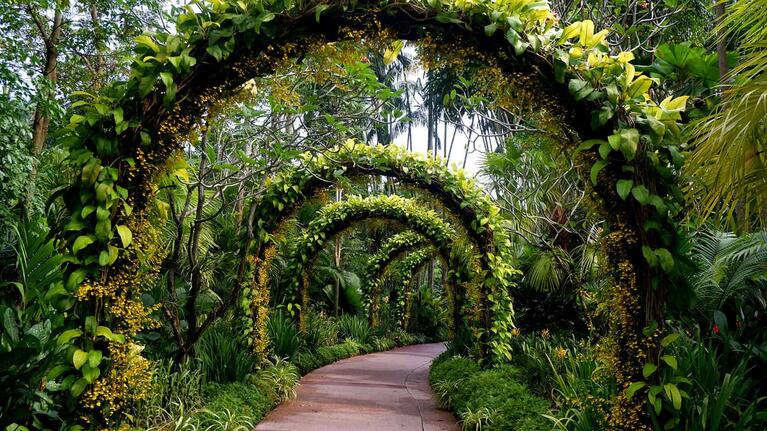 Established in 1859 as a tranquil place to rest and recuperate for workers in the bustling port city, Singapore's Botanic Gardens are accessible for all in the heart of the city. With a restaurant, cafe, as well as a playground for children, it's the ideal spot for families, couples or just solo wanderers looking for some quiet time.
Watch the light show at Marina Bay
One thing you won't be short of in Singapore is a light show. There are shows in the various gardens, Sentosa island, Faber Peak, and more.
Our advice: time your evening stroll so you're around The Shoppes at Marina Bay Sands just before sunset, and keep your camera handy.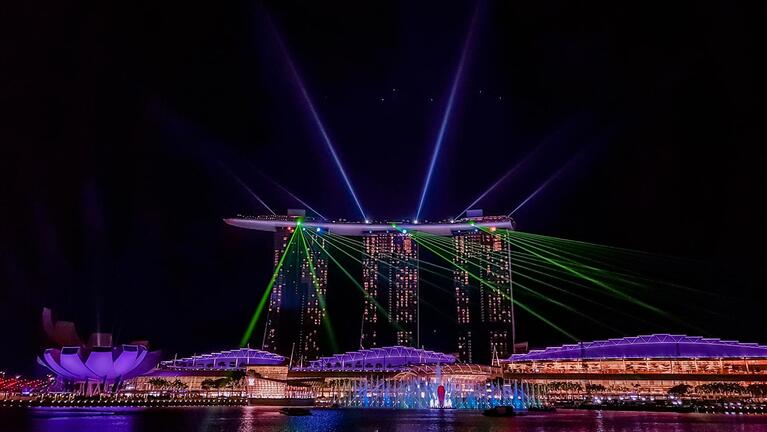 It only lasts 15 minutes, but the Spectra light show will stay with you forever. The waterworks combined with the lighting, combined with the backdrop of the Singapore skyline - perfection!
Another free light show well worth visiting is Garden Rhapsody at Gardens by the Bay. Lay beneath the Supertree Grove and soak in the heady mix of dazzling lights and orchestral soundtrack. Believe us, you'll wish it lasted longer than just 15 minutes.
Have a day at the beach
Whatever your dream beach vacation - relaxing under a palm tree, cocktails and live music, or adrenaline-fueled watersports, you'll find them all in Singapore.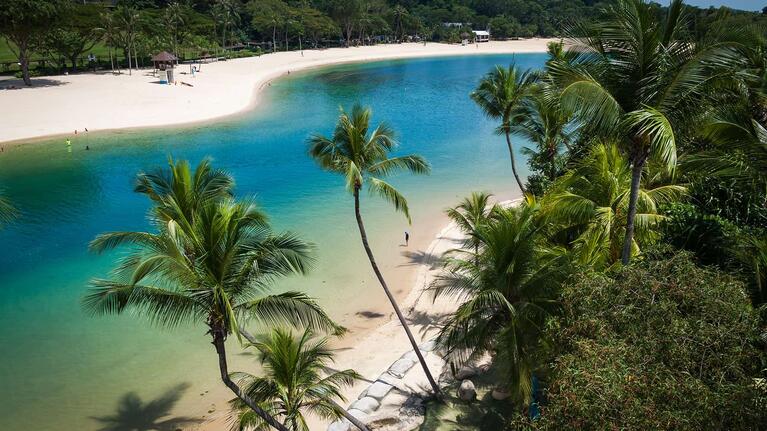 Sentosa houses several of the most popular beaches - Silosa, Tanjong, and Palawan being the most famous. They may be artificial, having the sand imported from Malaysia and Indonesia, but that doesn't make them any less dreamy.
If you want to head a little further out, away from the immediate crowds, consider a trip to St. John's Island. You can't stay on the island, so take a ferry for a day trip from Singapore's main Marina South Pier. With lagoons, caves, and mangroves to explore, be sure to pack a waterproof camera.
Stargaze at Seletar Rocket Tower
Dreaming of strange new worlds? Head to Seletar Rocket Tower for a spot of stargazing.
Seletar Rocket Tower is a rocket launch pad in Singapore. Built in 1961 by the Royal Air Force, the tower is now used as an observation tower for stargazers.
Built on a hill, the tower is 120 meters tall (about 400 feet) and offers a panoramic view of the surrounding areas. It's accessible by stairs or by lift; however, the stairs are steep. If you are looking for an adrenaline rush, try the spiral staircase that leads to the topmost platform of the tower.
On clear nights, you can see the moon, stars, and even constellations. The best time to go is during the summer months, from April to September, when the sky is clearest but, even if it's cloudy, you'll still get a spectacular view of the city.
Take a hike
For the more active travelers out there, Singapore is full of various hikes and walking routes, catering to a gentle stroll with kids up to a 39km, 12-hour coast-to-coast hike.
While the 39km route might be a little extreme, the shorter routes are a nature lover's dream. The MacRitchie Reservoir has the perfect mix of shorter, more accessible boardwalk trails and longer, more advanced hikes.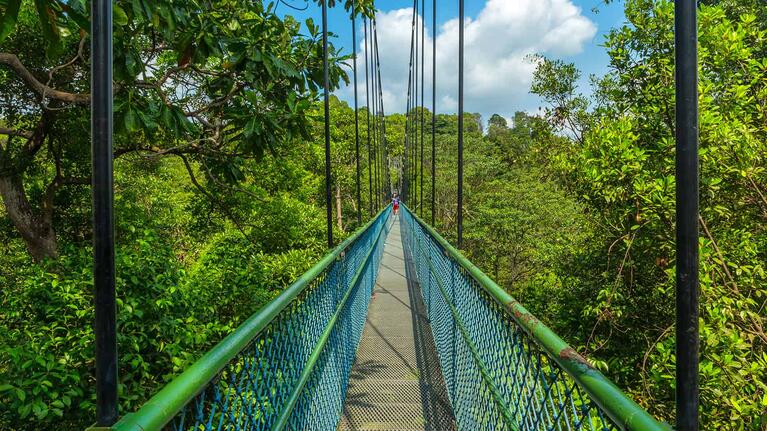 Whichever you choose, you'll be wandering through the rainforest with the chance to spot monkeys, lemurs, and rare exotic birds. There's even a treetop walk across a suspension bridge 25 meters high.
It's free to enter, opening daily from 6AM until 7PM.
Save on Admission to Top Singapore Attractions
Explore the best things to do with a pass for Singapore by Go City®. Select from top attractions with our All-Inclusive and Explorer passes, where you'll enjoy access to galleries, museums, tours much more.
Share Your Adventure with Us
Tag @GoCity in your vacation photos and we'll feature you on our page. Follow the Go City Instagram and Facebook channels for exclusive competitions, special offers and events to help you make the most of your travels.