Potential visitors to Singapore, that densely populated megacity at the southern tip of the Malay Peninsula, could be forgiven by feeling somewhat daunted by the prospect of navigating the bustling streets beneath its gleaming, futuristic skyscrapers. Good news though: getting around the Garden City is actually remarkably straightforward thanks to an efficient mass transit system, dedicated cycling paths and, yes, even cable cars and monorails. Read on for our guide to the best ways to get around Singapore.
Getting Around Singapore on Foot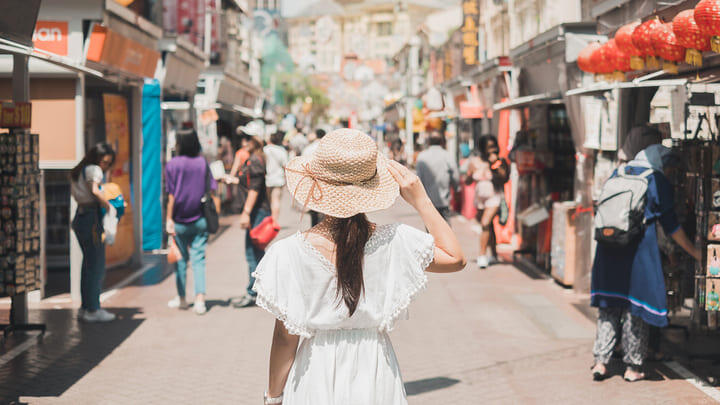 Downtown Singapore is made up of several distinct districts, from the atmospheric sights, scents and sounds of Chinatown and Little India to leafy Dempsey Hill and the skyscraping shopper's paradise that is Orchard Road. These are fairly compact neighborhoods and it's perfectly possible to explore and even navigate between them on foot. Orchard Road, for example, is just over a mile end to end, and it's a similar distance from Chinatown to the Padang. However, hot and often humid conditions mean many visitors (and locals!) prefer to shuttle to their destinations via air-conditioned public transport which, you'll be pleased to hear, is plentiful, cheap and easy to use.
How to use Public Transport in Singapore
Getting Around Singapore by Mass Rapid Transit (MRT)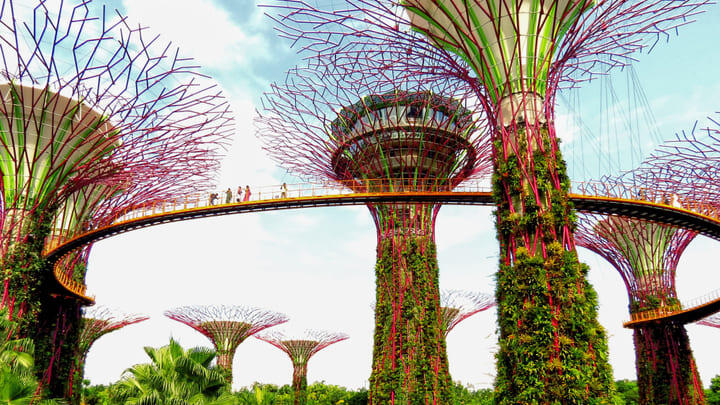 Singapore's fully automated and driverless MRT subway system comprises several lines and major interchanges that provide good coverage of most of the island, with the exception of the forested Central Catchment Nature Reserve, rural northwest and Sentosa Island. Hop aboard to whiz to major attractions including Marina Bay, the Botanic Gardens, the Singapore Flyer observation wheel and Orchard Road.
Note that Singapore is one of the most densely populated islands on the planet, so expect train carriages to be packed much of the time, but especially during commuter rush hour when it's strictly standing room only. A Singapore Tourist Pass (STP) is the most cost-effective way to travel if you plan to use public transport to get around the island, with passes for 24–72 hours available at selected TransitLink ticket offices and a few other outlets. The pass also covers use of some bus and Light Rail Transit (LRT) services to more rural and residential neighborhoods. You can also pay as you go by tapping in and out of stations and buses with a contactless debit or credit card.
Getting Around Singapore by Bus and Taxi
Buses in Singapore are every bit as efficient as the MRT, but the sheer proliferation of routes can be a little dizzying, even to locals. It's certainly a more scenic way to travel though, with routes that cover most of the island, weaving you through the island's lush greenery and elegant architecture to your destination. Don't forget to tap on and off using your debit or credit card at the electronic reader on board.
Cabs are easy to find and can be picked up by flagging down or queuing at a taxi rank. All are metered and provide a fairly cheap and convenient way to get around in a hurry.
Hop On Hop Off Bus Tours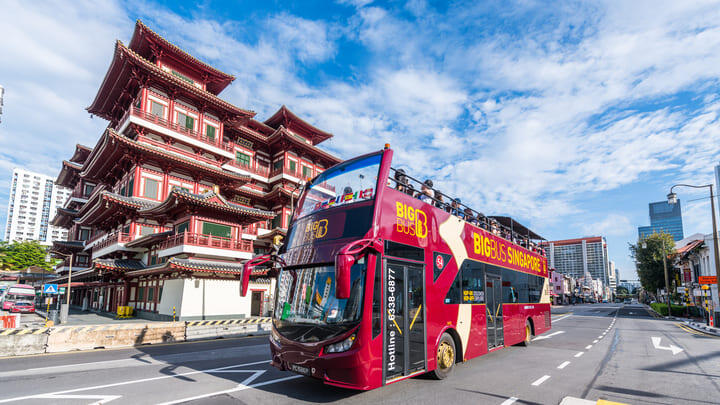 The Big Bus tour of Singapore provides a fantastic introduction to the island city and really helps newbies find their bearings. Two main routes cover a wealth of major attractions and allow you to hop on and hop off as many times as you like throughout the day. The red line takes in the iconic Raffles Hotel, Singapore's National Gallery, Chinatown, Little India and the Gardens by the Bay, while the Yellow Line adds the Singapore Flyer, Botanic Gardens and Orchard Road.
The more aquatically inclined may prefer to ride the Singapore River Cruise bumboat past Raffles, the Old Parliament House and Marina Bay Sands. Or take the amphibious DUCKtours vehicle for a spin around Marina Bay harbor and the downtown Civic district.
Cycling in Singapore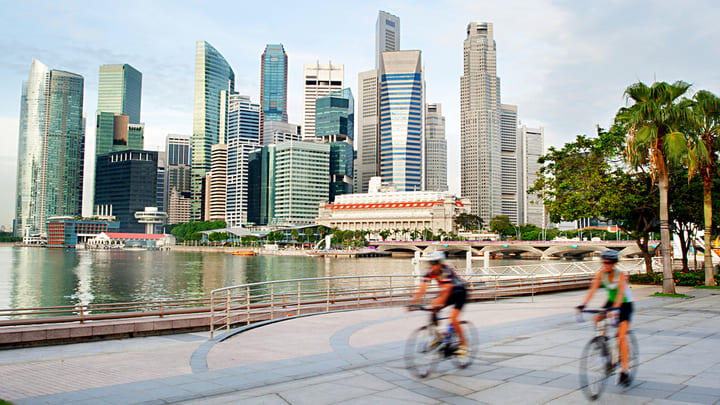 Cycling infrastructure in Singapore is pretty good, with hundreds of miles of dedicated cycle paths across the island, from commuter paths that connect to MRT stations, bus stands and malls to major out-of-town networks. Cyclists should observe the same road rules as motorists and wearing a helmet is a requirement here rather than a recommendation. The speed limit is 15km/h. Novices may wish to dodge the busier downtown areas where motorized traffic can be intimidating.
Two-wheeled adventurers can get off the busy city streets and onto major bike-friendly routes including the epic Park Connector Network, which links major parks, gardens and nature reserves across the entire island. Hit the Central Urban Loop for a 36-kilometer round-trip through leafy suburban neighborhoods that include the tranquil waterways of Punggol Park and lush woodlands of Ang Mo Kio Town Garden West.
Bikes are available to rent throughout Singapore and there are a number of guided cycling tours included with the Go City Singapore pass. Bonus: the island is pretty flat so you won't even require all that much pedal power along most routes.
Getting to Sentosa Island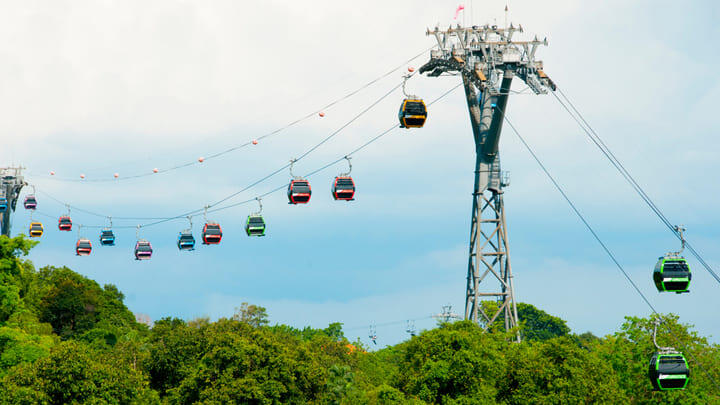 The island resort of Sentosa is located just off the southern tip of Singapore and is connected to the city by cable car, monorail, road and a pedestrian boardwalk with a cycle lane.
Cable car is hands-down the most scenic way to arrive on Sentosa, if not the fastest. The 30-minute ride departs HarbourFront cable car station and cruises across the harbor at around 100 feet above the sea below. Book round-trip tickets online in advance for the best prices. Once on Sentosa, you can walk to Imbiah station for cable car connections to other parts of the island.
The quickest way to get to Sentosa is via the Sentosa Express monorail which you can board on level three of the VivoCity shopping mall above HarbourFront MRT station. Tickets are cheap and the journey takes just 3–5 minutes depending on your final destination. 
Monorail and cable car stations are close to most of Sentosa's main attractions, while a free beach shuttle operates between the resort's sandy Palawan, Tanjong and Siloso beaches.
Save on attractions

in Singapore
Save on admission to Las Vegas attractions with Go City. Check out @GoCity on Instagram for the latest top tips and attraction info.