It's only a small island, but Singapore has plenty to keep you occupied. With so many attractions, adventure parks, complexes, and cultural centers to squeeze in, how much time do you need to see it all? Regardless if you're visiting for a day, weekend, or longer, we'll cover how to see the most attractions with the time you have.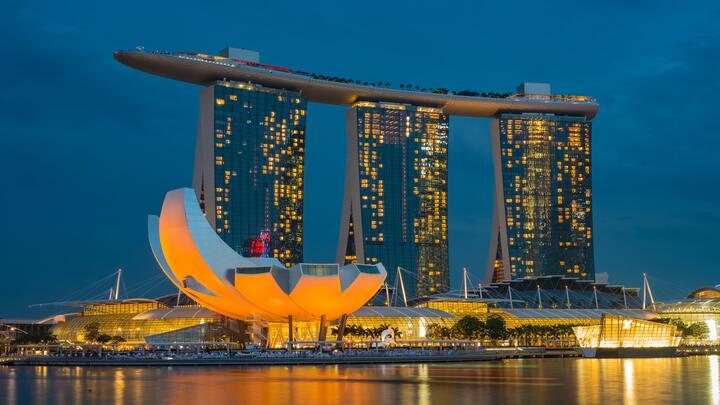 How long do I need in Singapore?
Historically, people visited Singapore as a stopover or as part of a holiday in Southeast Asia. However, with the rise of Singapore as a tourism hotspot, people are flying direct and staying for longer and longer. How much time do you need in Singapore? That depends on what you want to do and see, plus your budget.
You should plan to spend at least 4-5 days in Singapore if you want to see as much as possible. This would give you time to visit Singapore's iconic sites like the Merlion, Gardens by the Bay, and Marina Bay Sands, as well as explore its diverse neighborhoods like Chinatown, Little India, Kampong Glam, and Tiong Bahru.
We also recommend longer stays for first-timers. This gives you time to experience Singapore's culinary scene, see the UNESCO World Heritage sites like the Singapore Botanic Gardens and the Singapore Zoo, and enjoy its rich culture.
It's also a good idea to spend at least 2-3 nights in Singapore to experience the nightlife. The city never stops, but at night it steps up a gear with nightclubs, light shows, and a superb selection of rooftop bars.
Must-see attractions in Singapore
You can't leave Singapore without visiting these popular attractions. Tick these off your itinerary and you'll have a greater appreciation of the Garden City.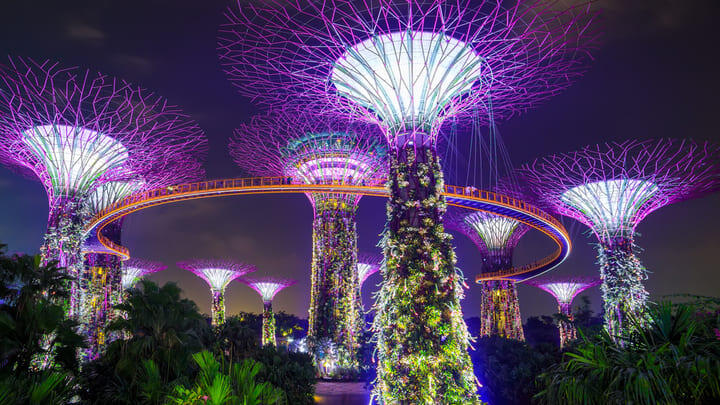 Gardens by the Bay
This attraction is not to be missed when you come to Singapore. Gardens by the Bay is an urban garden spanning 101 hectares, with two immense greenhouses; the Flower Dome and Cloud Forest. Surrounded by over 100,000 plants from over 5,000 species, take a stroll along the Supertree Grove or the Dragonfly Lake and surround yourself with Singapore's lush greenery.
Night Safari
Singapore Zoo is famous for its nocturnal animals. The Night Safari showcases a vast array of animals, including lions, leopards, Malaysian tapirs, hippos, tigers, hyenas, otters, bears, and more. They're all housed in a zoo environment that mimics their natural habitats, meaning you get to discover how these amazing animals behave at night.
Sentosa Island
Sentosa Island is one of the top tourist attractions in Singapore. This resort island offers exciting activities for everyone in the family. If you want to go on an adventure, visit Universal Studios Singapore and ride the adrenaline-packed rides, or get up close and personal with sea life at Adventure Cove Waterpark. Sentosa's also home to plenty of stunning beaches, clubs, and restaurants, so there's no shortage of activities.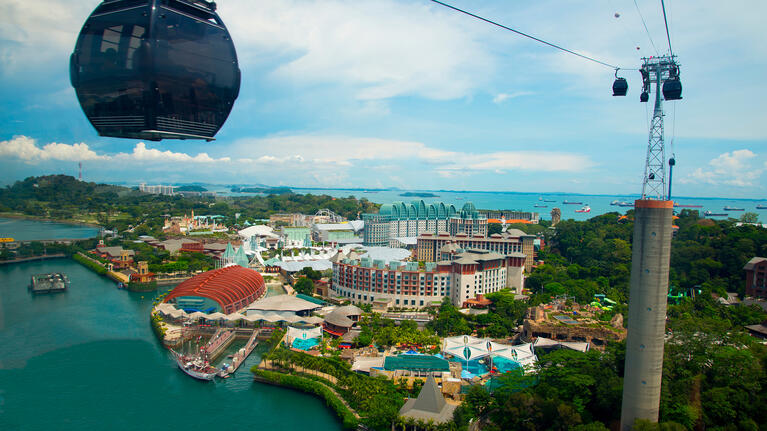 Singapore Flyer
Singapore Flyer is Asia's largest giant observation wheel. Take a fully air-conditioned capsule ride to the top of the Singapore Flyer, and enjoy the 360-degree panoramic views of the Singapore city skyline and Marina Bay, all from 165 meters high.
The Marina Bay Sands Hotel
The Marina Bay Sands Hotel is a 55-story hotel with over 2000 rooms. The hotel features the SkyPark, a 150,000-square-foot rooftop garden with an infinity swimming pool. You can dine at any of the restaurants and bars in the hotel, visit one of many museums or art galleries in the hotel, or shop at the variety of stores in the hotel.
You could see all these attractions in one long weekend, although you'd probably want to spread them out to really enjoy the experience.
If you've got the extra days, it's probably best to split your days into different zones, depending on your preferences.
There's easily enough on Sentosa island to keep you entertained for a full weekend:
Universal Studios

Adventure Cove Waterpark

Resorts World Sentosa

Palawan Beach

Tanjong Beach Club

Skypark Sentosa by AJ Hackett

Many, many more attractions
That's just one island. Marina Bay and Marina Bay Sands could happily take up another few days. The $5.5 Billion complex is a jaw-dropping feat of engineering. 
Gardens by the Bay and the Botanical Gardens are both delightful escapes from the heat and hustle of the city. There are also plenty of boat rides and cruises around the bay, offering a change of pace and amazing views of the city from a unique angle.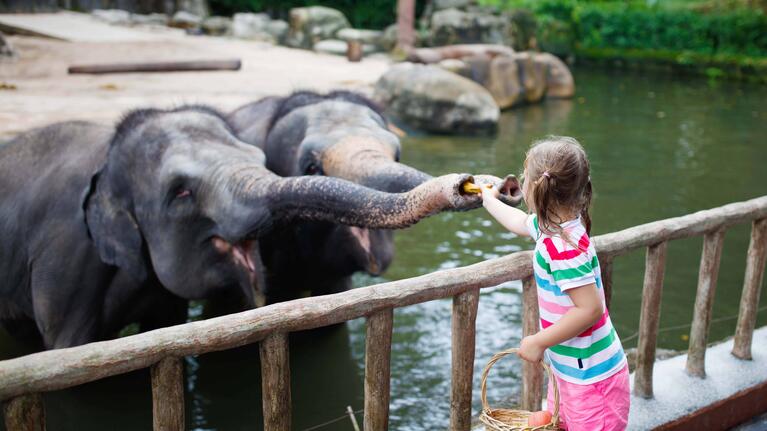 Singapore Zoo, Jurong Bird Park, and the Night Safari all offer fascinating days out for nature lovers.
In the evenings there's endless nightlife, whether you prefer to dance the night away or relax with a Singapore Sling cocktail or two. But before you settle down for the evening, be sure to catch a light show.
The light shows in Singapore are legendary, with our favorite being Wings of Time - fireworks, water jets, and lasers choreographed to music, set over the water. If you've got one day or one week, try to squeeze in a performance of Wings of Time.
If you can't make it for whatever reason, worry not. There are light shows all over the city, from Mount Faber Park, Marina Bay, and Gardens by the Bay, to name a few. They're the perfect end to a day out exploring, or the ideal start to a night on the town.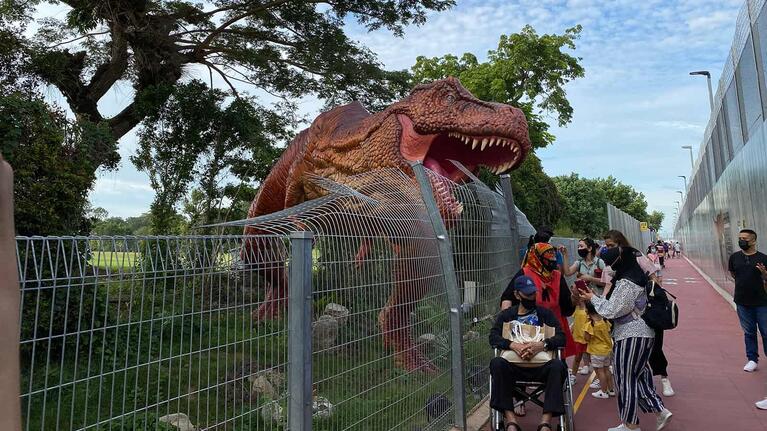 As you can see, there's a vast amount of things to do and see, and we didn't really touch on the delicious food stalls, shopping opportunities at The Shoppes or Orchard Road, or even Changi Airport and the Jurassic Mile.
4 or 5 days is a good amount of time to get a feel for Singapore. You may need to miss out on some attractions, but that gives you the perfect excuse to book a return trip later in the year.
Save on Admission to Top Singapore Attractions
Explore the best things to do with a pass for Singapore by Go City®. Select from top attractions with our All-Inclusive and Explorer passes, where you'll enjoy access to galleries, museums, tours much more.
Share Your Adventure with Us
Tag @GoCity in your vacation photos and we'll feature you on our page. Follow the Go City Instagram and Facebook channels for exclusive competitions, special offers, and events to help you make the most of your travels.