If your vacation includes an overnight stop in Singapore, there's a fair chance you'll have enough time on your hands to venture out and see a little of the Garden City, you lucky thing. This is one of the world's most-visited cities, so it stands to reason that there are oodles of things to keep tourists entertained. Our advice is to plan your layover carefully: pick one or two things you'd really like to do and book tickets up front if required. With only a few hours to spare, you'll want to maximize your time enjoying the attractions rather than waiting in ticket booth queues or frantically googling for fun things to do on the hop. Read on for our guide to the perfect Singapore stopover…
Singapore Stopover Hints and Tips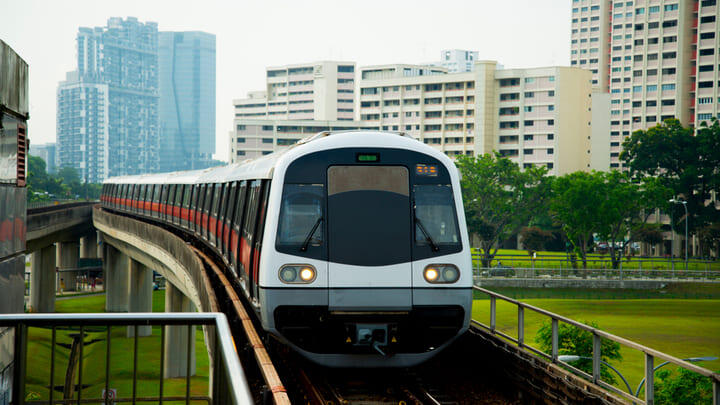 Singapore's immigration policies are fairly accommodating for layovers, with many nationalities qualifying for the 96-hour visa free transit facility (VFTF) and others requiring proof of onward travel or easily acquired short-term visas. You can browse a fairly comprehensive summary of requirements here.
Avoid sweating your way around downtown Singapore with trolley cases and backpacks in tow by taking advantage of 24-hour left luggage facilities in any one of Changi Airport's four terminals. Trust us: you don't want to be carrying a week's worth of clothes and toiletries around with you in the afternoon heat!
Heading downtown? Your best bet from the airport is to take a cab. Sure it's more expensive than the otherwise super-efficient MRT (Singapore's mass rapid transit system), but it's also your fastest way of getting to the heart of the action and, on a layover, every minute you can save on transport and admin is an extra minute being wowed by Singapore's superlative sights. Note that once you're actually downtown, the MRT comes into its own and is by far the better method of getting from A to B at speed, while cabs can spend what feels like hours laboring through the often dense city center traffic.
Singapore Stopover Highlights for Sightseers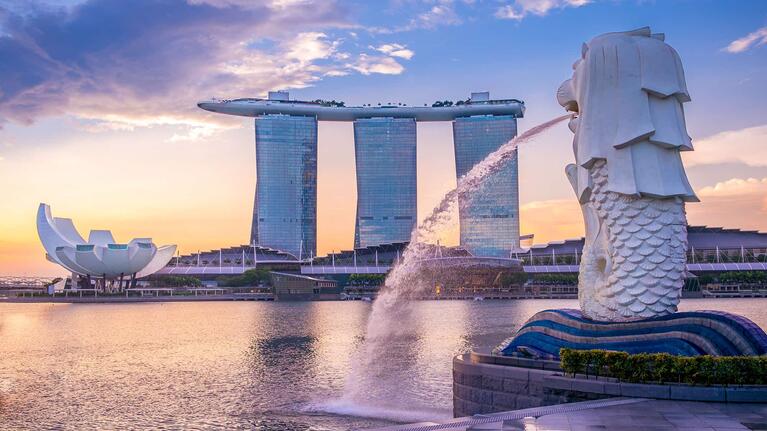 Sightseers can have it all on a whirlwind visit to Marina Bay. This is where you'll find one of Singapore's most iconic landmarks: the towering tree-like structures that make up Supertree Grove in the Gardens by the Bay. Get up close to the lush vertical gardens that cling to these manmade steel monsters on a stroll around the elevated OCBC Skyway platform. Or explore all manner of tropical plantlife (as well as one of the tallest indoor waterfalls in town) in the huge durian-shaped hothouses.
Further vertiginous exploits await around the bay,in the shape of the colossal Singapore Flyer observation wheel, inevitably one of the world's tallest, and the 57th-floor SkyPark atop the futuristic Marina Bay Sands Resort, another instantly recognizable star of the Singapore skyline. If you prefer your entertainment a little more, shall we say, down to earth, you can hit the massive shopping complex on the resort's ground level, complete with bank balance-sapping luxury brands and cute Venetian-style waterways where you can take a sampan boat ride. Step outside to meet the island's mascot in statue form. Part mermaid and part lion, the famous Merlion stands sentinel, splashing water into the bay from its roaring mouth.
Singapore Stopover Highlights for Families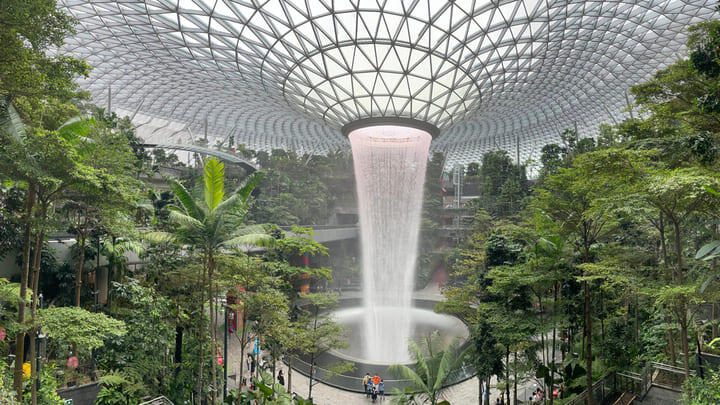 Kids are notorious for their itchy feet, so it's a good thing Singapore has plenty of great stuff for families to do on a layover. Chief among these is the island playground of Sentosa, where the cable car ride to get there is just the beginning of the fun. We're not kidding when we say this tiny landmass is absolutely packed with activities and attractions. Universal Studios theme park with white-knuckle and child-friendly rides? Check. Water park? Check. Massive aquarium? You betcha. This is also where you'll find some of Singapore's best beaches, complete with Insta-perfect golden sands, emerald-green lagoons and swaying coconut palms. A handy shuttle service serves the sunny Palawan, Tanjong and Siloso beaches, saving you yet more precious time.
If you don't quite have the time required to make the most of a trip to Sentosa, fear not! Help is at hand in the form of Jewel, a cavernous entertainment complex connected (landside) to Changi Airport itself. If anything this is even more ideal than Sentosa, especially if you're traveling with difficult-to-please teenagers, thanks to its rich mix of high-end shopping, hip restaurants and super-cool attractions that will appeal to any selfie addict worth their salt. We're talking (another) sky high waterfall or, more accurately, 'Rain Vortex' (pictured above), a four-story slide, an indoor forest garden that spans five floors, cinemas, mesmerizing kinetic sculptures, a butterfly garden and, yep, even a Pokémon Center. Just imagine: all that fun without even leaving the airport!
Singapore Stopover Highlights for Foodies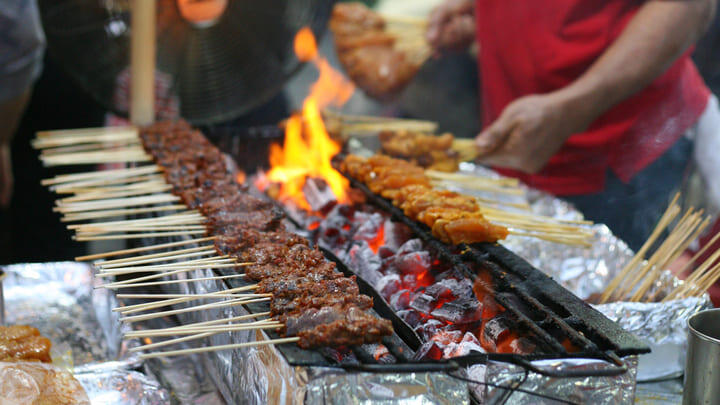 Foodies rejoice! Singapore's delicious hotch-potch of Asian cuisines – Indian, Chinese, Malay, Indonesian and more – means you'll never go short of a new dish (or six) to try. A swift foray into Chinatown or Little India oshould be considered essential on all but the very shortest of layovers. We're talking steaming grills, heady with the aromas of kung pao chicken and Peking duck and spicy fish head curry served up in the kind of picturesque labyrinthine lanes of which Instagram dreams are made.
Want more? Kampong Glam, Singapore's buzzing Muslim district and bona fide foodie mecca, promises sticky peanut satay, traditional nasi padang and zingy lamb rendang that's almost as delicious as the neighbourhoods edible-looking Peranakan shop fronts in lime greens, mustard yellows and chili reds. The legendary Old Airport Road Food Centre is a short cab ride from Changi Airport and offers more of the same, with a dizzying array of street food stalls all condensed under one unspeakably tempting roof.
Nighttime Singapore Stopover Highlights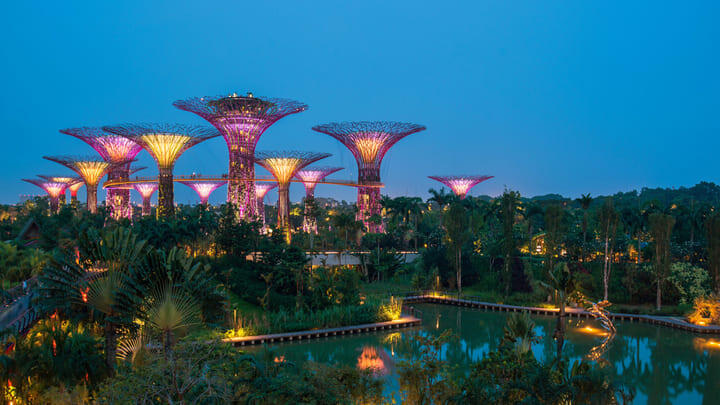 Staying overnight? Singapore's flurry of fun nighttime activities will have no trouble enticing you away from an evening spent flicking through cable channels at your airport hotel. Hawker centers like the aforementioned Old Airport Road are great places to wander, soak up the vivid Singaporean culture, take memorable snaps and stuff yourself silly. There are over 100 of these spread out right across the city, meaning whichever part of town you visit you're never far from a delicious (and surprisingly affordable) feast.
Feasts of the visual variety are free to enjoy back down in Marina Bay, where nightly light-and-sound shows are held at both Supertree Grove and in front of Marina Bay Sands. The resort's Spectra spectacular combines dancing fountains with huge visual projections, mist effects and lasers, backed by a booming orchestral soundtrack. Watch both shows from the SkyPark, 57 floors up, or catch a ride on the Singapore Flyer for sensational nighttime views of the sparkling city skyline. Animal lovers can even take a night safari inside the world's first park dedicated solely to nocturnal beasts. Meet a cavalcade of crepuscular creatures from the Asian tropics and African savannah, including oddball favorites like fishing cats, slow lorises, giant anteaters and barking deer.
Save on attractions

and activities in Singapore
Save on admission to Singapore attractions with Go City. Check out @GoCity on Instagram for the latest top tips and attraction info.