Sometimes we all just need to relax. Life's hard, you know? That's especially true on vacation. No matter where you go, you'll always want some time to put your feet up and just breathe. We understand. Even on holidays when you can see and do so much, it's good to pepper in some quiet time. 
So let's talk about Singapore. Yes, there are a lot of amazing experiences there, but which of them are truly relaxing? Let's explore the best relaxing things to do in Singapore and you can take your pick!
Including:
Gardens by the Bay
Historical Singapore Bicycle Tour
CÉ LA VI SkyBar
Cable Car Sky Pass
and more!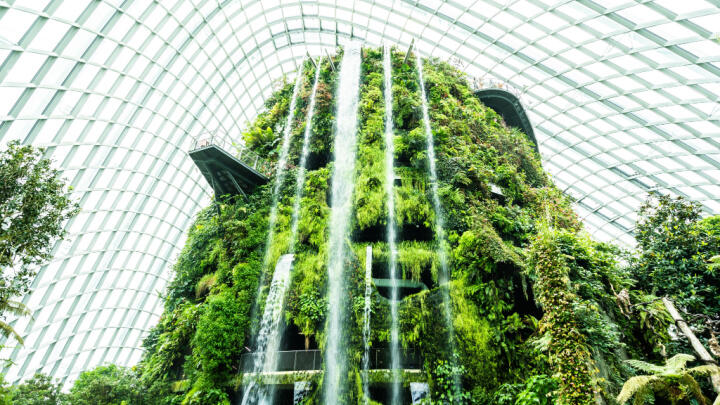 Let's start our serene dream with some of the green stuff. No, not envy. We're talking about nature! Nothing beats the serenity of walking around a verdant space full of life and silence, and at the Gardens of the Bay, you'll find both in spades.  
Over 101 hectares and filled with 1.5 million plants from all over the world, you'll explore indoor and outdoor gardens, lakes, conservatories, huge sculptures, artwork, and more. Its beauty is so widely known that you might even recognize it - many films and TV shows have filmed scenes amid its luscious flora. 
Be sure to check out the Flower Dome, the world's largest glass greenhouse. Inside, you'll find displays representative of five continents, including 1000-year-old olive trees. And make sure you don't miss Cloud Forest - a display that takes you up into the clouds, with striking mountain views and a diverse range of plants. If you're looking for relaxing things to do in Singapore, it doesn't get much more relaxing than Gardens of the Bay.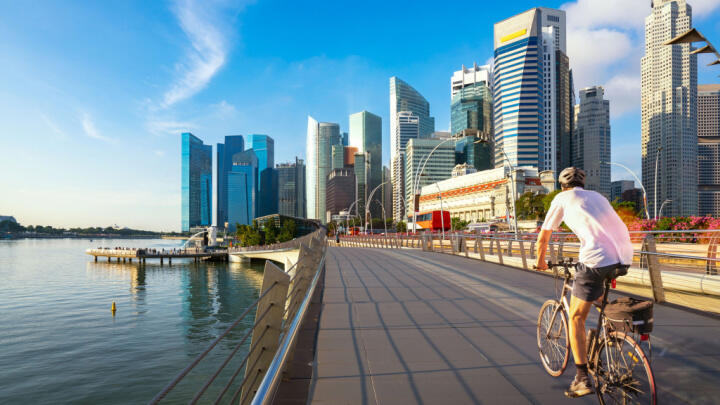 One of the best bits of taking a vacation is seeing the sights and sounds of a new culture. But when you only have so much time to spend there, how do you fit all the greatest hits in? Well, you're in luck. Take this historical Singapore bicycle tour, and check off every single one from your itinerary!
You'll pass Chinatown, the Singapore River, Boat, Clarke & Robertson Quays, Kampong Glam, The Museum District, and more. And, thanks to your expert guide, you'll learn about the history of each location.
Another benefit of said guide is that, over your peaceful four-hour exploration of Singapore, you'll also get top tips on the tastiest local cuisine in the local markets. Food, exploration, and relaxation? Sign us up!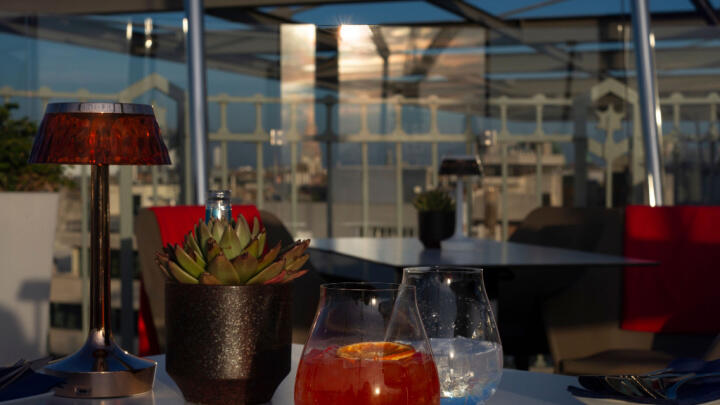 After all that busy cycling from one landmark to another, you might need to take a load off. And where better to kick back and sip on a cool refreshing drink than at a rooftop bar? Sounds good, right? Well, the good news is that CÉ LA VI has you covered. Visit their Skybar at Marina Bay Sands and have one on us. Literally. 
Swagger into the VIP area, drink in the stunning views from the 360-degree rooftop, and drink up the complimentary drink you'll get on entry. And hey, if you decide to add a couple more before you leave, no judgment here.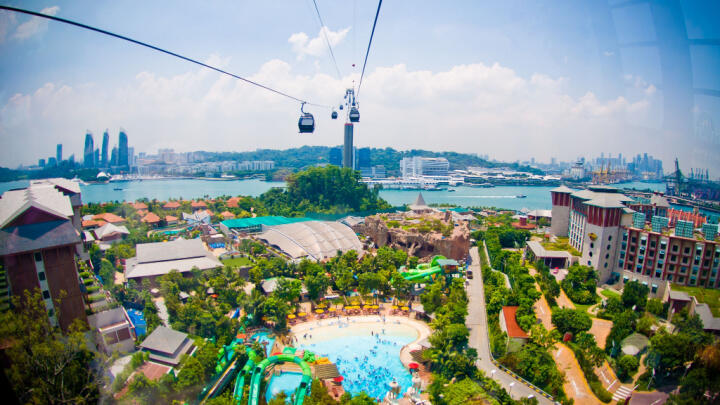 There are plenty of fantastic views in beautiful Singapore, but none of them quite match the spectacle of looking down from a cable car. See the skyline from a different perspective with a roundtrip journey above Singapore!
Your trip will take you from Mount Faber to Sentosa, Singapore's premier wonder park. You can travel during the day, or pass over the city lights at night. We might suggest the latter, because evening adventurers will also be treated to MIRACULOUS 2, a multimedia night show. Enjoy a kaleidoscope of lights projected onto a heart-shaped tree at Arbora if you're visiting after dark.
So sit back, relax, soak in the views, and take plenty of photos. That's an order! A relaxing order.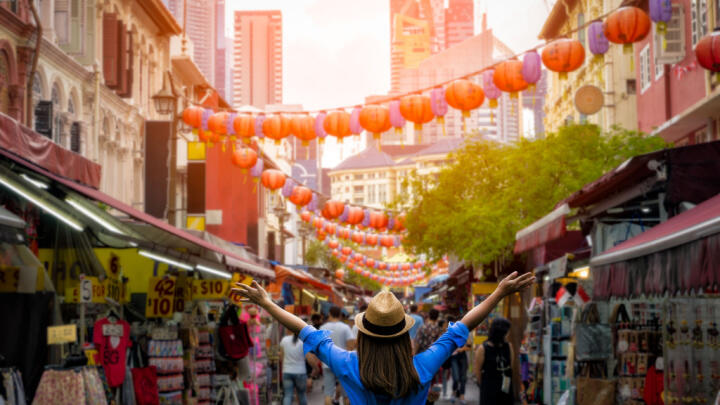 If you want to ease your foot onto the pedal a bit, then why not try an easy-going scavenger hunt? On a Puzzle Hunt in Chinatown, you'll find just that. 
Given that you'll play the role of advisor to the 'Toast King', you needn't worry about the hunt being overly serious. Sadly, this King of crispy bread has lost his memory, including the password to his treasure vault. And what's in that vault? Who knows? Could it be wealth beyond your wildest dreams? Possibly. Is it just piles of toast? Probably. 
Your job is to comb Chinatown for clues, solve puzzles, and find the password. Then you and only you can unlock the Toast King's treasure vault. What will you find inside? You'll have to play to discover its secrets.
But it's toast. It's probably toasted.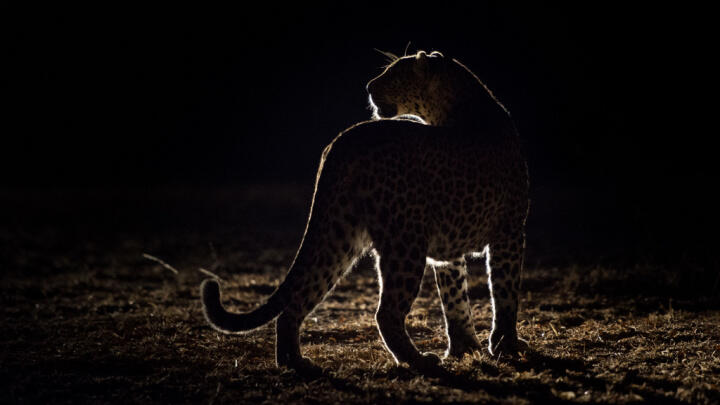 And finally, we end our list of the best relaxing things to do in Singapore with a trip to animal town. Next stop - animals. But not just any animals; animals at night time. That's right, ladies and gentlemen, this here's a night safari. And what could be more relaxing than seeing the likes of lions, leopards, hippos, tigers, and bears in pitch black? Right?
In all seriousness, it's a truly lovely experience. You'll see how all these animals behave when the sun goes down, from the comfort of a safe and secure vehicle. It's truly a once-in-a-lifetime opportunity to have your own nature documentary experience. 
Trust us, you won't regret it. 
And that was about rounds out our guide to the best relaxing things to do in Singapore! Looking for a wide variety of activities to experience when relaxation time is over? Check out Go City. With our Explorer Pass and All-Inclusive Pass, you can pick and choose the best of Singapore for one low price.