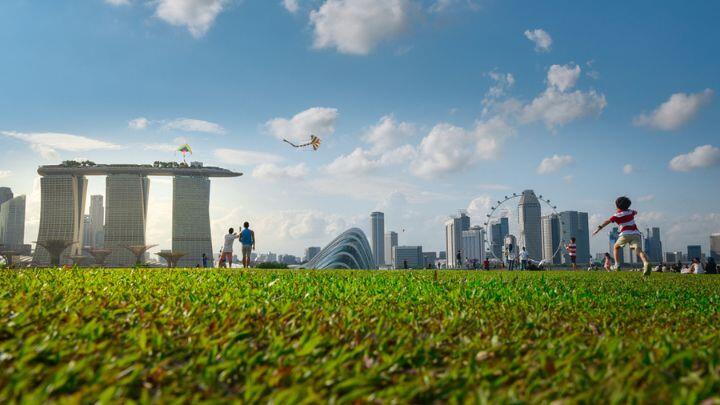 Spring into spring in Singapore! If you're wondering where to go in April, it's the perfect destination for guaranteed sunshine, plus endless ways to have fun - from family friendly activities to traditional festivals, natural wonders to urban adventures. With most schools around the world taking a break from class, April is the perfect time for a family vacation to discover Singapore's mesmerising mix of vibrant city life, cultural diversity, lush rainforest and balmy beaches.
Stick around for a whistle-stop tour of what to do in Singapore in April including:
• April weather in Singapore
• Gardens by the Bay
• April festivals in Singapore
• Family activities in Singapore:
Big Bus Singapore

Universal

Sentosa Adventureland

Adventure Cove Waterpark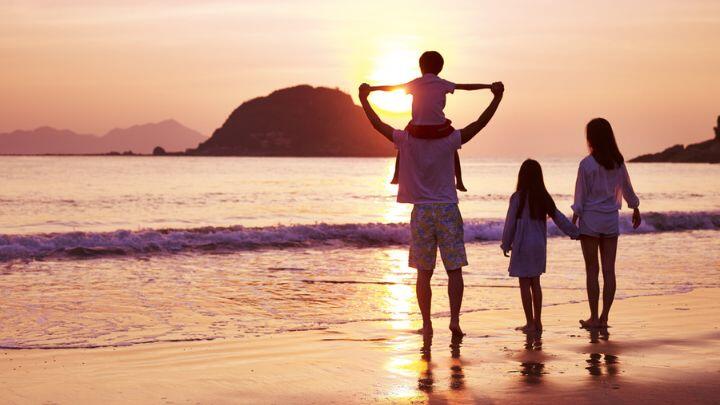 April weather in Singapore
As you might expect from somewhere so close to the equator, the outlook is always bright in Singapore and April is within the dry season, with minimum rainfall and maximum sunshine. With temperatures averaging 32ºC (89ºF) and humidity relatively low, compared to the sweaty highs of the summer months, it's a great time to slather on the suncream and make the most of outdoor sights. There may be a few rumbles of afternoon thunder but the only time you'll need a sweater is for the welcome air conditioning of malls and indoor spaces.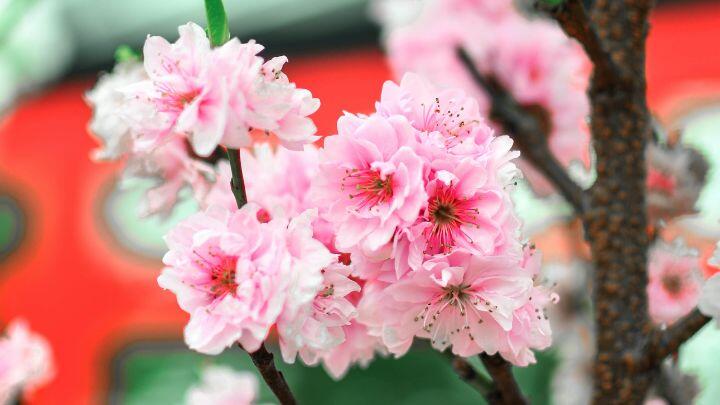 Can I still see cherry blossom in Singapore?
March is peak cherry blossom season, but the beginning of April usually sees the last days of the Sakura Matsuri festival at Gardens by the Bay. You may be lucky enough to still catch the delicate blooms but remember that hanami (cherry blossom viewing) is all about celebrating the transient. Even if the cherry blossom is falling and fading, there'll still be photo opps a-plenty with the pink blooms of the native trumpet trees still likely to be lining roads and parks across the city.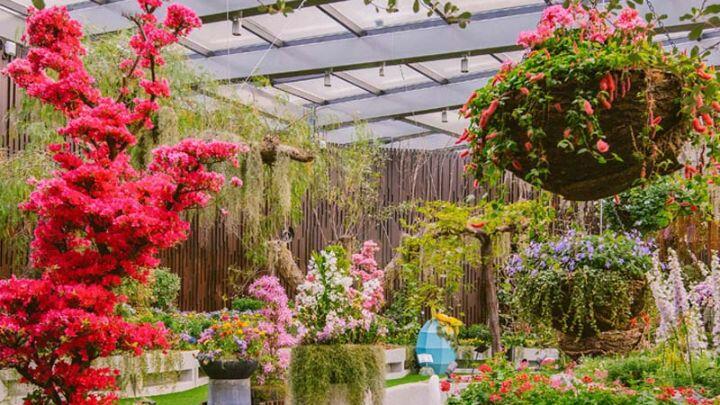 Gardens by the Bay
Whether or not you're in time for the blossoms you can still get your Floral Fantasy fix in the Gardens by the Bay themed flower garden landscapes - Dance, Float, Waltz and Drift.
And there are more abundant blooms in the Gardens by the Bay Flower Dome and Cloud Forest. The Flower Dome's colossal conservatory holds the Guinness World Record for the largest glass greenhouse - that's the same size as 75 Olympic swimming pools (by volume) so, frankly, a fair few flowers.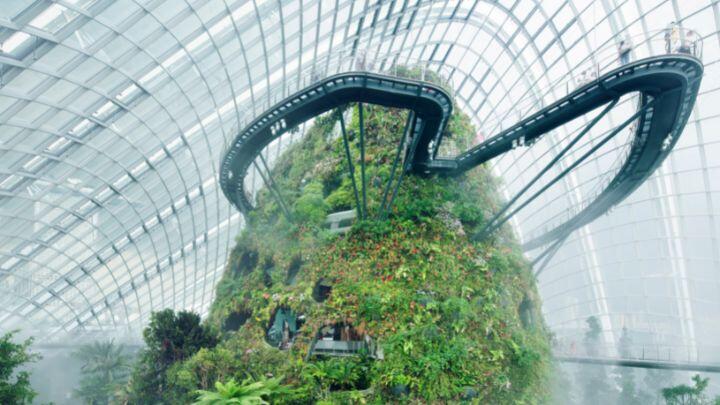 Discover plants from the days of the dinosaurs in the Cloud Forest where tropical plants - and a 35-metre tall waterfall - tumble down from the treetop walk through layers of mist. Then explore an even more alien environment in the Avatar Experience, a unique walk-through environment within the Cloud Forest where you can marvel at the bioluminescent landscapes, follow in the footsteps of the Na'vi and encounter a baby Banshee and other creatures from Avatar: The Way of Water.
Maybe you'll take advantage of the pleasant spring temperatures to wander the acres of outdoor gardens that sweep down to the waterfront - from the peaceful lawns of Bay East, to rock, heritage and sculpture gardens, to the zen-like space of the Serene Garden.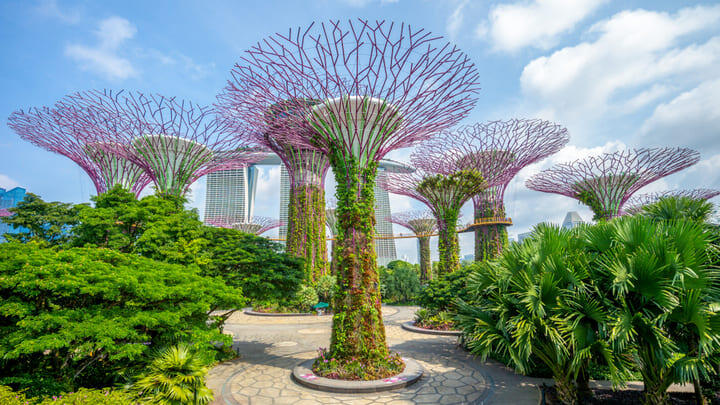 And you really can't miss the 18 soaring Supertrees that have become a recognisable symbol of Singapore. These 50M-high, sustainable, vertical gardens feature 162,000 plants, provide shade and even harvest energy. To see them up close, whizz up to the observatory, then stroll the OCBC Skyway, a 128m long walkway suspended between the trees that sets you up for a postcard perfect aerial shot of the gardens and Marina Bay. When darkness falls, prepare to be dazzled as the supertrees dance to the music, lights and lasers of the twice-nightly Garden Rhapsody Show.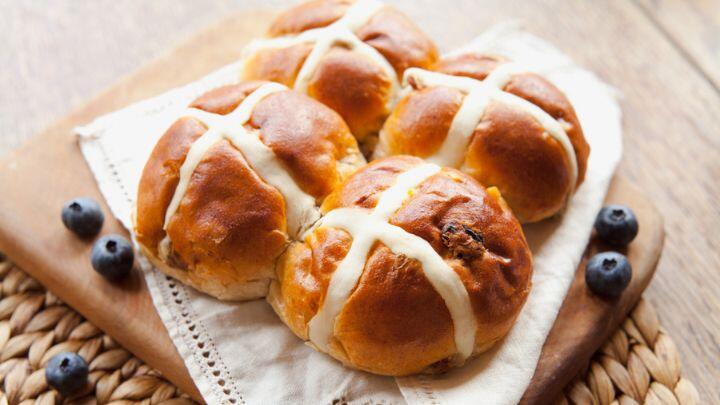 Easter in Singapore
Singapore's multi-ethnic, multi-lingual, multi-cultural diversity means there is always something to celebrate and, true to form, April sees a variety of special religious and cultural festivals.
Easter is a public holiday observed by Singapore's sizeable Christian community - from Palm Sunday parades, via the solemn services of Good Friday, to the celebrations of Easter Sunday. Prepare to feast on roast lamb to represent the belief of Jesus being the lamb of God, slain for the sins of the world. And don't get hot or cross when you try hot cross buns (British spiced cinnamon bread with a cross-shape baked into the top.)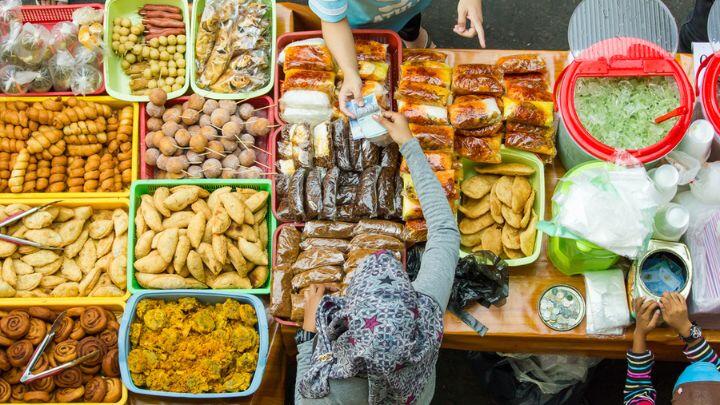 Ramadan in Singapore
The ninth month of the Islamic holy calendar - at least some of which usually falls in April - is also observed as a month of prayer, fasting and community by the Muslim community.
If you're visiting the city you might want to make a fascinated (but respectful) visit to the Ramadan bazaar at Geyland Serai, a night market that sparkles with light and sells food and festive items for Muslims breaking their 12 hour fast. Tickle your tastebuds with the Singapore version of a Ramly burger (a meat patty wrapped in an eggy parcel), Roti John (an omelette baguette sandwich) and keropok lekor (a kind of fish sausage!)
Since it's customary to makeover homes and wardrobes during Ramadan, you can also expect to see stalls selling beautiful home wares, Islamic art, fabrics, fashions and sandals for adults and children.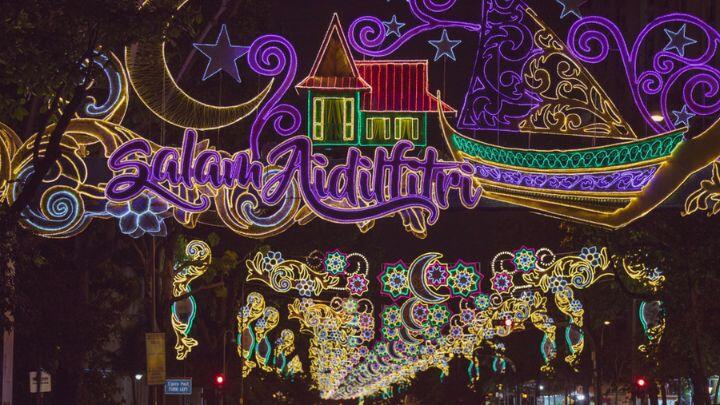 Hari Raya Puasa (or Eid al Fitr) marks the end of Ramadan and is joyfully celebrated in April or May. Children sometimes receive green envelopes of money from visitors, families wear new clothes (in Singapore often in matching colours!) and go to the mosque to pray. 
After a month of fasting it's hardly surprising that the emphasis is on feasting so look out for spicy delicacies like ketupat, lontong, nasi padang and beef rendang, and sweet treats like kueh bangkit and butter cookies. Feel free to greet Muslim friends with "Selamat Hari Raya!" - "Happy Celebration Day!"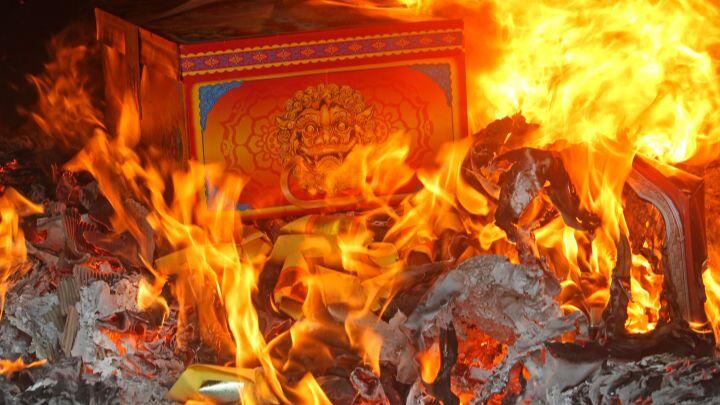 Qingming festival
Early April in Singapore sees Chinese communities celebrating Qingming (Ching Ming) festival - literally meaning 'clear and bright festival' but also known as 'tomb-sweeping day' - which denotes the beginning of springtime. 
Chinese families visit the graves of their loved ones to clean and tidy them and present gifts of food, wine and incense (which, once the spirits have received them, are taken home again to be enjoyed!)  You might witness the custom of burning paper gifts - money or drawings of material goods - to ensure the well-being of ancestors in the afterworld - though be aware that it's a private family celebration, not a public spectacle, and that photographs are not welcome at cemeteries.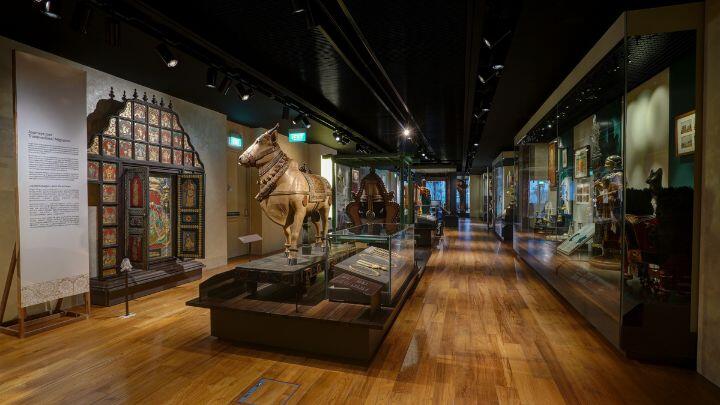 To get your head around the many festivals and cultural traditions, why not take time out at some of Singapore's fascinating museums? The new four-story Indian Heritage Centre is packed with information, education and activity spaces to fill you in on Indian and South Asian history and culture. The Sun Yat-Sen Nanyang Memorial Hall explains Chinese history and the Asian Civilisations Museum ties it all together, explaining the historic connections between the diverse cultures through fascinating displays and artefacts.
 



World Gourmet Summit
If you're a foodie you might want to plan your April itinerary around the World Gourmet Summit, Singapore's celebration of fine cuisine, excellent wines and unforgettable dining experiences. Not to be confused with the Singapore Food Festival which takes place in the summer, this annual line-up of events includes tastings at some of Singapore's best restaurants, gastronomic talks from world-renowned Michelin starred chefs, hands-on workshops - and generally the chance to indulge in the very best cuisine.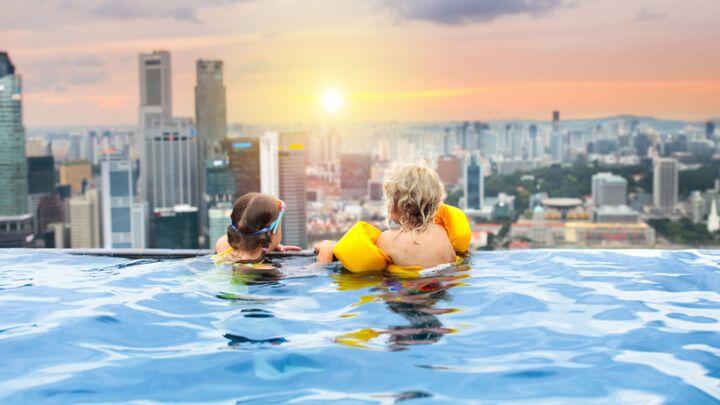 Things to do with the family in Singapore
If that flock of festivals has left you all cultured out, maybe it's time to focus on family-friendly options in Singapore. With schools around the world generally on vacation in April and the younger generation looking to be entertained, we've got you covered.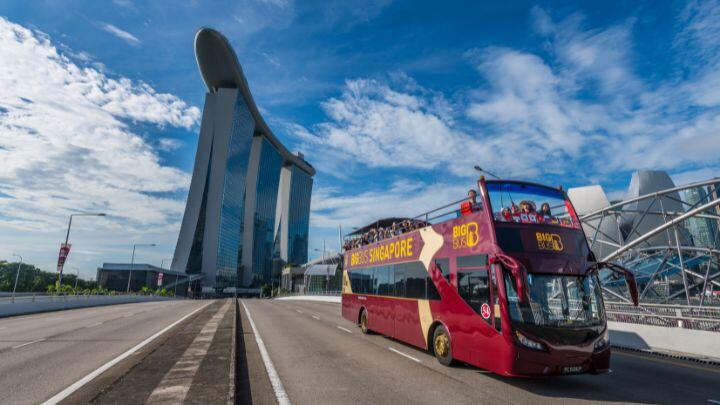 Big Bus Singapore
Hopping on (and off) a Big Bus tour is as good a way as any to get your bearings in any city. since it means that little legs (or lethargic teens) won't be tired out. Get the lowdown on the highlights from the on-board commentary (in twelve languages!) then stop off to explore the sights that interest you most…
Tick off the 'must-sees' aboard the yellow route - Gardens by the Bay, Marina Bay Sands and the Botanic Gardens (a UNESCO World Heritage Site). You can even stop off at the Raffles hotel for a world-renowned Singapore Sling cocktail to keep you going.
The red 'heritage' route is another chance to learn about the island's diverse cultures, as you tour the ethnic precincts of Chinatown, Little India and Kampong Glen (the Arab enclave).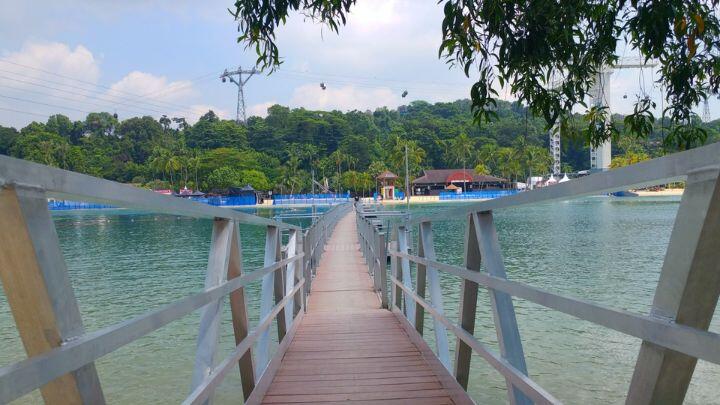 Sentosa Island
Or it may be that you choose to head straight to the island resort of Sentosa…a haven of tropical beaches, luxury hotels and enough thrilling activities to satisfy every age and taste.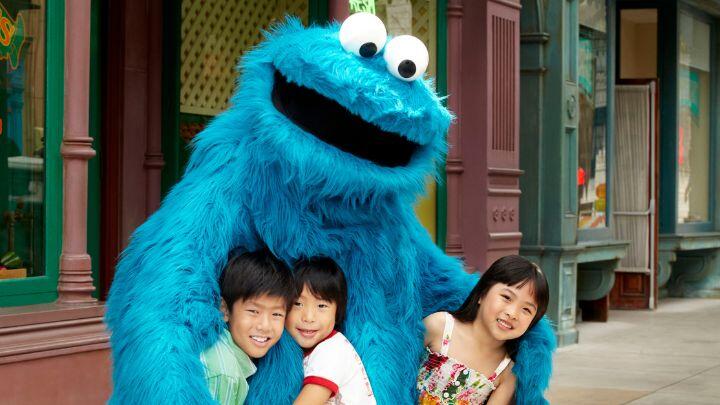 One of its highlights is undoubtedly Universal Studios Singapore, packed with rollercoasters, rides, shows and character greeting opportunities. Meet up with the Minions, snap a selfie with Sesame Street characters or hold tight for high-velocity thrills on the Battlestar Galactica coaster and the Transformers 3D ride. Kids will go wild for movie-inspired attractions like Puss in Boots' Giant Journey and Madagascar: A Crate Adventure.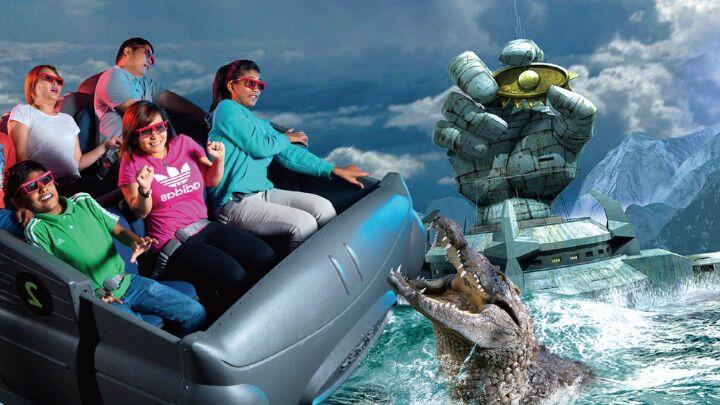 Ramp up some more theme park action at Sentosa 4D Adventureland, engaging with the sights, sounds, scents and sensations of four immersive ride experiences. Ride the rapids of the Extreme Log Ride virtual coaster, delve into the darkness of the Haunted Mine, saddle up and take on the Wild West baddies in Desperados, or set sail for the Mysterious Island.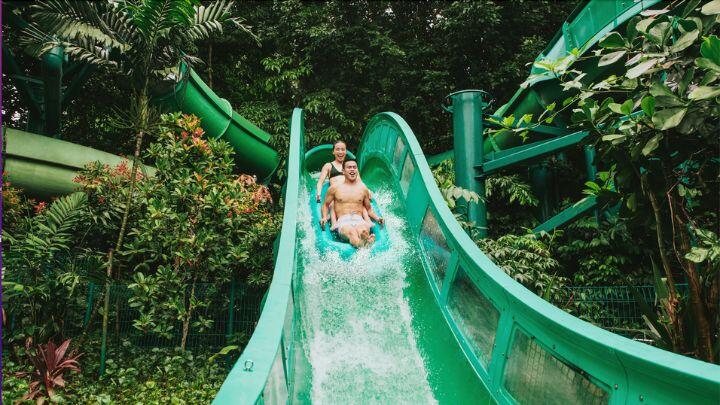 You can choose to thrill or to chill at Adventure Cove Waterpark, where everyone in your group is guaranteed a splashing time. Adrenaline junkies will be wowed by high-speed waterslides like Riptide Rocket, Pipeline Plunge and Spiral Washout. Kids can get wet and wild in the Big Bucket Treehouse, Wet Maze and Splashworks. Or simply revel in some R&R time as you meet mesmerising marine life, snorkelling serenely through the rainbow reef or floating along the lazy river.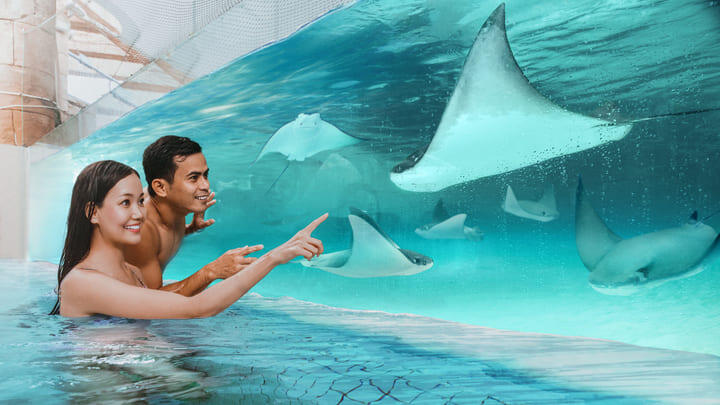 Whatever your plans, in April and all year round, you can certainly relax, knowing that your vacation entertainment is covered by a Go City All-Inclusive Pass or Explorer Pass. Download the Go City app and explore your way to hassle-free, money-saving, sight-seeing satisfaction. Enjoy!