Considering doing a double header in Southeast Asia? You could do worse than a trip that takes in both Bangkok and Singapore, two of the greatest cities in the region, if not the world. We're talking balmy tropical weather, exciting attractions, world-class hotels with pools and some of the finest street food you'll ever experience. And with direct flights that connect the two in the blink of an eye, there's really no reason not to. Read on for our whistlestop guide to Singapore and Bangkok – and the best ways to get from one to the other.
Bangkok in a Nutshell
Bangkok enjoys a tropical monsoon climate, with a hot dry season between March and June, when sweltering daytime temperatures can top 100 degrees, with a warm rainy season from July to October and a cooler, drier period from November to February. Bear in mind that 'cooler' is a relative term in Bangkok and you can still expect t-shirt-wearing temperatures in the mid-70s during winter.
Bangkok's crowded streets and noisy traffic can seem overwhelming to newbies but getting around is actually relatively easy thanks to the excellent BTS SkyTrain network which links the airport to downtown and serves most of the key districts in the city center. An extensive metro system supplements this and, for something a little different, a variety of ferries, water taxis and long-tailed boats serve the waterways. And can you even say you've visited Bangkok if you haven't traveled by túk-túk? Though almost always an uncomfortable and somewhat terrifying rip-off, these iconic three-wheeled taxis have to be experienced at least once on any visit to the city.
In a place as big as Bangkok there are of course accommodation options to suit every budget. Big-name and luxury brands including Kempinski, Carlton, Marriott, Shangri-La and Anantara are well-represented here if you have a bit of cash to flash, but there are plenty of mid-range and budget options to choose from, too. Perhaps unsurprisingly, you'll find the most competitive prices during the rainy season.
Singapore in a Nutshell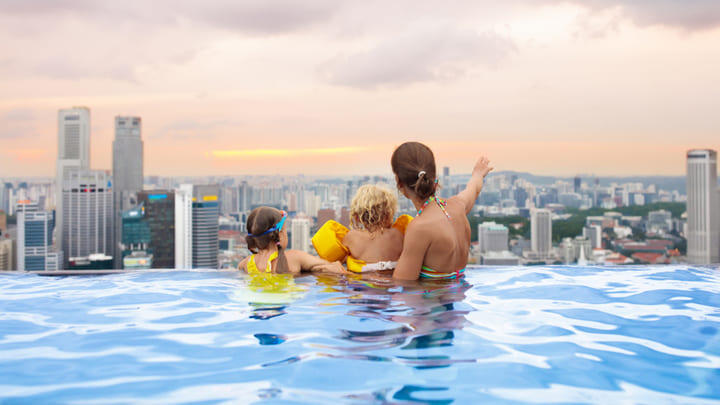 Much like Bangkok, Singapore is hot, humid and frequently wet. Temperatures here hover in the high 80s year round, with a tropical climate that promises regular downpours during the two monsoon seasons from December to March and June to September. Rainfall here is often sudden, short and, well, spectacular, so prepare by carrying a good umbrella if you're visiting in monsoon season, but don't otherwise let this put you off visiting!
The transport infrastructure here in the Garden City is second to none, with a superb mass transit system (MRT), dedicated cycling paths and even cable cars and monorails. The MRT is basically your best friend when in Singapore, with speedy automated underground trains that span almost the entire island and connect you to top attractions including Marina Bay, the Singapore Flyer observation wheel, the Botanic Gardens and Orchard Road shopping district. Hop on the cable car or monorail to reach the beautiful white-sand beaches and many popular attractions on Sentosa Island, and rent a bicycle if you're feeling fit and fancy seeing some of the abundant nature that covers around 50% of Singapore. There are hundreds of miles of dedicated (and mostly flat) cycle paths across the island, from downtown commuter lanes to major out-of-town networks including the epic Park Connector Network and Central Urban Loop. Note that failing to wear a helmet when cycling here is against the law and will likely result in a hefty fine.
Singapore accommodation is just as varied as Bangkok, with Raffles, the Ritz-Carlton and Marina Bay Sands with its absolutely enormous 57th-floor infinity pool among the best-known luxury options in town. There are stacks of budget and mid-range options, too. But bear in mind that Singapore is rather an expensive city to visit, especially compared to Bangkok! So if you're looking for electronic gadgets, fashion brands and other luxury souvenirs to take home, it's worth noting that you'll get far more bang for your buck in Thailand.
Top Things to do in Singapore and Bangkok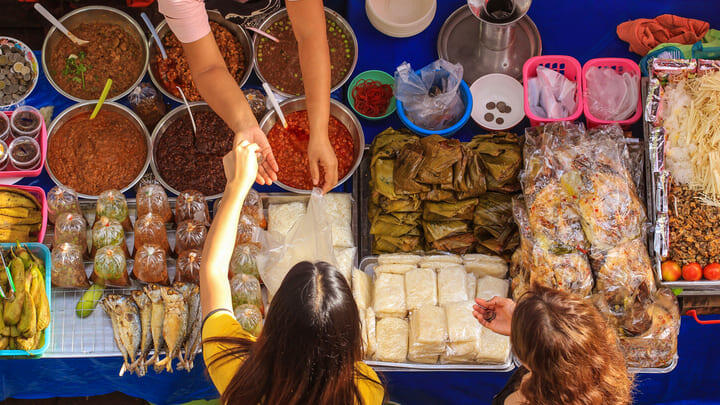 There are stacks of attractions worthy of your time in both Bangkok and Singapore, not least the world-class street food and hawker centers serving up zingy noodle pots, hot curries, sticky peanut satay and umami seaweed dishes. Then there are the grand Bangkok palaces and temples and sprawling night markets. Singapore offers a little more for the thrill seeker, with sky-high rides that include the Singapore Flyer observation wheel (one of the world's highest), the Sentosa SkyHelix and a giant swing that flies high over the palm-fringed golden sands of Siloso Beach on Sentosa Island.
With Go City, you can save a packet on visiting multiple attractions in both destinations. Click here to view Singapore attractions and pass options, and click here for Bangkok. 
Singapore to Bangkok – How to Get There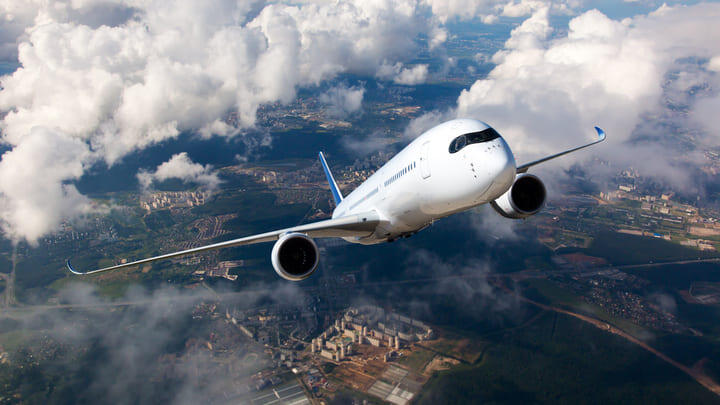 Traveling between Singapore and Bangkok really couldn't be simpler. Carriers including Thai Airways and Singapore Airlines operate several direct flights daily. Budget airlines including Scoot, Jetstar and VietJet Air also cover the route from Changi Airport to Suvarnabhumi with one-way prices starting from as little as $120. Once in Bangkok, the formidable BTS SkyTrain will get you to destinations in and around the city center at near-lightning speed.
But there are other options available should you choose to take them. Adventurers and dedicated slow travelers can turn the journey into an experience in itself by taking the train: an epic 30-hour journey across some 2,000 kilometers that starts by crossing the Johor-Singapore Causeway bridge into Malaysia then weaves north to Kuala Lumpur and up through the atmospheric Cameron Highlands before crossing the border into the mountainous rainforests of Thailand's Khao Pu–Khao Ya National Park. From there, another thrilling 17 hours of train travel through stunning jungle and coastal landscapes will deliver you straight to the center of buzzing Bangkok.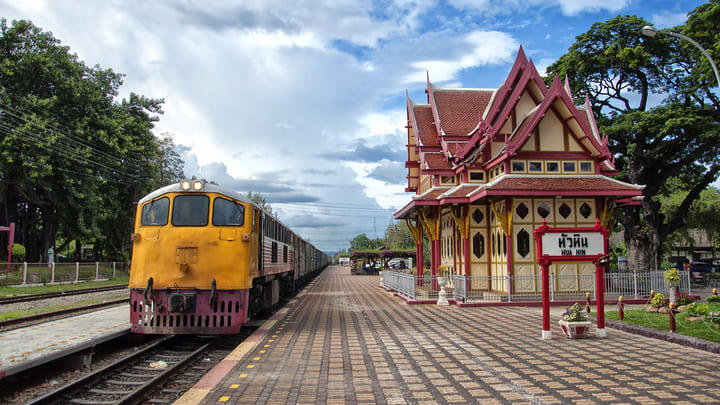 This train is of course not direct and requires a bit of planning and a few changes along the way. We'd recommend a stop-off in Kuala Lumpur because, heck, why not chuck another Asian super-city into your vacation? Connected to the mainland by road, the island of Penang in the north-west of Malaysia presents another fine opportunity for a stopover: beautiful beaches, stunning colonial architecture and easily some of the finest street food in Asia are just three good reasons to take a break here. 
Once you're across the border, Hat Yai is your best bet for a short stop. It's perhaps best known as a jumping-off point for some of southern Thailand's best-loved islands – Ko Samui, Ko Lipe, Phuket – and you'll find budget minivans, buses and flights serving all of these and more. If you've got time on your hands, we can think of no better way of getting from Singapore to Bangkok than turning the journey into a mini-vacation all of its own.
Save on attractions and activities

in Singapore and Bangkok
Save on admission to Singapore and Bangkok attractions with Go City. Check out @GoCity on Instagram and Facebook for the latest top tips and attraction info.