Whilst many destinations batten down the hatches from December through to the start of March, there are a slew of winter events which take place annually in Singapore. The start of peak season, Singapore winter events range from Christmas and New Year celebrations to music festivals. 
Temperatures at this time of year rarely drop below 24°C. Humidity levels are some of the lowest at any time in Singapore's calendar. So although you're likely to face a bit of rain, especially at the start of the winter season, it's certainly not going to dampen spirits as Singapore's winter events take hold! 
Want to know what not to miss? Check out the top Singapore winter events right here! 
Christmas events in Singapore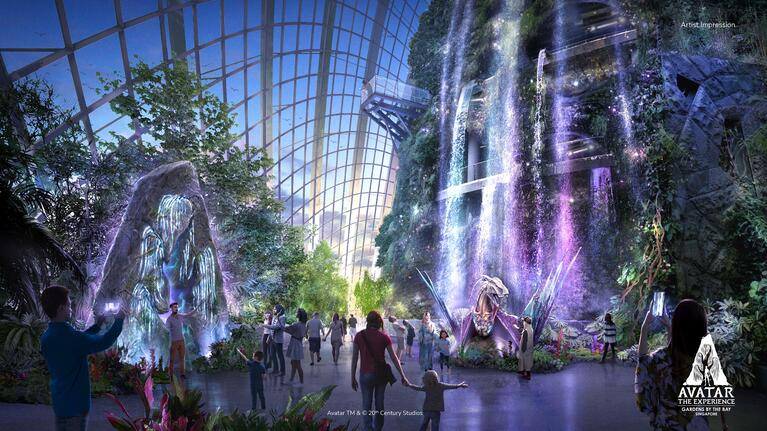 Head to Singapore towards the start of December and there's no getting away from the Christmas festivities! Many of Singapore's year-round attractions make an extra special effort to show seasonal cheer, whilst pop up events aren't difficult to find either. 
Head to Gardens by the Bay and you not only get to explore the like of the avatar experience at its Flower Dome and Cloud Forest, but also its Christmas Wonderland. In the shade of the famed Supertree Grove, visitors can have their photo taken with Santa, take to rides including a Victorian carousel and enjoy a magical sound and light show. Needless to say, the wonderland is at its best after dark. 
Any time of day is a good time to visit the Christmas market at Capitol Singapore's Outdoor Plaza. As well as a great place to do some last-minute gift buying, there's an eight-meter-high Christmas tree, some of the best Christmas lights in Singapore, and even a nightly 'snowfall' around 7 PM. Elsewhere, you can fulfil your Christmas ice skating dreams at the indoor rinks at JCube or Kallang Ice World whatever the weather. 
New Year events in Singapore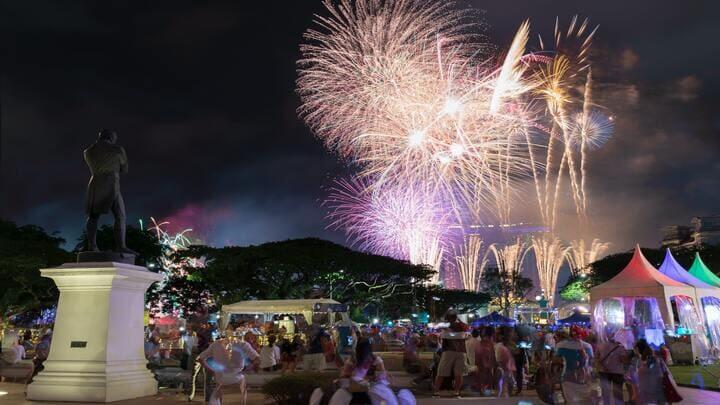 As if to prove just how glorious Singapore is at this time of year, Singapore gets no less than two new year celebrations. Festivities take place across the island, but the top place to head for the December 31 countdown to midnight has to be Marina Bay. The waterfront is lined with entertainment and lights leading up to the event everyone has been waiting for – the magnificent firework display as the clocks strike twelve. 
And what about Singapore's other new year celebration? If you visit Singapore towards the end of January, you won't fail to notice the lead up to Chinese New Year. This two-week long celebration coincides with the full moon, giving it its alternative name of the Lunar New Year. 
Chinatown is the obvious place to head, where stalls sell special treats such as nian gao (sweet rice cakes) beside exquisitely-made lanterns and other decorations. Firecrackers are another essential ingredient of the traditions, used to scare away a mythical beast. The celebrations culminate in another unmissable fair and firework display at Marina Bay. 
Additional January events in Singapore 
Displays of another kind are to be had at Singapore Art Week. Marrying traditional gallery exhibitions with talks, tours and art walks, it has become Singapore's premier art event since its creation roughly a decade ago. An island-wide arts extravaganza, it usually takes place in late December or January. 
Mid-January is the timing of Pongal, or Harvest Festival. It's marked by many Singaporeans with colorful rice flour artworks at the entrance to homes and businesses. Hindu temples become busy with worshippers, and special performances crop up alongside a variety of family-friendly hands-on workshops. 
At around the same time, the Singapore Fringe Festival brings a range of provocative, contemporary and heart-warming acts to its Theatres on the Bay location. A mix of Singaporean and international performers engage audiences with ticketed performacnes as diverse as Singapore itself! 
Other Singapore winter events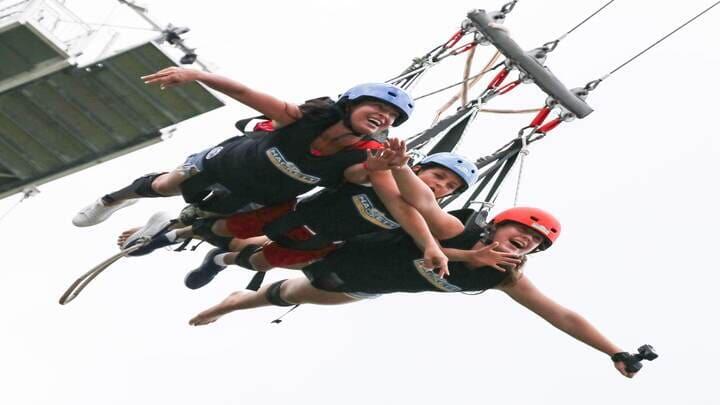 For unrivalled revelry to the beat of some of the world's best DJs, Singapore has the ZoukOut Music Festival. A far cry from the country's reputation of hardworking efficiency, ZoukOut provides a great excuse to let your hair down. 
Taking place in early December on Sentosa Island's Siloso Beach, this dusk-till-dawn celebration of dance music has become one of the biggest in Asia. No surprise then that it attracts some of the top names in the business. Previous incarnations have seen sets by the likes of David Guetta, Stereo MCs and DJ Jazzy Jeff. 
Singapore's pleasure island, elsewhere on Sentosa visitors will discover a range of superb attractions. Extreme sports enthusiasts will satisfy their need for a new adrenaline rush at AJ Hackett Sentosa Giant Swing and Skybridge. From its maximum height of 40 meters, equivalent to a 12-story building, you'll get the thrill of a lifetime and incredible views! 
A great alternative for those who aren't sure their life insurance is up to date is Singapore Cable Car. It links Singapore's Keppel harbor front with Sentosa and Mount Faber, providing expansive vistas across the southern coastline along the way. 
Meanwhile, February is a big month for couples thanks to Valentine's Day. The recently heartbroken might well want to avoid Singapore this month since it goes all out with hearts and other symbols of pairing up. 
Most restaurants create special menus just for the day – make sure you book in good time – but there are other events to look out for too. These include outdoor movie screenings at Keppel Bay and couples' massages in many spas. Or how about a romantic cruise along the Singapore River, taking in some of the country's finest cityscapes? 
Visit for Singapore's winter events – save on Singapore's top attractions 
There are lots of reasons to consider a trip to Singapore during the winter months. You might be after a little warmth as the weather turns colder back home. Or you might be keen to explore Singapore's winter events schedule. 
Either way, don't miss your chance to experience Singapore's top year-round attractions as well. We think there's no better way to do this then with Go City! We give you the opportunity to save on admission whilst taking in a massive range of picks, from museums to theme parks.